What's Next
Congratulations! You're in.
We can't wait for you to join the Biola community! Before you begin your journey, you'll need to complete some key steps like confirming your intent to enroll by submitting your deposit, finalizing your financial aid and more. But don't worry — if you have any questions along the way, we're here to help.
To download the PDF version, view the printable checklist of your next steps.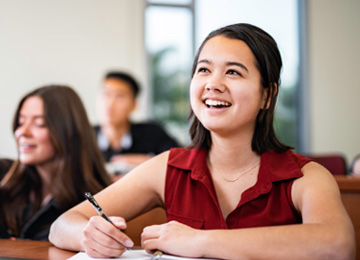 Confirm Your Intent to Enroll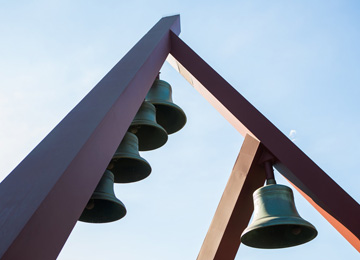 Finalize Your Registration Profile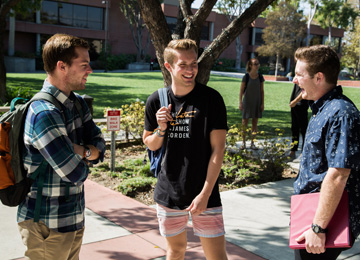 Complete Your Financial Aid Tasks
Final Steps to Complete Your Enrollment
Once you have submitted your enrollment deposit, additional tasks will be made available during the subsequent weeks and months. See our important enrollment dates calendar to familiarize yourself with task availability and deadlines. Once you have completed all of your assigned tasks, your status will change from "Not Enrolled" to "Enrolled." Additional enrollment tasks include:
Final Transcripts
Final transcripts for first-time freshmen and transfers are due prior to final enrollment, and must be mailed directly from your high school or previous college to Biola. High school transcripts must be posted with a graduation date. Official transcripts are required to receive credit for transfer coursework and to determine correct loan eligibility.

Please note: High school transcripts are needed for transfer students looking to count their high school foreign language credit.

Final transcripts must be sent by mail or email directly from your high school or college to the Office of Admissions via admissions.transcripts@biola.edu or by mail:
Office of Admissions
13800 Biola Avenue
La Mirada, CA 90639

Or, your transcripts can be ordered electronically through an approved electronic vendor: Parchment/Naviance, Credentials Solutions and affiliate partners (Transcripts Network, Transcripts Plus, eScrip-Safe), and AACRAO's SPEEDE server (send to admissions.transcripts@biola.edu).
Transfer Course Evaluation
If you are transferring 15+ units from a community college or other four-year institution and you have not yet received a transfer course evaluation, please connect with the Transfer Admissions team at transfer.admissions@biola.edu or 1-800-OK-BIOLA.
Verify Housing
To ensure your financial aid package is accurate, you will need to verify whether or not you intend to live in campus housing.
Students who are younger than 20 years old by the first day of fall classes are required to live on campus OR commute from their parents'/guardians' home for both fall and spring semesters.
Health Insurance
Biola requires all traditional undergrad students, any student on an F1 visa, and any student living in Biola housing to have health insurance. If this applies to you, you will have the option in MyAccount to confirm your enrollment in the Student Health Insurance Plan OR to submit a waiver if you already have coverage that meets Biola's waiver criteria. Learn more about requirements, deadlines and student insurance.
Health Forms
Submit the following required health forms through Patient Portal (using your net ID and password):
Health History Form
Meningitis Advisory
Tuberculosis (TB) Screening Questionnaire
Immunization Records

All students coming to campus are asked to upload their complete immunization records, which must include at least two doses of the Measles, Mumps, and Rubella (MMR) vaccine given per CDC guidelines. Students living in Biola housing (with the exception of married housing) must also submit a Meningitis ACYW vaccine given on or after the age of 16. The vaccine requirements can be met by the following steps:

1. Upload your vaccine records to your Patient Portal. You may need to ask your parent(s)/legal guardian for records or consult your physician and/or high school for records. Records can also be faxed to the Health Center at 562-906-4512 or emailed to health.center@biola.edu.

2. If your records are not readily available but you've received your MMR vaccine, an MMR titer (blood test) can be obtained with your doctor or at the Health Center to verify immunity. Results can be submitted to the Health Center to meet the requirement.

3. If you're unsure you've received the MMR vaccine, are unable to obtain records or receive a negative titer reading, you may obtain two doses of MMR given one month apart from your physician, the Health Center or pharmacy. Meningitis ACYW vaccines are also available in the Health Center if needed.

4. Those with a medical or religious conflict with obtaining these vaccines may contact the Health Center at health.center@biola.edu to request waiver applications.

Minors: If you are entering college as a minor, you must complete hard copies of the following forms with a guardian's signature and submit to the Health Center through your Patient Portal, by email (health.center@biola.edu), mail (attn: Biola Student Health Center, 13800 Biola Ave, La Mirada, CA 90639), fax (562-906-4512), or in person.
Athletes: If you are an athlete, you must complete the Athletic Physical Form.
Update your Title IV Authorization
Updating your Title IV Authorization will show up as one of your tasks through My Account. Title IV funds are federal student aid funds (Direct Subsidized/Unsubsidized Loans, Direct PLUS Loans, Federal Pell Grants, etc.) administered by the U.S. Department of Education. Unless you grant additional permission, The U.S. Department of Education regulations only allow schools to use your Federal Student Aid to pay for current academic year institutional charges. Federal Title IV funds do not include scholarships from the university.

The U.S. Department of Education requires that Title IV funds be applied to specific allowable charges, including: tuition, mandatory fees, and room and board billed by the University. If your total bill exceeds available Title IV funds, you must grant authorization of these funds to non-qualifying charges.
Payment
Biola offers four payment options for your semester expenses. Please review those four different options on our Office of Financial Aid website. You can review payment plan details, along with semester-specific deadlines.
Other Helpful Ways to Prepare for Life as a Biolan
Learn more about the timeline and process of academic advising and registration.
Start connecting with other future Biolans in the Biola App.
Begin thinking about ways to get involved on campus. Find others who share your interests through clubs, ministry opportunities, music, student government, campus activities and traditions, and more.
Make plans for attending Fall 2023 New Student Orientation. Move-In takes place Thursday, Aug. 24, Family Programming is Aug. 25, New Student Orientation continues Aug. 26–27.
Purchase your textbooks and course materials. Your textbooks will be auto-fulfilled through the Biola Campus Store. To opt-out of this service or make changes, visit the Biola Course Materials webpage.
Living on campus? Start thinking about a dorm room setup and explore move-in instructions to plan for coming to campus this fall! There's a Walmart, Target, Bed Bath & Beyond, Staples, Home Depot, Marshall's and more all within four miles of Biola's campus.
Look for a local church to become involved in. Our desire is that you'll be connected to a local church during your time at Biola. Explore local churches and begin thinking about ways to connect and serve.
Make note of important dates on the Academic Calendar. Toggle to "2023–24" to find important dates for the upcoming school year. Fall 2023 classes begin on Monday, August 28!
Grab some Biola gear! T-shirts, sweatshirts, hats and more — find Biola gear for you and your crew.
---
Important Enrollment Dates
As you navigate the enrollment process, it is helpful to be mindful of important dates and deadlines along the way.
Fall
Spring
**File your FAFSA and apply for Cal Grant (for CA residents) starting in December the year prior to your intended entry term.