Graduation Day Flowers
Place an order today, and benefit from promotional pricing. Orders will be available for pick up at the flower booths on campus during commencement day.
Have questions about Commencement?
Our FAQ page has answers to your top questions! Be sure to visit this page for more information.
Can't Make it to Biola?
Watch the live webcast:
Spring 2019 Commencement
Ceremony A — Friday, May 10 at 7 p.m.
Crowell School of Business
School of Cinema & Media Arts
School of Education
School of Fine Arts & Communication
School of Humanities and Social Sciences
Ceremony B — Saturday, May 11 at 7 p.m.
Cook School of Intercultural Studies
Rosemead School of Psychology
School of Science, Technology & Health
Talbot School of Theology

Commencement Speaker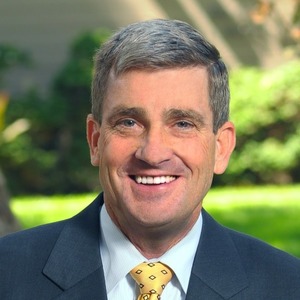 Jon R. Wallace
Jon R. Wallace is the president of Azusa Pacific University, an evangelical Christian university in Azusa, Calif. He has served as president of APU for 18 years, the second-longest presidential tenure in APU's history. The 2018–19 academic year will mark his last year as president of APU as he accepts a new role as president emeritus.
Known for his ethical leadership and heart for college students, Wallace became APU's 16th president in 2000. He received his Bachelor of Arts and MBA from APU, as well as a Doctor of Business Administration from United States International University.
When Wallace was a new APU graduate, he accepted a job as a campus custodian. His 40 years in higher education provide him with a deep appreciation for APU's far-reaching impact and value for faculty, staff and students. He has served on the boards of the Association of Independent California Colleges and Universities and the Council for Christian Colleges & Universities.
Wallace is a member of Foothill Community Free Methodist Church in Azusa, where his wife, Gail, is an associate pastor. They have three adult children: David, Matt and Kate; two daughters-in-law; one son-in-law; and five grandchildren.