Have questions about Commencement?
Our FAQ page has answers to your top questions! Be sure to visit this page for more information.
Graduation Day Flowers
Place an order today, and benefit from promotional pricing. Orders will be available for pick up at the flower booths on campus during commencement day.
Can't Make it to Biola?
A live webcast will be available during both ceremonies.
Commencement DVD
Buy one, get one free! Only $34.99.
Commencement Speaker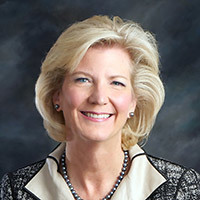 Shirley V. Hoogstra
Shirley V. Hoogstra became the seventh president of the Council for Christian Colleges & Universities (CCCU) in September 2014. In this role, Hoogstra combines her zeal for the rule of law and her passion for Christian higher education as she promotes the value and purpose of high quality, Christ-centered liberal arts education that shapes the heart, soul and mind.
Prior to her role at the CCCU, Hoogstra served for 15 years as vice president for student life at her alma mater, Calvin College. She also spent more than a decade practicing law as a partner at a firm specializing in litigation in New Haven, Conn. She has served on the boards of several community organizations and schools, including the New Haven County Bar Association and Calvin College. She earned a bachelor's in education at Calvin and a Juris Doctor, with honors, from the University of Connecticut School of Law.