Biola University Commencement
Congratulations, Class of 2024!
Welcome to the Biola University Commencement website! As a reminder, there will not be a fall commencement. All approved students will have the opportunity to walk in the spring ceremonies. Here you will find information to help you plan for our spring commencement festivities on May 3–4, 2024.
Join Biola graduates, family and alumni as we celebrate and honor the Class of 2024. Together, through the power and grace of God, we are shaping the future and making an eternal impact on the world through the Lord Jesus Christ.
For Graduates
Class of 2024, you have studied rigorously, overcome challenges, deepened your faith and become who God has called you to be. It has been a privilege to walk with you in this season of your life, and we are honored to send you off with all the pomp and circumstance!
To ensure a smooth and enjoyable commencement experience, please complete the necessary graduation requirements and plan ahead for the weekend festivities!
For Guests
We are excited to welcome you to Biola! As you step foot on our campus, you will experience the passion and warmth of our Biola community as well as the distinct energy surrounding commencement weekend.
To ensure a smooth and memorable commencement experience, please prepare for your visit to Biola. Find information regarding tickets, accessibility, accommodations, dining, lodging, flowers and more.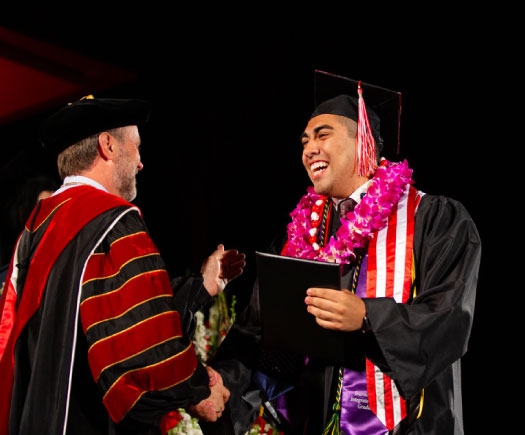 Ceremonies and Events
In addition to the main commencement ceremonies on May 3 and May 4, 2024, guests and graduates are invited to attend special events including the undergraduate baccalaureate service, graduation fair, honors ceremonies and school-hosted events including hooding ceremonies and receptions.
---
Watch Commencement Live
Can't make it to campus? A live webcast of the ceremonies will be available on Commencement Day.