Commencement Speaker
As founding director of the nonprofit corporation, The Hollywood Prayer Network, Karen Covell speaks and teaches around the country to people of faith, encouraging them to pray for the people in the entertainment industry. Covell has extensive experience in producing for television, documentaries and children's programming, as well as writing for TV such as episodes for "The Incurables," and creating and producing the rock gospel music show pilot "Good News Rock."

She is also a published co-author of two books with her husband and their writing partner, Victorya Rogers, titled How To Talk About Jesus Without Freaking Out, with the revised edition The J Bomb and The Day I Met God.

Covell was the producing director of the 8th Annual Women in Film Festival in Los Angeles, and she was one of the founders of Kino Women International (KIWI), an international women's film federation, at the Moscow Film Festival and in Georgia, Soviet Union.

Covell is a graduate of USC with a B.A. in Theatre Producing, a member of the Producers Guild of America, a founding member of PREMISE, and a board member of the Biola University Media Task Force. She is married to film and television composer Jim Covell and they are the proud parents of their two professional filmmaking sons.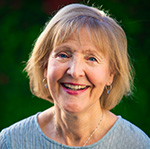 Karen Covell