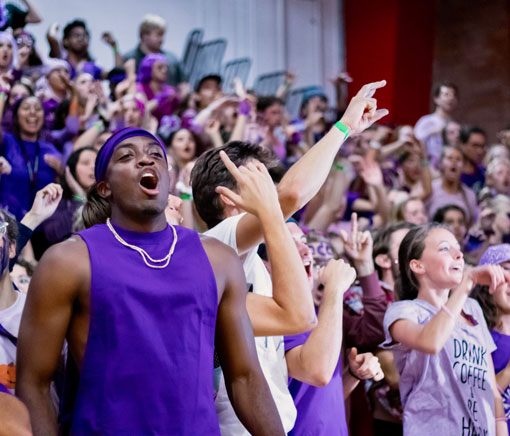 Student Life at Biola
Campus Traditions and Recreational Activities
Check out some of our favorite Biola traditions and engagement opportunities below! Be sure to visit us at the Involvement Fair at the beginning of each semester to find out how you can get involved. You can also follow us on Instagram (@biola_oce) for upcoming events or email campus.engagement@biola.edu with any questions.
---
Campus Traditions
Traditions are a great way to connect with the Biola community and to have fun together! From events to celebrate culture, participate in a lip sync battle and showcase talents, there are unique ways to get involved and continue these traditions for generations to come. Listed below are a few of our highlighted traditions, but the fun doesn't end here.
Fiesta Latina
In collaboration with the student Unidos club, Fiesta Latina is an annual community event to celebrate Hispanic Heritage Month. It includes food, music, dance and art that tell the story of the unique countries and cultures represented within the Hispanic community.
The Eddy
The Eddy is a concert series featuring up and coming artists and student performers from various genres. These evening events are always a great way to take a break from studying and enjoy the arts through music and yummy treats.
Punk'N Pie
Punk'N Pie is Biola's annual student talent show. If you have a special or hidden talent, we'd love to see what you've got! Come and be amazed by yoyo stunts, magic tricks or your favorite song parodies. Did we mention – there's also pumpkin pie at the end!
Mock Rock
Mock Rock is one of Biola's favorite annual traditions. This lip-syncing contest brings out some of the most creative and impressive stories Biola students have to offer! You'll be highly entertained by the music, the dancing, the costumes and the dedication of everyone involved.
---
Recreational Activities
Grab your friends and gear, and partake in a wide range of recreational activities offered throughout the year. What a great way to lead an active lifestyle while having fun with your friends in a fitness class or hiking the beautiful mountains of Southern California!
Nationball
Nationball is a campus-wide dodgeball tournament. This fun and intense event will get you pumped to represent your living area as you fight to win the Nationball title with your community.
Intramural (Sports)
The Intramural program runs six sports throughout the year. You can create a team on your own or join an existing one! Visit IMLeagues for more information!
Outdoor Excursions
Our Outdoor Excursions program puts on several trips each year, from camping to hiking to surfing to snowboarding. No prior experience necessary!
Group Fitness
We offer a variety of fitness classes and activities throughout the year. Visit IMLeagues for more information.