Jake Nagy
Admissions Counselor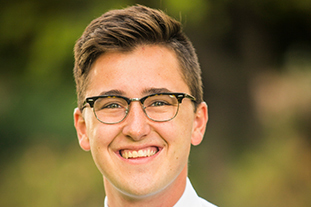 Hey! My name is Jake and I am your Admissions Counselor. I'm stoked to adventure with you on this college journey!
Quick Facts
Hometown
Louisville, KY
---
Degree
Intercultural Studies, Biola University
---
Hobbies
Playing hockey and soccer, surfing, exploring Yosemite, and road trips!
---
Word or Phrase that Describes Me
"Braj." A term coined by my freshman year dorm floor — it means someone who loves to explore and enjoy life to the fullest.
Get to Know Your Counselor
Who has had the greatest influence on your life?
My little brother, Jonathan. He loves the Lord and enjoys painting, soccer and baseball. Jonathan was adopted from Ghana, in West Africa, and he has taught me so much about the love God has for His children.
What was the greatest lesson you learned in college?
I learned that following Jesus is truly life lived to the fullest. Being a Christian doesn't mean life is easy; it means that Christ is with us in the adventure, the joys, the disappointments, the little ordinary things and life's biggest moments. Life with and for Jesus is why we were created!
What is your favorite place on campus? Why?
My favorite place on campus is "Uncle Lloyd's Tree" directly across from the Jesus Mural. It's a great place to rest in the shade on a hot day, the ideal people watching spot, and you can hear a story from Uncle Lloyd, a linguistics professor at Biola who speaks seven languages and has traveled all over the world.
Where do you hang out in Los Angeles?
Sunrise: Newport Beach. Catching some great waves early in the morning is the best way to start a day.
Lunch: Grand Central Market, Downtown L.A. Tons of ethnically diverse food vendors all packed into one city block. Sarita's Pupuseria and Berlin Currywurst are my favorite spots.
Dinner: Korean BBQ or a bread bowl from Pacific Wharf Café at Disneyland (I really like food).
Sunset: Griffith Observatory. The perfect spot to watch the sun go down over L.A.'s skyline and the Hollywood sign.