Wendy Martinez
Admissions Counselor (Freshman)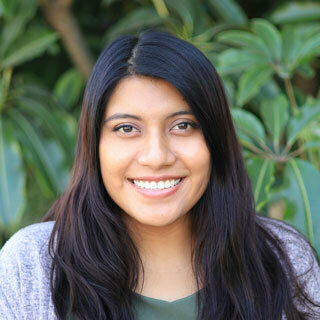 Hey! My name is Wendy, I am one of the newest admissions counselors at Biola and I am an alumnus. It has been a sweet joy and blessing to graduate from this campus and I am thankful to have the pleasure and privilege of serving you as you step into your new endeavors and the college adventure! Should you have any questions about the admissions process, please feel free to email me and I will be happy to get back to you.
Contact Me
Let's connect! I'd love to hear your story - I'm also available to answer your questions regarding the admissions process, student life or questions about Biola in general.
Quick Facts
Hometown
Orange County, CA
---
Degree
B.A. in Psychology, Biola University
---
Hobbies
I love to play basketball! I play at least 2-3 times a week. I enjoy reading and I'm slowly getting into walking and stretching.
---
Word or Phrase that Describes Me
Affable
Get to Know Your Counselor
Who has had the greatest influence on your life?
My sister, Vilma. My sister was the first introduction to unconditional love. I'm so thankful God allowed me the honor to be her little sister and she unknowingly prepared me to receive and believe that God loves us amply more.
What was the greatest lesson you learned in college?
People really care and if it ever seems like God brought you to a destination of devastation, talk to Him about it! And listen to what He has to say, because often the hardest times have been opportunities for Him to reveal and heal the hurt in my heart. And God can and will use people around you, that you love and even those you don't know, to help heal, support, and encourage you.
What is your favorite place on campus? Why?
I loved spending my time at Rose of Sharon Chapel! It's right next to the library. Lots of tears shed on my journals, lots of crying out to God, lots of time with God. Lots of opening up to Him and experiencing Him handle my heart with the utmost gentleness and care.
Where do you hang out in Los Angeles?
I love visiting book stores, coffee shops, and taco spots! When in doubt, check out a coffee shop! It's very soothing and allows time to journal or a great way to socialize! Also, try out Smile Hot Dog - delicious Korean Hot Dogs!