Reach out for Academic Success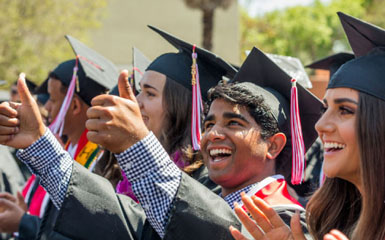 Flourish in your classes and future calling
Having trouble with one of your classes? Confused on the next step for your academic journey? Here are some resources from both inside and outside of Biola to help you flourish academically!

Biola Offices and Services
Online Biola Resources
Apps
Biola is here for your academic success!
It is ok to ask for help! It may feel like you are the only one struggling, but you are not alone. In fact, in the past five years, there has been a 64 percent increase in Learning Center registrations and a 70 percent increase in tutoring and academic mentoring hours. Whether you are wondering about which courses to take next semester, how to apply for internships, or simply having trouble with one of your classes, we are here to support you and help you flourish.
Don't forget, you are always more than welcome to schedule office hours with your professors! They are intentional about getting to know you and helping you prosper in their class.
At the end of the day, you are not defined by your academic achievements. You are so much more than the letters and percentages on your transcript. Your identity belongs in Christ, and you are a beloved child of God. God already knows your future course; you are simply on the journey to uncovering His perfect path.