Campus Dining
Biola provides an excellent food service program for all students, employees and guests. Bon Appétit, Biola's food service contractor, has won awards in the food service industry for being a trend-setter. They not only prepare the food for Café Biola, Eagles' Nest and Common Grounds, but also provide on-campus as well as off-campus catering. Students use their ID cards for all dining services.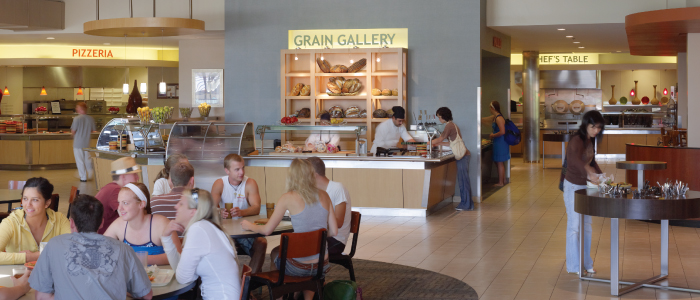 Options
Café Biola
Café Biola, also known as "the Caf," is our main dining room, located in the center of campus. Remodeled in 2004, the Caf offers three entrees, a large salad bar, two beverage bars, a deli market (which offers a specialty salad each day and various deli meats, cheeses, and breads for your favorite sandwich), desserts, soft-serve and hard ice cream, soups — all you can eat! There are 20 meals served per week (three meals per day Sunday through Friday, and brunch and dinner on Saturday).
Eagles' Nest
Eagles' Nest is our cafe, located on the lower level of the Student Union Building (SUB). It is a retail food service operation, which offers pizza, beverages, sandwiches, burgers, salads, a featured entree each day, snacks, and desserts. It is open during the day and evening, Monday through Friday, with additional hours on Saturday and Sunday.
Common Grounds
Common Grounds is our coffee house, located next to the Eagles' Nest. It is a fun place for students to go in the late afternoon and evening, seven days a week. All of the popular coffees of today are provided along with entertainment and board games.
Service Details
Biola offers a variety of options for the students living on campus or off campus. All students living in the residence halls are required to purchase either a traditional or flex meal plan, with a minimum of 10 meals per week. Students living in the Biola apartments or off campus may purchase a meal plan or commuter pass.
Traditional Meal Plans
There are 5 meal plans offered to students living on or off campus.
10 meals per week
10 flex with $150 flex
12 flex with $150 flex
15 flex with $150 flex
20 flex with $150 flex
175 block with $150 flex
The number in each meal plan — 10, 12, 15 or 20 — is the number of meals available per week, to be eaten in Café Biola, or you can exchange a meal in any of the retail operations.
The flex part of the meal plans — $150 — is a declining balance that can be used in the Eagles' Nest, Common Grounds, the Talon and/or for additional meals in Café Biola. They can also be used for guests. If students run out of flex dollars, they can add more at any food service register, the Phil station in the library, or by using eAccounts. They can pay with cash/check or add it to their student account. Any unused flex dollars carry over from fall to spring, but not spring to fall. If a student leaves at the end of the fall semester and does not return, unused flex dollars are not refunded. All unused flex dollars are deleted at the end of May. Flex dollars cannot be shared from one student to another. Meal plans are nontransferable.
There is a 5 flex plan with $50 flex for students who live in the Biola apartments or off campus. It works just like the other flex plans. There is also a 40 block meal plan with $50 flex.
Sack Lunches
Students who cannot attend a meal because of scheduling problems may sign up for a sack lunch in the Café Biola office. The sack lunch is prepared by the food service staff and a time is scheduled for the student to pick it up.
Dietary Needs
Food service personnel are able to arrange for special dietary needs which are prescribed by a physician. A copy of the diet or dietary restrictions should be submitted to the Café Biola office. The time the meals will be ready will be coordinated with the student's schedule.
Holidays
All dining facilities are closed for four days at Thanksgiving, two weeks at Christmas and one week at Easter break.
Refunds
If a student needs to leave school during the semester, for any reason, they must notify Auxiliary Services to cancel their meal plan. The student will be refunded for the remaining weeks, on a prorated basis.