Peer Wellness Ambassador Team
Our inaugural team of Peer Wellness Ambassadors are passionate about our campus community's health and well-being. In 2020-2021, our new team will create and execute well-being workshops and campus-wide campaigns to engage the Biola community in caring well for themselves and supporting their flourishing as students. Look for us on the Student Life Blog, #BiolaWellBeing on Biola's Instagram, and the Student Wellness wall on the Biola University App.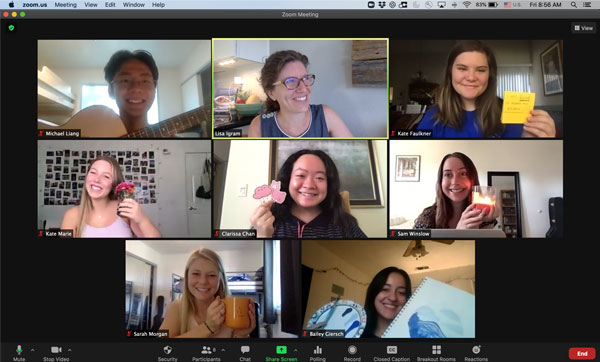 2020-21 Peer Wellness Ambassador Team
The Inaugural Peer Wellness Ambassador team shows off their "screen breaks" during a weekly PWA Meeting. Check out #BiolaWellBeing on IG to see more!
From top left to right: Michael Liang (English, '21) , Lisa Igram (Dean of Student Wellness), Kate Faulkner (Communication Sciences and Disorders, '22), Kate Marie Fitzpatrick (Psychology, '22), Clarissa Chan (Psychology, '23), Sami Winslow (Cinema and Media Arts, '21) Sarah Morgan (Human Biology, '21) and Bailey Giersch (Communication Studies, '20).
Partner with Us
If you'd like to partner with us for workshops or campaigns or simply to ask questions, contact us at student.wellness@biola.edu.
Join Our Team
Are you interested in joining this team next fall? Hiring begins early each spring. Check out the job descriptions and click below to apply!