For information on Biola University's coronavirus (COVID-19) response and updates, visit
biola.edu/coronavirus
.
Advisory Board

Ronnie Andrews
Founder, The Bethesda Group
Ronnie Andrews has close to 30 years of experience in the clinical and molecular diagnostics industry. Most recently, he served as the president of the Genetic Science Division for Thermo Fisher Scientific and oversaw the integration of Life Technologies' genetic platforms, including Life's chip based Next Generation Sequencing technology, Ion Torrent. Andrews is also former chief executive officer of Clarient Inc., where he served from July 2004 until the company sold to GE Healthcare in December 2010. He took on the challenge of turning around a bankrupt molecular pathology platform company and transformed the business strategy to focus on delivering academic-level cancer testing into the community setting via a central lab service strategy deploying the information for patient management over the Internet. Ronnie is a passionate ambassador for the need for democratization of information into community-based environments to better manage deadly diseases like cancer as well as control health care costs by keeping the patient and treatment close to home. He is a student of servant/authentic leadership and teaches and mentors MBA students frequently. Ronnie is currently writing his first book, The Seven Aha's of a Very Unlikely Executive, and holds a B.S. degree in biology and chemistry from Spartanburg, S.C.-based Wofford College.

Thomas Ellsworth
President, PHP Agency LLC
Thomas N. Ellsworth is an experienced CEO/COO and veteran entrepreneur. He has been disrupting industries and driving market shifts through venture-backed companies in technology, publishing and mobile that have generated exits totaling over $1 billion. Currently, Ellsworth is president and COO of Globanet, a leading developer of enterprise software solutions for migration and archiving of email, and is on the board of PHP Agency, a financial services marketing organization that is driving change in the way Americans buy insurance. Ellsworth holds a B.S. in business administration and marketing from California State University, Northridge, and an MBA from Pepperdine University.

Fred Gladney
Founding Partner, The Gladney Group
Fred Gladney is president of The Gladney Group, a network of former CEOs, successful business leaders, senior executives and support resources to help small- and mid-market companies quickly identify and remove barriers, and drive revenue growth. Gladney is a successful, seasoned executive with nearly 30 years of executive leadership experience. He has been a corporate executive in the information technology sector with IBM and Compaq Computer (acquired by Hewlett Packard), where he successfully managed and grew a $100 million business unit. He is a graduate of California University of Pennsylvania, and has participated in management development programs at Harvard and Princeton universities.

Ruth Lopez Novodor
Chief Executive Officer, Beverly Oncology and Imaging Centers, Medical Group, Inc.
Ruth Lopez Novodor has been CEO of Beverly Oncology and Imaging (BOI) Medical Group since 1980. She has managed BOI's strategic growth from the establishment of its first radiation therapy center in Montebello to now having six treatment centers in Southern California and three internationally. She founded the Beverly Oncology Women's Foundation, a 501(c)(3) organization to provide screenings and early-detection programs, including free screening in communities with low rates of health insurance coverage, education and general health care assistance. Lopez-Novodor has held a two-term chairmanship of the Latin Business Association, one of the largest organizations of Latino business owners in the U.S. She earned her MBA and B.S. in business administration from Pepperdine University, and she completed the Executive Program for Managed Care at the University of Missouri, at Kansas City's National Center for Managed Health Care Administration, and Henry W. Bloch School of Business and Public Administration.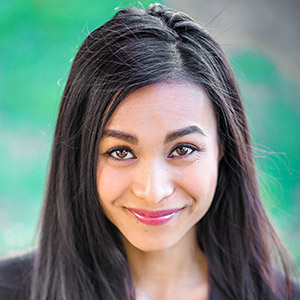 Jessica Rey
Founder and CEO, Rey Swimwear
Jessica Rey is founder and CEO of Rey Swimwear, actress, wife, and mother of three. Formerly the White Power Ranger on Disney's Power Rangers Wild Force, she is experienced in using her ninja skills to fight the good fight. Among her favorite things in life are karaoke, making her kids laugh, and anything to do with salted caramel. Her dream is to one day move to Italy with her hubby, where they will eat gelato all day long and watch the sunset over the Amalfi Coast.

Canstantino (Connie) Salios
The Barnabas Group
Connie Salios is the cofounder of Kalty Salios (1977) and Retail Store Services (1986), which provided retail merchandising services to more than 900 Home Depot stores in the West and Southeast regions of the U.S. In October 2005, both companies were acquired by Advantage Sales and Marketing, the largest consumer packaged goods sales and merchandising company in North America, to provide their platform for national growth in the home center and hardware retail channels.
Salios is currently a partner with CLD Consultants in Laguna Beach, Calif., specializing in organizational development, strategy and change. He completed graduate studies in organizational leadership in 2002 and for eight years served as an adjunct professor at Biola University, teaching practical leadership theory, strategy formulation and strategy implementation.
Harold C. Taber, Jr.
Former Director, MBA Mentor Program, Crowell School of Business, Biola University and Former Group President, Coca-Cola Bottling Co.
Harold Taber is the founder and former director of the MBA Mentor Program at Biola University's Crowell School of Business, in addition to serving in the role of executive assistant to the dean. Prior to Biola, Taber served as former president/CEO of Hansen Beverage Corp. and former group president of Coca-Cola Bottling Co. of Los Angeles. He is currently an active member of the Monster Energy Beverage Co. Board of Directors, where he has served since 1992. He holds a bachelor's degree in business administration from the University of California, Berkeley, and completed postgraduate business executive programs at Harvard University, Stanford University and Kellogg School of Management at Northwestern University.

Dean VandeKamp
Partner, Cultivation Capital
Dean VandeKamp is a senior executive with experience in complex, global corporate cultures and high-growth mid- to late-stage companies. He spent more than 27 years with Ernst and Young, where he retired as a partner. After leaving Ernst and Young, VandeKamp became a managing partner at Worthy Capital partners. He received an MBA at the University of Colorado, Denver, and undergraduate degrees in accounting and information systems at Dordt College. He has the following certifications: certified public accountant, certified fraud examiner and certified information systems auditor. He has remained active with charitable organization work and industry association affiliations throughout his career. Mr. VandeKamp is a member of Biola's Board of Trustees.

Wes Wasson
Silicon Valley Executive and Board Member
Wes Wasson is a long-time tech industry veteran who spent more than 20 years building and growing successful companies in Silicon Valley. Over the course of his career, he has served as a senior executive at companies of all sizes, from fast-growing tech startups to multibillion-dollar industry leaders. Most recently, Wes served as senior vice president and chief marketing officer of Citrix Systems, a leader in mobile and cloud technology. During his tenure at Citrix, Wes was a key driver of the business, product and marketing strategy that helped Citrix grow from a single-product company into a global industry leader employing more than 10,000 people worldwide. In 2010, he was voted the "Top Executive Leader in Silicon Valley" by a survey of employees conducted by the San Francisco Bay Area News Group. Wes stepped down from his role at Citrix in 2013 to focus more time on using his experience in business and technology to help others. He currently serves on the board of Elevate Africa, a nonprofit focused on helping people in developing countries break the cycle of poverty. He also continues to invest time in Silicon Valley as a board member and consultant with a wide a variety of technology startups. Mr. Wasson is a ('89) Biola Alumnus.

Robert Yi
Managing Partner, Ten Talents Partners
Robert Yi is the Managing Partner of Ten Talents Partners, a private equity and consulting firm whose mission is to steward the growth of companies where biblical values thrive and leaders are equipped. Previously, he held roles as COO/general counsel of Evangelical Christian Credit Union, adjunct professor at Biola's Crowell School of Business, partner with Landmark Law Group and corporate real estate attorney with O'Melveny & Myers. He is a member of the boards of International Sanctuary and Town and Country Manor. Yi holds degrees from the University of California, Berkeley; Loyola Law School; and University of Pennsylvania's Wharton School.
"If we're in business, our work may serve as an altar - a part of our service to God, our ministry."
Kenman L. Wong and Scott B. Rae