Office of Innovation Space
About
The Office of Innovation is located on the main level of the library in room 142, which is located across from the elevators. This space is available and free to all members of the Biola community and serves as a creative and collaborative space where Biolans can come together to think innovatively.
Office Features
White boards perfect for brainstorming and creative thinking
A selection of art supplies and creative materials
Collaboration space perfect for working and meeting as a team
A couch/lounge section great for studying
Books on entrepreneurship, creativity and business
Free coffee and snacks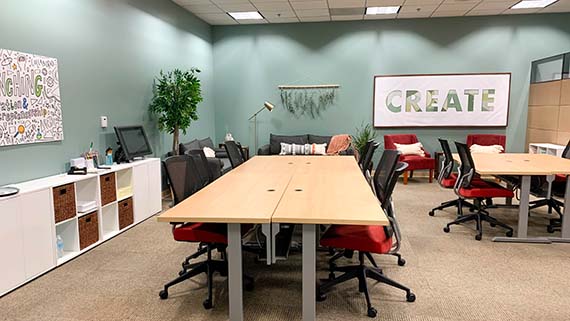 Innovation Academic Advisory Council (IAAC)
The Innovation Academic Advisory Council (IAAC) is a collaborative group of innovative leaders from across Biola. The council assists us as we seek to be engage entrepreneurs and innovators from all fields and disciplines and consists of representatives from each of Biola's 9 schools:
Industry Advisory Council
The Office of Innovation Advisory Council, comprised of diverse members of the innovation ecosystem, has been established to expand the Office of Innovation's footprint globally and to keep its offerings current with the marketplace. We are so grateful for our industry partners and their relevant and thoughtful insight as we seek to bring best in practice theories and knowledge to our community.
View Industry Advisory Council Members
Allison Long Pettine, Founding Partner, Ad Astra Ventures, San Diego
Amanda Tortortello, University of Pennsylvania, Master of Science (MS), Nonprofit Leadership, School of Social Policy and Practice, Master in Law (ML)
Andrew Crowell, Vice Chairman of Wealth Management, D.A. Davidson Companies
Brit Gilmore, Homeless Workforce Program Advisor, United Way Of Greater Los Angeles
Christeen Rico, Store Experience Innovations at Apple
Connie Salios, Entrepreneur and Former National Managing Partner, The Barnabas Group
Danny Kim, Founder and CTO of FullArmor Corp
Dr. Aby Mamboleo, CEO of Staff Today Inc. (STI)
Dr. Naima Lett, Award-winning actor, producer and church planter of Hope in the Hills (Beverly Hills)
Harold C. Taber, Former President/CEO of Hansen Beverage Corp. and former Group President of Coca-Cola Bottling Co. of Los Angeles
Henry Walker, President, Farmers and Merchants Bank
Jessica Rey, Founder and CEO, Rey Swimwear
Jessica Tanoesoebidjo, Director at MNC Group, the largest and most integrated Media Company in South-East Asia
Kevin Sutantyo, Partner of the Asia Portfolio for Sovereign's Capital
Lori Bae, Sr. Director Partnerships & Innovation, World Vision USA
Louise Ukleja, Founder and Executive Director, Opportunity Schools
Ram Gidoomal, former Chairman of the Board, Lausanne Movement and Chairman of Traidcraft and CottonConnect Ltd.
Ruth Lopez Novodor, CEO at Beverly Oncology and Imaging
Sherol Chen, Software Engineer at Google and CEO/Founder of Passion Talks International
Steve Meilicke, Chief Financial Officer of Wedgewood, LLC,
Thomas Ellsworth, Chief Administrative Officer, Beacon Healthcare Systems
Liaisons to the Board of Trustees
Promod Haque, Biola Board Member and Senior Managing Partner, Norwest Venture Partners
Dean VandeKamp, Biola Board Member and Chief Executive Officer at Vitaligent (also Advisory Board Member of the Biola Startup Competition)