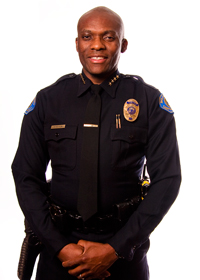 On behalf of the Campus Safety Department, I would like to welcome you to our home on the Web. Whether you are a current student, staff member, or are interested in exploring educational or employment opportunities at Biola University, we appreciate your interest in the Campus Safety Department.

Let me provide you with an overview of Campus Safety and the services we provide to the Biola community. The Campus Safety Department's main responsibility is to provide for the safety and protection of our students, staff and visitors. We are the primary law enforcement agency on campus and our officers have full police officer powers of arrest while on duty.
There are Campus Safety Officers who are armed with firearms while on duty. All officers are equipped with TASERs, OC spray, and batons. In addition to state-mandated training courses, officers have 10 in-service trainings a year that cover emergency preparedness, physical skills, and customer service. Campus Safety conducts a joint training at the start of each semester with the department of Residence Life for Officers, Dispatchers, Residence Directors (RDs), and Residence Coordinators (RCs) that covers student safety issues and responding to emergencies on-campus. Armed officers receive firearms training no less than four times a year, as well as biannual active shooter response training.
Biola is located in the city of La Mirada, which ranks as one of the safest communities in the region. La Mirada contracts with the Los Angeles County Sheriff's Department for city law enforcement services. The La Mirada Community Sheriff Station is located at City Hall, directly across La Mirada Blvd from Biola University.
Biola University has a Memorandum of Understanding (MOU) with the Los Angeles County Sheriff's Department that details Campus Safety's responsibilities for criminal investigations and required officer training. We receive tremendous support from Sheriff's deputies assigned to the La Mirada Community Station and we work cooperatively on all investigations.
Campus Safety is divided into three internal divisions: Field Operations, Communications and Emergency Operations, and Administrative Operations. The Field division is managed by Captain Jason Camorlinga, and consists of officers, corporals, sergeants, a lieutenant, and an investigator. The Field division is augmented by student cadets (who assist with student escorts, building unlocks, traffic direction and parking enforcement) and gate attendants (who staff the gate houses to provide visitor parking permits, give visitor information, and control access to campus at night). If you have any questions regarding our Field Operations, please feel free to contact Jason by calling the Campus Safety office at (562) 903-4877.
The Communications and Emergency Operations division handles our radio dispatch center, serves as university operator, is responsible for sending emergency text and email notifications via the University's emergency notification system, and monitors a system of campus security cameras (which cover parking lots, residence hall entrances and other key areas of the University). The Communications and Emergency Operations division is managed by Carissa Arango who is also the university's emergency operations manager. Carissa can be contacted at the Campus Safety office, (562) 903-4877.
Our Administrative Operations division handles campus parking management, parking permits for staff and students, citation appeals, bicycle permits, and the coordination of access requests to campus buildings. If you have any questions regarding parking enforcement, permits, or other special needs on campus, please feel free to contact the Campus Safety office at campus.safety@biola.edu. Our Administrative division is managed by Justin Shelby, who is also Campus Safety's public information officer. Justin can be reached by calling the Campus Safety office at (562) 903-4877.
Our highest priority is to provide for the protection and safety of students, staff and visitors to our campus. To this end, we utilize a variety of measures to keep campus safe. Among these is a CCTV system that employs over 140 cameras to monitor and record parking lots, dorm entrances, the Library, the Bookstore, and other public areas on our campus. We also have an emergency notification system that will be used in the event of an emergency to or disaster that affects the campus to notify students, staff, and faculty via email and text message. Students, staff, and faculty must register their cell phone number in order to receive emergency text messages. Gatehouses at the west (Biola Ave.) and east (La Mirada Blvd.) entrances to campus control vehicle traffic entering the campus at night, and are staffed in the daytime during the semester to provide visitor parking permits and information. Officers employ a variety of methods to patrol campus, including marked vehicles, bicycles, T3's, electric carts, and on foot. Access to dormitories and many other buildings on campus is controlled by contactless ID card, and is restricted to authorized individuals at night.
As the University's law enforcement agency, our officers wear distinctive uniforms and patrol in marked vehicles. We expect our officers to be proactive in dealing with on-campus investigations and all of us are a part of the department's community-based policing program. This program is designed to partner with our community in both crime prevention and investigations. Our officers regularly meet with students and respond to on-campus residences for student and staff needs. Campus Safety officers are available 24 hours a day, 7 days a week.
We also provide specialized training for students in physical assault prevention through the Department of Physical Education. This program, known as Rape and Aggression Defense System (RADS) is offered year-round. For further information about RADS and course offerings, please contact the Campus Safety Administrative Office. In addition, information regarding crime prevention tips can be obtained in our offices.
Campus crime statistics associated with the federal government's student-right-to-know laws can be found on this website. All statistics are reported annually to the federal government and are published for the review of our community in Biola University's Annual Security and Fire Safety Report.
Biola University is a wonderful place to receive an education. We have committed and dedicated staff that care deeply for the safety and protection of our students. We are committed to providing the best possible service at all times to this community. Your comments and concerns regarding any issue of public safety are always welcome.
Sincerely,
John Ojeisekhoba, Chief
Campus Safety Department