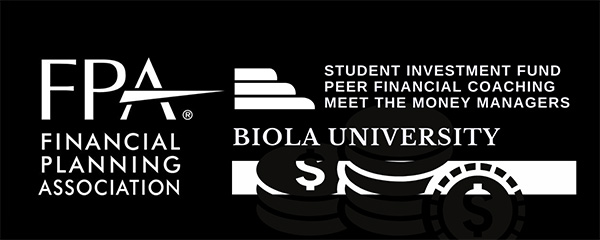 About Us
The purpose of the Biola Financial Planning Association (Biola FPA) is twofold:
First, it is to help students who are interested in a career in the financial services industry. Our service to these students is to provide opportunities to network with RIA firms and their peers, while being trained on materials that will help them become more knowledgeable and prepare them for employment.
Second, Biola FPA aims to share the information learned in the club and financial planning classes to pour into other students at Biola.
We do this by hosting events throughout the semester and weekly meetings designed to guide students toward their goals in helping people become better stewards of their money.
---
Stay Connected
The Biola Financial Planning Association is connected with dozens of school alumni who have made successful careers in the financial services industry. Many of these alumni come speak at meetings, come to Meet the Money Managers, and offer mentorship to students in the club. Join our club's email list to stay informed about how to meet these professionals.