Competition Format
Calling All Entrepreneurs — The Biola Startup Competition, hosted by Crowell School of Business, is a faith-based business competition designed to help Biola students and alumni launch innovative, kingdom-minded businesses and nonprofits that have the potential to significantly impact the world for Christ.
The startup competition offers Biola students and alumni the opportunity to transform an idea into a successful company. Participating teams can win up to $15,000 in awards to launch their business in addition to other awards and are aided by experienced business leaders throughout the competition.

Kickoff Event
Biola University's Crowell School of Business will kick off the 4th annual Biola Startup Competition with an event featuring Brit Gilmore, president of The Giving Keys, on Monday, September 17 in Business 109 — Moats Lecture Hall at 7:30 p.m.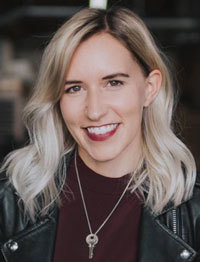 About the Speaker
Brit Gilmore, a native of Detroit, is president of The Giving Keys, a company that exists to employ people transitioning out of homelessness in Los Angeles to make inspirational jewelry and accessories. Each wearer of a Giving Key is meant to embrace the word on their key and pass the key on to a person they feels needs the message more than them. The self-funded company's products are carried in over 1,400 stores worldwide including Nordstrom, ASOS and Fred Segal. The Giving Keys has created more than 80 jobs for people transitioning out of homelessness. Brit is passionate about job creation for community transformation and using business to build self-esteem and break cycles of poverty. Brit lives in Venice, Calif., with her husband, Ryan who worked for TOMS. Brit and Ryan believe social business is the way of the future.
Learn more about The Giving Keys
The Rounds
There are three rounds to the competition:
Round 1: Team Registration and Approval
Registration opens September 17, 2018 and closes on October 15, 2018. See Eligibility Requirements.
---
Round 2: Concept Paper (Executive Summary)
Registered teams will develop a three-page concept paper (executive summary) about their business idea. Crowell School of Business will host three mandatory workshops to assist teams in developing their concept. Concept papers are due by November 12, 2018.
After the concept paper submissions, a panel of judges will select finalists for participation in round three of the competition. The teams selected to continue in the competition as finalists will be notified on November 30, 2018.
---
Round 3: Business Plan
Finalist teams will be matched with a personal coach and develop a 15-page business plan. Crowell School of Business will host three mandatory workshops to assist teams in writing their business plan and learning how to make a pitch. Business plans are due by February 25, 2019.
Final Presentations and Award
On Friday, March 15, 2019, finalist teams will make the pitch and present their business plan to a panel of judges, who will select the winners of the competition. Winners will receive cash awards and a startup package to encourage them in the further development of their business venture.
* Dates subject to change