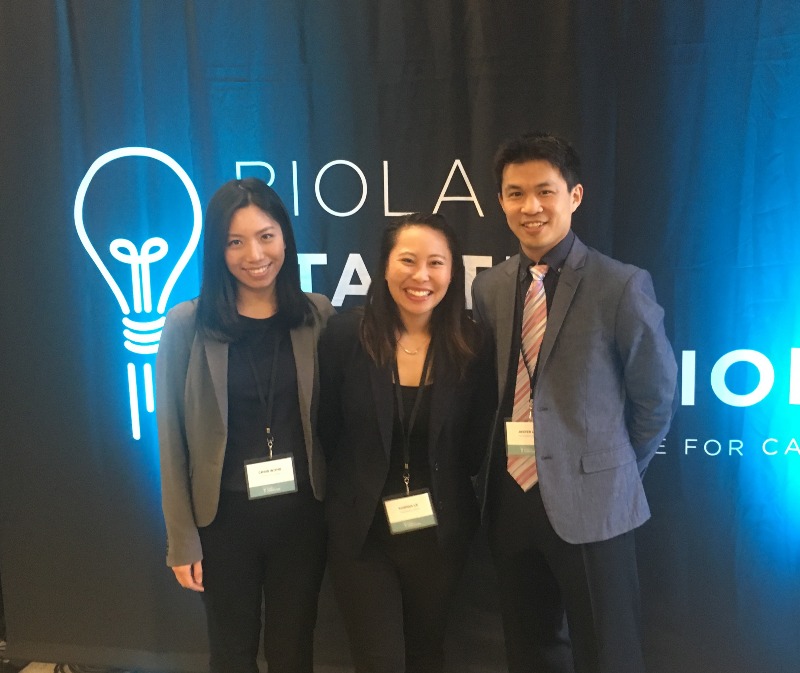 Crowell School of Business Graduate Students Sweep Third Annual Startup Competition!

Crowell's MBA and Master of Management, Nonprofit Organizations programs help propel students both in and out of the classroom. Join Kingdom minded business leaders and discover more about our programs.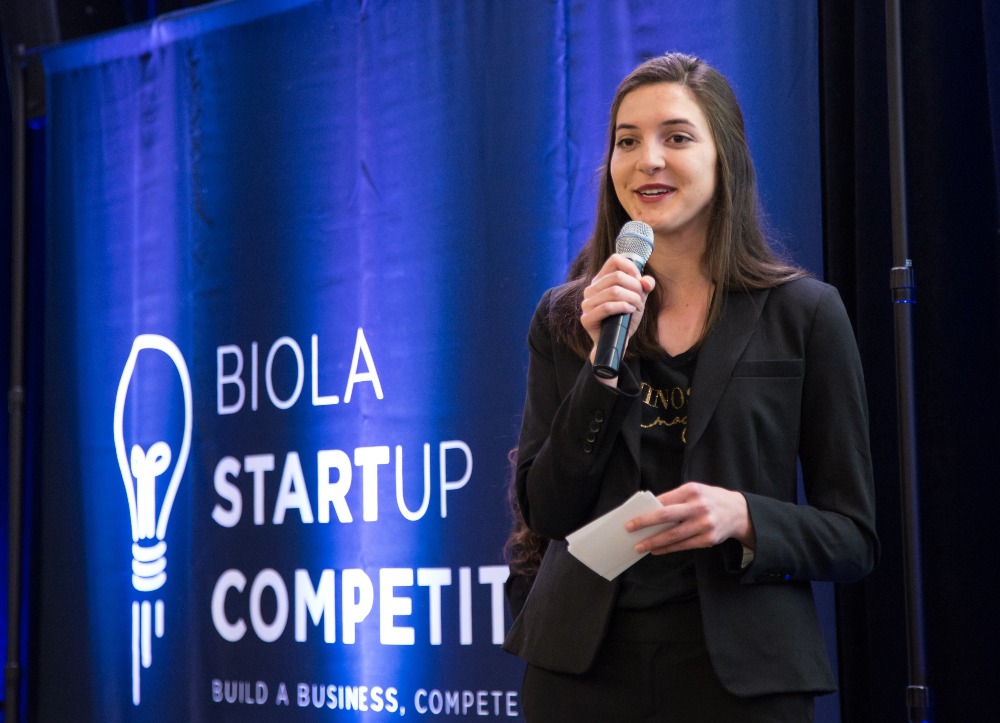 Develop Your Business Plan
The Startup Competition team is here to help you succeed. Once you've registered, your team will have access to workshops that will help you develop your business concept, and you finalist teams will be matched with a personal coach to hone your business plan.
View Startup Competition Format
Make Your Innovative Idea a Reality
The Biola Startup Competition is an initiative that offers all current Biola undergraduate students, graduate students and recent (2010 or later) alumni the opportunity to transform a promising idea into a successful startup business or nonprofit. Aided by experienced executives and business leaders, you and your team will have the chance to pitch your concept, develop a business plan, gain valuable real-world insights and compete for capital.
Learn more about the competition
"Whatever you do, work at it with all your heart, as working for the Lord, not for human masters, since you know that you will receive an inheritance from the Lord as a reward. It is the Lord Christ you are serving."
Colossians 3:23–24
Winners: 2019 Biola Startup Competition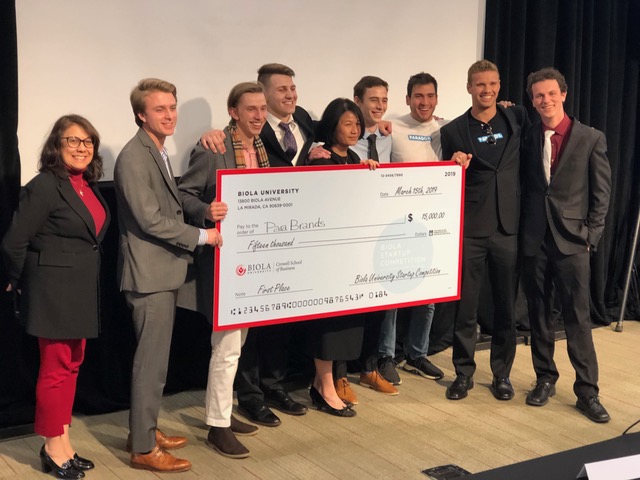 First Place — $15,000 and a $10,000 pro-bono legal package from Brown & Streza LLP
ParaBrands
ParaBrands aims to influence the fashion world for Christ with thought-provoking designs. Fashion is an integral part of today's culture. Clothing companies often use phrases, slogans and subliminal messages to influence people into buying their product or boosting their own social image through a brand's status. Out of all the major clothing brands that exist, very few choose to encourage deeper thought and meaningful messages. Messages promoted in today's fashion industry are vanity-driven. ParaBrands aims to innovate man's vanity towards God's glory. We see an opportunity to distinguish ourselves by creating clothing that is aesthetically appealing and pushes wearers towards deeper thought.
Team
Nicholas Rumer, Business Administration
Victor Miller, Cinema and Media Arts
Sam Karabashian, Business Analytics
Quinn Gorham, Journalism
Jackson Collins, Business Administration
Chandler Gorham, Financial Planning
Jack Nicholas, Business Finance
Clayton Owens, Business Marketing
Coach:
Sarah Y. Tse ('93)
---
Second Place — $7,500 and a free legal consultation from Brown & Streza LLP
Titanium
Titanium is taking advantage of the booming athleisure wear market to make a difference in the world. We are tackling the waste epidemic by producing fashionable, performance-enhancing activewear made from 100 percent recycled plastic. Our company will be the first activewear company producing all its gear from recycling plastic bottles that litter God's world. Athleisure wear or active wear is casual, comfortable clothing designed to be suitable for both exercise and everyday wear.
Team
Leo Thompson, International Business
Henry Reeves, Business with a minor in biology
Paula-Marie Labate, Business Marketing and Management
Alejandro Pelayo, Kinesiology
Coach:
Mark Strom ('84)
---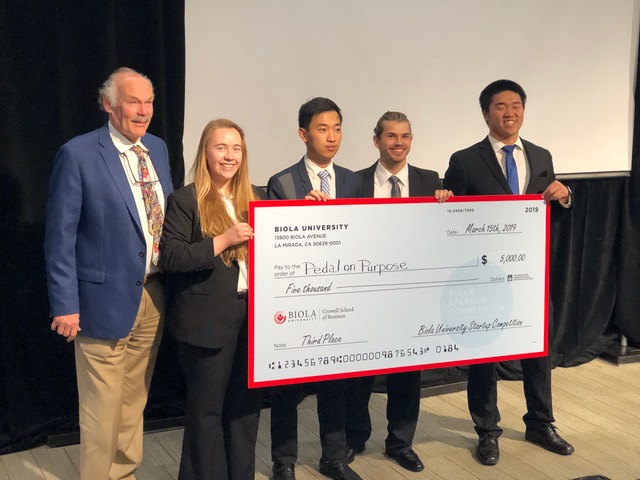 Third Place — $5,000 and a free legal consultation from Brown & Streza LLP
Pedal on Purpose
Pedal on Purpose's vision is to create a sustainable environment that recognizes and restores the identity of Christ in people transitioning out of homelessness. We aim to start a for-profit bike shop employing individuals who have experienced homelessness to assemble bikes and sell them to baby boomers and millennials in Southern California at highly trafficked swap meets and events. Our employees are the core of our business and the reason for our existence so we aim to provide every opportunity possible for developing skills that enable them to leave their homelessness in the past and start anew.
Team
Caleb Strauss, Business Marketing
Daniel Shen, Business Marketing
Farrah Hasen, Marketing Management
Andy Pak, Accounting
Coach:
Barry Watkins
Competition Sponsors
---
Crowell School of Business Partnerships
Competition Testimonials
"It is clear that God has used entrepreneurial innovation to improve the quality of our lives today. The Biola Startup Competition, sponsored by the Crowell School of Business, will nurture the entrepreneurial spirit across our campus and launch a new generation of business leaders and businesses that serve the common good and impact the world for Christ."
Dr. Gary Lindblad
Dean
Crowell School of Business
"Since launching the Biola Startup Competition in 2015, we have seen the Lord work amazingly — bringing together our strategic partnership with the Praxis Academy and in establishing Biola's community of redemptive entrepreneurs."
Dr. Robert Harp
Director of Strategic Initiatives
Crowell School of Business
"The Biola Startup Competition gave me the chance to learn business with a hands on approach. From this opportunity I gained a love for business and the passion to use business as ministry for the glory of God."
Sawyer Jones
Business Administration: Management ('17)
Former Participant
"Whether I am an entrepreneur, work for a company or do ministry full-time, the mission is the same: to make disciples of all nations through the Gospel of our Lord Jesus Christ. This opportunity has grown my faith significantly."
Matthew S. Lemieux
Computer Science Information Systems ('17)
Former Participant