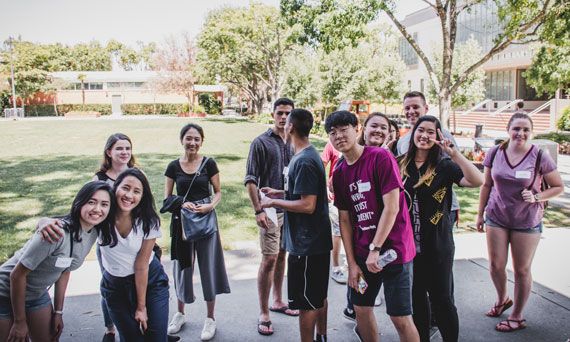 Undergraduate Orientation
This semester, undergraduate global orientation is designed for incoming AND any returning global student who has not been a part of orientation. This orientation is designed specifically for global students, which includes international students, Missionary Kids (MK) and Third Culture Kids (TCK).
This fall semester, New Global Student Orientation has both an online and in-person elements:
In-Person Orientation, August 23–25

From August 23-25, join us on Biola's campus for a fun-filled orientation designed to help transition global students to Biola's campus, culture and community. Please sign up for orientation if you plan on attending.

Sign Up for Orientation

Online Orientation (Pre-Departure) + Canvas Modules

Students are invited to a virtual "Pre-Departure Orientation" hosted by your admissions counselors alongside GSPD on Wednesday, June 30 at 6 a.m. (PST). Get to know other global students, make sure you have everything you need before heading to Biola and learn more about what to expect from our in-person orientation experience. There will be a time for your questions to be answered by your admissions counselors as well as by members of GSPD. Sign Up for the Zoom link!
Every incoming global student will be granted access to a Global Student Orientation Canvas Module on July 1. These modules will be 'asynchronous' (at your own pace and time) and you will receive an email once they are finalized. These modules will have valuable information regarding your transition to Biola, so make sure to complete them BEFORE orientation.

Sign Up for Pre-Departure Orientation
Global Student Orientation Schedule
Throughout the summer, we will be updating the orientation schedule and providing you with all the information you need to kick off your time at Biola. Check back here through the summer for schedule updates. Some examples of activities we will do during orientation are:
Airport pick-up at Los Angeles International Airport (LAX) on August 23
Transition support for studying at Biola
Connection to the global student community at Biola
Transportation to get supplies for your new room
Complimentary breakfast, lunch and dinner (August 23-25)
Welcome Dinner on August 23 to hear from President Barry Corey, GSPD student leaders and staff here at Biola to support you
A game night and other connection events
Global worship and prayer
A campus scavenger hunt
And more!
We can't wait to see you here. Register to save your spot today!
*Global Torrey students will have an adjusted schedule so both Global and Torrey Orientations can be attended.