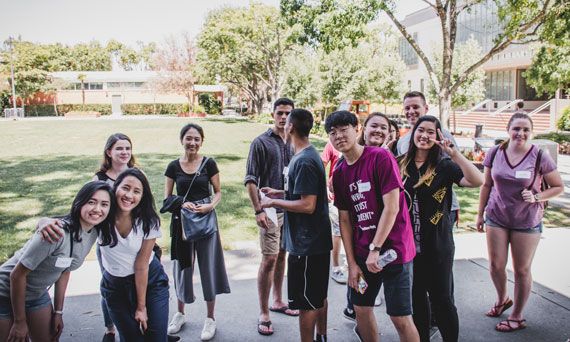 Undergraduate Orientation
This fall semester, the New Global Student Orientation is going virtual! This orientation is designed specifically for new global students, which includes international students, MKs, and TCKS.
This orientation is free, and will be available via Canvas Module starting on January 4, 2021.
Every global student will be granted access to this Canvas Module when it is available. These modules will be 'asynchronous' (at your own pace and time) and we will let you know how to access them once they are finalized.

Global Student Orientation Schedule
This spring semester, we are excited to offer a variety of both asynchronous (at your own time/pace) and synchronous (at the same time) opportunities for you as global students to get to know our department, student leaders and other global students! Check out some of these opportunities below:
GSPD Orientation Session

On January 21st, we will be offering two different Zoom sessions, one from 10–11 a.m. (PST) and another from 5:30–6:30 p.m. (PST), for you as incoming global students and global families to learn about GSPD, meet our staff, student leaders, other students, and ask any questions you may have!

A formal invitation with more information will come to your Biola email address as the date gets closer. This invitation will include how to RSVP so we know you're coming, a Zoom link to join us the day of and a chance to submit any questions you may have in advance.
Virtual New Global Student Orientation

For the global orientation this semester, we're going virtual! All of this content will be delivered in an asynchronous (at your own pace and time) format for you to explore through Canvas. For undergraduate students, this content will be added to your already-existing Canvas module titled "Spring 2021: Global Student Online Orientation" and you will be notified when that content is ready and available (target date of January 4th).

This module contains content on all of the following:

Ways to Connect
Welcome by Biola Staff
Biola: A New Culture to Explore
Studying in the U.S. Classroom
Academic Resources at Biola
Maintaining F-1 Status
Next Steps with GSPD
We really believe that although we are remote delivery for this semester, that this module will help enhance your Biola experience and your transition to starting your Biola journey.
Other Initiatives
Student Leaders Reaching Out to You!

As the semester starts, our GSPD team of student leaders will be reaching out to YOU as incoming global students to help you connect to different resources at Biola as well as opportunities for community connection. GSPD student leaders will be reaching out initially over email to your Biola email within the first weeks of the fall semester, so be on the lookout for that.
Community Groups

These global-student specific small groups are an amazing opportunity to get to know other global students at Biola and help with building community connections and your overall transition to Biola. Each community group is led by our wonderful student leaders and meet weekly once the school year begins. For more information, check out our "Get Connected" page by visiting biola.edu/gspd/community-life.
The Biola App

Have you heard about Biola's very own app? Search for the GSPD group and make sure to join!
Instagram

Follow us at @gspdbiola to stay up to date on events, community and more!