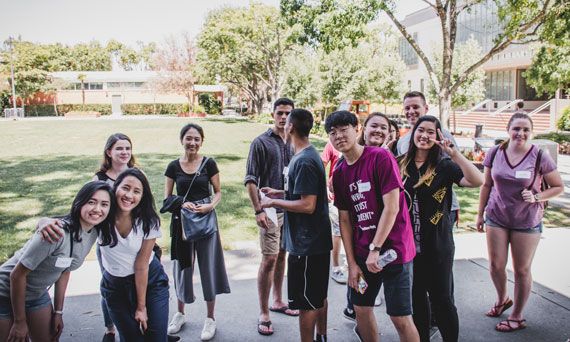 Undergraduate Orientation
Join us at the Spring 2019 New Global Student Orientation! This required orientation is especially designed for new Global Students, which includes international students, MKs and TCKs. View the schedule.
This orientation is free, but you must register for it by January 4, 2019.
Global Student Orientation Schedule
Note for Torrey students: The Torrey orientation schedule may conflict with the Global Student Orientation schedule. However, you are welcome to join us at any time!
Friday, January 11, 2019
Time

Event

Location
9–9:15 a.m.


Orientation Check In


Come to Lehman Board Dining Room to check in with Global Student Programs and Development (GSPD). You will be greeted by GSPD Staff and with some refreshments. Upon checking in, you will receive:

Name Tag
Welcome Gift
GSPD Information Brochure

Lehman Board Dining Room (2nd floor of Metzger building)
9:15–9:30 a.m.
Welcome to GSPD
You will be introduced to the GSPD Team and Biola Staff members.
Lehman Board Dining Room
9:30–10:30 a.m.
New Student Welcome & Cultural Transitions
Each new student will be welcomed and invited into a discussion on cultural transitions.
Lehman Board Dining Room
10:30–11:15 a.m.
Immigration & Visa Information
Our Immigration Specialist, Ranjini will be leading this informational session about all the things you would need to know as an F-1 Visa student.
Lehman Board Dining Room
11:15 a.m.–12:15 p.m.
Navigating Biola as a Global Student

Learn more about the global student community at Biola
Hear current global graduate students share about their experiences
Time of Prayer

Lehman Board Dining Room
12:15–1:30 p.m.
Lunch

Enjoy a time of food and fellowship. At this lunch, you will mingle with fellow new students as well as staff members who will serve as supportive connections and resources during your time at Biola. After lunch, we will walk to the GSPD lounge where each student will pick up their official GSPD T-shirt and launch into our journey together with a group picture!

Café Dining Hall
Biola's New Student Orientation
After the New Global Student Orientation, you will join all undergraduate students in Biola's New Student Orientation to learn about how to get involved with the various programs, events and opportunities in the Biola community. View the schedule.