For information on Biola University's coronavirus (COVID-19) response and updates, visit
biola.edu/coronavirus
.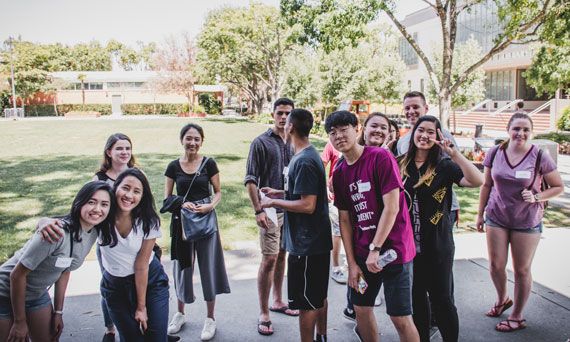 Undergraduate Orientation
Join us at the Fall 2020 New Global Student Orientation! This required orientation is especially designed for new Global Students, which includes international students, MKs and TCKs. View the schedule.
This orientation is free, but you must register for it by August 10, 2020.
Due to university changes to New Student Orientation, the schedule for Global Orientation has been modified to begin on Wednesday, August 26th. If you are able to change your travel plans to arrive on the 26th, please do so. If you are unable to change your travel plans, please email globalstudentservices@biola.edu and someone will get back to you with potential alternatives.
Global Student Orientation Schedule
We are excited to welcome you at Global Student Orientation into the Biola community! Due to recent university modifications to university-wide New Student Orientation, we are still in the midst of adapting pieces of Global Student Orientation. While the dates have been finalized, the content for those dates are still being established. Be checking your Biola email as more communication will follow as details are finalized!
Wednesday, August 26, 2020
| | | |
| --- | --- | --- |
| Time | Event | Location |
| Various | Airport Pickups at 10 a.m., 1 p.m., and 4 p.m. | LAX |
| TBD | Orientation Check-In and Move-In | TBD |
| 5—7 p.m. | Welcome Celebration | Various |
Thursday, August 27, 2020
| | | |
| --- | --- | --- |
| Time | Event | Location |
| 11 a.m.-1 p.m. | University-Wide Orientation Sessions | TBD |
| 1—2 p.m. | Session 1: Welcome by GSPD Staff | TBD |
| 2—2:45 p.m. | Session 2: Biola – A New Culture to Explore | TBD |
| 2:45–3:30 p.m. | Session 3: F-1 Visa and U.S. Globals | TBD |
| 3:30–3:45 p.m. | Journal Reflection #1 | TBD |
| 3:45–4 p.m. | Break | TBD |
| 4–6 p.m. | Global Orientation (G.O.) Groups #1 Dinner | Various |
| 6–8 p.m. | Game Night | TBD |
Friday, August 28, 2020
| | | |
| --- | --- | --- |
| Time | Event | Location |
| 8–9 a.m. | Breakfast (optional) | TBD |
| 9—10 a.m. | Session 4: Studying in the States | TBD |
| 10—11:30 p.m. | Session 5: Class Tours & Campus Challenge | TBD |
| 11:30 a.m.—1 p.m. | Lunch Break | TBD |
| 1—1:45 p.m. | Session 6: Finding Employment | TBD |
| 2–3 p.m. | Campus Connections | TBD |
| 3–4 p.m. | Session 7: Culture Shock | TBD |
| 4–4:45 p.m. | Next Steps with GSPD | TBD |
| 4:45–5 p.m. | Journal Reflection #2 | TBD |
| 5–6:30 p.m. | Dinner in G.O Groups | Various |
| 6:30-8 p.m. | Closing Time of Worship | TBD |