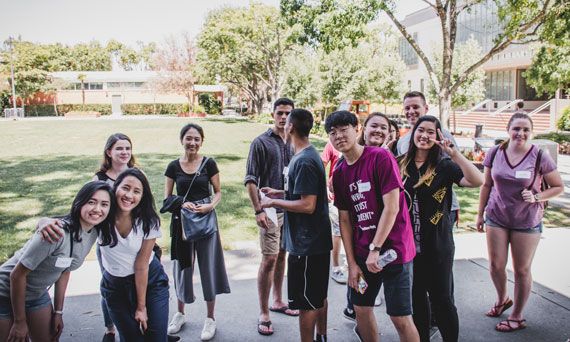 Undergraduate Orientation
This semester, undergraduate global orientation is designed for incoming AND any returning global student who has not been a part of orientation. This orientation is designed specifically for global students, which includes international students, Missionary Kids (MK) and Third Culture Kids (TCK).
This fall semester, New Global Student Orientation has both an online and in-person elements:
In-Person Orientation, August 23–25

From August 23-25, join us on Biola's campus for a fun-filled orientation designed to help transition global students to Biola's campus, culture and community. Please sign up for orientation if you plan on attending.

Sign Up for Orientation

Online Orientation (Pre-Departure) + Canvas Modules

Students are invited to a virtual "Pre-Departure Orientation" hosted by your admissions counselors alongside GSPD on Wednesday, June 30 at 6 a.m. (PST). Get to know other global students, make sure you have everything you need before heading to Biola and learn more about what to expect from our in-person orientation experience. There will be a time for your questions to be answered by your admissions counselors as well as by members of GSPD. Sign Up for the Zoom link!
Every incoming global student will be granted access to a Global Student Orientation Canvas Module on July 1. These modules will be 'asynchronous' (at your own pace and time) and you will receive an email once they are finalized. These modules will have valuable information regarding your transition to Biola, so make sure to complete them BEFORE orientation.

Sign Up for Pre-Departure Orientation
Location
If arriving on campus on your own, go to Parking Lot A on Biola Ave. to check in at the Mosaic Cultural Center. Look for the Welcome Global Students banner.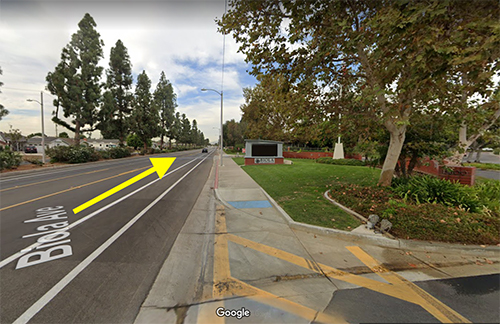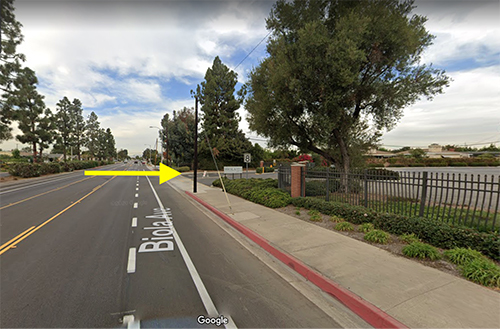 If you plan to use the Biola Shuttle from LAX to campus, plan to arrive on August 23, 2021 before 3 pm. Biola housing will not be open before August 23.
Staff and student leaders will meet you at the Arrivals Hall at LAX.
When you check in, staff and student leaders will go with you to Housing check in and guide you to your dorm room.
On-campus housing is available to move in from Monday, August 23, 2021. Please note that family members are NOT allowed to stay in the residential area.
On-Campus Orientation Schedule
For orientation, please wear comfortable clothes and shoes for warm weather, and bring your cellphone and water bottle (if you have one). If you have questions, please email globalstudentservices@biola.edu.
Note: ​​Global Torrey students will have an adjusted schedule so both Global and Torrey Orientations can be attended.
Monday, August 23, 2021
Time
Event
Location
10 a.m.–4 p.m.

LAX Airport Pickup

Shuttle Times: 10 a.m., 12 p.m., 2 p.m., 4 p.m.
If you need to be picked up from the airport, please schedule your flight to arrive 1-2 hours before a shuttle time.
Sign Up For Airport Pickup

Los Angeles International Airport (LAX)
9 a.m.–3:30 p.m.

Orientation Check In

Come to the Mosaic Cultural Center during these hours to check in with Global Student Programs and Development (GSPD). There you will be greeted by our Global Student leaders and provided with a Global Student Ambassador who will help you with the following:

Going to the Housing Office to get your dorm key
Getting your Biola ID card
Helping you find your dorm
Answering your questions about the schedule for Global Student Orientation and Biola.

Mosaic Cultural Center
3–4 p.m.

Parents Information Session

Parents, this is a time for you to get all the information that you want, and to ask all the questions that you have with regards to your child's time at Biola.

Talbot 108
5–7 p.m.

Welcome Dinner (Pre-Registration Required)


Join us for a special dinner to welcome you to our campus. Meet Biola's president, Dr. Corey, key staff members and other new global students.

Note: If you are arriving late, you will have the opportunity to check in here.

Andrew's Banquet Room (ABR)
7–9 p.m.

Off-Campus Shopping Trip


Biola has a free shuttle that can take you to the movies, shopping and restaurants off-campus. Join us to experience this route for your future reference.

If you need to buy supplies for your dorm room, we will be stopping at a great store called Target. Bring your money and your shopping list!

Meet at Andrew's Banquet Room (ABR)
Tuesday, August 24, 2021
Time
Event
Location
8–9 a.m.

Check In and Breakfast


Join us for a hot breakfast in the Biola Café.

Biola Cafeteria

9–9:30 a.m.

Morning Devotionals

Biola Bells

10–11:30 a.m.

Session 1: Welcome by GSPD Staff

Join us for the official Orientation kick off led by GSPD staff.

Andrew's Banquet Room (ABR)

11:30 a.m.–1 p.m.

Lunch

Enjoy lunch at the cafeteria with your new global friends.

Biola Cafeteria

1–1:45 p.m.

Session 2: Cultural Engagement | Biola and the U.S.

We will be talking about the U.S. and Biola's campus culture, and what you need to know to maneuver it.

Andrew's Banquet Room (ABR)

1:45–2:30 p.m.

Session 3: Passport Split

Non U.S. Passport Holders/F-1 Visa students: This immigration seminar will cover maintaining your visa status, traveling on your visa, and working in the U.S.

U.S. Passport holders: This session will help equip U.S. globals to greater process their own cultural transition through hearing from global student leaders.

Andrew's Banquet Room (ABR)

2:30–2:45 p.m.

Break

Various Locations

2:45–3:30 p.m.

Session 4: Safety & Emergencies

Learn how to stay safe and make wise choices in the U.S.

Andrew's Banquet Room (ABR)

3:30–4 p.m.

G.O. Groups

Spend time reflecting on what you have learned and experienced so far with your Global Orientation (G.O.) Groups.

Various Locations

4–6 p.m.

Choose Your Adventure

During this time we encourage you to make any appointments you need to, such as:

Admissions
Financial Aid
Your academic department
Health Center
Or you can go on a campus tour, take a nap, play soccer or read a book. It's your FREE time!

Note: Open a bank account and/or cell phone service on 8/27 from 1–5 p.m. at the Resource Fair.

Various Locations

6–7 p.m.

Dinner

Join us back in ABR for dinner together before game night.

Andrew's Banquet Room (ABR)

7–9 p.m.

Game Night

This is a lot of fun, so you won't want to miss it!

Andrew's Banquet Room (ABR)
Wednesday, August 25, 2021
Time
Event
Location
8–9 a.m.

Check In and Breakfast

Join us for a hot breakfast in the Biola Café.

Andrew's Banquet Room (ABR)

9–9:30 a.m.

Morning Devotionals

Biola Bells
9:30–10:30 a.m.

Session 5: Welcome + Biola Resources


Hear from our leaders and find out what Biola resources are available to you.

Andrew's Banquet Room (ABR)
10:30–11:45 a.m.

Session 6: Campus Challenge


Put your knowledge of the campus to the test in this fun challenge. Be safe and have fun! Meet back in the CBR at 11:45 a.m., no matter how far you got in the challenge.

Andrew's Banquet Room (ABR)
12–1 p.m.

Lunch with G.O. Groups


This will be a great time for you to get to know your global leaders, ask them all sorts of questions in addition to getting to know your fellow global students!

Biola Cafeteria
1–2 p.m.

Session 7: Cultural Engagement | Sharing Your Culture


During this important session, we will learn more about ways to navigate cultural transitions.

Andrew's Banquet Room (ABR)
2–3 p.m.

Session 8: Final Session


Learn more about GSPD, ways to get involved and take time to share reflections.

Andrew's Banquet Room (ABR)
3–3:20 p.m.

Break

Various Locations
3:20–4 p.m.

G.O. Groups


Spend time reflecting on what you have learned and experienced so far with your Global Orientation (G.O.) Groups.

Various Locations
4–6 p.m.

Choose Your Adventure


During this time we encourage you to make any appointments you need to, such as:

Admissions
Financial Aid
Your academic department
Health Center
Or you can go on a campus tour, take a nap, play soccer or read a book. It's your FREE time!

Note: Open a bank account and/or cell phone service on 8/27 from 1–5 p.m. at the Resource Fair.

Various Locations
6–7:30 p.m.

Dinner and Worship Night


Join us back in ABR for our final dinner together before the Connection event. We will have a time of worship to center our hearts to be open to God's plan for you during your Biola years.

Andrew's Banquet Room (ABR)
7:30–9:30 p.m.

Connection Event


You won't want to miss it!

Andrew's Banquet Room (ABR)