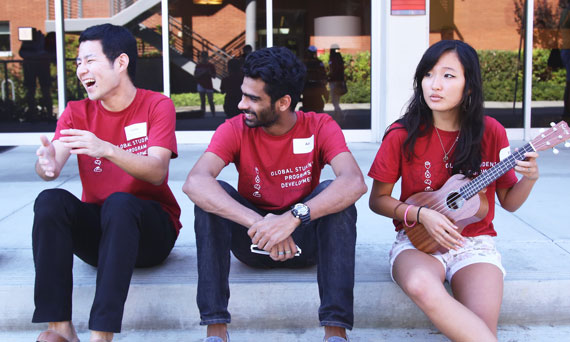 Graduate Orientation
Join us at the Fall 2019 New Global Student Orientation on August 30, 2019! This orientation is free, but you must register for it by August 23, 2019.
Next Steps

Global Student Orientation Schedule
Friday, August 30, 2019
Time

Event

Location
9–9:15 a.m.


Orientation Check In


Come to Lehman Board Dining Room to check in with Global Student Programs and Development (GSPD). You will be greeted by GSPD Staff and with some refreshments. Upon checking in, you will receive:

Name Tag
Welcome Gift
GSPD Information Brochure

Talbot East 108
9:15–9:30 a.m.
Welcome to GSPD
You will be introduced to the GSPD Team and Biola Staff members.
Talbot East 108
9:30–10:30 a.m.
New Student Welcome & Cultural Transitions
Each new student will be welcomed and invited into a discussion on cultural transitions.
Talbot East 108
10:30–11:15 a.m.
Immigration & Visa Information
Our Immigration Specialist, Ranjini will be leading this informational session about all the things you would need to know as an F-1 Visa student.
Talbot East 108
11:15 a.m.–12:15 p.m.
Navigating Biola as an International Student

Learn more about the global student community at Biola.
Hear current global graduate students share about their experiences
Time of Prayer

Talbot East 108
12:15–1:30 p.m.
Lunch

Enjoy a time of food and fellowship. At this lunch, you will mingle with fellow new students as well as staff members who will serve as supportive connections and resources during your time at Biola. After lunch, we will walk to the GSPD lounge where each student will pick up their official GSPD T-shirt and launch into our journey together with a group picture!

Talbot East 108
Department Orientation
Attend the orientation for your program to learn about academic advising, beginning classes, orientation activities and more. View graduate student orientation information to find out times and dates for each school's orientation activities.
Campus Tour
Schedule a visit! At Biola, we recommend you tour the campus, visit GSPD Office and meet with GSPD Staff. The campus visit is meant to be customized to meet your needs. Please register for a campus tour during orientation.
GSPD provides two special campus tours:
Category 1: Morning Campus Tour Lunch Special (11 a.m.–1:30 p.m.)
Time

Event

11–11:10 a.m.


Campus Tour Check-In & Meeting GSPD Team
Come to the Global Student Office in Mosaic Cultural to meet GSPD Staff
11:10–11:30 a.m.
Campus Life Information

Library, Health Insurance, Gym, Student I.D.

11:30 a.m.–12:30 p.m.

Campus Tour

12:30–1:30 p.m.

Lunch at Biola Cafeteria
Category 2: Afternoon Campus Tour Coffee Special (2–4:30 p.m.)
Time

Event

2–2:10 p.m.
Campus Tour Check-In & Meeting GSPD Team
Come to the Global Student Office in Mosaic Cultural to meet GSPD Staff

2:10–2:30 p.m.

Campus Life Information

Library, Health Insurance, Gym, Student I.D

2:30–3:30 p.m.
Campus Tour
3:30–4:30 p.m.
Coffee Break at the Heritage Café
Meet Your Global Graduate Coordinator
We would like to introduce you to your Global Graduate Coordinator, Sam Svensson. He will be a great resource for you as you are transitioning into Biola.
Sam was born and raised in Sweden, and lived there until he moved to the United States to attend Biola in 2014. Before moving to the United States, Sam spent nine months in Tanzania doing an internship with a local church. He served as a youth worship pastor, a church planter, Swedish teacher and refugee resettlement specialist.
Besides GSPD, Sam also currently works in Biola's International Admission Department where he has worked since his second semester of undergraduate studies. Sam finished his undergrad degree at Biola's Cook School of Intercultural Studies and is currently pursuing a masters degree in Linguistics and Biblical languages. His goal is to work in Bible translation wherever God wants him in the future. As a global graduate student coordinator, he helps global graduate students with transitional services and community building.
If you have any questions at any point, please do not hesitate to contact us at globalstudentservices@biola.edu.