Wenh-In Ng
By Mai Anh Tran
Protestant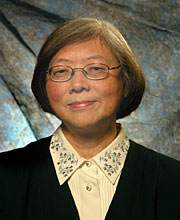 A long-time member of the Association of Professors, Practitioners, and Researchers in Religious Education (APPRRE)-who served on its Executive Committee in 1995-1996, and was President in 2001-2002-REV. DR. GREER ANNE Wenh-In NG (1936-) is currently the only Asian North American woman featured in this "Christian Educators of the 20th Century" web-based database. She may have "practically stumbled" into Christian education as an academic discipline out of her own commitment to church life and ministry practices, but she has become a staunch champion of multicultural and anti-racist religious education, with teaching and writing emphasis on the importance of inter-cultural, interfaith engagement; critical reclaiming of religio-cultural traditions; and critical analysis of intersecting and systemic oppressions. From "anonymous Christian" to becoming ordained clergy in the United Church of Canada and seminary professor, this "reluctant pioneer" gently transgresses boundaries and borders in her life, ministry, teaching, and scholarship, and may very well be known by those around her as one who-like James Leigh Hunt's Abou ben Adhem-loves God through loving neighbor.
Biography
Girl Child
One summer day before the Second World War, in the British colony of Hong Kong, a "girl child" was born to the Ng family, and given the name Ng Wenh-In Greer Anne, according to the practice in those days in which children were given both Chinese and English names. Being called by different names-including "Annie" by Italian Catholic missionary teachers in grade school-could have perpetually bifurcated a colonized subject, but not so for one who had intuitively learned to be "flexible as bamboo." Her social location, life circumstances and frequent sojourns quickly conscientized the "girl child"-the second daughter in a family of eight children-to the complexity, multiplicity, and hybridity of her identity.
DNA of Family and Faith
Nurtured in a non-religious family to value intellectual pursuits and respect for the surrounding religio-cultural heritages, shaped by a British colonial educational system to love words, sounds, and images of home-worlds beyond her own, and formed by a Christianity of Catholic and Protestant missionaries which eventually led her to creatively negotiate among allegiances and to claim her own communities of accountability, Rev. Dr. Greer Anne Wenh-In Ng journeyed from being "Greer Anne" to "Wenh-In" to describing herself as a "first-generation, middle-class female heterosexual Chinese immigrant of the 'second wave' (post-1965)" to becoming an Asian forerunner in the field of Christian religious education who hails from Canada.
Raised in what she describes as an "ordinary middle-class Chinese family" in Hong Kong, Wenh-In Ng spent much of the early years of her life "transgressing" borders. After the Japanese occupation of Hong Kong in 1940, Wenh-In and her family sought refuge from the war in what was considered the neutral territory of Portugal, Macao, in 1941. After a year or two, they joined their extended family in Hanoi, Vietnam for relative stability. Shortly after the ending of the war (ca. 1946), Wenh-In's father returned to Hong Kong to re-establish his business, while the rest of the family resettled in Macao as there were no suitable living accommodations for them in Hong Kong. In Macao Wenh-In lived until the eighth grade, at which point the family finally moved back to Hong Kong. Such "border-crossing" in times of war instilled in her a sense of "family" that is birthed by commitment, rather than by geographic nearness.
Even with what could be considered a "secular humanistic" slant to her parents' consideration of religion, Wenh-In Ng knew that there was "Confucian DNA" deep in her bones, as the family would observe basic cultural practices or rituals affiliated with major Chinese festivals or holidays. At the same time, her intrigue in God and in religion was piqued when occasions arose-such as in the fourth grade, when she attended a Baptist mission school and decided to attend the local Baptist church for Sunday School on her own. Consistent attendance in a neighborhood Catholic parish ensued during her High School years. With an unfettered curiosity and deep spiritual yearnings, this youthful "anonymous Christian" (as self-described in hindsight) sought religious identification in college, where she found herself an object for evangelization by both Catholics and Protestants. For "rationalistic" reasons which we shall see below, Wenh-In became baptized in Hong Kong's China Congregational Church; she then joined the United Church of Christ during graduate school, and eventually the United Church of Canada.
The journey from "anonymous Christian" to scholar in Christian Religious Education took exciting twists and turns, all in concert with her understanding of "family" birthed by commitment and sustained in community. In 1960, Wenh-In Ng married Kam-Yan Ng. Together, they went through doctoral studies in New York, taught at Trinity Theological College in Singapore, and relocated to Toronto, Canada when he took up a pastorate after his ordination. During all of this, a "United Nations family" was formed with their first child, a son, born in Singapore, and then a daughter born in New York.
Life-Long Learner
Though her parents were never overtly religious, Wenh-In's education was inevitably shaped by the British colonial system and by foreign Christian missionaries. She attended a Baptist Mission School in Macao in the fourth grade, where she first encountered the name "Jesus," and then a Roman Catholic high school without converting to Catholicism. Wenh-In went on to earn a Bachelor of Arts with honors in English (minoring in the history of ideas and social history) from the University of Hong Kong in 1958, then a Master of Arts in English Literature in 1960 (focusing on the work of George Elliot). Her undergraduate and graduate studies were under the direction of well-known English poet Edmund Blunden. In 1967, Wenh-In and her husband went to New York City to continue their doctoral studies-he in Chemistry, and she in English and Comparative Literature at Columbia University. She completed her Ph.D. in 1969 with a dissertation titled "The Figure of the Child in Victorian Novels of Protest." In 1978, Wenh-In returned to Emmanuel College to begin her Master of Divinity for ordination; she completed her M.Div. in 1980, and was ordained in the United Church of Canada in 1986.
Theological Educator and Practitioner
"I look at religious education as a ministry. I look at teaching as a ministry," says Rev. Dr. Wenh-In Ng about her vocation as religious educator. This has been the philosophy of her seemingly never-ending service to the church, ecumenically and denominationally, and to the theological academia.
Her vocation as minister and educator began when her husband became a pastor and she managed to resist being pigeonholed into the traditional role of "pastor's wife." Committed to being in the ministry together, Wenh-In and her husband went to Trinity Theological College in Singapore from 1964-1966, where they both served as lecturers, he teaching theology, Christian ethics, and science and religion, and she, at the special invitation of the college, offering courses in English language, religious literature and spirituality. In 1966-1967, Wenh-In and her husband went on sabbatical to Emmanuel College, Victoria University, University of Toronto, for his one-year residency as visiting scholar there. In 1967, they both went to New York City for doctoral study. While in New York, Wenh-In and family were members at Riverside Church and participated in its educational ministries, first and foremost for the sake of her then two-year-old son. After finishing up doctoral work, the entire family headed to Toronto in 1970, where Wenh-In's husband took up at pastorate at Toronto Chinese United Church.
Out of her engagement with the ministries of this ethnic Chinese congregation, Wenh-In began to get involved with denominational offices for resource development purposes, and eventually became active at national levels with denominational judicatories. From 1975 to 1980, Wenh-In served as writer-in-residence for mission education and curriculum development for the Division of Communication and Division of Mission in the United Church of Canada. In 1980-1981, Wenh-In was Ministerial Associate for St. James-Bond United Church in Toronto, overseeing education and outreach. In 1981-1986, she went on to serve as Christian Development Officer for the Hamilton Conference of the United Church of Canada. In 1986, she joined the faculty of Vancouver School of Theology as Assistant Professor of Educational Ministries. Simultaneously, she served as Director of Lay Education in 1986-1989. In 1995, Wenh-In returned to Emmanuel College, Victoria University in the University of Toronto, where she had received her M.Div., to hold the position of Associate Professor of Christian Education and faculty co-coordinator of the Centre for Asian Theology. She also served on the United Church of Canada's Theology and Faith Committee and the Committee for Gender Justice, and currently (2007) still represents the United Church on the Board of Trustees of the Foundation for Theological Education in Southeast Asia.
With unflinching commitment to bridging theory and practice, Rev. Dr. Wenh-In Ng models what it means to be a scholar/practitioner par excellence. Her communities of accountability include local congregations, denominational judicatories, ecumenical networks, local and global theological institutions, academic professional societies, and associations of theological education in Asia as well as in North America. In the arena of her academic discipline and theological education at large, Wenh-In has served as board member (1986-1997) of Pacific Asian American Canadian Christian Education Ministries (PAACCE); faculty advisor and co-coordinator of Pacific Asian North American Women in Theology and Ministry (PANAAWTM) since 1993; member of the Board of Directors (1988-1992) and consulting editor (1981-1985), as well as member of the Review Board Editorial Committee (1986-2003) of the Religious Education Association; member of a Fund for Theological Education task force which strategizes ways to support Asian/North American doctoral students; board member of Queen's Theological College in Kingston, ON (2002-present); board member and executive committee member of the Foundation for Theological Education in Southeast Asia (FTE-SEA); advisory committee member (1994-1995) and regular resource person for the Association of Theological Schools in the United States and Canada (ATS). Wenh-In served on the Executive Committee of the Association of Professors and Researchers in Religious Education (APRRE) in 1995-1996, and was its President in 2001-2002.
In her ecumenical service to the church, Wenh-In has worked with The United Methodist Church, the Episcopal Church Asiamerica Ministry Consultation, the Presbyterian Church USA, the National Council of Churches, USA, and the Canadian Council of Churches. Internationally, she has spoken at the following places: Zhongnan Theological Seminary, Wuhan, Hubei Province of China (1993); the Tenth Convocation of the Programme for Theology and Cultures in Asia (PTCA) in Pattaya, Thailand (1993); and the Ecumenical Institute in Bossey, Switzerland, sponsored by the Word Council of Church (2002). She was a founding member of CATS I, the Congress of Asian Theologians (in cooperation with the Christian Conference of Asia) in 1997.
Her tireless efforts in contribution to scholarly and practical resources for the academia and the church have been supported by such awards such as the MacMillan Fellowship for Theological Research (1993-1994), Victoria University Spooner Traveling Fellowship (1997), and the Wabash Center's Teaching and Learning in Theological Education Grant and Teaching Theology and Religion Grant (1998-1999).
From Anonymous Christian to Reluctant Pioneer
Perhaps it is out of modesty that Wenh-In Ng claims to have "stumbled" into Religious Education because of practical needs to become a "reluctant pioneer," for even the tracing of her career paths leaves one winded, never mind being in her energetic presence. Theologian Rita Nakashima Brock writes of her co-founding member of PANAAWTM:
As the senior most faculty advisor for PANAAWTM, Wenh-In has been tireless in her support for and encouragement of all her colleagues and students. She has more energy and enthusiasm than most people half her age, and she is constantly learning as she engages new issues and concerns. She is a strong model of that old saying, "lifting as we climb." She has always done both, with grace and joy.
On June 30, 2002, Dr. Wenh-In Ng retired from Emmanuel College and was appointed to the rank of Associate Professor Emerita. In the minutes of the University Senate meeting in which her retirement and Emerita appointment was considered, a resolution presented by Principal Peter Wyatt reads: "How could this energetic dynamo of a woman even be close to retirement age? It scarcely seems possible. Her contribution as a teacher, minister, scholar and beloved colleague has been of breadth and vigour." The resolution continues with a catalog of contributions which Wenh-In had made to the College and on its behalf-from international travels for faculty exchanges or ecumenical conferences; to facilitating the establishment of a center for Asian Theology which hosted a number of lectures and dialogues; to participating in the life of the community with Lunar New Year lunches and worship services. Not surprisingly, the faculty concludes: "Because we know Wenh-In for her energy and vitality, for warmth and generosity of spirit, we anticipate that retirement will mean only new departures in her calling as a pastor and teacher."
Indeed, retirement only meant new departures, as Wenh-In immediately went on to serve on the United Church's Racial Justice Advisory Committee, and became advisor and theological reflector for the Toronto Conference Anti-Racism Task Group. She continued to teach, advise Masters theses and doctoral dissertations, and direct activities at the Centre for Asian Theology at Emmanuel College. After about a year acting as interim (national) General Council Minister, Racial Justice, for her denomination, Wenh-In currently (2007) serves as Conference Minister for Social Justice and Ethnic Ministries in the Toronto Conference of the United Church of Canada.
With gusto, Greer Anne Wenh-In pushes into the 21st century with continuous "dynamo" activities. And yet, arguably, it is not with publications or other resources created which she makes a mark in this world. Rather, it is with being who she is, encoded in her "DNA" as a Religious Educator, and how she goes about her work, as described by her PANAAWTM colleague, biblical scholar Seung-Ai Yang: "My immediate response about Wenh-In is: 'great integrator of root tradition and ever-changing society; zero discrepancy between what she teaches and what she does; strongest commitment and unswerving practice of her philosophy of education through her most gentle and humble personality.'"
Wenh-In ON Wenh-In: SELF-REFLECTIONS OF A RELIGIOUS EDUCATOR
Organized lists of activities and achievements are invaluable, but perhaps a better sense of the identity and vocation of a scholar and teacher is better expressed "in her own words." So on November 5th, 2004, at the annual meeting of the Association of Professors, Practitioners, and Researchers in Religious Education held in Denver, Colorado, a sit-down conversation with Wenh-In Ng was held in her hotel room over a couple of hours of "talk stories"-she re-collecting life stories to the writer of this entry, a privileged interlocutor. The meaning-making in the following re-constructed narrative sheds interesting insights into the life and work of one who considers herself "reluctant pioneer."
ON BECOMING CHRISTIAN
Mai-Anh:
Knowing your cultural-religious background as Christian religious educator, it seems appropriate to begin by asking how you became a Christian in the first place.
Wenh-In:
I grew up in a very ordinary middle-class Chinese family. We had no specific religious affiliation-we were not overtly Buddhist, or Christian, or whatever. I had never heard about something/somebody called "Jesus" until the fourth grade, when I was attending the Baptist Mission School in Macao after WWII, upon returning from Hanoi, Vietnam.
My parents never said we had to go to the temple. We never went, because we believed that such things as incense and rituals are things of superstition, and superstitions are only for servants, you see. We're "enlightened," educated! It wasn't until I wrote a paper in seminary on "Concepts of God," where I had to trace the evolution of how I conceive of God, that I was pushed to think about my own spiritual make-up.
In hindsight, I could see that my spiritual make-up consists of several elements. First of all, festivals were when experiences of faith came alive in our household. My family participated in certain practices surrounding festivals: you knew you didn't kill anything on New Year's Day, so you couldn't have chicken, and therefore had to eat Buddhist vegetarian dishes. All of these things formed my spiritual awareness, but without it being articulated. It was not told to me explicitly. I really believe Westerhoff had something there when he said that one's first immersion in the spiritual life is through practice or through experience. So when I look back now, that was an influence in my life.
Second was the Taoist influence. Nobody ever told me about Taoism, but you grew up knowing that some foods are yin, some foods are yang. Pictures in the drawing room were sceneries of huge mountains and streams, with this little human being down below. There was always this awesomeness about nature.
Thirdly, there's God, but who is God? There is no concept of something called God in my religio-cultural awareness, but there is tien. As Kwok Pui Lan says in her first book, Chinese Women and Christianity, tien is one of the ways that Chinese people conceive of the ultimate or the divine. For me, when I look back, the concept of God for me has been more like a "force." There's never a person. Human names-such as Jade Emperor-are something we give to the force. It is not so much divine as it is mysterious. It's that mystery which Gordon D. Kaufman talks about-God as mystery. Kaufman has now realized that interreligious or multifaith endeavors are important because experiences of mystery cross faith lines and religious lines. As it is in the Tao Te Ching: the name that can be named is not eternal. Feelings about the ultimate can be felt in creation.
Finally, another essential element to my spirituality has to do with my experience under a colonial system of education. The mission school which I attended was very colonial. The teachers said Christians do not "worship" ancestors; we cannot offer foods as non-Christians do. But there was one big problem to that injunction: How can one not respect one's ancestors?
I went to a Roman Catholic high school but never got baptized because I was very literal in interpreting the demands of the Church-hence, the precepts and doctrines didn't sound "reasonable." And it wasn't just about reasonableness, or lack thereof: I just couldn't put into practice certain doctrines and beliefs and still be myself, a member of my family and my culture…
As a child, however, at around age ten or eleven, I had no problem accepting the existence of somebody called Jesus or God. It felt quite comfortable, and I found the narratives reasonable and logical. If you consider "conversion" as committing to this "belief" or thinking, then I became a Christian way back then. I was what Karl Rahner called an "anonymous Christian"-but I knew I was a Christian. I found it interesting to be one. The Bible stories made a lot of sense. I had the good fortune to be exposed to Biblical narratives chronologically, thanks to the Catholic textbook used during junior high, which presented the Biblical stories in chronological order.
Consider Chuck Foster's paradigm of the "household of faith," into which one can enter through several "rooms": through assent (belief); experience (conversions like that of the apostle Paul); ministry experience involving justice work; or experience being with a group of Christians. I had assented to knowledge due to the classes on doctrines in Catholic school. Within James Fowler's faith development theory, I would have been at stage two-quite literal. The stories made sense. Not only that, I grew up with a non-overt belief in ghosts or spirits-a strong influence of Asian popular religiosity. Within this belief system, the spirits of the dead come back. That scared me! The first death in the family which I experienced was that of my uncle, my father's elder brother. I was told that I was one of his favorite nieces. So when he died, I figured that he would come back and try to reconnect! I even had dreams about a dead person standing at the foot of my bed. So you see, encountering the Christian way of understanding gave me a sense of security that this God is powerful, and can conquer all the spirits. It was a human need for assurance, for security from a powerful God. God Almighty is important in one's life at some points.
Now, I knew that the ancestors who had passed on were benevolent spirits. So, as a "compromise," I would not go through all the rituals like my great-grandmother did, but would stand in front of the tablets dedicated to the ancestors, without bowing to them. I did this even though I hadn't been baptized yet, but still considered myself a Christian in thought and spirit. The pre-Vatican II Church allowed for "spiritual communion," you see. In chapel at school, my classmates who were confirmed (at age seven) would go up for Holy Communion. The nuns said that those who weren't baptized but had the desire to receive Jesus could have a "spiritual act of Holy Communion." We could recite the prayer of the centurion: "I'm not worthy that thou shouldst come under my roof; say but the word and my soul shall be healed." That was my communion prayer throughout all those years.
In my teen years, I continued to consider myself a Christian regardless of whether anyone else did. I decided to attend mass at a local Catholic parish on my own. I could recite and sing all those kyrie eleisons. Since the Catholic nuns said that Protestants were heretics, I never went into a Protestant church, except for a few occasions in the fourth grade. But upon entering college, I met up with other kinds of Christians. At the university, both Catholics and Protestants wanted to convert me, and all groups expected my "allegiance." I ended up choosing the Protestants for both practical and theological reasons. The practical had to do with personal experiences and understandings of the Church's stance on certain social issues, much of which need not be named here. But the theological was rather straightforward. In theology classes with the Jesuits, I was taught that faith is a leap in the dark. When making decisions about faith, one does not know exactly how it would work out. I never forgot that-I thought it very helpful. However, at a summer camp in my undergraduate years, I turned to an American missionary -Mr. David Adeney-for advice about choosing a faith community in our one-to-one afternoon talks. He said that Catholics generally believe that one has to go through the priest to reach God, while Protestants say everybody can reach God! So, I went with the Protestants!
ON CONSCIENTIZATION TO COMPLEXITY
Mai-Anh:
With such "clear-cut" ways of entering or choosing your faith tradition (that is, in becoming Christian), how did things morph into such complexity in your understanding and practice of the Christian faith?
Wenh-In:
My so-called "clear-cut" ways are "clear" only in hindsight, you see. It is only in looking back at what one has done that one is able to see things more clearly. It was more of a natural evolution-from undergraduate to graduate school, to being exposed to theological questions in seminary, to getting involved in seminary activities and listening to lectures at Union Theological Seminary in New York.
A notable paradigm shift was my move away from literal interpretations of Scripture. This occurred while I was in Singapore teaching at Trinity Theological College; my husband was teaching ethics, and I English language and religious literature. I came across a Leader's Guide to a church curriculum that offered a different interpretation of the story of Jesus' temptation. The curriculum expounded on Jesus' wrestling with his sense of vocation and ministry. Before that, I had always focused on the "fact" that "the devil came, and the devil went." But at the moment, I thought: "No, it doesn't have to be that way. It could be a way of interpreting the writers of the story-distinguishing between a 'factual happening' and a way of looking at something that happened and then describing it back to one's contemporaries." Once I got over that hurdle, I left all that literalist "stuff" behind. There was no big struggle, because it was such a revelatory thing. I became immersed in faith community and in a theological community.
With regard to Biblical interpretation, I was still "middle-of-the-road." C.S. Lewis was influential-conservative theology, but challenging ideas about the church, with a vision of what the world should be; from his work there was guidance for my sense of spirituality and Christian practice. I was a fairly "run-of-the-mill" Christian. The other big influence was Martin Buber's "I/thou" concept. Then there was Teresa of Avila, and exposure to other classical Christian sources, which exposed me to how the Church has been through history.
In articulating his "styles of faith" or "rings of faith," John Westerhoff purports that every time we encounter a faith question, we go through the cycles again. Now, keeping in mind that the styles are not meant to be compartmentalized, this notion was certainly true for me, especially in my exposure to feminist Biblical interpretation, beginning with simple texts such as Rachel Wahlberg's Jesus According to a Woman. I began to learn to be critical of the Bible in a different way. It was not just getting beyond literal interpretations; it was about understanding social location and power, about applying things like Freire's critical pedagogy for critical understanding of Scripture, of church life, and of my own life. I had concerns not only for women in the church, but also for children: how were we as a Church creating opportunities for them to be "real Christians"? Naturally, Freire's approach to education was very influential. Everything had to be "multiple"-multiple sources of learning and knowledge for "enlightenment," all complementary for support and critique. The Freirean educational approach helped me to understand why feminist Biblical interpretation made sense-it was a movement toward having people become "subjects of their own faith," especially children.
My feminist theological sensibilities were awakened not in the seminary, but by white feminist friends in the United Church (of Canada). My Asian sensibility came in later! The seminary professors were male. The only one-woman professor came when I entered seminary, and she taught Religious Education. People resisted her-male students reacted against her. She fought hard to teach a course on feminist theology. You see, as women, our experiences count.
Eventually, I came to another realization: I am not just a woman. I'm an Asian woman! And in Singapore, I was a "married" Asian woman. When I was invited to teach with my husband at the seminary over there, the people at the school didn't know what to do with me-a married woman who had the same "status" as her husband. You see, most women who were teaching there were missionary wives-much like clergy wives. They taught gratis, without faculty status. They were pegged in a different way. They weren't scheduled to preach in chapel, even though faculty members all had to preach. That's where my Freirean consciousness came in-the importance of "reading" one's context as "text." When I got pregnant, they didn't know what to do with me either. Fortunately, the school checked to see what was stipulated for government jobs, and based on those criteria, I got maternity leave!
I call myself a "reluctant pioneer," because I did pioneering things that I didn't even realize until later.
For me, feminism or feminist consciousness was not something arising in the church or in social movements. My conscientization came to be from my own reality and experiences as a "girl child"-way back when I was six years old! You see, in the Confucian order of relationships, seniority matters. I was second oldest, with an older sister. However, when my brother was born, things changed. With the sense of justice of a six-year-old, I was quite frustrated: If seniority counts, then he's the younger brother, and therefore he should respect me! How come, then, does he get all the perks simply for being a boy?! Circumstances sure helped to develop one's critical consciousness early. I tell people that I became a feminist at age six!
I also had strong role models-my mother's younger sisters, for example. Both were single; one was a librarian, the other a teacher of English in a Chinese university. When we came to the U.S. in 1960s, it was surprising how little Americans were aware of the existence of International Women's Day. Culturally, the Chinese culture in particular, there are legendary figures like Hua Mu Lan, Li Qing Zao-famous figures in literature. There is Xu Xiu Mei, the youngest sister in a famous family of poets whose work is widely known. Looking back, it's not surprising to see what I espoused. It was a natural fit for me-combined with liberation theology and liberative pedagogy. That's why I believe so strongly in what our discipline, Religious Education, is about: to help form people to fully be who they are-whether boy or girl, old or young. But the challenges continue. Being a six-year-old feminist who grew up to be a strong laywoman wasn't the only facet of my identity. I was also subsequently a Chinese woman living in Canada, and had to examine what that meant for me.
An important turning point was my involvement with PANAAWTM-the gathering of Pacific Asian/North American Asian Women for Theology and Ministry. It was where I hooked up with theologians Rita Nakashima Brock and Kwok Pui-Lan. Up to that point, everyone knew me as "Anne" or "Greer Anne." Nobody knew me as "Wenh-In." But in 1993, I reclaimed my name. Now, old friends still call me Greer or Anne, and that's okay. It's part of living with the notion of "multiplicity"-which makes a lot more sense than "diversity." The latter works for those who are interested in facile versions of mosaics or whatever, who want to "include" everyone, but who ultimately have all the power. For me, "multiplicity" is part of my nature. I can't help but belong to multiple communities. What's the big deal, right?! We have to deal with multiplicity all the time. We've become quite adept.
Now, interestingly enough, I became ordained out of necessity. My husband and I had made a pact that we would be in ministry together. However, within the Asian community, credibility is given only if one was ordained. This was an instance where the intersection of gender, race, and class came together in a real way. Even my white feminist friends couldn't understand the power negotiations-it is easy to think of "woman" as one monolithic group. It's not a compromise-it is really about being "creatively subversive." It took me some time to come to this realization. Bell hooks helped my thinking on this matter. Her writings on margin and center point to the insidiousness of racism, which requires us to approach feminism in a more complex way. It took me a while, for instance, to recognize that I belong to the land-owning class. Once again, the Freirean consciousness proved helpful.
Thus, the various strands of my identity-feminist, liberative, and racial/ethnic consciousness-they all come together. Groups such as PANAAWTM and PAACCEM (Pacific Asian American Canadian Christian Education Ministries) serve as important networks of support for those who need to reckon with the complexities of their identity construction. By the time I wrote my article on "wholesome nurture" for Asian girls in particular and female Christians in general (1996b), my thinking had matured a bit. It was then that I articulated aspects of Orientalism in the perception of Asian women. That has now developed into the multicultural thrust of my work in Religious Education. If white churches want to be multicultural, they must recognize racism in themselves-whether manifested through oppression or condescension. Education is key. That is where my thrust is now.
ON MARGINALITY AND MULTIPLICITY
Mai-Anh:
What are the gifts and challenges in championing this multicultural thrust as a woman who teeter-totters between margins and centers? Arguably, because of your social location, you would not be readily perceived by many others as being in "center" for a variety of reasons. What is it like, for instance, to be educating a white congregation about racism and such, when you're not readily identified as an "insider" within such community?
Wenh-In:
It's not simple, or easy. Often, white congregations would invite me to work with them on issues of multicultural or anti-racist education. To have such an agenda means they're already open to listening. I do have power because of my education; I come as a professor and a denominational staff person. It is the "power quotient" in me which congregations would have to accept. On the other hand, some still think of things, as my being relatively "new" to the Christian faith (not a "cradle Christian," so to speak), and so forth-in other words, things that make people question or challenge my legitimacy.
At first, I would try "assimilationist" or "conformative" strategies. I would attempt to not let my background to come out too much. I would read Westerhoff and Fowler and try to apply their theories. Eventually, I discovered that uncritical appropriation of theories can't work. For instance, I came across Randy Furushima's dissertation research in which he argued that for Japanese-Hawaiians, Fowler's stages Three and Six could co-exist. I then began to assess the theories for cultural appropriateness. This worked well at Vancouver School of Theology, where I helped to design curriculum for the Native Ministries' M.Div.-by-Extension program with culturally appropriate pedagogical approaches and resources. It became clear that even basic competencies could be achieved differently by different communities. I came to see "multiculturalism" as honoring different peoples and cultures for their own authenticity, their approaches to spirituality, and their religious experiences. It entails taking their history into account. These realities affect how our theories play out in everyday life.
Consider this: If the concept of the Trinity doesn't work, then perhaps the notion of the four corners of the earth or the notion of groundedness could be more important than temporality. One has to unsubscribe oneself from universalism. There are other formative influences in people's lives which make it just as valid for their variation. Or, take another example: the five stages of grief propounded by Elisabeth Kubler-Ross. It didn't seem to work in my experience, especially when my husband died. At that time, I had a fellow minister friend who used to be a funeral director. Talking extensively with him helped me to see how one particular theory doesn't need to apply to everyone. There are multiple ways of coming at something that is seen to be monolithic.
Multiculturalism in Canada is different than that in the U.S. It is a state policy in Canada, instated in 1971 by then newly elected Prime Minister Pierre Elliott Trudeau. "Biculturalism" or "bilingualism" was the movement of the day, arising out of Quebec's insistence on retaining its French cultures. However, after 1965, Canada was seeing more European and non-European immigrants in the mix-the retaining and celebration of different cultures and languages became important, even though it would take more decades to move toward equality in terms of rights and privileges. My spouse was one of those clergy activists advocating for language schools for Chinese students, petitioning the Board of Education for Chinese students to learn the Chinese language at school as a regular subject rather than as a tag-on or as a service to be provided only at churches.
Now, often when people think of multiculturalism, they think of "ethnic groups" other than white. The assumption is usually that all these "other groups" could keep their language, food, customs, and so forth. But the real structural issues are not addressed-such as equity in terms of employment, access, etc.
This brings us to my postcolonial awakening, another important facet of my conscientization. Postcolonial theories put into words what I had been feeling as a colonized person. Up to that point, I just as well assumed that England was my home-I didn't even realize how internalized it had been. Postcolonial lenses expose the reality which many people face but don't want to think about. The critical tools from postcolonial theories enlivened my biblical interpretation and theologizing. Kwok Pui-Lan's article in Elizabeth Schussler Fiorenza's edited anthology was the piece of writing that prompted me to see the importance of postcolonial biblical interpretation. Indeed, racial justice is a goal, but the tools are many. It is important, though, to recognize that postcolonial analysis does not lead to rejection of one for another. For instance, the people of Hong Kong or Singapore do not consider themselves strictly one or the other. There are things to be gained from having studied under the British education system, too, you know!
All of this leads to an important implication for Canadian scholarship: How does the Canadian context-socially and politically-differ sufficiently from that of the States, such that we cannot depend on research in the U.S. to explain our reality? I am now a big champion of diversifying "North America," challenging the presumption that "America" automatically assumes "Canada" as well, or that "Asian American" automatically includes "Asian Canadian." We must take this seriously in thinking about scholarship and contextualization. And all of this points to the interdisciplinary understanding of my work: Religious Education is a practice-based ministry and field; it cannot be divorced from what's going on in church; it is not just theorizing. If Religious Educators like myself aren't connected to people who are articulating theology, it doesn't help. We would end up segregating doctrines or theologies from practice.
ON MULTICULTURAL EDUCATION AND ANTI-RACIST SPIRITUALITY
Mai-Anh:
What challenges do Asians-specifically a Chinese Canadian woman-face in teaching white colleagues about racism and in carrying out strategies to dismantle racism? Put more bluntly, what is it like for an ethnic minority person to have to educate dominant groups about racism?
Wenh-In:
The first thing is that I never do it alone. I always team up with a white person, one who is of the same "level," because some people will never listen to me no matter what. Working with allies is key. The second thing is that I must know my audience, and learn to take things with a grain of salt. Some people may never open up, but I cannot let them ruin others' chances. I set realistic expectations and not expect everyone to come over to my side. If only one person shifts their perspective, it is worth the effort.
I work with the senior leadership of the United Church (of Canada) on the national level-the General Council Minister for Racial Justice. I was asked to help develop "anti-racist spirituality." Talk about a tall order! So, I went and gleaned some things from what I had done in my teaching, incorporated practical exercises, and set realistic expectations. Even if I just get people to admit that racism exists, or that certain people benefit from white privilege, or that the church needs to implement anti-racist policies… it is worth it. I can take small steps, but would not shy away from the task.
It is also important to be in on the planning if possible, so that you can help to design the events specifically for what people need. I have served as a consultant to many church programs and committees. Herein lies the advantage to not having to teach full-time now. I have the energy and time to devise ways and means for important training, and can identify the communities to give energy to. We Chinese know that things don't change overnight! It takes time…
ON RELIGIOUS EDUCATION
Mai-Anh:
Why did you choose the discipline of Religious Education?
Wenh-In:
I look at Religious Education as a ministry. I look at teaching as a ministry. For me, the call was to ministry. How the call manifested itself has no one shape. I'm just as committed to good preaching, to liturgy through hymns. I translate from Chinese to English, or vice versa, and even write new verses.
The Chinese say: "Circumstances create the hero." Circumstances are the contexts that put a demand on us, and we respond in a way that leads in a particular direction. I didn't start out in Religious Education. I went for ordination. I was already involved in Religious Education in the church-my entry into the discipline was practice-based and life-based. I quickly came to realize how central this kind of ministry is for the life of the church.
I actually have my son to thank. Born in Singapore, he was about two-and-a-half when I returned to the States to finish doctoral studies. We came back to Riverside Church. The church had an amazing children's program, led by early childhood educator Josephine Bliss. Now, the only way to calm my son down and leave him in his Sunday school class was to tell him that Mommy had to teach another class. In a way, that was what got me involved in the educational ministries of the church! I didn't grow up in Sunday school; I only went to one or two classes while attending the Baptist school in the fourth grade. Through my son, I got immersed in the ministry of Religious Education. I got to learn about approaches that intentionally cater to the whole child through music, worship, the Bible, storytelling, and so forth. Since there was no fixed curriculum, no books to distribute, I was exposed to curriculum writing. Team-teachers would work together to develop resources. I taught four-year-olds. I got immersed in the practical experience of developing my own curriculum resources without being able to name what I was doing-this was more valuable than having a set of printed resources at hand.
It could be said that the "second stage" of my involvement in educational ministries was when my husband became the pastor of a Chinese congregation in Toronto. We were there for nine years. Now, he told the church that since our second child was only two months old, I couldn't be involved in the church as the "typical" minister's wife. I joined the choir, but didn't get involved in Christian education as a teacher. Instead, I volunteered to serve as a liaison between the congregation and the presbytery-such connection was needed for this ethnic congregation. Through this, I got to know denominational officers on children and youth ministries, and learned about lay training centers and the "family clusters" model of church education (popular in the late '70s).
All in all, the combination of practical needs (having young children) and my love of writing and fascination with resource development eventually led me into becoming a leader in training by default. I was subsequently asked to write some materials for the national church. There was recognition of the need to contextualize Biblical stories for contemporary situations, especially for children.
Now, I was immersed in practice, but was not satisfied with just that. Taking the "experiential learning cycle" seriously, I believed that we can begin with concrete experience, but can also begin with theory. The book that stimulated much theoretical thinking was John H. Westerhoff's Will Our Children Have Faith?-introduced by Henry Simmons to the Religious Education Association. I first attended the professional meeting in 1978, the Year of the Child, and also the 200th Anniversary of the Sunday school movement.
This is why I got into teaching as well. If ministers don't understand, then they become the bottleneck in the life of the church. Fortunately, the national church decided to lift the profile of Christian Education in theological schools, because it recognized the frustrations of having clergy who don't understand the importance of Christian Education. This was an example of dealing with the issue systemically and structurally. It takes a system to cultivate the understanding that teaching is everybody's function.
ON BEING Wenh-In
Mai-Anh:
Perhaps we move now to a more philosophical question: Who Is Greer Anne Wenh-In Ng? Could you talk a little bit about your formation-not just about you as an academic?
Wenh-In:
Of course! It's part of engaging the totality of who we are, isn't it?!
I'm rooted in a Taoist cosmology-a Taoist understanding of how the universe forms. This worldview lies at the heart of what I shared in my baccalaureate address to the undergraduates of Victoria College in the year of my retirement: the notion that one can only love God through loving neighbor. Thus, alongside my commitment to racial justice, I have become bolder in reclaiming some of the strands of my own cultural heritage, philosophy, and cosmology. Indeed, one does not do this in an Orientalizing way; but one should also not shy away from it. It is equally important to be critical of that which you appropriate.
Various elements of Confucianism, Taoism, and religio-cultural sensibilities shape my spiritual life. Yes, I am engaged in spiritual disciplines such as prayer, Scripture reading, and critical interpretation. At the same time, I also practice Chinese calligraphy. I take Taoist walks in nature. I work with Native sisters and brothers-they can relate to the cosmology of my Chinese heritage.
To the question "Who is Wenh-In?" my response would depend on the audience. For an academic audience, I'd say I'm learning to do theology as an Asian person in diaspora. For a non-academic audience that is Christian, I'd probably start off by getting them to share what faith is to them, and then come in with my understanding of what I understand as the "divine spark." I'd start with an incident early in my life, which led me to learn that I had to fight for my own identity. It was not comfortable for me to have had to learn it, but it taught me how I could help students to fight for who they are. I'm not a novelist, but I'm a good short story writer. I'd pick episodes of my life, take an incident, write it up, and then string these pieces together.
I'm not a celebrity. Most people want to read biographies of celebrities so they can see connections. As an academic, the rigorousness with which I wrestle with ideas was arrived because it was a necessity. I needed that to do the analysis. I don't learn something because everybody else is doing it or reading it. The purpose of and my commitment to academic endeavors are governed by my life passions-and that is being faithful with one's whole person; empowering girls and women; empowering leadership for Asians and minority persons. One of the corollaries to that is encouraging younger Asian women to take leadership. It's part of my work.
Mai-Anh:
What is it like being the only representative of the "first generation" of Asian/Asian American scholars at APPRRE?
Wenh-In:
David Ng and I were the only ones for a long time! This is an important stage in the life of APPRRE, and APPRRE better recognizes this. Let us forget all the in-fighting. How can we collaborate? How can we call each other to task? That means we must spend time with each other… We need space, visibility, legitimacy. Since Religious Education is a practice-based discipline, our work must be grounded in the life of the church. We need to allow our energy to coalesce.
---
Contributions to Christian Education
Of all the summative statements that could be made on the life and work of Rev. Dr. Greer Anne Wenh-In Ng, perhaps this one, in her own words shared in the interview session for this entry, captures what is in her heart:
The purpose of and my commitment to academic endeavors are governed by my life passions-which would be being faithful with your whole person, empowering girls and women; empowering leadership for Asians and minority persons. One of the corollaries to that is encouraging younger Asian women to take leadership. It's part of my work.
Indeed, with passion and conviction, Dr. Wenh-In Ng models what how exciting it can be to live out the what, who, when, where, why, and how of Christian Religious Education in ways consistent with feminist and liberative pedagogy, justice-seeking commitments, and critical engagement with diverse religio-cultural ethos, sources, and resources. The title of one of her articles, "From Confucian Master Teacher to Freirian Mutual Learner: Challenges in Pedagogical Practice and Religious Education" (2000b), provocatively reflects the agility and gracefulness of one scholar's ability to live and hold in tension the values, commitments, and multiple traditions which inform her pedagogical praxis and disciplinary scholarship. Ng's body of work reflects a "hermeneutic circle" which complexly names the present experience and context; then engages a variety of disciplinary critical tools for analysis and consciousness-raising-from sociological analysis, to critical race theories, education theories, and literary studies, to vigorous engagement with theology, biblical interpretation, and spirituality. Analysis and interpretation are evaluated according to justice-seeking commitments as informed by multiple cultural-religious heritages. Ultimately, the telos is practical implications and applications for lived faith on multiple levels-local, denominational, ecumenical, and global. In fact, it is the continuous "on the ground" work which informs Ng's scholarship. One can see the manifestation of this "hermeneutic circle" in her work as follows.
Context, Context, Context!
Since Dr. Ng's entry into the field of Christian Religious Education was shaped by "context," it has been her commitment as an Asian North American feminist scholar to live by the mantra of "contextualization" in her exploration of theology, ministry, and pedagogy. As she articulates (1997b), "[t]he term 'contextualization' consciously situates any group's theologizing and mission in the historical, social, political, and economic conditions in which it finds itself. At the same time, the term critically assesses the forces that shaped or warped it …"
Recounting an experience etched in her memory from the 1970s which led her to recognize the significance of context for Christian religious education, Ng writes (1997b, 192):
As I sat in my editor's office one day to receive feedback on my latest contribution to the next year's junior age curriculum, I heard: 'I like your story line, but you might want to introduce another type of family in your next story. Not all families are father-mother-two children anymore. … I quickly learned to incorporate into my next few stories a divorced father, a working mother whose family had to get Thanksgiving dinner ready because she was on emergency shift, and an ordained married woman minister.
The second incident which conscientized Ng to the term "contextualization" was when she first heard it at a conference on China in Montreal, in 1981, where she later learned was used by the Theological Education Fund of the World Council of Churches in 1972. With these perspective-changing encounters, Dr. Ng began to commit to identifying and addressing "contextual" issues which impact faith communities and society at large-from ethno cultural identity issues; to generational and gender issues in family and church; to women's leadership in the church; to the relevance of local culture and popular religious expressions; to immigration and racism issues; to the reality of technological, economic-political, and socio-religio-cultural globalization. Thus, as Ng demonstrates in her research, writing, and teaching foci, "context" is as much about addressing the constantly shifting socio-economic-cultural reality which shape lived faith (e.g., changing family structures) as it is about unpacking larger systems, structures, larger patterns, or global connections that impact lived experiences.
Commitment to Justice, Discipleship, and Citizenship
In the important anthology Multicultural Religious Education, edited by Barbara Wilkerson, Dr. Ng contributed a chapter on "Pacific-Asian North American Religious Education" (1997). In it, she named the selected issues in the religious life and development of Pacific -Asian North American Christians, some of which are cited above; but more importantly, the issues identified reflect the conviction that Christian religious education is about discipleship toward justice commitments, multicultural consciousness, interfaith co-existence, and global citizenship.
The strong social justice commitment in her ministry and scholarship is evidenced in her concentrated attention upon developing resources and strategies for multicultural, anti-racist education. Within the Canadian context in which "multiculturalism" is a government policy, Ng pushes churches beyond facile understandings of "diversity" and beyond exoticizing or patronizing celebrations of "inclusion" or "tolerance" (2000a), and urges for analysis of policies, structures, or systems that sustain dynamics of power and privilege. Taking cues from other feminists of color-such as bell hooks, Audre Lorde, Emilie Townes, Trinh T. Minh-Ha-Ng muddles demarcations between "margins" and "centers" even as she learns to listen to so-called marginal voices. From addressing the need for "wholesome nurture" of children and youth, girls and women (1996b), to engaging with indigenous or Native cultural traditions and resources in her approach to multicultural education for social transformation (1996a), Ng tackles the intersection of gender, race and ethnicity, age, sexuality, cultural and religious traditions in her articulation of multicultural education. Crucial to the work towards intercultural engagement is Ng's insistence that justice agendas not be imposed upon any group or community, for such tendency is ignorant of contextual specificity at best, and oppressive at worst (2000a).
With special attention to multicultural education for and within Asian/Asian North American (A/ANA) faith communities, Wenh-In Ng addresses the challenges and promises defined by varied immigration patterns and socio-historical situations (1997). Distinguishing among the specific needs of Asians, Asians in diaspora, and North-American-born Asians, Ng posits the rightfulness of A/ANA congregations to see themselves as "sojourners no longer"-to move from "survival and maintenance mode" to "participating and sharing mode." The key, she would argue, is in holding in tension continuity (rootedness) and change. That is to say, recurring issues of cultural identity and racism may necessitate the sustaining of racial/ethnic congregations as safe spaces for wrestling with the process of "enculturation" (not "adaptation" or "assimilation"), in which rich histories, traditions, values and cultural resources can be (re-)claimed to enrich not only a particular community but also the total Christian faith community. At the same time, values and traditions must be appropriated critically for life-affirming applications to contemporary situations. Thus, citing Richard Osmer's work in Rethinking Christian Education, "recommitment to social criticism" may be in order for the advancement of inter-congregational, inter-denominational, and inter-cultural work.
Interdisciplinary Scholarship
As an Asian Canadian feminist Religious Educator committed to liberative, ecumenical, and inter-faith work, Dr. Wenh-In Ng is an interdisciplinary scholar who employs a wide range of lenses across various disciplinary arenas: from sociological analysis and cultural anthropology, to critical race theories, education theories, and literary studies, to vigorous engagement with theology, biblical interpretation, and spirituality. Formed by Eastern philosophical traditions from her upbringing, and an academic background in English literature, Ng enjoys bringing together a variety of symbols, languages, metaphors, narratives in her engagement with lived experiences of faith (cf. 1989). Religious education is then a critical interpretation and appropriation of a variety of religio-cultural sources and resources, such that there is no one dominant "Christian" story or vision against which other stories and visions are evaluated. Part and parcel to that, responding to contemporary issues and situations require critical socio-cultural-religio-historical analysis for contextualization of pedagogy. Ultimately, she insists that the task of a religious educator necessarily involves theological reflection and contextualization, biblical interpretation, and spiritual practices.
Scholar-Practitioner in Connectional Ministry
As scholar-practitioner, Wenh-In Ng does not privilege theory over practice to the extent that she produces just as much-if not more-resources for the church as she does for academic discourse. With the conviction that Religious Education is a ministry-and a practical theological discipline-the Rev. Dr. Ng passionately and creatively develops liturgies, curricula, hymns, songs, litanies, spiritual practices; and serves as consultant and resource person for churches, denominations, and theological institutions on curriculum and pedagogy. An ordained clergy in the United Church of Canada, Ng remains an ecumenist at heart, connecting broadly with denominations, associations, and organizations in North America and globally. She is as quick to cite specific "conversation partners" who inspire her thinking as she is to name organizations and initiatives that are important to theological developments, specifically for Asian/Asian North American theology and ministry (e.g., PANAAWTM, PAACCE, PACTS, CATS, ATESEA, the Asian feminist journal In God's Image, etc.). In this regard, one notable publication, in which Dr. Ng played an important role in securing funding as well as conceptualizing with other scholars of PANAAWTM, is the research report on "Developing Teaching Materials and Instructional Strategies for Teaching Asian and Asian American/Canadian Women's Theologies in North America" (1999).
Reluctant Pioneer
As she herself notes with understated seriousness, Greer Anne Wenh-In Ng is among just a handful of first-generation Asian North American religious educators in the 20th century, arguably the first Asian woman to have participated in REA: APPRRE and to have made sustained contributions to the association. With both humility and enthusiasm, she works to ensure that new generations of Asian/Asian North American scholars are cultivated, nurtured, and mentored for theological education and religious leadership. Her central leadership role in the PANAAWTM network attests to this commitment, as it also reflects her endeavor to engage Religious Education with other theological disciplines.
Perhaps no better summative words could be offered than these offered by her long-time colleague and friend, theologian Kwok Pui-Lan:
Wenh-In is one of the pioneers of Asian Canadian feminist theology and religious education. Her work has always combined multicultural sensitivity and theological vigor. What I like most about her work is her willingness to engage new concepts, ways of thinking, and critical inquiries. She is a leading authority in multicultural Christian education in the Canadian context. As one of the senior scholars in her field, she has unceasingly nurtured the younger scholars. I have learned much about theories and practices in teaching from her and about exploring in greater depths the Confucian legacy in teaching and learning.
With fondness, friends speak of her integrity and energy. With humor, colleagues at Emmanuel College express their admiration for her on the occasion of her retirement from the faculty in the following song-a fitting medium for a creative educator:
"Come, Let Us Sing of the Lovely Wenh-In!"
Come, let us sing of the lovely Wenh-In! What will we do! What will we do! Soon she'll be leaving us, kindred and kin, leaving us grieving and blue. Lovely Wenh-In, lovely Wenh-In, how can you do this, O where have we sinned?
Globalization and feminist views, can lead to stress, can lead to stress. You see in culture the signs of Good News, all with such flip-chart finesse! Shaking us up, shaking us up, gently re-making us, filling our cup.
Words: W. Kevin, Prof. of Public Worship at Emmanuel College Tune: Come, Let Us Sing of a Wonderful Love Date: Emmanuel College Annual Dinner, March 2002
Works Cited
Brock, R. N. (2006, November 6). Email communication. In M.-A. L. Tran (Ed.).
Foster, C. R. (1982). Teaching in the community of faith. Nashville: Abingdon.
Kaufman, G. D. (1993). In face of mystery: A constructive theology. Cambridge: Harvard University Press.
Kubler-Ross, E. (1969). On death and dying. New York: Macmillan.
Kwok, P. L. (1990). Discovering the Bible in the non-biblical world. In M. P. Engel (Ed.), Lift every voice: Constructing Christian theologies from the underside (pp. 270-282). San Francisco: Harper & Row.
Kwok, P. L. (1993). Racism and ethnocentrism in feminist biblical interpretation. In E. Schussler Fiorenza (Ed.), Searching the scriptures, vol 1 (pp. 101-116). New York: Crossroad.
Kwok, P.-l. (1992). Chinese women and Christianity, 1860-1927. Atlanta, GA: Scholars Press.
Kwok, P.-L. (2006, November 1). Email communication. In M.-A. L. Tran (Ed.).
Ng, G. A. W.-I. (2003). Land of maple and lands of bamboo. In E. S. Fernandez (Ed.), Realizing the Amer-ica of our hearts: Theological voices of Asian Americans (pp. 99-114). St. Louis, MO: Chalice.
Ng, G. A. W.-I. (2004, November 5). Personal interview. In M.-A. L. Tran (Ed.). Denver, CO.
Osmer, R. (1993). Three futuribles for the Mainline church. In D. Schuller (Ed.), Rethinking Christian edu-cation: Explorations in theory and practice. St. Louis: Chalice Press.
Wahlberg, R. C. (1975). Jesus according to a woman. New York: Paulist Press.
Westerhoff, J. H. (2000). Will our children have faith? (a new revised and expanded ed.). Harrisburg, PA/Toronto, Canada: Morehouse Pub./Anglican Bk. Centre.
Wyatt, P. (2002). Resolution for the appointment of Wenh-In Ng to the rank of Associate Professor Emerita. Emmanuel College, Victoria University, University of Toronto. Retrieved October 25, 2006, from the World Wide Web: http://www.vicu.utoronto.ca/userfiles/page_attachments/library/4/2681_1024948_senmin-may-8-2002.pdf
Yang, S. A. (2006, November 12). Email communication. In M.-A. L. Tran (Ed.).
---
Bibliography
Books & Chapters in Books
(2007). The United Church of Canada: A church fittingly national. In P. Bramadt & D. Seljak (Eds.), Christianity and ethnicity in Canada. Toronto: University of Toronto Press.
(2007). Salmon and carp, bannock and rice: Asian Canadian women in solidarity with aboriginal women and communities. In R. N. Brock & J. H. Kim & K. P. Lan amp; S. A. Yang (Eds.), Off the menu: Asian and Asian North American women's religion and theology (pp. 197-216). Louisville: Westminster/John Knox Press.
(2004). Tears and hallelujahs: Lenten readings and prayers. Canada: Division of Mission in Canada, UCC.
(2003). Land of maple and lands of bamboo. In F. Matsuoka & E. S. Fernandez (Eds.), Realizing the America of our hearts: Theological voices of Asian Americans (pp. 99-114). St. Louis, MO: Chalice.
(1999). Crossing oceans, crossing disciplines: Doing theology as Asians in diaspora. In K. C. Abraham (Ed.), Ecumenism in Asian: Essays in honour of Feliciano Carino (pp. 1-11). Bangalore: BTE-SSC.
(1998). Great prayer of thanksgiving from a multicultural perspective. In H. L. Rice & J. Lamar Williamson (Eds.), A book of reformed prayers. Louisville, KY: Westminster/John Knox Press.
(1997). Pacific Asian North American religious education. In B. Wilkerson (Ed.), Multicultural religious education. Birmingham, AL: Religious Education Press.
(1996a). The Asian North American community at worship: Issues of indigenization and contextualization. In D. Ng (Ed.), People on the way: Asian North Americans discovering Christ, culture and community (pp. 147-174). Valley Forge, PA: Judson Press.
(1996b). Asian North American relationships with other minority cultures. In D. Ng (Ed.), People on the way: Asian North Americans discovering Christ, culture and community (pp. 228-237). Valley Forge, PA: Judson Press.
(1996c). Asian sociocultural values: Oppressive and liberating aspects from a woman's perspective. In D. Ng (Ed.), People on the way: Asian North Americans discovering Christ, culture and community (pp. 63-103). Valley Forge, PA: Judson Press.
(1993, 1994, 1995, 1996). Special resource: Children's messages. In P. S. Wilson (Ed.), Word and Witness. New Berlin, WI: Liturgical Publications.
Edited Works
(2004). (Ed.). That all may be one: A resource for educating toward racial justice. Toronto, ON: Justice, Global and Ecumenical Relations Unit, The United Church of Canada.
(2003). (Ed.). Our roots, our lives: Glimpses of faith and life from Black and Asian Canadian women. Toronto: UCPH.
Ng, G. A. W.-I., & Kwok, P.-L. (Eds.). (1999). Developing teaching materials and instructional strategies for teaching Asian and Asian American/Canadian women's theologies in North America. Pittsburg: Association of Theological Schools.
Ng, G. A. W.-I., & Uyede-Kai, K. (Eds.). (1997). Birthing the promise: Advent reflections and worship resources from many cultural realities. Toronto, ON: United Church Publishing House.
(1995). (Ed.). Generations trying to live together, with study guide. Toronto, ON: Division of Mission in Canada, The United Church of Canada.
(1993). (Ed.). Tales of interracial marriage, with study guide. Toronto, ON: Division of Mission in Canada, The United Church of Canada.
Journal Articles
(2006). The place of Asian resources in festivals and liturgies in Christian churches. Spiritus, 6(2), 249-254.
(2004a). Beyond Bible stories: The role of culture-specific myths/stories in the identity formation of non-dominant immigrant children. Religious Education, 99(2), 125-136.
(2004b). Reading with new eyes: Feminist postcolonial interpretation of the Bible for anti-racism work, a basic introduction. Making Waves, 4(2).
(2002a). Leadership in east Asian women in Asia and the diaspora. In God's Image, 21(1), 34-37.
(2002b). Religious education in an age of globalization: Glimpses of a conversation. Religious Education, 97(3), 199-207.
(2000a). Diversity and difference in the work of gender justice. Making Waves (Women's InterChurch Council of Canada), 1(1), 13-22.
(2000b). From Confucian master teacher to Freirean mutual learner: Challenges in pedagogical practice and religious education. Religious Education, 95(3), 302-319.
(1999). Response to Jeffrey Milligan's 'gender and the limits of inclusion'. Religious Education, 94(1), 84-91.
(1998). Toward gender justice: Challenges in human living from a Confucian-Christian perspective. Ching Feng (Christian Study Centre for Chinese Religions), 41(3-4), 345-361.
(1998a). Power in two cultures. Voices from the Third World (Ecumenical Association of Third World Theologians), 21(2), 76-85.
(1998b). Wither thou goest: In-law and other relationships in contemporary Chinese family networks. In God's Image (Asian Women's Resource Centre for Culture and Theology), 17(3), 12-14.
(1997a). Bamboo theology. Journal of Asian and Asian American Theology, 2(1), 126-130.
(1997b). Contextualization of religious education in an age of disbelief. Religious Education, 92(2), 192-203.
(1997c). Inclusive language in Asian North American churches: Non-issue or null curriculum? Journal of Asian and Asian American Theology, 2(1), 21-36.
(1996a). One faith, one baptism--one liturgy? Worship in a multicultural, multifaith context. Reformed Liturgy and Music, 30(3), 28-31.
(1996b). Toward wholesome nurture: Challenges in the religious education of Asian North American female Christians. Religious Education, 91(2), 238-254.
(1995). Efforts toward the globalization of theological education in the association of theological schools in the United States and Canada. Ministerial Formation (Word Council of Churches)(70), 22-26.
Ng, G. A. W.-I., & Nadeau, D. (1991). Christian popular education: A foundational perspective. Insight, 3, 8-19.
(1989). The dragon and the lamb: Chinese festivals in the life of Chinese Canadian/American Christians. Religious Education, 84(3), 368-383.
Contributor to
Clarkson, S., & Russell, L. (Eds.). (1996). Dictionary of feminist theologies. Louisville, KY: Westminster/John Knox Press.
Cully, I., & Cully, K. B. (Eds.). (1990). Harper's encyclopedia of religious education. San Francisco, CA: Harper & Row.
Book Reviews
(2001). [Review of the book New Spiritual Homes: Religion and Asian Americans]. Missiology.
(1999a). [Review of the book Friends of God and Prophets: A Feminist Reading of the Communion of Saints]. The Ecumenist 36 (3), 18-19.
(1999b). [Review of the book The Courage to Teach: Exploring the Inner Landscape of a Teacher's Life]. Practice of Ministry in Canada, 16 (3), 20-21.
Christian Education Curriculum and Leadership Resources (mainly with the United Church of Canada)
(1993, 1994, 1995, 1996). Special resource: Children's messages. In P. S. Wilson (Ed.), Word and Witness. New Berlin, WI: Liturgical Publications.
(1983). A guide to Bible study resources for adults. Division of Mission in Canada, UCC.
(1982). Handbook for Christian education committees. Hamilton Conference, UCC.
(1980). Curriculum selection tool. Division of Mission in Canada, UCC.
(1979). Summer breezes: The worldwind summertime book. Division of Communication, UCC.
Articles and book reviews of resources for leaders in Exchange (the UCC's magazine for leaders of adults), 1976-1986.
Articles in Mission Magazine and Mandate (UCC mission education resources), 1979-1982, including two articles introducing the life and thought of Paulo Freire.
Worldwind, the UCC's mission education resource for children, with leaders' guide. Twice annually in 1976, 1977, and 1978.
Worldview, the UCC's mission education resource for youth. Twice annually in 1979, 1980, and 1981
WOW and SURPRISE, supplementary curriculum to the United Church's Core ("New") Curriculum, 1975, 1976, 1977, and 1978.
Liturgical Resources
(2000). Eucharistic/Communion Prayer H. In Celebrate God's Presence: A Book of Services for the United Church of Canada. Toronto, ON: United Church Publishing House, 262-263, plus Lenten offertory prayer and sending forth and benediction based on [Korean] concept of han, 150-151.
Twelve indigenous Chinese hymns translated into English (Nos. 83, 175, 178, 180, 189, 190, 193, 196, 202, 318, 330, 369) in the bilingual edition of The New Hymnal of the China Christian Council, Heyward Wong, Editor. Shanghai: Chinese Christian Council, 1999.
Great prayer of thanksgiving from a multicultural perspective. (1998). In H. L. Rice & J. Lamar Williamson (Eds.), A book of reformed prayers. Louisville, KY: Westminster/John Knox Press.
Selected Ecumenical Public Lectures and Presentations
Asian Christians for the sake of the Gospel. (2004, April 28-May 2). Theme speaker in English at Conference of Chinese Churches of North America (CONFAB) triennial conference, in Seattle, WA.
Chinese religio-cultural and spiritual experience: Possible links with Christianity. (2004, April). Presentation at seminar on "Chinese Contributions to Caribbean Spirituality," Centre for Caribbean Spirituality, at St. Michael's Theological College, Kingston, Jamaica.
Bible study from a postcolonial perspective. (2003, November). Leader/enabler for the Governing Board, Canadian Council of Churches.
Teaching theology and ministry in an Asian North American context: Reflections pedagogical and theological. (2002, November). Panel presentation at the American Academy of Religion (AAR) annual meeting in Toronto.
Dynamics of teaching at the intersections: Asian North American considerations of gender, race and culture in pedagogic practice in theological education. (2000, September). Paper given at seminar "Hidden Stories, Open Opportunities: Women in Theological Education and Feminist Theology," International Network of Advanced Theological Education (INATE), in Budapest.
Educating Christians for a postmodern world: Challenges and opportunities. (1998, November). The Twenty-eight Robert T. Orr Lecture, Huron College, University of Western Ontario.
Theological Reflector for "Daring Hope/Oser L'esperance," Canada's national ecumenical conference to celebrate the close of the World Council of Churches' Decade of Churches in Solidarity with Women in Church and Society, Guelph, Ontario, August 1998.
M.A. Thesis
Ng, G. A. W.-I. (1969). George Eliot's poetry and ideas on poetry: A study of her own verse and her tastes and opinions concerning poetry. Unpublished Ph.D., University of Hong Kong, Hong Kong.
Ph.D. Dissertation
Ng, W.-I. G. A. (1960). The figure of the child in Victorian novels of protest. Unpublished M.A.,Columbia University, New York.
Dissertations on the Work of G.A.W.I. Ng
Bower, T. R. (2003). Identifying current uses of philosophies of critical pedagogy in religious education. Unpublished Ed.D., Union Theological Seminary & Presbyterian School of Christian Education, Richmond.
Other Sources
United Church of Canada/Victoria University Archives Birge-Carnegie Library 73 Queen's Park Crescent East, Toronto ON M5S 1K7. http://unitedchurcharchives.ca. Location: 2004.090V Provenance: Greer Anne Wenh-In Ng. Dates created: 1974-2004. Extent: 1.5 m. textual records, graphic materials, 2 audiocassettes. Scope: Accessions consists of Records relating to Courses (Emmanuel College Education Courses, Emmanuel College Elective Course) 1988-2003; Records Relating to Grants for Various Associations & Seminars, 1988-2001; Records relating to articles & Publications, 1989-2002; Records relating to Field Education, 1974-1991; Records relating to Conferences, etc.1986-2002; Records relating to Vancouver School of Theology, 1985-1995; Records relating to Toronto School of Theology, 1988-2002; Records relating to United Church of Canada, 1996-2003.
---
Excerpts from Publications
Ng, G. A. W.-I. (2003). Land of maple and lands of bamboo. In F. Matsuoka & E. S. Fernandez (Eds.), Realizing the America of our hearts: Theological voices of Asian Americans (pp. 99-114). St. Louis, MO: Chalice: 107.
In my own experience as a theological and church educator, one strategy with some promise is getting to know one another's history on this continent, usually a history of oppression, in order to induce empathy and forge a common bond of resistance and justice seeking.
Ng, G. A. W.-I. (2000). Diversity and difference in the work of gender justice. Making Waves (Women's InterChurch Council of Canada), 1(1), 13.
In an age when economic globalization has caused wholesale movements of peoples across the face of 'this fragile earth, our island home,' diversity seems to be the name of the game. Gone are the grand/master narratives of universality, if not uniformity, in these postmodern times. Gone are the ideals of yesteryear, when the supreme virtue was to look and be like everybody else. Instead, multi-ness seems to be the new mantra-multicultural, multi-denominational, and multi-faith. … Before we embark too glibly on a journey of affirming and celebrating diversity, however, we would do well to find out what being diverse involves.
Ng, G. A. W.-I. (1997). Bamboo theology. Journal of Asian and Asian American Theology, 2(1), 126-128, 130.
I think I've got it I know I've got it I'm sure I've got it- the theology of Asian women in North America, the theology I'm developing, nay growing, the faith we've been practicing, is none other than-bamboo theology! For that's the way I, and others like me, have survived-by being bamboo…
Like bamboo, we've had to be tall and hollow, so as to be able to withstand wind and storm, yet reaching high into the sky. And, like bamboo, we've had to exist in clusters-not singly, not alone, each caring only for its own… As a rule, the bamboo is alien to North American soil, except in milder climes like B.C. or L.A. How can we Asian women claim a space in which to grow, nay, to flourish in this adopted or native land? How can we, as bamboo, stand up and be counted among mighty oaks, syrup-producing maples, towering cedars?
Maker of oak and maple and cedar as wellas of bamboo, you will show us how
Growing a bamboo theology is engaging the Judaeo-Christian scriptures through the eyes of the neglected, ignored, unnamed, silent and silenced ones, from the perspective of the servant girl, the oft-maligned 'enemies of Israel,' the other daughter-in-law. It is learning to choose from among Graeco-Roman-Euro-Anglo-German… traditions which strands to discard which strands to preserve which to weave into our new fabric…
Ng, G. A. W.-I. (1997). Pacific Asian North American religious education. In B. Wilkerson (Ed.), Multicultural religious education. Birmingham, AL: Religious Education Press: 224-225.
Pacific-Asian North American sisters and brothers who are "no longer sojourners," however, still come bearing gifts for the total Christian faith community and for North American society. … But how will these gifts be received? On the North American continent, churches of Pacific-Asia ancestry could grow spiritually by taking their missioning role more seriously, moving from a survival and maintenance mode to a more participating and sharing mode. … Such a move, of course, will only be possible if the majority part of the church learns to graciously accept these gifts-learns how to be missioned to, for a change. This means that in the total ecology of religious education on the North American continent, there should be give-and-take between mainstream churches and ethnic-specific churches. … These and other important ways to achieve missioning together can form a challenging focus in multicultural religious education.
Ng, G. A. W.-I. (1997). Contextualization of religious education in an age of disbelief. Religious Education, 92(2), 194-195.
As persons committed to the task of religious education, we need to learn how to do theology and interpret the Bible contextually. We need to learn how to make it possible for those hitherto excluded from theological conversation by reason of age (children, youth, seniors), sex (women and girls), sexual orientation (gay and lesbian individuals and families), ability (the physically or mentally challenged), social class (single parent families or the poor on welfare), and racial-ethnic origin (the so-called non-white minorities and their congregations), to join in asking faith questions and to participate in the search for understanding. And we need to learn how to facilitate such asking not just in church, but in people's homes, schools, work places, and hideaways. We need to learn how to help them analyze social, political, economic, and cultural factors that hinder them from fuller participation in humanity's 'historical projects.' If this sounds daunting, it could also sound exciting to those who see their vocation as being 'accompaniers' of shared faith journeys with others.
Ng, G. A. W.-I. (1997). Contextualization of religious education in an age of disbelief. Religious Education, 92(2), 198.
My own experience as an erstwhile colonized individual and as a minority teacher/scholar tells me that sometimes that ability to choose the margin can only come as a conscious choice, after an involuntary immersion in dominant symbols and movements known variously as 'winning one's spurs' of 'establishing one's credibility.' I believe this comes about partly because institutions exact such a price, and partly because it takes grace, as well maturity and wisdom, to become conscientized about, discern, and own one's marginality.
And yet, there is a certain sense in which all who are engaged in the religious education enterprise are operating from the margin, since religious education is by all counts a marginalized discipline in both academy and church. With the possibilities for creativity and impact identified …, it behooves us to take hold of our particular contexts and happenings to 'ride the crest of the wave' to bring about teaching and learning that empowers ourselves and our communities.
---
Recommended Readings
(2004). (Ed.). That all may be one: A resource for educating toward racial justice. Toronto, ON: Justice, Global and Ecumenical Relations Unit, The United Church of Canada.
(2004). Reading with new eyes: Feminist postcolonial interpretation of the Bible for anti-racism work, a basic introduction. Making Waves, 4(2).
(2003). Land of maple and lands of bamboo. In F. Matsuoka & E. S. Fernandez (Eds.), Realizing the America of our hearts: Theological voices of Asian Americans (pp. 99-114). St. Louis, MO: Chalice.
(2003). (Ed.). Our roots, our lives: Glimpses of faith and life from Black and Asian Canadian women. Toronto: UCPH.
(2000). From Confucian master teacher to Freirean mutual learner: Challenges in pedagogical practice and religious education. Religious Education, 95(3), 302-319.
(1997). Bamboo theology. Journal of Asian and Asian American Theology, 2(1), 126-130.
(1997). Pacific Asian North American religious education. In B. Wilkerson (Ed.), Multicultural religious education. Birmingham, AL: Religious Education Press.
(1996). The Asian North American community at worship: Issues of indigenization and contextualization. In D. Ng (Ed.), People on the way: Asian North Americans discovering Christ, culture and community (pp. 147-174). Valley Forge, PA: Judson Press.
---
Author Information
Mai Anh Tran
Mai-Anh L. Tran, Ph.D., is Assistant Professor of Religious Education and Asian American Cultures at Pa-cific School of Religion in Berkeley, California.