Ross Snyder
By Allen J. Moore
Protestant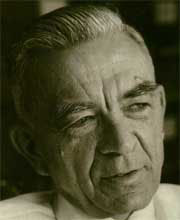 Ross Snyder (1902 - 1992).
Biography
Ross Leland Snyder may well be the last of a long line of progressive religious educators. He would argue, however, that he was a revisionist of progressive approaches to education. Even though he held firm to many progressive beliefs, such as an emphasis upon experience and the instrumentality of theological knowledge, he gave more attention to the role of theology in religious education than most other progressives, and he made existentialism a central part of his theory. He was also a strong believer in the social reconstruction of church and society. This led him to more compatibility with the later progressive movement than with some of the earlier theorists, who tended to be more individualistic in their approach to religious education.
Professor Snyder was born in 1902 on a farm near DeGraf, Ohio. He died in San Rafael, California, March 27, 1992, three days before his 90th birthday. He taught thirty-five years at Chicago Theological Seminary and, then, after his retirement from Chicago, five years at San Francisco Theological Seminary. After his second retirement from San Francisco, he continued to do workshops with older adults on his life-long concern with a "ministry of meanings." He continued this work until he experienced a serious stroke a few months before his death. Even following his stroke, Dr. Snyder's mind was sharp and he continued to formulate new ideas and to conceptualize his "ministry of meanings" approach to religious education.
Following his graduation from Ohio State University in 1927, Ross Snyder was an agriculture agent before he received a call to the Presbyterian ministry. During the depression years, he made the decision to commit himself to religious education. This was a time when religious education was a prominent profession and a time in which many major universities had graduate schools in religious education. One of the famous schools at that time was the Boston University School of Religious Education and Social Service under the leadership of Walter Scott Athern. Snyder enrolled in this school and graduated. He continued his studies toward the doctorate in education at Teachers' College, Columbia University, under the leadership of William Heard Kilpatrick and Goodwin Watson, both advocates of progressive education and disciples of John Dewey.
In 1930, Ross Snyder married Martha Moler of Columbus, Ohio. Ross and Martha had met in Ohio in the Christian Endeavor Movement where they were co-workers. Christian Endeavor not only led to their marriage, but was also a great influence in Ross's decision to enter the ministry. In fact, Ross and Martha were in that ministry together for their sixty-two years of marriage.
Ross Snyder began his career in religious education as a minister of education in local churches. He was first at Prospect Presbyterian Church in Maplewood, New Jersey for nine years and then went to the Congregational Church in Winnetka, Illinois for two years. These were churches famous for their programs in religious education, as they continue to be strong churches in their educational programs today. While in the Chicago area, Snyder was active in the Chicago Council of Churches, where he served as chair of the Radio Broadcasting Department and began his life-long interest in religious communications. He and his wife, Martha Snyder, were instrumental in creating a very strong church school program in the local church. While ministering in Winnetka, his work came to the attention of the Congregationalist-related school, Chicago Theological Seminary, adjacent to the University of Chicago. In 1940, Dr. Snyder joined that faculty. At Chicago, Snyder focused his work on the study of human development in relation to religious education. He was among the first to discover the work of Erik Erikson and to use his writing as a hermeneutical tool to interpret religious experience. His first course at Chicago was the "Development of Religious Personality." Later, Dr. Snyder taught the first course in all of theological education in "Religious Communications."
Although many other religious educators were enamored with human development, especially in the work of Robert Havighurst at the University of Chicago, Ross Snyder was especially creative in adapting this theory to religious development. He worked with what he called the "living human document," drawing upon the method and language of Anton Boisen, who also taught at Chicago Theological Seminary and became identified as the father of the Clinical Pastoral Education movement. He was also influenced by Carl Rogers, and by his humanistic valuing of the human experience.
Ross and Martha Snyder were the parents of two sons, Mark and Ross, Jr. They were students of the famous Chicago Laboratory School founded by John Dewey when he was a faculty member at the University. Some have jokingly said that Ross Snyder followed the developmental stages of his own family in his teaching and research. It is true that he focused early in his academic career on children and later moved to youth and young adulthood and, upon his own retirement, did research on the "meaning" of later adulthood.
With his wife Martha, Snyder founded a laboratory school at Chicago Theological School for preschool children. Students in religious education were required to spend a semester working with children in the laboratory setting. Each day Ross and Martha would have lunch with the theological students individually and reflect with them on their experience with the children. In this way, Ross Snyder combined the learning elements from Clinical Pastoral Education with the developmental theory of education to create a learning environment for the study of theology.
In 1940, Chicago Theological Seminary joined with three neighboring theological schools to create the Federated Theological School of the University of Chicago. All faculties enjoyed an appointed to the Divinity School of the University and benefited from the resources that the University provided. Ross Snyder and his colleague Seward Hiltner organized a new program called "Religion and Personality." It was a highly successful program, enrolling a group of outstanding doctoral students who are today teaching in many of our theological schools. The program was unique in that it sought to integrate pastoral counseling and religious education as complementary disciplines and to draw upon the disciplines of theology, psychology, psychiatry, educational psychology, and human development. Religion and Personality became a standard rubric that was adopted by several other university-based theological schools, and the program itself was a large influence in theological education.
Growing from this experience, and from a deep commitment to integration and the inductive and experiential methods of the practical fields, Professors Snyder and Hiltner organized the Association of Professors in the Practical Fields in 1950. Snyder was elected the first President, and the Association had a very productive life for more than 20 years. The Association of Practical Theology and the International Academy of Practical Theology have now succeeded it. The aims of these new associations are similar to those envisioned by Snyder and Hiltner: to draw upon theological wisdom and affirm the theological methods that characterize the practical fields. Snyder recognized that religious education has inherent theological content and is more than the application of systematic or doctrinal theology to practice. Dr. Snyder often stated that he was a theologian and not just a practitioner applying knowledge originating from outside his field.
In 1960 the Federated Faculty of the University of Chicago came to an end, largely because the administration of the school could not agree on a common mission and the priory of the several degree programs. Chicago Theological Seminary became an independent school again. A relationship with the University continued but was mostly informal. The faculty no longer had an appointment to the Divinity School and the degrees were no longer awarded by the University. Observers do not agree as to why the Federation came apart except to say it was a conflict among the administrators. Some reasons voiced indicated that it was an issue of money; others indicated that degrees were at issue, and still others suggested that problems arose from complex relationships with the church.
With the dissolution of the Federation, five faculty members left Chicago for other schools, including Ross Snyder's close colleague, Seward Hiltner. Dr. Snyder remained at Chicago Theological Seminary although the program in Religion and Personality was now defunct. Despite the significant loss and disappointment, the institutional changes did not seem to have a major impact on Dr. Snyder's creative teaching and research. As we will note later, he continue to produce reams of unpublished writings, largely for use in his classes and by his students. His major book publications appeared after he retired from Chicago.
Dr. Snyder excelled as a teacher in a theological school classroom. For several decades, people said that the students who studied with Dr. Snyder could be spotted anywhere in the world. They did not imitate their leader, but had a style about their ministry and religious education that they learned from Dr. Snyder. Ross Snyder often repeated one of his favorite sayings: "Each person is a teacher for life and each person is also a learner for life." The sentiment in this statement signals the kind of openness that marked students who worked with Dr. Snyder. Snyder told a professor friend that grading should be based, in part, upon the student's struggle for something important, rather than on the student's rote repetition of learning from the teacher.
Among Snyder's many students from many faith traditions were a contingency of persons from South Africa, both black and white. These graduates organized and funded a trip for Ross and Martha Snyder to South Africa. The Snyders acknowledged that this was a life changing experience for them as they traveled the country leading conferences and workshops. One of these persons who studied with Dr. Snyder and who benefited from his style of teaching is now a Professor and Chair of the Department of Religion at the University of Cape Town.
Another famous student of Dr. Snyder was The Reverend Jesse Jackson, the black activist and founder of the Rainbow Coalition. The Reverend Mr. Jackson was one of the featured speakers at the celebration when Dr. Snyder retired from Chicago Theological School. Jackson had found Ross Snyder to be a professor who understood and encouraged him in his theological studies and ministry, even during times of duress, as in his struggle with the preaching requirement. Jackson had completed all requirements for the Master of Divinity degree except homiletics. The instructor sought to alleviate the uniqueness of his black preaching style, and Mr. Jackson, in protest, never completed this requirement for the degree. Ross Snyder was very sympathetic with Jesse Jackson and expressed many times, even shortly before his death, that the school had been unjust. In the late 1990s, Chicago Theological School made amends for this injustice and awarded Jesse Jackson the Master of Divinity degree at the School's Commencement.
Believing that a "living human document" was an important "text" for learning, Snyder invited persons into the classroom whom he and his students would interview in order to understand the experience and life world of that individual. Students were often assigned a youth or child or another person to live with over time through interviews and other kinds of relationships, then to record a life history of that individual. In some ways, Professor Snyder followed closely the work of Erik Erikson; however, Snyder was more interested in students describing a "life stage" as embodied in a real person than in giving back from memory the details of Erikson's system. One of Dr. Snyder famous saying is that "one only knows the truth as one participates in truth." For Dr. Snyder, one could only know the experiences of another through participating in the life world of that person. One could understand the life stages by experiencing those stages as lived by a child, youth, or young adult. His classes were often intensive seminars meeting for full days over a brief period, such as three weeks. He had little patience for a typical class scheduled of one or two hours per week for a fourteen-week semester.
One of Snyder's effective teaching methods involved the tape recorder. He would select a writing of someone out of the past, such as Dietrich Bonhoeffer or Martin Luther King, Jr., and have someone read the selection on tape. He would then play the tape in class and encourage the students to find the deeper meanings in the selection. His interest in media emerged from his concern that educators rely too much on reading in the classroom rather than on reenactment of the event. Snyder also used the media and other forms of reenactment to engage students with the earlier thinking of the Puritans, who contributed much to the religiosity of this country and were responsible for much that people have sought to reject in modern times. An example here would be the oral reading of Puritan selections on marriage with their emphasis on commitment.
Snyder also relied heavily on his own writings. He was a prolific writer and hundreds of his lectures are unpublished documents that have become collector items. Libraries keep his papers under lock and key to protect then from being permanently borrowed by students Fortunately, most of his ideas did eventually find their way into print. As we will note later, his publications by Abingdon Press came toward the end of his academic career. In earlier years, he spent many hours in putting his ideas ("meanings") on paper for his students. He believed dialogue was a better learning tool than lectures. His unpublished manuscripts fill many filing cabinets and include such topics as "Educating a People of God" (1962); "Educating Man: A Consciousness That Exists in Time" (n.d.); "Ethical Living Is Actualization of a Life World" (n.d.); "A Church as a Learning Community" (1962); "A Ministry of Meanings" (1961); and "Members One of Another" (1957). "Members One of Another" was also the theme of a filmstrip produced by the United Church of Christ (date unknown). [Many of these unpublished papers can be found in the libraries of the Claremont School of Theology and the Chicago Theological School.]
One of the problems Snyder had with book publishers is that he enjoyed coining a new language, or taking words that are overused and giving them new meaning. His syntax was unique. Pierce Ellis, an editor of Abingdon Press, took the risk and worked closely with Dr. Snyder to preserve Snyder's idiosyncrasies. His books became best sellers. (A bibliography follows this article.)
At the heart of Snyder's work as a teacher was his attempt to help students form or create a "guiding image" for their ministry. This is one of the chief characteristics of Snyder's graduates. These people have had a sense of focus and purpose, working from a guiding image that has influenced all of their work; this quality of vision is a product of their study with Snyder. Although persons' images were not similar or uniform, Snyder's former students had a vision of the ministries they wanted to do in the church or church institutions. They had shaped and tested these images as part of their theological education. Not all theological students are so influenced by their professors, but the Snyders, with intense care for their students and with generosity in giving individual time to each student, could shape individuals in their ministries.
One of Ross Snyder's major contributions was his work with the profession of Christian Education. He helped shaped the profession of Christian Education with his leadership in conferences and annual meetings of Ministers/Directors of Christian Education. He believed in the educational ministry and, with much enthusiasm, he contributed to the work of these local church leaders. He helped form a vision for the work as well as the skills and theological concepts required for an effective ministry of teaching and learning in a local church. This was especially true of his leadership in making age level ministries an essential ministry of the church. He was impatient with mendacity in the life of the church and felt that propaganda had no place in the church's program. He sought to affirm the real, the existential, and the worth of each person. The meanings within each person had to be known and affirmed. In this regard, one can see influences of the existentialists on his work, especially Rollo May, Jurgen Habermas, Martin Buber, and others.
In this regard, Snyder was an artist, especially with words. We have already given examples above of Snyder's turning "meanings" into word pictures. He called this phenomenology. This is a process of turning experiences into word images. This for Snyder was the real work of theological education. For recreation, he and Mrs. Snyder would drive or watch together a sunset and together try to recreate the meaning of that event in poetry or other word images. One book that they published together is a small volume of poems entitled Inscape (Abingdon, 1968). You will find such poetry and poetic expressions throughout Snyder's unpublished and published writings. The reader may wish to look especially at his book Contemporary celebration (Abingdon, 1971). Snyder saw worship as being integral to religious education and felt it should not be separated into a theological department called Liturgics. Worship, he insisted, is integral to the lives and experiences of human persons and is not limited to set forms known as liturgy. In this regard, his life-long interest in communications - radio, film, photography, and television - served him well. In one of his courses, he and his class produced a film to represent the "meanings" that celebration had for all of them.
The Snyders lived in a beautiful home provided by Chicago Theological Seminary. They enjoyed having students and friends in, and they shared their phenomenological study (subjective sense description) of that space with their guests. Their home illustrated the artistic and poetic quality of their shared life. They described the brick walls of their living room as a statement on our common humanity, which was formed from dust and into which God breathed the breath of life. The green accent not only represented green grass, but was also the symbol of Christian Endeavor in which the Snyders had met; it was the common cause that they shared. The table was for meals and conversation and was "the enduring symbol of family," which is the shared circle that makes people "members one of another." Finally, the piano was the symbol of music making that gives joy to all who gather ("An Interpretation of our Living Room at 1378," unpublished manuscript, n.d.).
Ross Snyder grew weary of problem solving in religious education. He felt that John Dewey and early progressives had made the mistake of seeing education primarily as "reducing life down to solving problems" (Letter, March 13, 1968). Snyder preferred education that led increasingly to the "appreciative life," or what he described as "grace." He believed that art and reverence provided a deeper concept of education than problem solving. He did recognize the human need to organize learning in order to achieve more depth of knowing 'something in particular.' At the same time, he saw authenticity as the source of ministry. To minister is to be, first and foremost, and not simply to do.
---
Contributions to Christian Education
Ross Snyder made many contributions to the field of religious education and to the scholarship of theological education.
First, he sought to preserve the best of progressive education and the contribution that movement had made to the study and practice of education. He believed that John Dewey's problem solving method had been overworked and that more attention needed to be given to the opportunities inherent in the human situation. He did seek to preserve the project approach to learning, however. He felt experience itself was the best teacher. In that spirit, Ross and Martha Snyder developed the laboratory school at Chicago Theological Seminary, which had been earlier invented at the University of Chicago by John Dewey and imitated by a host of theological schools (e.g. Union Theological School) and schools of education.
Second, Ross Snyder's private papers and unpublished manuscripts clearly show his contribution to existentialist approaches to religious education, especially influenced by Rollo May and Martin Buber. For Snyder, to know another person and his or her life experience was the beginning of learning and the heart of religious education. A youth or young adult program was not a denominational plan, but an effort to help young people reflect on the experiences and meanings of their lives, and to form and re-form religious meanings that are authentic expressions of that life experience. The influence of existentialism on his theories is apparent in the phenomenological approach, as well as in the people he quotes. For many years Snyder was also a member of the editorial board of the Journal of Existential Psychology .
This discussion leads to Snyder's third contribution to the reconstruction of education. Although Snyder did not use the term reconstruction (to the best of my knowledge), he did represent the movement of education that sought to reform the philosophy of education. Theodore Brameld called this "Reconstructionism" (cf., Toward a Reconstructed Philosophy of Education ," Dryden Press, 1956). Snyder's distinctive contribution was to the reform of education through social existentialism (radical attention to experience) and social reform. Among Christian educators, Harrison Elliot could also be identified as a representative of the reconstructionist school, as well as the later works of George Albert Coe.
Fourth, Snyder was almost unique for his time in insisting that religious education is a ministry. It is not first what we do that defines ministry but who we are. Here we see especially the influence of Buber on the work of Snyder. The first and most important task of the religious educator is to be "authentic." Snyder was very impatient with mendacity. He sought to assist his students to see inside themselves and to bring to the surface the reality of their selfhood. Here he emphasized the "life world" (a concept borrowed from Rollo May's Existential Psychology (New York: Random, 1961).
Fifth, Snyder was among a small group of religious educators who gave attention to relationships as a form of ministry (cf., Reuel L. Howe, Man's need and God's action , Greenwich, Conn.: Seabury Press, 1953). Relationship was a way of affirming other persons and serving in what he called a "mid-wife" role - giving birth to life meanings. Snyder believed that you cannot impose meaning upon another, but, through relationships, one person or group of persons can enable others to discover meanings that make life worthwhile and help form a future. This emphasis upon a ministry of meanings was the life-long work of Dr. Snyder, and after his second retirement, he and Martha worked with retired persons in helping them find a ministry of meanings for later life.
A sixth major contribution of Snyder was his unique ecclesiology. For him the church is a "people of God" engaged in mutual ministry with one another. He rejected what he saw as hierarchical ministry, or representative ministries in which an ordained person always leads a group of church members into ministry. He felt the word "congregation" had to be redefined to include all persons engaged in history making, or causing important things to happen. For him church members do not live in just one time zone, but they exist in life spaces in which the past present future are all together in every event. A people of God is an active group creating a culture and making things happen to one another, within the congregation, and within the world around them. A people of God are a community of persons engaged in personal and social transformation. With his ecclesiological emphasis, Snyder was contributing to theological discourse as well. In this and other ways, he was a forerunner to what is now known as the practical theology movement.
Finally, Snyder believed that, central to all he believed, was the concept of human mutuality, embodied in communications. We have already reported that, early in his career, he worked in radio, and later in television. We also noted that he used media as a teaching resource in his classes. Snyder further realized that important theological teaching takes place when one brings children, youth, young adults, and older adults into relationship with students who engaged in theological education. In such educational experiences, people learn from one another. Communicating such mutual relationships was important to Snyder. Consider, for example, his classic filmstrip "Members One Another" for the United Church of Christ. Central to all of this work was his belief that communications was the vehicle of human relationships in religious education and the life of congregations. He had a strong belief that much that the church does is propaganda and does not really engage persons in forming meanings for life. Ideas and doctrine are abstract, and real communication enables persons to connect their experience with meaningful signs and symbols and to discover for themselves the Truth. Snyder makes a distinction between serving a truth and being a Truth. For him an authentic church is a group of people learning to communicate and encounter one another and the world in order to build a world of meaning.
Note: For a critical analysis of Snyder's work, see: Moore, Allen J. (1963). The relation of Christian Education to Pastoral Theology: With reference to the function-centered Theology of Seward Hiltner (Doctoral Dissertation, Boston University).
---
Bibliography
Many of Ross Snyder's articles, unpublished papers and manuscripts, books, and other publications may be found in the libraries of Chicago Theological Seminary and Claremont School of Theology.
Books
Snyder, R. &Parker, E. C. (1948). Religious radio. New York: Harper.
Snyder, R. (1967). On becoming human. Nashville: Abingdon.
Snyder, R. (1968). Inscape. Nashville: Abingdon.
Snyder, R. (1969). Young people and their culture. Nashville: Abingdon.
Snyder, R. (1971). Contemporary celebration. Nashville: Abingdon.
Snyder, R. (Ed.). (1977). Openings into ministry. Chicago: Exploration.
Snyder, R. &Snyder, M. (1974). Presentness. Nashville: Abingdon.
Snyder, R., Snyder, M., &Snyder, R., Jr. (1980). The young child as person. New York: Human Science.
Articles
Snyder, R. (1950). Religious education in the theological school. Journal of Religion, 30, 180-189.
Snyder, R. (1951, January-February). A theory of group dynamics. Religious Education, 46 (1), 39-43.
Snyder, R. (1951, November-December). Group dynamics in the life of the church. Religious Education, 46 (6), 323-328.
Snyder, R. (1951). The great redemption: Book Review. Lutheran Quarterly 3, 92.
Snyder, R. (1952). Paul and his interpreters: Book Review. Lutheran Quarterly 4, 116-117.
Snyder, R. (1953). What is the living? Chicago Theological Seminary Register, 52 (1), 1-5.
Snyder, R. (1955, July-August). Prayer and worship re-examined. Religious Education, 50 (4), 253-256.
Snyder, R. (1957). Members one of another. International Journal of Religious Education.
Snyder, R. (1958, September-October). A theology for youth. Religious Education, 53 (5), 439-446.
Snyder, R. (1959). The authentic life: Its theory and practice. Text of the first Rufus Jones Lecture, presented to Friends General Conference, 30 January 1959, Philadelphia, Race Street Meeting House.
Snyder, R. (1959). A design of growth for the young adult. Chicago Theological Seminary Register 59 (8), 1-13.
Snyder, Ross. (1960, March). Prayer and worship re-examined. Pastoral Psychology, 11, 45-48.
Snyder, R. (1960). An effective ministry with youth. Nexus, 3 (3), 19-22; 42-43.
Snyder, R. (1960, December). Ministry of meanings and relationship. Pastoral Psychology, 11, 18-24.
Snyder, R. (1965). The ministry of meanings. Risk, 1 (3-4), 1-192.
Snyder, R. (1967, September-October). Toward foundations of a discipline of religious education: Importance of phenomenology and existentialism. Religious Education, 62 (4), 394-404.
Snyder, R. (1968, September). Boisen heritage in theological education. Pastoral Psychology, 19, 9-13, 64-65.
Snyder, R. (1971, November). What is celebration? Christian Ministry, 2, 5-8.
Snyder, R. (1973). Contemporary celebration. Thesis Theological Cassettes, 4 (8).
Snyder, R. (1973, March). Phenomenology: A method for emergence. Journal of Pastoral Care, 27, 3-12.
Snyder, R. (1973, April 18). A 'confessing church' for South Africa. Christian Century, 90, 446-447.
Snyder, R. (1978, September-October). Kingdom of Spirit. Religious Education, 73 (3), 529-540.
Snyder, R. (1981, September-October). Religious meaning and the latter third of life. Religious Education, 76 (3), 534-552.
Snyder, R. (1981, July). An enterprise of transgenerational adulthood: 'We did it this way.' Christian Ministry, 12 (4), 5-14.
Snyder, R. &M. (1984). Putting together the saga of one's life: A video-tape. Chicago Theological Seminary Register, 74 (3), 13-27.
Snyder, R. (1989, Spring). Toward a core vocabulary. Chicago Theological Seminary Register, 79, 1-2.
Unpublished papers and manuscripts
Snyder, R. (1962, January 29). A Church as a learning community. Address to United Church Assembly, Buck Hill Falls, PA.
Snyder, R. (1962, January). Educating a people of God. Class notes and lectures in an Intensive Course at Chicago Theological Seminary, Chicago, IL.
Snyder, R. (n.d.). Ministry of meanings. Books A and B. Two volumnes of notes and lectures for classes in religious education, Chicago Theological Seminary, Chicago, IL.
Snyder, R. (1959, May 8). The Core Moralities on Which Adults Must Come Clean with Youth. Address to the Twenty-eighth Illinois Annual Govenor's Conference on Youth and Community Service, Chicago, IL.
Snyder, R. (n.d.). Life world. Unpublished paper, Chicago, IL.
Snyder, R. (n.d.). Educating man: A consciousness that exists in time. Unpublished paper, Chicago, IL.
Snyder, R. (n.d.). Ethical living is actualization of a lived world. Unpublished paper, Chicago, IL.
Snyder, R. (n.d.). A theory of group dynamics, Unpublished lecture, Chicago, Ill.
Snyder, R. (n.d.). Notes on adult life. Unpublished notes and lectures for a class in adult religious education, Chicago Theological Seminary, Chicago, IL.
Snyder, R. (n.d.). Striking adolescent need for a ministry. Ministry to Youth: Report of a Consultation, Chicago Theological Seminary, Chicago, IL.
Snyder, R. (n.d.). A picture of the minister to youth. Ministry to Youth: Report of a Consultation, Chicago Theological Seminary, Chicago, IL.
Essays
Snyder, R. (1975). Symbols: Meanings in the CPE enterprise. In Fiftieth anniversary of Clinical Pastoral Education (pp. 70-83). Published by the Association for Clinical Pastoral Education.
Snyder, R. (1976). Model of leadership in a congregation. In American religious experiment (pp. 135-145). Chicago:Exploration.
Snyder, R. (1976). Worship as celebration and nurture. In M. Taylor (Ed.), Foundations for Christian education in an age of change (pp. 171-185). Nashville: Abingdon Press.
Snyder, R. (1977). Images containing futures: Congregation-pastor, sociality, membranes of meaning, conceptualized primordials, forming form. In R. Snyder (Ed.), Openings into ministry (pp. 5-6). Chicago: Exploration Press.
Reviews of Snyder's Publications
Duvall, R. W. (1969, September). Young people and their culture: Review. Saint Luke's Journal of Theology, 12, 56-57.
Scaer, D. P. (1972, March). Contemporary celebration: Review. Springfielder, 35, 306-307.
Seasoltz, R .K. (1972, May). Contemporary celebration: Review. Worship, 46, 319-320.
White, J. F. (1972, Spring). Contemporary celebration: Review. Perkins Journal, 25, 41-42.
Articles about Ross Snyder
Hiltner, S. (1960, December). Man of the month: Ross Snyder. Pastoral Psychology, 11, 6, 65.
Moore, A. J. (1978, September-October). Religious education as living theology: Some reflections on the contributions of Ross Snyder. Religious Education, 73, 541-550.
Moore, A. J. (1992, April 29). Ross Snyder. Christian Century, 109, 450.
LeFevre, P. D. (1992, Spring). Ross Snyder. Chicago Theological Seminary Register, 82, 25-29.
Boggs, B. (1996, Spring). Ross Snyder. Chicago Theological Seminary, 86, 10-12.
---
Excerpts from Publications
Snyder, R. (1967). On becoming human . Nashville, TN: Abingdon.
"Organizing a life world and taking it someplace is what life is about. It is the goal that includes all other goals. For no person exists in and of himself. You exist physically only as you are immersed in an ocean of life-giving air. You exist as man only because you have participated from the moment of birth in a world of human beings and culture. You are a self-in-a-world, not just a self. "To be" is not you and the world. Your membership in the world is symbolized by a hyphen rather than by "and."" (p. 19).
"A built-in goal of life then is that you actualize your potential in the heres and nows given you. You have been given the possibility of becoming fully personal" (p. 21).
". . . we have explored six goals for you as a center of aliveness - caring and feeling deeply, decision and truth, power to understand and so live life form the inside, being with and for people, being a freedom, and the truth you were meant to be. This is a picture of what your potential really is. You can count on these aliveness' trying to actualize themselves. They will push you toward becoming a person. They're for you over a period of time" (p. 77).
---
Recommended Readings
Readers who wish an introduction to Snyder's thought are encouraged to read two books that capture the major thrust of his work:
On Becoming Human (1967)
A study in religious development and existential meaning.
Young People and Their Culture (1969)
A good statement of Snyder's anthropology and its relevance for youth work.
---
Author Information
Allen J. Moore
Allen J. Moore is Professor and Dean Emeritus, Claremont School of Theology, now living in Atlanta, Georgia.