Robert Reber
By Roberta Clare
Protestant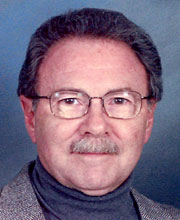 ROBERT ELDRED REBER (Born: November 17, 1937) has contributed to adult religious education primarily through lifelong learning (especially study/travel programs and projects designed to link faith with daily life), ecumenism and interfaith programs. Dr. Reber provided key leadership in the development of the Society for the Advancement for Continuing Education for Ministry (SACEM) both as a founding member and one of its former presidents. He served as Dean of Auburn Theological Seminary (New York City) from 1985-2001. Known primarily as practitioner, Reber's career prior to retirement culminated in the publication of two notable works, Lifelong Call to Learn: Approaches to Continuing Education for Church Leaders which he co-edited with D. Bruce Roberts (Nashville: Abingdon Press, 2000), and the Alban Institute publication, Linking Faith with Daily Life: Leader's Guide and Participant's Journal (Washington, DC, 1998). The development of this essay involved searching the standard bibliographic databases: ATLA, ERIC, EBSCO. As well, Dr. Reber provided extensive helpful information through email and telephone conversations.
Biography
Robert Eldred Reber was born on November 17, 1937 in Dayton, Ohio. His interests in lifelong education and ecumenism began during his high school years when he came across the writings of Paul Tillich and C.S. Lewis and became a member of the Junior Council on World Affairs in Dayton. Bob served as the Junior Council's president in his senior high school years. Bob attributes his intellectual and spiritual conversion as a teenager to his pastor who invited him to join a study group on Paul Tillich's The Protestant Era. Bob's engagement with Tillich's work laid the foundation for his dedication to lifelong learning, ecumenism and interfaith programs. Bob graduated with a Bachelor of Arts in English Literature from The Ohio State University in 1960 and entered the program in Sacred Theology at Boston University School of Theology. During his seminary years, Bob participated in an exchange program to Germany for youth and social workers during which he witnessed the building of the Berlin Wall in 1961. Bob followed his interest in ecumenism with a scholarship from the World Council of Churches to study at the Graduate School of Ecumenical Studies at Bossey, Switzerland. The program included three months in the Orthodox communities in Lebanon, Jordan, Syria, Egypt, and Greece. Bob's interest in travel/study seminars began with these early experiences. His travels and studies led him to visit lay academies in Europe including, Bad Boll in Germany, Kerk en Werld in the Netherlands, William Penn College in England, and Taize in France; then, finally to the 1968 General Assembly of the World Council of Churches in Uppsala, Sweden. The theme of the Assembly was "World Economic and Social Development." Bob helped to staff a working committee headed by anthropologist Margaret Meade.
Bob's ecumenical experience abroad prepared him well for his first position as Associate Secretary of the Council of Churches in Wilmington, DE (1965-1969). The following programs were among the many ventures he organized to promote interfaith dialogue between Christians and Jews and various study groups on urban issues, "Living Room Dialogues," and "Project Equality." Bob earned a Ph.D. at Boston University in1973. The title of his dissertation was "The World Council of Churches and World Development: Proposals for Adult Education in Churches." The readers of his dissertation included Malcolm Knowles, Paul Deats, and Walter Holcomb.
Following the completion of his doctorate, Bob was appointed as Director of Continuing Education and Associate Professor of Adult Education at Scarritt College (1972-1980). His duties comprised leadership training, teaching, and consulting in the Continuing Education field. He taught such M.A. level courses as The Church's Educational Ministry with Adults, Congregational Development for Christian Educators and Biblical Foundations for Church Education. He has also conducted workshops in Futures in Church Education, World Hunger, Conflict Management, Group Leadership, Volunteerism, Bi/Polar Seminars, and Professional Development consultations. During his tenure at Scarritt (1972-1980), Bob served as Interim Dean (1977-1978). From 1980-1985, Bob held the position of Executive Director of the Thompson Center in St. Louis, Missouri. The center was jointly sponsored by the Episcopal Diocese, the Presbytery of Elijah Parish Lovejoy of the Presbyterian Church (USA), and the Missouri East Annual Conference of the United Methodist Church. During that time, the Thompson Center became a national residential center for continuing theological education of clergy and laity.
In 1985, Bob was appointed as Dean of Auburn Theological Seminary in New York City—a position he filled for 16 years until his retirement in 2001. He was responsible for Auburn's educational programs and the development of the Center for Church Life and the Center for Multi-faith Education. The programs developed during his tenure included Colleague Program for New Directors of Continuing Theological Education; Linking Faith and Daily Life for Laity; Religious Faith and the Practice of Law for Attorneys and Judges; Study/Travel Programs to India, Pakistan and Nepal, South Africa, Philippines, Korea, the South Pacific, and Morocco; HIV/AIDS Crisis and the Churches' Response; Worship Training Program for Naval Chaplains; Programs on Jewish-Christian Dialogue; A Novel Approach to Faith; A Spiritual Journey: Interfaith Perspectives; Building Bridges: Understanding Our Neighbors' Faiths; Discovering the Oneness: Body, Mind and Spirit; A Program for Professional Managers: A Quest for Meaning in the Workplace; New York Institute for the Laity; Faith and Ethics in Corporate Life for CEO's; Liberating Our Ministries: New Paradigms for the Future; Workshops on the Supervision of Volunteers.
Bob returned to his Ohio roots when he retired as Auburn's Dean. He continues to contribute to his three lifelong professional interests as a volunteer. Bob's strong advocacy of lifelong learning programs for clergy and laity has been sustained in his position as part-time director of the Centre for Applied Christian Leadership at Methodist Theological School in Ohio. His work there included the pilot project on Team Coaching of Church Leaders and a study of church leadership needs in Ohio. At the time of this entry, Bob continues to be an educational consultant to the Clergy Leadership in Alabama, the Indiana Clergy Peer Group Study Program, and the Peer Group Program of the Akron (Ohio) Area Association of Churches. He also serves as the evaluator for the Sabbath Renewal Project at Princeton Theological Seminary.
Bob continues his research in his second interest-models to link faith and daily life-through his involvement in the Columbus area program on "Religious Values, Ethics and Practice of Law of Columbus," a program he began during his tenure as Auburn's Dean. And finally, Bob's commitment to ecumenism and inter-religious dialogue is prevalent through his participation on several boards of directors. He is chair of the Education Committee of the Central Ohio Interfaith Association. He also sits as a member of the Board of Trustees of Bexley Hall Seminary in Columbus, the Charles J. Connick Foundation in Boston, and is president of the Worthington Arts Council. He retired chairing the Board of Trustees of the Swedenborg School of Theology at the Pacific School of Theology in 2005.
Bob was a lifelong United Methodist. He is now an Episcopalian. Bob and Wendy Wilson Reber married in 1968 and now live in Worthington, Ohio. They have two adult children, Shelah and Aaron, who live in the Philadelphia area.
---
Contributions to Christian Education
Robert Reber has contributed to the field Christian education primarily as a practitioner. Bob's leadership has been instrumental in the development and vision of the Society for the Advancement for Continuing Education for Ministry (SACEM), a professional organization of leaders in continuing theological education in the United States and Canada in which Bob served as a founding member and a former president. Bob's professional interests have three foci: lifelong education for laity and clergy, ecumenism and inter-religious dialogue. For more than forty years, Bob has developed, organized and facilitated programs which have involved thousands of people in seminars, workshops, courses, conferences, retreats, study/travel seminaries to places around the world, and public lectures. His work is known in grassroots communities, national church committees, and international forums. He has been a regular professor in summer schools programs and institutes at Hartford Seminary (D.Min. program, 1988-1998) and Candler School of Theology (1995-2001). Bob has taught courses at Union Theological Seminary (NYC), Lancaster Theological Seminary, Garrett-Evangelical Seminary, the Swedenborg School of Religion, the Pacific School of Religion, Union Theological Seminary in Richmond, Scarritt College, and Presbyterian School of Christian Education, among others. Of particular note was his participation as a workshop leader in the 1999 Parliament of World Religions in Cape Town, South Africa, and co-leadership of such US programs as "Liberating Our Ministries: New Paradigms for the Future" (1988-1993) and "Linking Faith and Daily Life" (1988-1993).
Bob has published many articles and education workbooks. His lifelong dedication to Christian education culminated in the publication of A Lifelong Call to Learn: Approaches to Continuing Education for Church Leaders by Abingdon Press in 2000, co-edited with D. Bruce Roberts.
---
Bibliography
Books, Monographs and Study Guides
Reber, R. & Roberts, D. B. (Eds.). (2000). A lifelong call to learn: Approaches to continuing education for church leaders. Nashville, TN: Abingdon Press.
Reber, R. & Roberts, D. B. (1998). A study of the Methodist Educational Leave Society. Birmingham: The Dixon Foundation.
Reber, R. (1998). Workbook for supervision of volunteers (Rev. ed.). San Diego: Another Way.
Reber, R. (1991). Linking faith with daily life: Leader's guide and participant's journal. Washington, DC: The Alban Institute.
Reber, R. (1980). Workbook for planning study/travel seminars. New York: Board of Global Ministries, The United Methodist Church.
Reber, R. (1974). Leader's guide to the bishops' call for peace and self-development of peoples. Nashville: Graded Press (United Methodist Publishing House).
Reber, R. (1974). World development as an aim of the church's educational work. Monograph #3. Nashville: The Board of Discipleship, The United Methodist Church.
Chapters in Books
Reber, R. (1992). An introduction. In R. Richey (Ed.), Ecumenical & interreligious perspectives: Globalization in theological education (pp. xii-xvii). Nashville: Quarterly Review Books.
Reber, R. (2000). Educating out of the future: Where are we headed in continuing theological education? (pp. 39-51). Nashville; Abingdon Press.
Reber, R. (2000). Linking faith and work: Continuing education for professionals (pp. 120-127). Nashville: Abingdon Press.
Reber, R. (2000). Educating religious leadership for a multireligious society (pp. 156-165). Nashville: Abingdon Press.
Reber, R. & Roberts. D. What might the future be? (pp. 291-295). Nashville: Abingdon Press.
Articles
Reber, R. (1999). Models of successful religion and lawyering programs. Fordham Urban Law Journal, 26 (4), 935-940.
Reber, R. (1995). Religious faith and the practice of law: An interreligious educational model of engagement and reflection. Caravan: A Resource for Adult Educators, 9 (36), 4-5.
Reber, R. (1993). Spirituality in the Protestant tradition. Pace, 22 (February), 3-6.
Reber, R. (1991). Globalization, ecumenism and interreligious dialogue in theological education. Quarterly Review 11 (Spring), 55-99.
Reber, R. (1990). Ministry in daily life: A challenge to all of us. Doxology. 7, 23-31.
Reber, R. (1988). Vocation and vision: A new look at the ministry of the laity. Religious Education, 83 (Summer), 402-411.
Reber, R. (1986). Learning in a global context. PMC: Practice for Ministry, 3 (2), 18-19.
Reber, R. (1984). Ethical issues for continuing educators. The Continuing Educator, 2 (2), 3.
Reber, R. (1984). Korea: Land of morning calm and tragic division. United Methodist Reporter, 131 (2), 1.
Reber, R. (1979). The development of adult education in a global context. Clergy Journal. United Methodist Church. [No further bibliographical information available.]
Reber, R. (1978). A conversation with K.H. Ting. New China. (Spring), The Methodist Reporter. [No further bibliographical information available.]
Reber. R. (1976-1977). The church's educational ministry with adults: A selected bibliography. The Drew Gateway, 47 (1), 48-54.
Reber, R. (1976). Some key principles for guiding adult education programs. Adult Leadership, 25 (4), 117-118.
Reber, R. (1966). Joint action for mission in Wilmington, Delaware. ACS Journal, 4 (2), 19-22.
Book Reviews
Reber, R. (1999). [Review of the book Studying congregations: A new handbook.] The Christian Century, 116, 62-63.
Reber, R. (1991). [Review of the book Faith and ministry in light of the double brain.] Religious Education, 86 (3), 487-489.
Reber, R. (1976). [Review of Moral education in theory and practice.] Religion in Life, 45 (Autumn), 379-380.
---
Excerpts from Publications
Reber, R. & Roberts, D. B. (Eds.). (2000). A lifelong call to learn: Approaches to continuing education for church leaders. Nashville, TN: Abingdon Press.
"Not only are we losing youth and young adults, adults are leaving old-line denominational churches in droves, in spite of evidence that there is a high degree of religious commitment in this society. There is ample data to conclude that our educational efforts with children and youth do not take, and do not result in lifelong commitment to discipleship. No matter how high quality our curricula, youth leave the church during their college years because church is boring! We boldly suggest that the key to reversing this trend is not to improve youth programs but instead to implement quality adult education. To retain members across generations, clergy must create and lead innovative, engaging, relevant, and energizing programs for adults-young and old. Parents must receive training and encouragement to become the primary religious educators for their children. There is an urgent need for continuing educators to prepare clergy and lay leaders in knowledge and skills of lifelong education so that persons of all ages may share in the excitement and life-giving vibrancy of a genuine learning community." (p. 292)
"Continuing education in the future must regain its 'subversive' quality. It should seek to subvert our limited, fragmented, and distorted views of truth. It should take on seriously the theological task of faith seeking understanding. I do not mean this in any narrow academic sense, but in the large sense of offering opportunities for pastors and laity to examine the life of faith from biblical, theological, historical, and missional perspectives. Education cannot be subversive unless it addresses the whole person and the context in which he or she lives, works and ministers; and invites persons into situations where learning and growth are possible." (p. 44)
"Ecumenical and inter-religious collaboration is vitally important to the future of continuing theological education. There are many reasons why we should not operate in isolation. We have a biblical and theological mandate to work toward, and manifest, the unity of the church and of humankind. Our parochialism betrays the gospel and mirrors rather than disputes the conditions of a fractured community, world, and church. If we believe that God wills the unity of the church and humankind, it should be evident in our work as directors of continuing education. We need to network with other churches, denominations, civic organizations, and educational institutions, in order to have a clearer picture of the particular communities in which we have been called to work; to avoid unnecessary duplication and expenditure of resources; to build stronger educational programs that make a difference in the lives of laity and clergy; and to give us contacts and more effective ownership on the part of constituencies we wish to serve." (p. 45)
We must be willing to risk with partners for the future. I believe that God is calling us to work, to educate, across multiple differences in our communities and world. This may mean with other denominations; with persons and organizations outside the church; with different religious communities, that may be Jewish, Muslim, Hindu, or Buddhist; with different racial/ethnic and social/economic groups, be they young, middle aged or older adults. It is also time for us to come out of our religious hideaways and witness in public life to what our religious faith means and stands for. The stakes are too high in civil society to back off from the public square. The quality of life, of civil discourse, even the survival of the planet, depends upon all of us doing our part educationally to bring about change in people's lives, in our churches, and the society at large. (p. 46)
"People are eager to explore the relationship between their faith and their daily lives; the church or synagogue does not usually offer the time and space to do this. We are called to live primarily outside the walls of these institutions. The more we see how our faith relates and speaks to our whole lives, the more we will become committed as people of faith and as stewards of creations." (p. 125)
"We are no longer in a position to plead ignorance, to content ourselves with caricatures of persons of other religious traditions than our own, or to avoid engaging our religiously plural world. It is our responsibility as educators to develop programs that celebrate religious pluralism, foster understanding, respect difference, and promote justice and peace for all peoples. The goal is not to make us one, not to engage in syncretism, but 'to generate a strong social fabric through the interweaving of commitments' (Eck, 1991, p. 195) which will move in the direction of a community of communities.'" (p. 165)
"Why are clergy reading less and less in all areas? This seems to be true in theological disciplines as well as in reading novels, biographies, poetry, plays, social and political analyses. Why are they giving less and less time to ongoing educational opportunities that have a sustained educational thrust over time?
"What can we do to move beyond the undue emphasis on the quick-fixes or 'how-tos' of church life? Short workshops on fixing sermons, educational programs, church growth, and spirituality abound. I even saw a workshop advertised on 'Preaching in Sound bytes.'" (p. 49)
Reber, R. (1986). Learning in a global context. PMC: Practice for Ministry, 3 (2), 18.
I'm convinced that combining study and travel can be one of the most demanding, and at the same time, one of the most rewarding forms of continuing education, for pastors or for lay leaders…It can also be a shoddy excuse-nothing more than a tourist junket, a means of getting away from the local scene, a way of financing some church leader's trip abroad…What I propose is an alternate tourism…One purpose of study/travel can be to demonstrate the unity of God's people around the world, and in the church. We can learn from Christians overseas what God is doing in their lives and their countries. Our visits can 'put a human face' on our solidarity with all people. Our travels may deepen our commitment to a more just and humane world. We need to keep two key questions before us, in thinking about study/travel experiences. 1. Will our travels lead to a better understanding of the country and people visited? 2. Will our travels lead to any change in the way of life of the participants?
---
Recommended Readings
Reber, R. & Roberts, B. D., (Eds.). (2000). A lifelong call to learn: Approaches to continuing education for church leaders. . Nashville, TN: Abingdon Press.
Robert Reber and Bruce Roberts edited this insider's guide to the theory, history and practice of lifelong education. The first volume since 1974 to explore continuing theological education for clergy and laity, A Lifelong Call to Learn was worth the wait. Accessible to students, professors, theorists and practitioners alike, this work bridges theory and practice by exploring the 'why,' 'what' and 'how' of the practice of lifelong education in religious communities. Chapter contributors include Reber's mentor Mark Rouch, and William Lord on the history of continuing theological education; William Lord, George Brown, Ronald Cervero, Sally Simmel, Marvin T. Morgan and Rodney Parrott on its current state; Donald C. Guthrie, Cynthia Crowner, Douglas W. Wingeier, Carolyn Hennigner Oehler and Doris J. Rudy on the development and management of programs; and Ward Cornett III, Mike Maus and John Maus on the future of the field.
---
Author Information
Roberta Clare
Roberta C. Clare (M.Div., STM, Ed.D.) holds a doctorate in education from Columbia University. She is the director of a national lay leadership program at St. Andrew's Hall (The Presbyterian Church in Canada) and adjunct faculty at The Vancouver School of Theology, University of British Columbia. Her interests are transformative models of adult education (specifically, ethical thinking to political action) and cyberspace teaching and learning.