Richard Murray
By Margaret Ann Crain
Protestant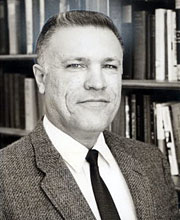 Richard T. "Dick" Murray (April 4, 1924 - January 9, 2002) was unconventional and even bombastic, yet his passion for teaching inspired and empowered a generation of pastor/teachers in The United Methodist Church and beyond over a 40-year span, 1960-2000. He was an ordained elder in The United Methodist Church. Murray served as an educator at First Methodist Church, Houston TX and then joined the faculty of Perkins School of Theology at Southern Methodist University, 1966-1994. There he established an effective program of continuing education and inspired generations of seminary graduates and laity to become creative, energetic teachers in the church. His most lasting legacy is through the highly effective DISCIPLE Bible Study curriculum for which he provided the pedagogical methods. DISCIPLE has enabled 1.5 million people to probe the Bible for guidance in their lives as disciples of Jesus. Murray insisted that "an effective teacher uses a multifaceted approach that includes enthusiasm, witness, reflection, experience, and a love of God as well as emphasis on curriculum and pedagogical resources" (Schaller in the Forward to Murray, 1987, p. 9).
Biography
Early Years
Murray was born April 4, 1924 in Des Moines, Iowa to Mr. and Mrs. Wallace Murray and spent the first 18 years of his life there. He writes:
I was "born" into the Brownie Class of First United Methodist Church [note: The name of the church in those years would have been "First Methodist Church" as the denomination became "The United Methodist Church" only in 1968.] of Des Moines, Iowa. My newly married parent joined the class the year before, in 1923, and my birth was one of several to members of the class the next year. . . . My lifelong association with this adult Sunday school class, and my awareness of its crucial role in the life of my parents, formed the background of my interest in adult Sunday school classes and my search for their particular geniuses. (Murray, 1981, pp. 13-14)
Dick Murray grew up in this Methodist church and was part of the youth group. During that period, he was influenced greatly by Dr. Clifford Bacon, the pastor of First Methodist Church in Des Moines. He graduated from Roosevelt High School in 1942 and attended Drake University in the spring of 1942.
Then at age 18 he set off on an adventure; he went to Alaska to work on the Alaskan Highway. His wife, Joyce, reports that he loved the area and the men with whom he worked "They trusted him to keep the pot for the gambling" that went on after work (interview, August 11, 2005). This important experience of independence lasted for six months.
In 1942 he was drafted in the army and served in the 86th Division Infantry. Dick was a medic and went with his division to both Europe and the Philippines. Joyce reports that Dick loved his job as a medic and he "got to see a lot of things." Perhaps these two experiences in the wider world were the source of his rich, earthy language and his rough exterior.
While on leave from training near Denton TX, the young soldier attended an event for soldiers to meet college girls from Texas Woman's University. There he met Joyce Martin who was president of the Wesley Foundation, a Methodist student group. They were married on July 27th, 1944 during another leave. This marriage was to last nearly 58 years and produce a daughter, Ruth C. Alexander and a son, Martin R. Murray. After the wedding, Joyce moved to California for a short period until Dick was shipped out.
Following the war, the young couple returned to Dallas. Dick entered Southern Methodist University in June of 1946 and completed his Bachelor of Arts degree in social science in August, 1948. During this last year of undergraduate work Murray also served his first pastoral appointment in the Methodist Church; he was pastor of the Windom Circuit in Paris District of North Texas Conference, a four point circuit.
Ministry as a Pastor and Professor
After Dick's graduation from SMU, the Murrays moved to Union Theological Seminary in New York where he studied from 1948 to 1951. "It was quite exciting to be there!" Joyce remembers. Dick was a Group Worker at Union Settlement during his first year. Joyce also recalls that Dick became deeply interested in the New Testament and studied theology with Paul Tillich. Murray himself noted that he studied with James Muilenburg and Samuel Terrien in the Old Testament, John Knox and Frederick Grant in the New Testament, James Smart in biblical interpretation, and Bill Webber in teaching methods for the Bible. (Murray, 1987, p.14) He completed the Bachelor of Divinity degree there.
Murray served a succession of churches where he developed his love for teaching the Bible to lay persons. First, he was pastor of Hyde Park Methodist Church in Hyde Park, New York (1949-1953). Although this was the town associated with Franklin Delano Roosevelt, the members of Dick's church were not particularly influential in the town. (J. Murray, interview, August 11, 2005) The young pastor organized a Bible study with "four faithful persons in Hyde Park." (Murray, 1987, p. 14) Then the Murrays moved so that Dick could serve as a Minister to the Defense Community in Paducah, Kentucky, from 1953 to 1954. Murray was sent to Kentucky by the Board of National Missions of The Methodist Church. Joyce recalls that an "atomic energy plant was there and Dick worked especially with the families of the workers" (interview, August 11, 2005). He organized a special mission to the atomic plant that included a trailer chapel that he took out to the plant and in which he held services. Daughter Ruth Caroline was born in Paducah. Murray remembered that he worked with "several classes of ladies in trailer parks near Paducah" who also were part of the inspiration for his life work. His next appointment was as an associate minister on the staff of Union Avenue Methodist Church in Memphis Tennessee during the years 1954 to 1955.
In 1955 they moved back to Texas where Murray was appointed as pastor of First Methodist Church in Hooks. Murray wrote:
Once upon a time, many years ago, a group of eight persons met every Thursday evening for Bible study. They met in the living room of the parsonage, since they had no church building. . . . The young pastor, only a few years out of seminary, was the leader. He sat with a copy of one volume of the Interpreters' Bible (a 12- volume commentary) on his lap while each member of the class worked out of the Bible translation of their choice. The class spent an entire year, one-and-a-half hours a week, working their way through two books - I and II Thessalonians. . . . Several housewives, two schoolteachers, a pawnbroker, an eighty-year-old minister's widow, and some workers in the nearby defense plant made up the group. Everyone loved the class, was regular in attendance, was often puzzled by the "strange" understandings of others in the group, and felt that the experience contributed to the development of their faith. (1987, p. 13)
Evidently Dick Murray's gift of teaching was noticed because the next year he became Director of Adult Work for the Board of Education in the Texas Conference of The Methodist Church. In that role, he went to churches in Houston and the eastern part of Texas, conducting teacher training and meeting with committees to improve the educational offerings for adults in many congregations. He served in this conference position from 1956 to 1961. In 1959, a son, Martin Richard Murray, was born to Dick and Joyce. Following her service in the Texas Conference, Dick was appointed to First Methodist Church of Houston as Minister of Education, which lasted from 1961to 1965.
Murray speaks in the Preface to Teaching the Bible to Adults and Youth (p. 14) of the Bible classes he led and how much he learned from these experiences with laity. He lists:
Four faithful persons in Hyde Park, New York
Several classes of ladies in trailer parks near Paducah, Kentucky
A group of dedicated teachers in Memphis, Tennessee
A great, open group of eight to ten in Hooks, Texas
A large class of sixty-five to eighty at First Methodist Church of Houston, TX
Finally, a class in a new congregation in Estes Park, Colorado in 1986
These varied experiences teaching and organizing Christian education for adults became opportunities for Murray to test and develop his pedagogical approach to Christian education. He spent many years as a professor and national workshop leader who taught others how to teach, but he was always grounded in the experiences of teaching the Bible in these faithful groups of laity in the churches where he served. They were deeply formative laboratories for Murray's theories.
In 1965, Dick Murray became part of the Perkins School of Theology faculty at Southern Methodist University, remaining there for 29 years. His first appointment was as Assistant Professor and Director of Continuing Education. He did further graduate work at Columbia University and Union Theological Seminary from 1966 to 1967, and in 1969 he was promoted to Associate Professor. At retirement in 1993, he was designated the Seneker Professor Emeritus of Christian Education.
Early in his career at Perkins, Murray began "setting up a program of Continuing Education involving clergy and laity both on campus and on site. One of the chief features of his program was the "Guided Reading Program" in which both clergy and laity met regularly to study a particular book using a study guide provided by Continuing Education. Usually the study was completed by an all-day seminar conducted by a Perkins professor or someone in a comparable position elsewhere" (Grimes, p 182-183). Murray was elected director of the Society for the Advancement of Continuing Education at its founding meeting in June of 1967. He was a member of the Council for Schools of Continuing Education from 1971 to 1972.
The Murrays owned a second home in Estes Park, Colorado. In the 1980s they helped to found a new congregation there and Dick worked with adult education. They also were hospitable hosts to many friends and colleagues who came to that beautiful area. This author remembers being in that lovely home, perched on the side of a steep mountain, welcomed by Dick and Joyce. The United Methodist Professors of Christian Education were meeting at the nearby YMCA of the Rockies facility for a biannual working session. Dick joined us in our work and invited the whole group to his home one afternoon. He loved hiking in the mountains of Colorado, growing pine trees, and searching for antiques. All these passions were explored in his summers in Estes Park.
In March of 1986, Murray met with Bishop Richard Wilke and 16 others who believed that The United Methodist Church could be revived by a strong Bible study curriculum. The fateful gathering at Flower Mound, Texas resulted in the DISCIPLE Bible Study program. DISCIPLE: Becoming Disciples through Bible Study is a 34 week program that includes a video segment, a workbook, daily Bible reading assignments, a small covenant group with weekly meetings, and intercessory prayer. Dick Murray provided the pedagogical framework for this transformational study. The two-and-a-half hour group meetings move persons through a time of "encounter with the Word" that provides in-depth information about the historical context of each biblical passage. Then the lesson asks each student to consider what these texts might be calling the disciple to do. Every session asks for a commitment from the reader for making God's call real in one's life. Lives have been changed and congregations have been renewed as a result of this study. The curriculum has been expanded to four years and has been used in 34 denominations. In addition, it is available in both Spanish and Korean. DISCIPLE has been enormously influential in The United Methodist Church and beyond. Wini Grizzle, who worked with the DISCIPLE curriculum for many years, remembers that Murray helped to write the training design and led the first five teacher training events. Each was three days long and leaders who wished to use the curriculum were required to attend. "Dick was the big glue that kept it together," she claims. "His insistence on getting beyond the words on the page to the meaning for our lives always struck me as one of the most important points he made. He wanted the Bible to be transparent so we could see the God who was in control and who called us to be his people!" (interview, August 26, 2005). In the interview, Grizzle further noted that Murray "made the Bible come alive for millions of people and, thankfully, through his book, he continues to teach."
Murray's health failed over the years, the result of diabetes. His mobility was affected as was his eyesight. Professor Alan Smith recalls that Murray adapted to these changes in his health and continued to be a big presence in the field. My most vivid image from that first summer together [1988] was [Murray] getting up from his chair to write and diagram on the flip chart and turning to me as he made his way to the easel, saying, "Do you mind holding onto my belt while I write? I have no feeling in my legs, so I fall without even knowing it unless someone holds me up." He walked with a cane, so I knew he was unsteady on his feet. . . . In order to do his work as a teacher (which he always did very well), he needed the assistance of others because he was not fully in control of his body. He found a way to adapt to the challenges his body was presenting him and continue to contribute for many years after that (personal communication, June 2, 2005).
As Smith indicates, the diabetes that Murray had struggled with for years caused the loss of feeling in his extremities. Walking became more and more difficult. Balance eluded him. In addition, Murray's eyesight failed. Dick Murray died January 9, 2002, of complications from diabetes.
---
Contributions to Christian Education
His passion: The obituary written by the Southern Methodist University News and Media Relations says that Murray had "passion for effective Christian education and Biblical literacy." Murray's passion was legendary.
Ben Marshall, a highly respected Christian educator in United Methodist circles, identified Dick Murray as "the most influential Christian educator that came along in my life time" (personal communication, March 9, 2005). Wini Grizzle says that "no one is more committed to ministry and the United Methodist Church" than Dick Murray (interview, August 26, 2005). Karen Greenwaldt, a denominational leader in Christian education writes, "`United Methodists want to want to study the Bible!' This quote from Dick Murray captures my memories of him - his deep commitments to learning and practice of the faith and his impatience with those who do not take seriously the teaching and learning task of the Church" (personal communication, December 8, 2005).
Each person who wrote or spoke of Murray was full of excitement and love for Dick Murray. They all seemed to be responding to the big presence that Murray could project. Even watching him on videotape, the warmth and passion comes through. On the tape of Training Your Teachers to Teach (1996), Murray says, "Every good teacher is an evangelist." Those who knew him seem to attest to the evangelistic power of Murray himself. His passion for the Church, the Bible, and teaching were contagious.
Dr. Alan Smith teaches at a United Methodist affiliated college and met Murray in 1988 at a denominational meeting of professors of Christian education. Smith recalls:
I had read several of Dick's books and had seen some of his videotaped resources over the years, so I was familiar with his ideas and his contribution to the field of Religious Education. What I remember from that first summer of experience with him was that Dick was a man of contradictions. He had the grandfatherly, Santa Claus look by then and always smiled, so our children were drawn to him right away- an attraction he welcomed and seemed to relish. But he was also intense in his scholarship and had a passion for what he believed about theological and educational issues, so he could be irascible as well. I recall him having a great time engaging others in debate during those sessions in Estes Park, then slapping others on the back or patting them on the knee with great affection after even heated discussions. Ideas never got in the way of his relationship with people, and that is one of the things I remember most about Dick. (personal communication, June 2, 2005).
Dick Murray was a memorable personality who could dominate and motivate a group to grapple with ideas. The incident Dr. Smith recounts above was echoed by many with whom this researcher spoke.
His character and unconventional manner: His wife, Joyce, described Dick as "both a skeptic and a believer." She explained, "He had a skeptical nature, but he was also a believer in what the church was doing" (interview, 2005). Others described a courageous honesty in Murray that may have sometimes made him unpopular with vested interests. Mac McPherson, for instance, writes of Murray's willingness to confront the powerful in the denomination in an effort to promote integration of minorities and those excluded from power.
On the drive to the black college Dick told me some of the stories of his life. At one time when he was in the military his task was to "milk" rattlesnakes. The venom would be made into anti-toxic medicine for soldiers bitten by poisonous snakes. One of Dick's interests was to renew his conference and his church by disenfranchising the bishop's "kitchen cabinet" and their power in making appointments and approving Christian educators. The bishop and the cabinet had to be "milked." Dick was not afraid to do the necessary milking. (personal communication, June 15, 2005)
McPherson remembers that Murray continued to work for social change in the conference, supporting the inclusion of women, Mexican-Americans, homosexuals, and others who had been excluded from power in the leadership of the denomination. McPherson was a student and then a staff member at Perkins School of Theology when Murray was there. He remembers the dean, Joseph Quillian, "saying that it was a good day when Dick became a member of the Perkins faculty . . . [because] often Dick would come to his office and point out something that was not appropriate or credible in the seminary." (personal communication, June 17, 2005) These observations were undoubtedly difficult for the dean to hear, yet they were appreciated for their honesty and integrity.
Murray also loved to shock. This story from Wini Grizzle, who guided the growth of the DISCIPLE program and its training seminars, illustrates his penchant for the unconventional:
I will never forget the first time I met him. It was at a Sunday School Teacher workshop that he was leading. In his own slow, quiet, deliberate opening statement, he stated that he was going to help us become hookers! Now considering that most of the group was women and this was in the mid `80s, I was jolted with his statement but before I could react, Dick quietly said, "Questions are like hooks. Some of them just barely scrape the surface, while others may dig and break the surface BUT some will probe deeply and snag the very being! We need to learn how to hook persons with questions that do all of these things to successfully teach the Bible!" (personal communication, August 28, 2005).
Some of these unconventional practices may have contributed to a lack of appreciation for Murray's scholarship. Rev. Karen Greenwaldt, a denominational executive in the United Methodist Church, writes, "While many discounted his teaching within the academic institutional seminary setting, I found Dick's presence there to be deeply invitational. . . . He challenged us to probe, to inquire, to think, to ask, and to ponder." She notes that Murray's style was informal and the subject matter was written off by some faculty colleagues as "practical theology" (personal communication, December 8, 2005).
Dick Murray was a member of the Perkins faculty without having a PhD. Perhaps that accounted for his unwillingness to be limited to accepted academic ways of doing things. Yet he garnered respect for his work because he was likeable and he achieved results. For example, the faculty cooperated with his lay theology courses which current faculty member, Susanne Johnson, describes as a forerunner of distance education. She writes, "He got faculty to write study guides, he purchased enough books to go along with the study and kept them in the lending library here. Then congregations - near and far - could check out the books, and obtain copies of the study guide for short term theological studies" (personal communication, June 6, 2005). Johnson characterizes this lay education program as "ingenious" and "very popular."
Dick Murray inspired a generation of effecting and leading Christian educators in the United Methodist Church by teaching workshops, planning studies, making videos, and writing books. All of this communicated his unconventional, passionate honesty along with a love for the Christian message.
His contribution to pedagogy
Dick Murray was self-taught. He was unconventional. He fought to be accepted fully by the academic community, including the seminary faculty at Perkins and within the larger scholarly community of religious educators. He did not have a doctoral degree. Much of Dick Murray's contribution came through his teaching. He taught lay volunteers, pastors, professional Christian educators, and denominational leaders how to teach in ways that invite learners to be transformed into disciples of Jesus Christ. Murray himself says, "Every time we teach the gospel we also are proclaiming the gospel. We're looking not only for knowledge of God's love but also for decisions" (video recording, 1996). His pedagogy was holistic, inviting learners to claim their Christian vocation more fully.
His books were widely read and influential for those who served as pastors and religious educators in mainstream Protestant congregations. Strengthening the adult Sunday school class (1981) and Teaching the Bible to adults and youth (1987) sold many copies and provided down-to-earth advice on how to teach and organize Christian education.
Professor Alan Smith assesses Murray's contribution in this way:
Dick was an engaging, passionate, challenging, sometimes cantankerous individual. He cared deeply about the field of Religious Education and about the United Methodist Church and the way it was heading. But, more importantly, Dick Murray cared about people and about trying to find ways to connect with the needs of each individual. I guess the one thing that is characteristic of what I teach that is a direct result of my work with Dick is the belief that we do not teach a subject in this field, we teach persons, and we have to find ways of making the Gospel present to each person as a person. (June 2, 2005)
Dr. Smith is just one of many who caught this vision of teaching that is holistic and passionate and urgently cares for each learner.
Wini Grizzle worked with Murray many times during the training sessions for those wishing to lead the DISCIPLE Bible Study which Murray had helped design. She identifies his honesty as a major ingredient in his teaching effectiveness. His willingness to name the uncertainties as well as our barriers to learning was an important skill. He would criticize popular teaching techniques that were not effective in his opinion. His "gruff but jovial" and "warm" personality "pushed everyone to really learn," in Grizzle's opinion. "He broke all the rules, sometimes." "He jolted you to reconsider," she adds (interview, August 26, 2005).
Others wrote of the variety and creativity of Murray's teaching methods. For instance, MaryJane Pierce Norton, who currently is Director of Family Ministries at the national level for The United Methodist Church, recalls stories that illustrate this characteristic:
One of my great joys was being invited to be a part of the teaching team by Dick Murray for the teaching-learning module for Christian education certification. I taught as part of the team two or three times over the course of several years. One of the theories we studied during one of the summer sessions was Thomas Groome's shared Christian praxis. The book was difficult for many of the group and the concepts weren't always easy to grasp, so we decided to have a role play so we could illustrate how this might take place in a Sunday school class. Suzanne Johnson played the part of the Sunday school teacher. Two of the students in her class were "little Dickie Murray" and "little Janey Pierce." In my role, when I came in to Sunday school that morning I announced that my dog Homer had died. I also announced that my Mom had told me Homer was now in doggie heaven. Dick told me quite bluntly (in his role as Dickie Murray) there was no way my dog had gone to heaven because there was no such thing as doggie heaven. What then happened was an all out word-fight between me and Dick regarding heaven and a dog's place in heaven. Suzanne tried her best to keep order in the "Sunday school class," but it was a losing battle. Dick was in his element arguing (in a school-age manner) about what constituted heaven and how dogs couldn't possibly belong there. I'm not sure what the group ended up recalling about shared praxis, but they certainly remembered the dog-heaven debate (personal communication, July 5, 2005).
Pierce Norton testifies to the power of these innovative teaching methods. She also remembers another incident that illustrates Murray's power and creativity:
By the time I started working with Dick (1986 was my first time with the group), he had already lost some of his mobility and was using a cane to walk. But what would have been a barrier for some became a teaching tool for Dick. I remember many times when he took the cane and used it as a hook illustrating to the class the need to hook those we teach so that they become engaged with the biblical story and the Christian faith. He pointed his cane at the group to make a particular point; he rapped his cane on the floor to gain the attention of the group; he caressed his cane as he told stories of what had influenced his journey as a Christian educator. He was always the consummate teacher (personal communication, July 5, 2005).
Murray's pedagogy was "written off by some within the academic setting" because it was so informal, but national United Methodist executive and Christian educator, Karen Greenwaldt, describes it as "deeply invitational" (personal communication, December 8, 2005). She observes that he "engaged [learners] as people who came with rich traditions and deep-seated knowledge of faith. He challenged us to probe, to inquire, to think, to ask, and to ponder." She continues, "Of all of the professors who have taught and guided my learning, Dick Murray is the one who most shaped my approach to learning" (personal communication, December 8, 2005). This is high praise from one of the leading educators in the United Methodist Church.
Another critical ingredient of Dick Murray's pedagogy was active involvement. MaryJane Pierce Norton writes:
Dick saw Christian Education as a 'hands-on' enterprise. Learning came from involvement. Learning was active. For Dick, the best Christian educators were those who actively taught and were involved with those they taught. Christian education wasn't about sitting around and just getting the theory right. In addition to a solid foundation in theology and educational theory, Christian education was about wading knee-deep into the story and experiencing the faith in the classroom and in the world. (personal communication, July 5, 2005)
His methods were unconventional, but they were effective.
The real measure of Murray's importance as a Christian educator can be seen in the popular program of study, DISCIPLE Bible Study. In December 2005, Judy Cook of the United Methodist Publishing House reported that 1,432,155 persons have participated in DISCIPLE Bible Study (personal communication, December 12, 2005). Participation involves commitment to a 34 week study, daily Bible reading and prayer, and weekly attendance in a two and a half hour class meeting. The curriculum is not overtly Methodist and has been used in many denominations and many countries. For example, Grizzle was traveling to Singapore to lead a teacher training in August of 2005. Nearly 44, 500 persons have completed the leader training, usually a three day event. The curriculum is available in Korean and Spanish as well as English and many persons have availed themselves of these versions. The impact of DISCIPLE is difficult to ascertain, but many can attest to its power. This Bible study with historical and critical resources has renewed congregations.
DISCIPLE was born when a few church leaders gathered in Flower Mound, Texas. Bishop Richard Wilke had published a book, And are we yet alive, in 1986. The book sounded an alarm about the state of the United Methodist Church and its declining Sunday school. Dick Murray was the only Christian educator present at that meeting. However, the outcome was a curriculum for Bible study that bore his stamp. DISCIPLE includes in each session an exploration of the biblical text with historical and critical resources to enrich the reading. Then it asks that each person consider how this text is calling her or him to be a disciple. Hence, its name. The format of the meetings includes a video portion with a noted biblical scholar explicating the text. It also includes a time of intercessory prayer. Grizzle says that DISCIPLE "stirred the denomination to return to basics" (interview, August 26, 2005). Murray himself said that adults "want lessons that not only teach us but lead us in the way we should go" (video, 1996). This is just what DISCIPLE does.
In the opinion of this writer, Dick Murray's greatest legacy to The United Methodist Church is DISCIPLE Bible Study. He was part of the inspired team that put this high commitment, small group experience together and sold it to the Church, although its demanding 34 week length and requirement that a congregation "enroll" and send any leaders to training made many skeptical.
The curriculum which now has been extended to four full years has re-invigorated the UMC from its roots. The participants in DISCIPLE learn the value of a daily discipline of reading scripture and prayer. They discover the joy of a covenant group. They are exposed to a variety of the best of Bible scholarship through video presentations. In the first year they read 85% of the Bible. In subsequent years they focus on smaller sections of the Bible but in more depth. Consistently, the curriculum combines the best of historical/critical scholarship with a devotional discernment and pushes the participants to make commitments to discipleship in their lives. Dick Murray's hand is evident throughout the curriculum. It relies on the best of educational theories (such as multiple intelligence theory) about how adults learn and the best of biblical scholarship. The result is a transformative learning experience for all participants.
Dick Murray gave a gift of inestimable worth to the United Methodist Church. The four-year curriculum is now translated into Spanish and Korean, used by many denominations, and has had over a million graduates. DISCIPLE Bible Study has played a large role in congregations, as graduates teach their fellow members about mission and becoming disciples of Christ. Perhaps most important, the pedagogies of DISCIPLE have been adopted in many other settings. Whenever teaching contexts envision the leader as facilitator, the value of covenantal small groups, the importance of learning that transforms ones life, the value of varied approaches that engage the diversity of learning styles, and the richness of Bible study using historical critical methodologies, Murray's influence is at work. These pedagogical approaches are now commonly accepted in settings for learning all across the church.
---
Bibliography
Books
Murray, D. (1981). Strengthening the adult Sunday school class. Nashville: Abingdon Press.
Murray, D. (1987). Teaching the Bible to adults and youth. Nashville: Abingdon Press.
Murray, D., R. M. Alexander & E. Shepard (1990). Teaching the Bible to elementary school children. Nashville: Discipleship Resources.
Video Recordings
Murray, D. (1996). Training your teachers: with Dick Murray. Dallas, TX: UMR Communications. [3 videocassettes with leader's guide].
Murray, D. (1990). Teaching the Bible to adults [video recording]. Nashville: Cokesbury.
Curriculum and Other Denominational Publications
Murray, R. T. (1982). Some things curriculum resources actually do. In R. H. Hipps (Ed.), Confrontation Curriculum (97-103). Nashville: Christian Educators Fellowship.
Murray, D. (1960). Teaching plans; Job, Proverbs, Ecclesiastes. Adult Bible course, July, August, September. Nashville: Cokesbury.
Murray, D. (1962). Teaching plans: International lesson series, Adult teacher. Nashville: Cokesbury. July, August, September.
Murray, D. (1962, October). New opportunities. Church school magazine, 18.
Murray, D. (1963). Teaching plans: International lesson series. Bible teacher for adults, October, November, December. Nashville: Cokesbury.
Murray, D. (1964). Teaching plans: International lesson series. Adult teacher, October, November, December. Nashville: Cokesbury.
Murray, D. (1964). Leader's guide, persons can change. Nashville: Abingdon Press.
Murray, D. (1969, June). Resources for renewal. Church school magazine, 8-10.
Murray, D. (1971, April). Ministering to needs. The church school.
Interviews and Personal Testimonies Collected for this Entry
Murray, J. (2005). Telephone interview, August 11, 2005.
Grizzle, W. (2005). Telephone interview, August 26, 2005.
Email correspondence from Karen Greenwaldt, Wini Grizzle, Susanne Johnson, Ben Marshall, MaryJane Pierce Norton, Mac McPherson, Alan Smith.
Books Consulted for this Entry
Grimes, H. (1993). A history of the Perkins School of Theology. Dallas: Southern Methodist University Press.
---
Excerpts from Publications
Murray, D. (1987). Teaching the Bible to adults and youth. Nashville: Abingdon Press.
Principles for Bible Study
1. The Word of God is Jesus Christ, and the words of the Bible tell us about that Word. Therefore, when we study the words of the Bible we always look behind, in, and through those words for God's Word - Jesus Christ.
2. No Christian has a monopoly on understanding either God's Word or the words of the scripture. This includes biblical scholars and the most unlearned Christian peasant. All of us must listen to one another as we seek to understand the richness of God's gifts.
3. We must assume everyone has Christian integrity and not accuse one another (no matter how unusual are the opinions) of being unchristian.
4. We must further assume that we will arrive at different understandings of portions of Scripture and that that will not disturb God as much as it will some of us.
5. Few of us will know Hebrew or Greek, and we therefore need to use a variety of English versions to try to understand the text.
6. While we accept differences between us, we do not feel that those differences are unimportant, or that they should be ignored or treated as if they did not matter.
7. Different biblical understandings can remain between us, but we can still be warm Christian friends. In fact, we can grow in our appreciation of one another. (p. 133)
You teach the Bible with Mind And Heart, Enthusiasm and Witness
I have never met a Christian youth or adult who did not "want to want" to study the Bible.
There is a yearning to yearn, a feeling of need and incompleteness that is almost universal in the church.
Nevertheless, the vast majority do little Bible study.
Most Christian adults and youth are waiting for a good teacher -
To motivate them
To inspire them
To involve them
To interest them
To inform them
To love them
You can be that teacher!
The clue to your success is the combining of the mind and heart, thinking and feeling, within the compass of your own enthusiasm, and witness to your own faith. You need not be an accomplished Bible scholar, but you must be open to learning what others have discovered concerning the Scriptures, and you must be open to the quickening of the Spirit of God as you work your way along with a class. (pp. 23-24)
Murray, D., R. M. Alexander & E. Shepard (1990). Teaching the Bible to elementary school children. Nashville: Discipleship Resources.
[Christian education] does not take place only at church or Sunday school. All of us learn all the time. Planned, structured learning is only a small part of the whole. Many people have said that hardly anything can be accomplished one hour a week in Sunday school. The truth is that an hour in Sunday school is far fro our entire opportunity to teach. Children learn by
Being motivated, interested, and involved;
Imitating;
Listening and trying out what they hear;
Repeating, by doing or saying something over and over;
"Making sense" of things they hear or see even though their understanding of those things will change over the years.
Children learn at home and from all of their church experience. They learn from their experiences with adults and with each other. They learn on the way to church in the car. They learn on the playground.
I remember how, at 12 or so, I learned from reading the church budget. I learned how much my church paid the janitor. The amount was very little, and I was angry.
We teach the Bible to elementary children, not just so they will know the Bible itself, but so they will know God as known especially through Jesus Christ. We teach what Dorothy Furnish describes as the "For-us-ness" of God. Thus, above all else, the seeking love of God is at the center of our teaching the Bible. (pp. 7-8)
---
Recommended Readings
Murray, D. (1981). Strengthening the adult Sunday school class. Nashville: Abingdon Press. In this book Murray shares his experience in a large congregation with many Adult Sunday School classes. The book is organized by 20 myths and realities such as "Adults learn what they are taught." Murray shows the reader that adults are in charge of their own learning and will pick and choose what they consider valid. The style is "no nonsense" and amusing. In cultures where the adult Sunday School is still viable, this book is a delight.
Murray, D. (1987). Teaching the Bible to adults and youth. Nashville: Abingdon Press. Even before Howard Gardner had put forth the theory of multiple intelligences, Murray had discovered the efficacy of teaching with a wide variety of methods and experiences. This book is a treasure trove of teaching activities for exploring the Bible. He suggests relying on all the senses, video images, drama, memorization, paraphrase, scholarship, etc. in order to invite adults and youth into a journey into faith. This book has been widely used in conjunction with the curriculum DISCIPLE Bible Study which Murray helped to plan and is still sold today in considerable numbers.
Other Resources
The DISCIPLE Bible Study program is a living museum of the pedagogical commitments of Dick Murray. Although the workbooks were written by Bishop and Mrs. Richard Wilke, Murray's imprint is everywhere. The student is constantly encouraged to live in the Word and to let the Word live in her or him. The subtitle, "Becoming disciples through Bible study" is just what the program invites us to do. Visit the web site, "http://www.cokesbury.com/disci..." for more information and testimonies as to the power of the program.
---
Author Information
Margaret Ann Crain
Margaret Ann Crain is Associate Professor of Christian Education and Director of Deacon Studies and Master of Arts Degrees at Garrett-Evangelical Theological Seminary in Evanston IL where she teaches courses in Christian education, congregational studies, and United Methodist 20th century doctrine, polity and history. Her preferred research methodology is ethnographic and naturalistic. She is an ordained deacon in the United Methodist Church.