Luther Lindberg
By Nelson Strobert
Protestant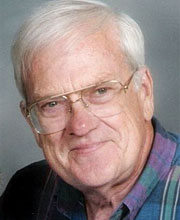 LUTHER EUGENE LINDBERG (January 2, 1933 - June 4, 2010) is an ordained pastor of the Evangelical Lutheran Church in America. He is professor emeritus of the Lutheran Theological Southern Seminary; however, he spent a significant number of his ministerial years on the staff of the Board of Parish Education of the Lutheran Church in America. Although his passion and commitment to religious education was a focus from his theologically formative years in seminary and in the initial years of the pastorate in congregational ministry, his major religious educational interest and research has been in the area of confirmation ministry in the Lutheran Church.
Biography
Luther Lindberg was born on January 2, 1933 in Hordville, Nebraska. He was baptized two weeks later on January 15. He is one of four children born to Paul M. and Hortense Dorothy (Larson) Lindberg. Luther's father was a Lutheran clergyman who went on to be president of Luther College and Academy in Wahoo, Nebraska, and later professor of Homiletics and Practical Theology at Augustana Theological Seminary. His mother was born in India, the daughter of Lutheran Missionaries. His Lutheran familial roots include one grandfather who was a professor at Bethany College, Lindsborg, Kansas and missionary in India and the other a professor at Augustana College, Rock Island, Illinois and who was the founder-director of Immanuel Deaconess Institute, Omaha Nebraska.
Luther's general education began in the elementary school in Wahoo, Nebraska and continued in St. Paul Minnesota. He went on to attend Central Junior High in Rock Island, Illnois for the ninth grade but in 1949 Luther went to live in Frankfurt, Hoechst, Germany with his siblings and parents when his father became the Senior Director for the Lutheran World Federation Service to Refugees serving in the American Zone. Luther and his sister had tutor for one year prior to attending the Martin Luther School in Rimbach in the Odenwold. With the relocation, Luther, in his first year of high school, had a tutor during that first year in Germany. Following that year he attended the Martin Luther School in Rimbach in the Odenwold. During this period Luther traveled with his family to various parts of Germany as well as other countries in Europe including: Denmark, Sweden, Bavaria, Holland, Belgium, and Luxembourg. One particular unique memory was visiting Hitler's Eagles' Nest hideaway and the nearby SS German barracks.
Although Luther spent his secondary school years in Germany, his diploma was from Luther Academy in Wahoo. With the completion of his high school studies, he and his brother returned to the United States where they began their college studies at Luther College in Wahoo. After one year (the completion of the first year), they transferred to Augustana College in Rock Island, Illinois where Luther majored in philosophy. In addition to academic work, Luther enjoyed vocal music and was a member of the Augustana College Choir. He was also active in student government on campus and was elected vice-president of the Student Council. In 1954 he graduated Cum Laude from Augustana and was listed in Who's Who in American Colleges for that year.
Luther entered Augustana Theological Seminary in preparation for Word and Sacrament ministry in the Augustana Lutheran church. (Over and above his theological course work) While at the seminary Luther assisted in a Lutheran church in Davenport, IA for three years where he taught confirmation classes. During his parish internship, which was required for the seminary, he served Gustavus Adolphus Lutheran Church in St. Paul, Minnesota. Those congregational experiences nurtured his interest in the area of confirmation. This led to focused study and coursework (and so focused him, that he geared his studies and course papers) around this educational ministry of the church.
In 1956 he married Adele Celeste Stone, also a 1954 graduate of Augustana College. They had been in the same confirmation class as teens.
His college and seminary years of study were exciting years. The experiences were building blocks for his future work in religious education. The climate at these church institutions was intellectually and theologically stimulating. From these formal educational experiences he was able to focus his vocation in ministry. It became clear to him that his intention was directed to becoming a teacher, an educator of the church. Although he was prepared for parish ministry, he knew by the time of graduation from seminary that he wanted to more academic work.
In the spring so 1958, Luther completed his theological studies and accepted a call to Immanuel Lutheran Church in Attleboro, Massachusetts. He was ordained on June 22, 1958 at the Chautauqua Institute near Jamestown, New York. Motivated to becoming a teacher of the church upon graduation from the seminary, as he began his first pastorate, he had the intention of pursuing graduate work in religious education and began his doctoral studies that September. This required him to search for a doctoral program in the area as well as getting the approval of the congregation. This was not an issue for the congregation's previous pastor had done his doctoral work while serving the congregation and went on to become president of Midland Lutheran College, one of the Lutheran Colleges in the Midwest. Throughout the process the members were genuinely supportive and periodically inquired of Luther about his studies.
Luther was admitted to and entered the doctoral program at Boston University. His decision to attend Boston University was based on the fact that the institution was sensitive to the adult learner and professional. The graduate program was amenable to the part-time student with many of the classes held on Saturdays or other unconventional time-periods. Luther as able to put this innovative scheduling to his advantage in that, he was able to translate his scholarly work and inquiry into the every day life of the congregation.
In addition to general pastoral work within the congregation along with his doctoral studies, Luther also immediately involved himself in the educational ministry at the broader church level. He was a member of the New England Synod Parish Education Committee from his beginning years in the synod and chairperson of the same from 1963-1968. It was during that time that he put together his first educational piece as an educator which was a summary of the 50 years of the Augustana Synod in the New England area.
As part of his responsibilities on the synodical parish education committee, he was tapped by Dr. Kent Gilbert, the Executive Director of the Board of Parish Education of the Lutheran Church in America, to introduce the Long-Range Curriculum of the church. He attributes having this responsibility due to the fact that Gilbert knew about his doctoral studies at Boston University.
Doing doctoral coursework on a part-time basis meant an extended time for completion of his studies. In fact, it took him eleven years to complete the degree. Eight of those years he spent completing the coursework. Luther's primary concentration was the philosophy of education with a minor in inter-personal relations and group dynamics. He appreciated working with his primary advisor, Dr. Kenneth Benne. In March of 1964, in the midst of his doctoral work, he accepted a call to be pastor of Trinity Lutheran Church in Chelmsford, Massachusetts which at that time was in the midst of constructing a new church facility. While serving as pastor in Chelmsford, he started a pre-school which fostered outreach to the community.
In the midst of scholarly research and general pastoral leadership in the congregations he served, there was always room for the teaching ministry. Each occasioned Christian education program development, adult education, parenting classes, and catechetics. In addition, he also taught in the Council of Churches University of Life schools. All of this was prelude to his next call within the church.
In 1968, Luther and his family moved to Phoenixville, PA. at the request of Kent Gilbert to join the staff of the Board of Parish Education of the Lutheran Church in America. His first assignment was in the area of youth ministry. He was a field staff person which meant being away from the desk a great deal of the time in order to see that tasks were getting done. It involved developing training programs for youth leaders which subsequently turned into leadership development and confirmation ministry. It was during this period that he wrote his doctoral dissertation. The culmination of his interest in confirmation ministry was the completion of the terminal degree. Luther was awarded the Ph.D. in 1969. His dissertation was entitled "The Relationship of Educational Philosophy to the Issues of Confirmation in the Contemporary Lutheran Churches of the United States."
Although Luther pursued graduate work with the intention of teaching, his career as a church educator took a different path. In 1971, he was appointed secretary for Church Leadership Development. Two years later Luther was promoted to the Secretary of Confirmation Ministry staff position which he held until 1976 when he was made Assistant Executive Director of the LCA Division for Parish Services. In that position, he was responsible for coordinating the Christian Education work of the Division and the Lutheran Church in America as well as other parish services. In this role he managed the Division's work with the nine theological seminaries of the LCA. In addition, he was responsible for the ecumenical work and external funding for the Division. This was done in a division with over 100 people on the staff. One might say that those were the golden days of Christian education within this church body. The quality of the resources was superb with the financial support that came from the church. The more difficult part of the work was to communicate a sense of partnership between the churchwide agency and the various synods of the church.
The years in the church-wide offices also involved teaching with guest lectures and teaching responsibilities at three of the Lutheran seminaries in the country. He was guest lecturer in Christian education three times at the Philadelphia Lutheran Seminary between 1970 and 1981; guest lecturer at the Lutheran School of Theology in Chicago in 1974, and visiting professor at the Lutheran Theological Seminary at Gettysburg in 1972 and 1973. Besides these involvements in theological education, he was a key facilitator in establishing the annual conference for the Lutheran Church in America seminary education professors which began in 1982 and continues to the present time in the Evangelical Lutheran Church in America, its successor church body.
In 1987, after nineteen years working in the denominational offices, Luther and his wife left Philadelphia and moved to Columbia, South Carolina where he was called to be Professor of Educational Ministry at the Lutheran Theological Southern Seminary. This call was unique in the history of the seminary in that with this appointment, he became the first faculty member to be called to that seminary as a full professor. This certainly was a tribute to his years of immersion, research, coordination, and contribution in educational ministry in the life of the Lutheran church. He taught the following courses: Educational Ministry, Stewardship and Evangelism, Parish Administration, Pastoral Leadership, The Written Word, Confirmation Ministry, Ministry with Children, Ministry with Youth, Ministry with Older Adults as well as seminars and independent studies. Along with these responsibilities, his administrative gifts were further utilized in1995 when he was appointed acting Dean while the Dean of the Seminary was on sabbatical., Luther retired the Lutheran Theological Southern Seminary in 1997,after ten years as a faculty member.
Luther Lindberg died of leukemia (AML) on June 4, 2010. There was a beautiful music-filled service on June 12 at his home church of Living Springs in Columbia, South Carolina. At his request there was no eulogy, only a gospel sermon. Many people shared memories and gave tributes to him at the reception after the service. He is survived by three children: Christine Lindberg, Marie Niemkiewicz, and Luther (Eric) Lindberg.
---
Contributions to Christian Education
For Lindberg, religious or specifically Christian education has to do with passing on basic Christian values that are sensitive both to the present and the past. It looks to togetherness and a concern for "the other." One example of this definition or focus has been Lindberg's concern for confirmation ministry in the Lutheran church.
Having been nurtured in the Lutheran educational tradition, Lindberg's educational legacy has been his on-going research and interest in confirmation ministry in Lutheran educational tradition. For Lutherans, confirmation is that time when students over a one to three year period of time, usually in early adolescence (seventh through ninth grade or 12 to 14 years of age) are involved in a pastoral ministry which assists the baptized young person to reflect on the traditions of the church through catechetical and biblical instruction. Lindberg's scholarly and pastoral writings reflect his concern that the message of the church continue to be articulated and passed on to the next generation. This takes place in both worship and learning events of the congregation. To this end, his educational writings in this area of religious education have been directed to teachers, pastors, as well as parents in order to keep them informed. More importantly, he helped to re-educate an entire denomination to see that confirmation is rooted in baptism.
Another important aspect to Lindberg's vocation as a religious education has been his commitment to help bridge the gap between religious education and general education. His concern, from his graduate school years to the present time, is critically examining and transferring the best research and practice in public education into the educational structures of the church.
---
Bibliography
Lindberg, Luther (1969) Confirmation ministry today. Resource, 11-13.
Lindberg, Luther & and Ralph W. Holmin (1969) The present scene. In Confirmation ministry and education: yearbooks in christian education I. Philadelphia, PA: Fortress Press, 17-36.
Lindberg, Luther (1970, January). What is christian maturing? Lutheran Churchmen.
Lindberg, Luther (1970, August/September). Where do we go from here? Resource, 3-5.
Lindberg, Luther & Wendell Johnson (1971). A look at the future. In Foundations for educational ministry: yearbooks in Christian education II. Philadelphia, PA: Fortress, 238-262.
Lindberg, Luther (1971, Spring). A look at the new confirmation. Augsburg home.
Lindberg, Luther (1972, January). Small adult learning groups. Resource, 13.
Lindberg, Luther (1972, January). Teaching a small class. Resource, 15-20.
Lindberg, Luther (1974, Summer). Confirmation ministry and meaningful church membership. Spectrum, 5-7, 38, 42.
Lindberg, Luther (1974, February/March). Confirmation ministry and meaningful church membership: the learning module builder. Insight, 2, 18.
Lindberg, Luther (1974, January). Understanding the purpose of the congregation: a simulation game for youth. Learning With, 16-17, 24-25.
Lindberg, Luther (1977, February). Stained glass: from nave to classroom. Learning With, 1-2.
Lindberg, Luther. (Speaker). (1983). Partners in Ministry (Cassette Recording Seminary Archives). Gettysburg, PA: Lutheran Theological Seminary at Gettysburg.
Lindberg, Luther (1997). Teaching Matters: The Role of the Teacher. In Rebecca Groth (Ed.), Lifelong Learning: A Guide to Adult Education in the Church. (88-120). Minneapolis: Augsburg Fortress.
Lindberg, Luther (1999). Lutheran Confirmation Ministry in Historical Perspective. In Margaret Krych (Ed.), Confirmation: Engaging Lutheran Foundations and Practices. (pp.42-84). Minneapolis: Fortress.
---
Excerpts from Publications
Lindberg, L.(February 1969). Confirmation Today and Tomorrow Resource
Few Lutherans need to be told that confirmation is one of the most vital aspects of the Christian education of children in our church. While we rely heavily on the Sunday church school to provide the core Christian learnings for the growing person, we also must include catechetical instruction and confirmation practices as a necessary part of his experiences. One of the things that distinguishes the Lutheran church from most other Protestant churches I see is that it has that traditional- yet still vital- program of involvement and experience for youth known as confirmation.
In recent years much of the church's concern in Christian education has been focused on confirmation. Certain cultural and theological pressures have had a special effect on the youth of our day. For example, population mobility has become so great in the Untied States and Canada that ever larger proportions of Lutheran young people begin confirmation class in one congregation and complete it in another congregation in a different community. A great deal of difficulty is experienced by families when they move into a new community with their not-yet-confirmed youngster, only to find that his peers were already confirmed and receiving Communion for several years.
Theologically, Lutheran have always held that here is but one type of membership in the fellowship of believers: the belonging which God gives in baptism. Yet- and on very shaky grounds-we continue to imply that a baptized Christian is an "incomplete Christian" until he is formally admitted into the adult church as a "confirmed member," a little later as a communing member," and still later as a "voting member." The church in the New Testament knows of no such division.
Important as confirmation is in Lutheran heritage and contemporary practice, we do not have a common definition of what it is. There is diversity in the Lutheran understanding and practice of confirmation which far exceeds the variations of practice in Baptism and Communion. The question is becoming more and more uncomfortable: Does an individual Lutheran congregation have the right to change its own confirmation practices at will, or does it have a prior Christian obligation, out of solidarity with the church of Christ in all places and all situations, to come to agreement with sister congregations before changes are taken?
Luther E. Lindberg (Ed.)(1962). Fifty years in New England: A history of the New England conference, 1912 - 1962. New England Conference of the Augustana Evangelical Lutheran Church.
Editor's Preface: The publication of this volume presents a new dimension in New England Lutheranism because it is a first glimpse of the shape of the New England Synod of the forthcoming Lutheran Church in America.
The Committee felt that a purely historical book would be interesting, but not especially useful. Anniversary books are usually glanced at quickly and then filed on the top shelf of the closet. Therefore, it was decided that in view of the merger, the book ought to contain, not only historical sketches of Augustana congregations in New England (depth), but also the histories of the other New England congregations involved in the merger. This way the book would give a wider picture of New England Lutheranism (breadth) and also some hint of what the future has in store for the Church, that is, the heights to which it will surely rise. The practical dictum of usefulness also dictated the format of the book and the information supplied by the congregations. Thus we sincerely hope that "50 Years in New England" will not become a "museum piece", but rather an exciting useable, "glove compartment companion" for Lutheran people as they seek to get acquainted in New England. (This is why, e.g. directions are given for getting to every church by car.
Most people are aware of the unique nature of New England in which the Roman Catholic and Reformed Churches have long dominated the religious scene. The New England Synod faces challenges as nowhere else in the Lutheran Church. But when we talk about uniqueness in New England we also are referring to the picturesque setting that God has provided for this "isolated arm of the Church."
"A Look at the Future" Foundations for Educational Ministry
A new century is not far away. It is not easy for us to realize that even now we are involved in shaping a century which we can hardly image, much less understand. Our children will be dealing with information not yet uncovered by means of techniques yet to be developed. They will be solving problems we have not yet defined. They will be facing challenges beyond present conception. We do anticipate, however, that there will be a Christian church-in some form or other in the twenty-first century.
There are evidences of a new emphasis on planning in the church today. Now that we have entered the decade of the seventies, we see planning being done at every significant level of the church. Congregations are planning because the boom of the sixties (member and buildings) is over. Districts and conferences are realizing more and more that they are paper entities, and their congregations are realigning themselves into planning clusters. Synods and districts are involved in self-studies and are planning new kinds of structures. Church agencies are planning and working together to that they will not be caught flat-footed when the unknown changes of the seventies materialize. But perhaps the most significant kind of planning is taking place in the teaching-learning experience itself where learners are being given the opportunity of planning or choosing the learning activities in which they will be involved. Planning is beginning to be seen as a legitimate part of the learning experience in the congregation, just as multidisciplinary education is seen as a part of the new university. Admittedly it is still mainly in experimental situations where learners have a high degree of involvement in determining their learning problems.
Planning has now become a continuing necessity. During the early fifties, we believed that each generation should define anew the nature, direction, and aims of educational ministry. This is no longer true. Now we have learned that it is necessary to be involved in the process of planning constantly because of compounded and rapid change in society. "Educatio simper Reformanda!" Curriculum programs designed for eras of stability simply are not appropriate for eras of instability.
"The Present Scene" Confirmation and Education
Although there are forces working against the mission of the church and against confirmation in every nation where the Lutheran church is established, nowhere does the challenge appear to be more demanding of choice than in North America. Nowhere are the issues shifting so rapidly or set against a more pluralistic background. Nowhere are there so many different types of forces causing the young person to question the meaning and necessity of things traditional. Here questioning has become the norm rather than the exception.
Practical peculiarities abound in North America. To mention only the most obvious, both pastor and people are becoming increasingly mobile, more so than in other nations. Similarly, because of our automobile-oriented culture, the problem of transportation often proves to be more of a determiner of the shape of confirmation than does theology or education.
One final element indicative of the American scene is the increasing use of lay teachers in the catechetics. The "style of life" in our congregations is still to a large degree characterized by a "lack of lay involvement in significant ministries of the congregation." (Significant Issue for the 1970's, LCA Task Group for Long-Range Planning, Edward W. Uthe, Director. Philadelphia: Board of Publication of the Lutheran Church in America, 1968. 37,38). However, the recent upgrading of confirmation classes in terms of grade level and number of years of instruction has made it necessary for pastors to prepare lay catechists for teaching. This factor, together with the establishment of committees on Christian education in congregations, has opened confirmation more and more to adult lay participation. Of course, the use of lay assistants in both the worshipping and learning community of the church is not new; they are, however, only now beginning to become a major factor in Lutheran confirmation practices.
Why then are these confirmation issues so important to American Lutherans? It is simply that conclusions reached through dialogue today will determine to a large degree the character and shape not only of confirmation but also of the entire Lutheran church on this side of the Atlantic for a number of generations. Whether the specific recommendations of the joint commission are accepted is really not the core of the matter. The survey Current Concepts and Practices of Confirmation in Lutheran Churches demonstrates beyond doubt that confirmation already has about it a natural drift in the direction of the separation of first Communion from the confirmation rite (The study report in its entirety makes this clear). In this respect the joint commission is not asking the church to consider an unprecedented or haphazard move. It is calling the churches to come to grips with a question of whether Lutherans want to control that drift or be controlled by it. Any person who has ever driven an automobile on ice knows that it is possible, with skill and practice, to determine the path that will be traveled. The study report is an attempt to help the church with a log showing where the church has been in confirmation, with a map indicating the lay of the surrounding countryside, with a report on the conditions of the road ahead, and with suggestions (e.g., apply the brakes slightly here; accelerate there) for controlled travel through hazardous areas.
---
Recommended Readings
Lingberg, L.(February 1969). Confirmation Today and Tomorrow Resource
Luther E. Lindberg (Ed.)(1962). Fifty years in New England: A history of the New England conference, 1912 - 1962. New England Conference of the Augustana Evangelical Lutheran Church.
---
Author Information
Nelson Strobert
Nelson T. Strobert, Ph.D. University of Akron, Professor of Christian Education, Lutheran Theological Seminary at Gettysburg.