Jonathan Jackson
By Paulette Isaac
Protestant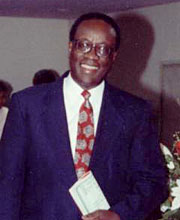 JONATHAN JACKSON, JR. (November 6, 1930 - March 14, 2002) was a longtime educator at the Interdenominational Theological Center. He was described as a mystic, Bibliophite, caretaker, lamplighter, and a child of God. His involvement in ministry and Christian Education spanned over 50 years. His motto was "Christian Education is that ministry that undergirds all other ministries of the church." Although he was a Christian educator by profession, you could find books on numerous subjects in his office. Like a river that overflowed, books filled his shelves, floor, and any other space he could find. Even his desk, which he rarely occupied, served as a bookshelf. Yet the greatest storehouse of knowledge he possessed was himself, which he offered to everyone who crossed his path. As a lover of classical music, it was not unusual to walk by his office and hear it playing. He also enjoyed Gregorian chants and listening to National Public Radio. Furthermore, he loved sports, particularly baseball, traveling, and collecting eagles. Admittedly, Jonathan had a special interest in people who represented for him "the ideal of 'the hero' - mentally, emotionally, spiritually, and physically exceptional" (Dash, Jackson, & Rasor, 1997, p. xvi). Upon his transition on Thursday, March 14, 2002, he left behind a legacy and lasting impression upon all those who met him, particularly his students. "This was a man who had a lasting impact on those who came to know him as a teacher, a scholar, a mentor, a colleague, a friend." Interestingly, he always wanted "to be a wise old man who was a teacher and mentor to the young" (Dash, Jackson, & Rasor, 1997, p. xvi). Undoubtedly, he accomplished his goal.
Biography
Birth Information/Religious Background
Dr. Jonathan Jackson, Jr. was born in Atlanta, Georgia, on November 6, 1930. He was the only child of Alberta Brown Jackson Davis and the late Jonathan Jackson, Sr. His father died when he was only 2 years old. Jonathan was raised in Fort Street United Methodist Church in Atlanta, Georgia. Rev. Newman baptized him; and he would subsequently have a major influence on Jonathan's life. In addition, Jonathan was greatly influenced by one of his great aunts, whom he identified as a griot. According to Jonathan, she had an "intuitive wisdom" (Dash, Jackson, & Rasor, 1997, p. xvii) and many residents in the community sought her healing and counseling. Jonathan preached his first sermon around the age of 17. He later became an Elder in the United Methodist Church.
Even as a child, Jonathan had special qualities. Although he was quiet, he had many playmates, according to his mother. She further stated that one of his unique qualities was that he was a writer. He especially enjoyed writing poems.
Educational Background
Jonathan attended David T. Howard Elementary School. After completing his secondary education at Booker T. Washington Senior High School in Atlanta, Jonathan began his post-secondary education at Clark College (Atlanta) where he received his A.B. in 1953. He subsequently received two master's degrees. He obtained an M.Div. in 1956 from Gammon Theological Seminary in Atlanta, Georgia, and an M.A. in Christian Education in 1957 from Scarritt College in Nashville, Tennessee. Upon receiving a Danforth grant from Boston University, Jonathan completed his post-secondary education when he obtained his Th.D. with an emphasis in theology and higher education. His dissertation was titled, The Relation of Religion and Higher Education in Paul Tillich and Theodore Brameld .
Teaching Experience
Jonathan's teaching style paralleled the andragogical principles of adult education. He espoused a learning climate that was conducive to learning. He respected learners and the experiences they brought to the learning environment. He made everyone feel important. He was patient and laid back. His role as an educator often changed during class periods and throughout the semester. Although he undoubtedly was an expert, he also served as a facilitator, coach, and co-learner. He had a unique teaching style; and he used creative approaches such as videos, music, skits, field trips, and role playing to enhance students' learning. Thus, he served as a role model to his students by demonstrating various instructional techniques and methods that could augment the learning process. He believed if a person was a Christian, he/she could teach somebody something.
Jonathan taught hundreds of students. Each semester he made the learning come alive when he took students to visit churches, especially in the rural areas. Students merged theory and practice to provide helpful suggestions to churches, which in turn enabled the churches to enhance their Christian education ministries. All students left at the end of the semester with Dr. Jackson's famous quote permeated in their minds - "Christian education is that ministry that undergirds all other ministries of the church."
Positions Held
Jonathan held a number of positions during his 50 years in ministry. He served as a student pastor from 1951-1953 at Ladd Street Methodist Church in Atlanta, Georgia. He began his first full-time pastorate at Warren Temple Methodist Church, south of Atlanta, in LaGrange, Georgia. During the summer of 1959, Jonathan served outside of the Methodist Church when he was called to be interim pastor at Pond Street Baptist Church in Providence, Rhode Island.
Many individuals were privileged to learn under the tutelage of Dr. Jackson. He was an Assistant Professor of Philosophy and Religion and a College Minister at Claflin College, located in Orangeburg, South Carolina, from 1958-1963. He served in the same capacity at Clark College in Atlanta, Georgia, from 1963-1971. At Emory University (Atlanta, GA), he was a Visiting Professor from 1970-1972 and an Adjunct Professor from 1972-1974.
In addition to teaching in the professoriate, he taught in other areas as well. For example, in 1964, he was a teacher of the Supply Pastors' School for the United Methodist Church in Gulfside, MS. He was a teacher and youth worker for the Morgan Memorial Settlement Home in Boston, MA, between 1959 and 1960. Jonathan also served as a teacher for the Christian Workers' Conference in several cities including Chattanooga, TN; Tampa and Jacksonville, FL; and Atlanta, GA.
Jonathan took the opportunity to teach whenever he could. In addition to his full-time professorial duties, he served as a teacher for pastors through other programs. During the 1966/1967 academic year, he served as a teacher for the Pastor's School at the Interdenominational Theological Center. He served in the same capacity at Emory University from 1972 until 2002. The Lay Pastors' School of Emory educates and trains local pastors in the United Methodist Church. The School is sponsored by the United Methodist Church Board of Higher Education and Ministry, the Southeastern Jurisdictional Administrative Council, and Candler School of Theology.
Jonathan Jackson is more often than not known for his tenure at the Interdenominational Theological Center (ITC) in Atlanta, Georgia, which spanned more than three decades. He began his tenure at ITC as an Associate Professor of Christian Education, a position he held for 2 years. He was subsequently promoted to Professor and Chairperson of the Christian Education department in 1973. He held this title and position for nearly 30 years. As a tribute to his work and tenure, ITC provides student awards named in his honor. The Jonathan Jackson Award of Faculty Excellence is given to a student at graduation each year. The Jonathan Jackson/Anne Streaty Wimberly Memorial Christian Education Achievement Award is given to a graduating senior.
Not only was Jonathan a well-known educator, he also demonstrated his administrative acumen. His leadership skills were apparent at a young age when, in 1959, he was asked to serve as Director of Youth Activities at Newton Highland Congregational Church in Newton Highland, MA, for 1 year. Between 1971 and 1981, Jonathan co-directed the Continuing Education Program (CEP) at the Interdenominational Theological Center. Today, the CEP provides certificates to ministers throughout the US. He was also an Associate Director and a Teacher for Emory University's Course-of-Study School in the summers of 1974 and 1975.
Upon his retirement as Professor and Department Chair of Christian Education at ITC in 2000, Jonathan served as a Director of Faith and the City until his health failed him in 2002. The program prepares students to have the theological and practical skills needed to engage congregations in critical public discourse and community leadership. It also helps shape the church's public presence in towns and cities, shape Christian ministries with those in deepest need, inspire prophetic voices which can address the systemic and institutional structures of common life, and encourage ministries of racial and religious reconciliation. Faith and the City is a collaborative effort between Candler School of Theology, Columbia Seminary, both located in Atlanta, GA, ITC, and other universities.
Denominational Involvement
Jonathan gave of himself in a number of ways to the United Methodist Church. He served on the Committee on Church History and was the Chairperson for the Board of Ministry, the Georgia Conference and the North Georgia Conference. He also served on the Committee on Investigation, The North Georgia Conference and the Committee on Agenda 2000. Furthermore, he served on the Diaconal Ministry (Special Study on Spirituality and the Theological Seminary).
In 1989, Jonathan took a sabbatical and was involved in several activities, which aided in his personal and spiritual growth and development. He stated,
I discovered many definitions of spirituality during my sabbatical leave, but the one I liked best was by Anthony de Mello, the Jesuit Priest. He said that spirituality was waking from sleep - not just a physical sleep but sleep as a lack of awareness. (Dash, Jackson, & Rasor, 1997, p. xvii)
Jonathan further stated that during his sabbatical he aroused from sleep in a multidimensional way (Dash, Jackson, & Rasor, 1997). In January of that year, he attended a retreat entitled "The Spiritual Life of the Spiritual Leader", sponsored by the Shalem Institute for Spiritual Formation, Inc., in Washington, DC. Later he was a participant at the Conference on Spiritual Direction in Theological Education, which was also held in DC. He was a guest speaker for Spiritual Emphasis Week at Savannah State College in Savannah, GA, April 6-8. He continued his speaking engagements in Orlando, FL, as a workshop leader on "Christian Education and Evangelism" for the AME Church, July 11-14. His speaking engagements concluded with the "Spirituality and the Black Pastor" workshop for the Lutheran Church and ITC on August 11th.
Organizational and Community Involvement
Jonathan practiced what he preached. Hence, it was not surprising that he was involved with a number of community organizations. They included the Interfaith Airport Chaplaincy, Hillside Center School of Ministry, West End Medical Center (1984), and the Wesley Community Center for the Aged (1980-2002). His service went beyond Georgia as he was involved with the Hinton Rural Life Center located in North Carolina from 1980-2002. His longest tenure was with the Carrie Steele Pitts Home for Children where he served for 30 years beginning in 1972.
Jonathan Jackson was service oriented and was in constant demand as a speaker and facilitator of workshops throughout the country. Many times his former students requested his services as a workshop facilitator to address Christian education and other related topics. Selected workshops included the Student Forum of the United Methodist Church, Campus Ministry, Tulsa, OK; Religion and Race, St. Simon's Island; Black Methodist for Church Renewal; and Christian Education, Griffin, GA, all conducted in 1992. Other workshops included Spirituality Workshops, Georgia, South Carolina, and Alabama (1991-1993); Altruism and Risk: Doing Good in Hostile Settings, Atlanta University Center (1991); and African African-American Worship Congress, Interdenominational Theological Center (1989).
Jonathan's professional memberships included the National Association of Religious Education, Association of Professors and Researchers in Religious Education, Religious Education Association, Society for the Study of Black Religion, and the Academy of Religion and Mental Health.
Jonathan was awarded Who's Who Among Students in American Universities and Colleges, 1951-1953; Danforth Foundation Award, 1958-1959; Leadership Award, Ben Hill United Methodist Church, Atlanta, GA; Christian Educator of the Year, Atlanta, GA, 1979 and 1983; and Outstanding Service to Community Award, Booker T. Washington High School, Atlanta, GA, 1980.
Jonathan Jackson departed this life on March 14, 2002. "For his funeral," according to Theodore Brelsford, Assistant Professor of Religion and Education, Candler School of Theology, "a large church in Atlanta was literally packed full, with people filling extra folding chairs and standing in nearly every available space." This speaks to the scores of people he impacted professionally and personally.
---
Contributions to Christian Education
Contributions Essay
Following are thoughts from a few of his former students:
As I reflect on the late Dr. Jonathan Jackson, I remember him as one who had a passion for Christian Education. His motto was, "Christian Education is that ministry that undergirds all other ministries of the Church." In fact, whenever or wherever he spoke to an audience or congregation, he would engage his listeners to repeat this motto with him and encourage them to make it a part of their philosophy in ministry.
He was a polished professor by the time I met him and became one of his students during the mid 1990s at the Interdenominational Theological Center in Atlanta, Georgia. He introduced me to the various methods of Christian Education demonstrating the limitless possibilities of the ministry. In a class discussion, he reminded us of the biblical record that demands that we 'teach them diligently,' referring to Deuteronomy 6:7 (KJV). Ever since that discussion, I have always tried to remember that mandate in all aspects of my ministry. Finally, one of the gifts that he had as a teacher was making everyone feel comfortable and important to his class and to the ministry of Christian Education.
Pastor Nathaniel Brown
Mt. Gilead AME Church
Columbus, GA
This servant of God understood that to know God was to experience knowing . . . that is the search for knowledge. In his class, Dr. Jackson stressed the importance of Christian Education as being the single most important work of the Church. For whether we are worshipping, fellowshipping or sponsoring a fundraiser, we need to know why we are doing the activity and we need to know how the activity represents God to the world.
He would tell us "Christian Education is that which undergirds every ministry of the Church." He lived this for it was more than a clichÉ it was vital and true. He surrounded himself with eagles, in pictures and in sculpture. For the eagle is one of God's creations, which has learned that its knowledge of the air currents undergird its ability to fly, soar, and dive in the atmosphere. Christian Education is like these air currents once you have the knowledge its there and is invisible to all around, but it (Christian Education) undergirds all the work of the Church. Thank you Dr. Jackson for the profound lesson.
Rev. Kenneth Edmondson, Pastor
John Wesley UMC
Nashville, TN
When I think of Dr. Jonathan Jackson, Jr. I am reminded of the story of the prophet Elijah recorded in 1 Kings 19. During a time of tremendous internal struggle in Elijah's life he was instructed by the Lord to go out and stand on the mountain before the Lord, for the Lord is about to pass by. There was a mighty windstorm, an earthquake and there was a fire, but the Lord was not in the windstorm, the earthquake or the fire. Then there was the sound of a gentle whisper and Elijah heard it. Through the quiet voice of Dr. Jonathan Jackson, Jr. the presence of the Lord was made manifest to persons who found themselves matriculating through the Interdenominational Theological Center.
Dr. Jackson is known for a statement that characterizes the essence of Christian education. "Christian education is that ministry that undergirds all other ministries of the Church." Dr. Jackson assisted his students - often holding our hands through the process - to better understand that all we do in the church needs to have a solid foundation and the teaching ministry of the Church, which takes on many different forms, is that solid foundation.
Once I invited Dr. Jackson to conduct a workshop and preach during a series of Black History activities at a Church where I served as an assistant minister. Dr. Jackson's preaching style was not that of the traditional black preaching style, but at the time of invitation following the sermon some 20 persons came down to make a public statement of their faith. Dr. Jackson was one of God's preeminent and most effective "quiet voices" through which the Lord empowered and equipped God's people.
Rev. James A. Hardaway, Pastor
Mount Zion AME Church
Shady Dale, GA
Director of Christian Education, Sixth Episcopal District AME Church
Dr. Jonathan Jackson vehemently stressed the need for Christian Education in the local Church. He was the "Prince" who excavated the communities in the South to infuse God's people with Jesus' teachings on education. Every student who privileged the classroom learned this motto, which was etched into the hearts and minds of all Christian Education students: "Christian Education is that Ministry that undergirds and supports all the other ministries of the Church." Participants and partakers of this instructor could not be in the company of this giant without understanding this truth and the principles of this teaching.
Dr. Jackson transformed the classroom into an experiential laboratory particularly for those whose faces were at the bottom of the well. He understood the need for biblical curricula necessary for keeping the local church innovating and transforming God's people for the twenty-first century. He believed that Christian Education was the vehicle for driving the new millennia churches into the electronic age of ministry. The Academy provided the platform for systemic and institutional change to encourage the evolving of a Church with confidence, competence, and courage. Dr. Jackson would literally choose four to eight weekends a semester for all the students in his class to go to the communities who desperately needed Christian Education and transform these churches over night. We would gather all the pertinent details about these churches necessary to improve their education programs. Two weeks later we would present the improvements for immediate implementation. The results were overwhelming. The churches would feed us and send us on our way. The love and thank you notes he received from the churches would bring students to tears. Many of these rural and urban churches could not afford to pay for a staffed Christian Educator but with Dr. Jackson's vision he made their hopes and dreams a living reality.
This visionary leader of the twentieth century developed cutting edge ideas to bring our churches and community into the twenty-first century. He made an indelible mark on the hearts and minds of students and recipients of this knowledge. Rejoice with me as we celebrate this descendant of slaves' contribution to theological and Christian Education in the twentieth century.
Rev. Dr. Grady Wicker, Jr., Pastor
Faith Missionary Baptist Church
Elkhart, IN
From my early life in the Methodist Church to growing to adulthood in the United Methodist Church, through collaboration in community events, and watching him build sermons from his "people watching" in the various malls of metropolitan Atlanta, Jonathan Jackson's impact on my life is immeasurable. I'll forever remember his messages about how we should appreciate the various seasons in everybody's life. I will cherish his life model of being the "lamp lighter" for so many; and hold on to his "The Healing Harp" CD by Naoko Yoshino that continues to provide comfort in times of "dis-ease."
Dallas Terrell, Director
Alumni Relations
Interdenominational Theological Center
Imagine preaching a sermon to hearers who have had no prior awareness of God, no prior knowledge of God's history with people and no prior exposure to one who could interpret knowledge of God for them. Through the tireless labors of the late Dr. Jonathan Jackson, I learned to appreciate the void that exists in anyone's faith in God without exposure to Christian Education. Among Christian disciplines, Dr. Jackson "stressed" to all of us that Christian Education is the "cog" of the church wheel. None of the other disciplines can connect and function - can carry forth their purposes without Christian Education. Truly, it undergirds the life of the Church, as Dr. J. reminded us weekly in his lectures.
I have experienced the importance and faith-transforming power of Christian Education as I have "taught" in small and large groups in the parish and beyond - prison chaplaincy, in geriatric chaplaincy with manic depressives and Alzheimer's patients. Awareness of God, knowledge of God's history with people and developing a right interpretation and understanding of the knowledge of God - all of this is accomplished through the teaching-hearing-understanding process that is facilitated by Christian Education. That some of my former Sunday School students and group members are now Christian Education teachers and seminarians today proves Dr. Jackson knew exactly what he was "talking" about - praise God for the fruit of Dr. Jackson's labors. I wish he could see what he "ignited" in God's calling of me to ministry. While I met him in my undergraduate years at Clark College, it was a joy to study under his leadership at ITC . . . and to pray with him a few days before he passed away.
Rev. Yolanda E. Thompson, Pastor
First Faith Presbyterian Church
Atlanta, GA
Dr. Jonathan Jackson helped me to develop a multidimensional approach to life in general and Christian Education in particular. The first thing he sold "all" his students on was this saying, "Christian Education is that ministry that undergirds and supports all other ministries of the Church." This has stayed with me through my ministry no matter where I have pastored. I have learned that the winds will blow in ministry, and the storms will rise in ministry, but you will not break if your foundation is strong. Like a palm tree, we bend but we will not break because Christian Education is our foundation.
All that we do in the Church is impacted by Christian Education in some way or another. Our stewardship of the Church, the music ministry, the worship experience, and the people staffing the positions all come under the umbrella of Christian Education. This is knowledge-based teaching that creates on every level of the Church the connection between Christian Education and ministry.
Secondly, he taught us to strive for excellence in all that we do for the Lord at all times. The pastor sets the standard for all the work of the Church; he becomes the catalyst for the members to do their best. Dr. Jackson wanted us to do our job in such a way that no one else living or dead could do a better job than us.
Thirdly, there was a balance between an extraordinary person and a deeply spiritual person that existed in Dr. Jackson. He had bridged the gap between intelligence and spirituality, believing in Christ and following Christ. Many times in his classes he shared readings from Howard Thurman with us to deepen our spiritual hunger for a more vital relationship with the spiritual dimension of life.
Finally, Dr. Jackson talked about an experience in life that awakened him to so many different experiences that he had never before encountered. It was like he was awakening from a sleep. After having taken him as an instructor in seminary, my mind has been opened to so many more possibilities. It is like awakening from a sleep to see all the opportunities that are available through Christian Education.
Thank you Dr. Jonathan Jackson for the wake-up call!
Rev. Dr. Marcus E. Dixon, Pastor
St. Paul UMC
Gainesville, GA
As I reflect on the life of the late Dr. Jonathan Jackson, I am reminded of a gentle giant. He was a champion of the people in a quiet, unassuming way. He did more behind the scenes than most people will ever know. Dr. Jackson was well known not only in the United Methodist Church, but throughout the religious community in general. He worked very hard to assist young persons in ministry. At the Interdenominational Theological Center, he taught that education is the key to understanding life, and "Christian Education," he said, "undergirds all other ministries of the Church." But not only that, he taught us that we should make this philosophy a part of our ministry and the ministries that spring forth from ours.
Dr. Jackson taught Christian Education however, more importantly, he lived it. After all, the best way to teach people is to live a life that is an example that they can study and understand. I enjoyed watching him in action. He used personal examples, role play, videos, and other teaching methods to make learning come alive. I always looked forward to attending his classes. He understood that to know God was to love God and that the only way to truly love God was to study what God has outlined as our tools for living. This is accomplished through Christian Education.
Dr. Jackson was a true sage. His breadth of knowledge was amazing. In II Timothy 2:15, we are reminded to diligently present ourselves approved before God. I believe Dr. Jackson met God's approval. He will forever be remembered for his contributions to his students, people in general, and Christian Education.
Rev. Thomas R. Stegall, Pastor
Greater Turner Chapel A.M.E.
Atlanta, Georgia
Words from Colleagues
I had the privilege of getting to know Jonathan Jackson late in his life and career. In the spring of 2000 we taught a course together, along with Ron Cram and Roger Nishioka from Columbia Seminary, and Brian Mahan from Emory. Nearly two years of meetings preceded this course. The idea for the course grew out of an initial meeting at ITC to explore our mutual work and mission. The meetings all took place at ITC, hosted by Dr. Jackson. We would meet for about two hours at the end of a day and then share dinner together in ITC's Presidential Dining Room. Sometimes we continued for another hour after dinner. We were all doing this in our "spare time." We did it because it was a pleasure to be together with colleagues, to discuss our work, and to share visions for what Christian Education is and might be into the new millennium. Jonathan was instrumental in making these meetings a pleasure. He was our wise elder and gracious host, inviting us into shared possibilities, and then letting us younger folk run with ideas. He seemed to delight in these occasions, and so did we all. I think we had five such meetings over two years prior to teaching the course. The course was open to M.Div. students from ITC, Columbia, and Candler. We limited enrollment to six students from each. We met during four intensive weekends over a semester, in four different locations (once at each of our institutions and once at a church). He continued as wise elder throughout the course.
Jonathan's teaching style included gentle but persistent questioning, gentle but clear wisdom sharing, and invitations to strategically selected guest speakers. He laughed warmly and often, and smiled permanently. He was obviously well loved by his ITC students. And he was much appreciated by students from Columbia and Candler in this course. His mantra was (as I remember it) "Christian Education is that ministry of the church that undergirds and makes possible all other ministries." All of his students knew this by heart. My students in this shared course came to know it also. At his funeral there were ITC alumni who were eager to recite it with a smile.
Theodore Brelsford, Assistant Professor
Religion and Education
Candler School of Theology
"Christian Education is that ministry that undergirds all other ministries of the church".
Dr. Jonathan Jackson was the embodiment of the field of his life long interest, Christian Education.
He loved learning, was an avid reader and a caring and hospitable soul. He understood Christian Education as the bedrock for all of the ministries of the Church, recognizing that those rightfully and faithfully nurtured would become true disciples of Jesus.
He believed that growing in the likeness of Christ, imitating His passion for reconciliation, for justice and His compassion for the world, was rooted in the Church's ability to nurture, nourish, and form those persons brought into its presence by baptism.
Jonathan was a kind, gentle, giving, and forgiving individual. He saw each person as a unique creation of the Divine, worthy of respect, education, encouragement, and support. He believed that God created each of us for a purpose in the world and that we shared a common humanity.
Christian Education for him was an enlargement of the human sphere in which we all exist, while providing those opportunities necessary for the individual to affirm his or her inherent worth. No one was outside of God's care and concern.
Being in Jonathan Jackson's presence, either as a student, seminary colleague or fellow parishioner, one sensed the love of God in Christ, which is central to the Christian message.
Jonathan was a person who quietly strove to model God's love in word and deed. No query was insignificant because Jonathan knew that it was out of such grappling for insight that we come to know ourselves as persons created in the image and likeness of God.
Rev. Dr. Calvin S. Morris, Executive Director
Community Renewal Society
Chicago, IL
Former Vice President of ITC
In a statement of his personal journey, written for a book that Jonathan co-authored with Steve Rasor and me, he recalled, "I always wanted to be a wise old man who is a teacher and mentor to the young …. I wanted to be different, not necessarily high to worldly honors, but I wanted to achieve and know it myself. I did not care if anyone else knew it. I have usually felt that God was with me, surrounding me and protecting me, but sometimes have slipped from that belief." (Dash, Jackson, Rasor, 1997, p. xvi).
Jonathan was generous to a fault in sharing his vast knowledge and wisdom. Those of us who were privileged to be his colleagues on faculty, considered it not only an honor, but deeply humbling to be in the presence of a scholar and a great man. While writing Hidden Wholeness, we team taught a course on spirituality. During that time, my own love and respect grew for the educator and this transparently committed Christian, whose selfless love was always, but quietly evident. He communicated his passion for teaching with an infectious and abounding enthusiasm. Students came to know and experience how much he believed and lived the mantra he was constantly declaring, "Christian education is that ministry that undergirds all other ministries of the local church." He made many believers and earnest practitioners embrace that mantra and follow in his steps.
Jonathan Jackson became that wise old man of whom he dreamed in his early years. He had placed in his debt, a significant number of persons - students and others, whose lives he had touched and influenced. He was the mentor and spiritual friend, to whom they turned for counsel and encouragement, sometimes support and consolation. When he died after a brief illness, "he had served his generation by the will of God and had fallen asleep." He was content. He had accomplished visions that he cherished for his life and more. He had done the work that God entrusted to his hands. His loving devotion to that work, but more important his love for others had dignified all those years of labor. Under God, his love had transformed so many lives. He worked not for the praise of others, but for God. So we thank God for every remembrance of Jonathan Jackson.
Dr. Michael I. N. Dash, Professor of Ministry and Context
Interdenominational Theological Center
Atlanta, Georgia
---
Bibliography
Books
Dash, M. I. N., Jackson, J., & Rasor, S. C. (1997). Hidden wholeness: An African American spirituality for individuals and communities. Cleveland, OH: The United Church Press. Midwest Book Review.
Chapters in Books
Jackson, J. (2002). Forming a spirituality of wisdom. In A. S. Wimberly, & E. Parker (Eds.), In search of wisdom: Faith formation in the Black Church (pp. 155-166). Nashville, TN: Abingdon Press.
Book Reviews
Jackson, J. (1975). [Review of the book Value clarification as learning process: A guidebook]. Journal of the Interdenominational Theological Center, 2 (2), 143-144.
Jackson, J. (1974). [Review of the book The technological crisis and the churches: To love or to perish]. Journal of the Interdenominational Theological Center, 1 (2), 80-82.
Dissertation
Jackson, J. (1964). The relation of religion and higher education in Paul Tillich and Theodore Brameld. Dissertation Abstracts International. Volume: 25-05, 2869.
Unpublished Papers
Jackson, J. (1989). Sabbatical, spirituality and theological education. Paper presented at Interdenominational Theological Center.
Jackson, J. (1982). The Bible and Christian education. Paper presented at CME Church Conference, Birmingham, AL.
Jackson, J. (1982). Youth and Christian education. Paper presented at AME Conference, Morris Brown College, Atlanta, GA.
Jackson, J. (1980). The ethnic church and Christian education. Paper presented at Ethnic Ministries Conference, Columbia, SC.
Jackson, J. (1975). Christian education and leadership development. Paper presented at Church of the Redeemer, Washington, DC.
Jackson, J. (1975). Science and religion. Paper presented at the Holston Conference of the United Methodist Church.
Jackson, J. (1970). Church growth and Christian education. Paper presented at the Board of Evangelism Conference, Miami, FL.
Interviews/Tapes
The Atlanta/Journal Constitution, May 17, 1970
The Campus Report (Emory University), May 25, 1970
Audio/Video
Jackson, J. (1980). The Ministry of Christian Education (Cassette Recording). Methodist Men of the North Georgia Conference of the United Methodist Church.
Jackson, J. (1978). Christian Education as Ministry (Cassette Recording). The National Baptist Convention, Nashville, TN.
Jackson, J. (1978-1982). Christian Education and Administration (Cassette Recording). Columbia Theological Seminary (1978-1982).
On the Relation of Religion to Society. (1979). [Television broadcast]. Charlotte, NC.
---
Excerpts from Publications
Jackson, J. (2002). Forming a spirituality of wisdom. In A. S. Wimberly & E. Parker (Eds.), In search of wisdom: Faith formation in the Black Church (pp.155-166). Nashville, TN: Abingdon Press.
Dash, M. I. N., Jackson, J., & Rasor, S. C. (1997). Hidden wholeness: An African American spirituality for individuals and communities. Cleveland, OH: The United Church Press.
---
Recommended Readings
Jackson, J. (2002). Forming a spirituality of wisdom. In A. S. Wimberly, & E. Parker (Eds.), In search of wisdom: Faith formation in the Black Church (pp. 155-166). Nashville, TN: Abingdon Press.
This chapter reveals Jonathan's belief of a nexus between spirituality and wisdom and a spirituality of wisdom and our relationship with others.
Dash, M. I. N., Jackson, J., & Rasor, S. C. (1997). Hidden wholeness: An African American spirituality for individuals and communities. Cleveland, OH: The United Church Press.
This book served as a springboard for Jonathan's subsequent writing on spirituality of wisdom. It represents his belief in employing spirituality with wholeness.
---
Author Information
Paulette Isaac
Dr. E. Paulette Isaac earned an Ed.D. in adult education from the University of Georgia. She is an associate professor of adult education at the University of Missouri-St. Louis and an editor ofAdult Learning, a publication of the American Association for Adult and Continuing Education. Her primary line of research has focused on adult education in the African American Church. She met the late Dr. Jonathan Jackson, Jr. while employed at the Interdenominational Theological Center in the1990s. The author would like to thank Ms. Jennifer Jackson, Jonathan Jackson's daughter, Ms. Caroline Terry, and Ms. Caroline Oyuyo for their special assistance.