Harold Carlton Mason
By Donald M. Joy
Protestant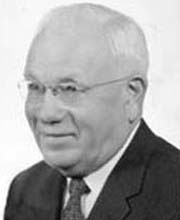 Harold Carlton Mason (1888-1964). A pastor, denominational leader, Christian education professor, and college president, Harold Mason brought great energy and vision to the Christian organizations he served, including Huntington College, Northern Baptist Theological Seminary, Chicago, IL, and Asbury Theological Seminary, Wilmore, KY. Abiding Values in Christian Education (1955), and The Teaching Task of the Local Church (1960) were two of his influential writings in the field of Christian education.
Biography
Early Life and Education
Harold Carlton Mason, came quite indirectly into a position to leave a mark for evangelical Christian education. His vocation took him into pastoral ministry, then into public school teaching and administration, before re-entering teaching in a Christian academy, serving as a bishop in his denomination, as a college president, then moving across a spectrum of teaching appointments at the graduate and undergraduate levels. Fortunately, Professor Mason's life and ministry is well documented in personal and published records. Quoted paragraphs below, for example, are excerpted from a biography prepared by his son Robert Mason.
Harold Carlton Mason was born into the home of a small-town merchant on November 9, 1888. His father, Emmet C. Mason, had for a number of years been in partnership with his brothers, George and Melvin, in running the general store in Frontier, Hillsdale County, Michigan. The move of Emmet and his wife Libby to Kunkle, Ohio, only a few miles across the state line, was to join a brother-in-law, Allen Agnew, in a similar business venture there. Although Frontier was considered to be the ancestral family home, Harold Mason was born in Kunkle…
Harry at Home
In the beginning Libby called her first-born Harry… She and Emmet called him "Harry" during the early years, as did his sisters and brother, although his legal name, used formally later, was Harold. Throughout his lifetime, his parents, his wife, siblings, and closest friends all called him Harry. Harry Mason was beloved by many; a warm, energetic, highly intelligent man who unceasingly wrestled to bring about coherence between that love of God which is deeply felt and Christian belief via rational and intellectual channels. He became a gifted platform speaker, using his deep, rich, resonant voice dramatically. Sometimes he would move his audience to tears, again to uproarious laughter. Barbara Mason Rohrs [a granddaughter] remembers how he brought down the house by commenting that some people have spiritual hepatitis because they are loose livers. As an adult, he was always portly, of ruddy complexion, possessed of blue twinkly eyes and some well-placed dimples.
Harry Mason completed the eight years of public grammar school which were readily available to all children in rural and small town Michigan and Ohio in the 1890s… But high school and undergraduate college-comprising eight years of secondary and higher studies-had not yet become fixed. At first, most schooling beyond grammar school was under private auspices. Then public high schools, as they were introduced offered only one or two rather than four years of study. At the same time, private agencies including churches maintained academies, sometimes called seminaries, offering high school level studies…
This historical phenomenon explains how it was that Harry Mason entered Central College at the age of fifteen. In 1907 when he was eighteen, he completed the three year program at Central College leading to the B. S. degree, identified at Central as a first degree inferior to the A.B. program which was also offered…
Pastoral Ministry
After the 1907 graduation ceremonies, Harold Mason returned to Michigan, committed to be a preacher in the North Ohio conference. When the conference met, he was assigned to the Ransom Circuit and thus, in the summer of 1907, he became the boy preacher for farm folk in rural Hillsdale County. The year to follow was to be one of the most trying of his life and the year when, by ordinary human criteria, he failed. Yet the tragic months on Ransom Circuit may, indeed, have been in the nature of a "refiner's fire" in which suffering resulted in a special strength manifested in later life. Within the context of the 1907-1908 year a great and wonderful event occurred. He met and came to love and trust the young lady, Alta McFate, who was to become his wife.
Harry "burned out" and resigned from his Ransom pastorate before the year was out. Just what the reasons were probably he himself could hardly say. But even at age 18, he was not a quitter, and the decision to resign was made only after consultation with his father Emmet and his beloved Alta… Harry always felt that Alta and Emmet pulled him through a very bad time in his life, and he relied upon them, with unbounded love, appreciation, and respect throughout their lives together.
Teaching Ministry
In the fall of 1908, a teaching job opened for Harry at the A. M. Chesbrough Seminary, North Chili, New York, operated by the Free Methodists. His Central College B. S. degree qualified him for the position. The most unfortunate thing about this job was that it would take him so far away from Alta. But the Christian atmosphere at the Free Methodist institution and the kindly people there made the year in New York a truly healing experience. Renewed in health and spirit by a successful year at North Chili, he and Alta set a date for their marriage. She had been a teacher in the high schools at Waldron and Litchfield, Michigan, and Harry came back from New York to a teaching position at Whitmore Lake, Michigan. On Christmas Day, 1909, their wedding took place in the farm home of the McFates, a mile from the Betzer church on the Ransom Circuit where they had first met. The following year the couple moved to Horton, Michigan, where both were employed in the public school system of that village."
Preaching Plus Teaching
Between 1911 and 1913, Harold and Alta Mason combined church and school activities. The unpleasant memories of the Ransom experience having faded into the past, Harold felt that he might once again become a preacher of the Word. However, the satisfying experiences at North Chili, New York, and in the public schools of Whitmore Lake and Horton had convinced him that a combination of the two vocations-that of a Christian teacher and that of a Christian minister of the Gospel-was his role in life. From this time to his death in 1964, Harold Carlton Mason melded the closely related professions. He was a teaching minister of the Gospel, and he was a preaching teacher and an academic scholar.
In order to achieve a fully recognized four-year college degree, Harry served as pastor of the Adrian, Michigan, United Brethren Church while attending Adrian College, then came back to Huntington as pastor of the Etna Avenue church. At Huntington, while preaching at Etna Avenue, he also served as an instructor at Central College and earned the more advanced Bachelor of Arts degree. Subsequently, while serving as pastor at Blissfield, he also took a Bachelor of Arts degree at Adrian College, thus meeting the requirements for admission to the graduate school of the University of Michigan…
In 1914, after five years of marriage, Robert, their first son, was born in the Blissfield Church parsonage. Two and a half years later their family was completed with the birth-also in the parsonage-of a second son, Wendell… The Blissfield years were good years in the lives of Harry and Alta… And Harry was eminently successful in carrying it (the ministry) out. He graced the Blissfield pastorate well, and became known throughout the denomination as a highly competent minister of the Gospel…
Alta was not well after Wendell's birth, and the new baby had difficulty getting his start in the world. When the North Ohio conference stationing committee made its report in the summer of 1918, the Harold Mason family received a not-unexpected blow; they were to move to Montpelier, Ohio. Quickly, upon their return home, they were to pack, vacate the pleasant parsonage, and move out of their beloved Michigan. The Montpelier congregation was small and that was why Harry had been assigned there. The salary was lower than that at Blissfield, and there was real likelihood that the handful of people making up the congregation could not pay it.
Things were different at Montpelier … Despite the difficulties, Harold Mason's Montpelier pastorate was successful. Articles about the growth in membership and the remodeling appeared in The Christian Conservator. Throughout the church, Harold Mason's name became associated with his success at Blissfield followed by an amazing rejuvenation of the church at Monteplier. During the 1920-1921 year at Montpelier, Harry's correspondence increased. Apparently, people associated with his success at the United Brethren church all over the country had become interested in him and his work. His nomination to the bishopric at the General Conference in 1921 was, thus, not a total surprise. But he was young, only 32, at the time and had not served in any administrative capacity… But his sense of satisfaction was tempered not only by appropriate Christian humility, but by the regret that the conference had not similarly recognized others for whom he had respect. His father, Emmet, had not been re-elected to the position of publishing agent, which he had held for many years … Over the years, Harry's feelings of remorse deepened that the convocation which had elevated him to high office had passed over his father.
Bishop Mason
The honor conferred by the bishopric was also tempered by concern about the expenses of the office, especially for the Midwesterner appointed to the Pacific district. Would the stipends of the office cover the thousands of miles of travel involved, the costs of housing for his family, and the other family needs? These questions crowded in on Harry and Alta as they prepared to leave the rent-free Montpelier parsonage.
The North Ohio conference was Harry's home base within the church. Adrian, Blissfield, and Montpelier were under North Ohio jurisdiction. Hillsdale County was not only the seat of the church assembly grounds where the North Ohio conference and camp meeting were held, but it was the home county for both Alta and Harry. The previous West Coast bishop had lived in Hillsdale during his term in office. Emmet and Libby were to move there from Huntington. Alta's parents lived on the farm twenty miles from the county seat. For these reasons, Hillsdale was selected as the place where they were to make their home as the four year term in the high church office began…
Graduate Study While Bishop
It seems clear that Harold and Alta had decided to limit his time in the bishopric during the second year. For in the fall of 1923, after the third round of Western conferences had been completed, the bishop, his wife, and their two sons moved from Hillsdale to Ann Arbor. In the fall of 1923, he enrolled in the graduate school of the University of Michigan, engaging throughout the nine-month academic year in weekday university study, preaching and traveling on church business weekends. By the time the round of conferences on the Pacific coast began in June of 1924, Harold Carlton Mason had earned a Master of Arts degree in Philosophy and English from the prestigious, internationally respected Graduate School of Arts and Sciences of the University of Michigan. Upon completion of his summer duties on the Pacific coast, he accepted an appointment as professor of philosophy at Adrian College, Adrian, Michigan. During this academic year at Adrian, he continued to serve as bishop and preacher in the Church of the United Brethren in Christ. After the General Conference of 1925, free of all responsibility to the office of bishop in the church, Harold C. Mason became Academic Dean of Adrian College. Nevertheless, until his death in 1964, there were many in the United Brethren Church who referred to him as "Bishop Mason," wrote him for advice, and invited him to appear in their churches as guest speaker or evangelist. Bishop Harold Carlton Mason was appreciated and respected by his associates.
Subsequent Career of Bishop Mason
Academic Degrees
A. M. University of Michigan-1924
Ed. D. Indiana University-1945
Honorary Degrees
D. D. Huntington College-1924
LL. D. Houghton College-1940
Positions
1924-25-Professor of Philosophy, Adrian College, Adrian, MI
1925-29-Academic Dean, Adrian College
1929-32 Superintendent of Schools, Blissfield, MI
1932-39 President, Huntington College, Huntington, IN
1939-43 Pastor, Winona Lake, IN, Free Methodist Church
(Headquarters Church of the Free Methodist denomination)
Doctoral student at Indiana University
1943-48 Professor of Christian Education, Northern Baptist
Theological Seminary, Chicago, IL
1948-61 Professor and Chairman, Department of Christian Education
Asbury Theological Seminary, Wilmore, KY
Death
Winona Lake, Indiana, June 2, 1964
Note that the quoted paragraphs above, including this summary of Dr. Harold Carlton Mason's ministry career, are excerpted from the biography of his father by son, Robert E. Mason. Harold Mason was elected bishop of the United Brethren Church of Christ in 1921, but refused to be a candidate for re-election in 1925. Documentation from the archives at both Northern Baptist Seminary and Asbury Seminary as well as the Historical Center at Free Methodist denominational headquarters in Indianapolis identify significant features of Dr. Mason's life and work that deserve reporting here.
Christian Educator by Emergency
Go back to 1932. Harold Mason was superintendent of schools in Blissfield, Michigan. In the spring of that year, the board of trustees at Huntington College made the painful decision to close the college because of financial distress. Student enrollment was down, and the United States was in the grip of the Great Depression. That night after the board decision, the board members went to College Park United Brethren Church in Huntington and announced that they would have to close the college. One person stood and said, "If we could get Harold Mason to come and be president, I think we could keep it open." Harold Mason had just been offered a new two-year contract to continue as superintendent of schools in Blissfield, at a salary twice that the college offered him, yet he agreed to move to Huntington. His sense of loyalty to his college and to the United Brethren Church was so deep that he made the sacrifice.
The results at Huntington College were striking. Students were admitted to the college with opportunity to work on campus to pay their tuition. Local churches in the UBC brought truck loads of fresh farm produce and canned food, especially for faculty and staff and students at the financially stressed college. In the early 1930s the college built a root cellar to store farm vegetables until they could be used. Mason, the new president is remembered as accepting speaking engagements-especially high school baccalaureate or commencement speeches-without fee. New students enrolled as a direct result of his speaking in public schools, this former superintendent and public school teacher, turned college president. On campus a frame gymnasium was enlarged and bricked. Mason arranged for the Civil Conservation Corps to haul the bricks from a demolition site, and college students learned bricklaying.
Dr. Mason's effective preaching and speaking is partially preserved in two Commencement Addresses published by the college. These are addresses from 1936, "The Assurance of Authority, citing John 2:5 as text, "His mother saith unto the servants, Whatsoever he saith unto you, do it." The 1937 address was "The Christian Moral Code, citing John 10:10 as text, "I am come that they might have life, and that they might have it more abundantly."
By 1938, there was such a community backing for Huntington College that Jacob Brenn, a Polish-born Jew and a prominent businessman, organized a Huntington College Foundation. The Foundation continues to the 21st century. But by the spring of 1938, Harold Mason knew he needed to finish his graduate study. He had begun working on a doctoral degree at Indiana University in Bloomington. He found that the heavy load of college administration was delaying his doctoral study in education. So he announced in the spring of 1938 that he had accepted a teaching position at Greenville College in Illinois. But the Foundation begged him to stay and he remained for one more academic year. In the spring of 1939, he took steps to move on, though not to Greenville College.
Transition to the Free Methodist Church
Greenville College, a Free Methodist sponsored college, where Haold Mason had been offered a teaching position, was a sister school of A. H. Chesbrough Seminary (now Roberts Wesleyan College). Harold Mason had left his first pastorate and was soon hired to teach in the academy there. That first teaching position in a Christian school was very positive for Mason. He never taught at Greenville College because of the financial crisis and pressures to continue at Huntington College. Eventually both of the Mason sons, Robert and Wendell would attend Greenville College, as would granddaughter Barbara Mason Rohrs. Upon leaving the Huntington College presidency in 1939, Mason transferred his clergy status to the Illinois Conference of the Free Methodist Church.
As Harold Mason completed his presidential leadership at Huntington College in the spring of 1939, the Masons moved to Winona Lake, Indiana where Harold became pastor to the world headquarters congregation of the Free Methodist Church. Official records list him as "supply" pastor there, indicating that his clergy membership was placed outside of the Wabash Conference. Records show he was accepted by transfer from the United Brethren in Christ ministry and admitted as an ordained elder in the Illinois Conference of the Free Methodist Church. Appointed to Winona Lake found him in the Wabash Conference, hence the "supply" designation. The Winona Lake congregation was struggling, consisting mainly of officers and employees of the Free Methodist Publishing House which had moved from Chicago in 1935. The Winona Lake congregation was desperate to have a church building, but World War II was on. The reputation of Harold Mason as an educator and former pastor who had saved Huntington College from closing down in a financial crisis must have presented him as candidate with special gifts for the Winona Lake challenge.
During the four-year pastoral service at Winona Lake, not only did Mason lead the struggling congregation to build a church building but he also completed the doctorate at Indiana University. His dissertation title was, "The Development of Educational Theory in Indiana." The Winona Lake church structure was brick faced, and was completed with generous help by Huntington College student workers who had first found their construction gifts formed while the gymnasium project was completed on campus.
Dr. Mason established deep roots quite quickly at Winona Lake. Winona Lake School of Theology, a summer school, recruited him to teach, and the Masons bought their home at 1906 Hamilton Boulevard at Winona Lake in 1946, returning for summers and eventually making it their retirement home. In 1961 when Dr. Mason retired and he and Alta made their Winona Lake home their retirement location, the records show that he requested his annual conference membership be transferred from the Illinois Conference to the Wabash Conference of the Free Methodist Church. During his pastoral years at Winona Lake, he had kept his credential base in the Illinois Conference.
During the Winona Lake years, Harold Mason completed his Ed. D. degree at Indiana University, but he also wrote prolifically for magazines and journals. His "Uncle Hal's Corner" was a feature in Light and Life Evangel between 1941 and 1944. During the same years he was a frequent contributor of short articles, sermons, and biblical interpretations which appeared in The Free Methodist, Sunday School Times, Sunday School World, Moody Monthly, and Christian Life.
Professor of Christian Education
Dr. Mason left the Winona Lake pastoral position and began teaching at Northern Baptist Seminary in Chicago in the Fall of 1943. There he is remembered for instituting the Nursery Laboratory School at Northern Baptist and also organizing and directing the Baptist Evening School of Leadership Training at the Seminary in connection with his duties as head of the department of Christian Education. He was contacted by President Charles W. Kohler and asked to teach at the "Theological College." The courses stipulated in a letter from President Kohler were to be:
Physiology, Geology and Sociology, as previously indicated. We are also looking to you definitely to take care of the course in Systematic Theology for fourth year Th. B. students. This course is based on Strong's "Theology" and runs parallel to the course which Dr. Carl Henry is teaching for the B. D. men. I am sure that either Dr. Henry or Dr. Lewis could be quite helpful, as you plan the work. In regard to Religious Education, we are booking you as previously indicated for Christian Education 204, 205, and 206.
An interesting postscript to that letter from July 3, 1943, says:
We are thinking of offering a teaching fellowship to Mr. Claude A. Ries, in College Old Testament, which runs throughout the year for an hour a day. Before making the matter final we wish to have your judgment as to the advisability of this appointment to which we are not yet committed. Your counsel will be held in strictest confidence. What we wish to be assured of is his orthodoxy from the conservative point of view, and the likelihood of his being effective as a teacher in this sphere. We understand that he is a Methodist. Your help will be greatly appreciated on this point. C.W.K.
The confidential query about Claude Ries, one Methodist, was being made to Harold Mason, a Free Methodist. It is clear that Harold Mason's exposure across the years had satisfied President Kohler's criteria for conservative orthodoxy within the Northern Baptist tradition. The letter closes with an invitation: "Our faculty is planning to be at the Rodeheaver's at Winona Lake for a two-day retreat from Monday evening, August 30 through Wednesday breakfast, September 1. We trust that it will be convenient for you and Mrs. Mason to be with us at that time of fellowship and planning.
Dr. Mason established himself with the evangelical world as an authority in Christian education while at Northern Baptist Seminary. He delivered the address, Reclaiming the Sunday School in Minneapolis for the National Association of Evangelicals convention on April 30, 1946. The address was authorized for publication by the National Association of Sunday Schools, and published by the Free Methodist Publishing House as a Light and Life Press title. As I read the published version of the address, I could hear the passion and the very words I recall from Professor Mason's lectures in Christian Education classes when I was a student at Asbury 1952-1954. He was a master at articulating the distinctions between the evangelical and the liberal ways of defining essential marks of Christianity.
After five years at Northern Baptist, a compelling invitation came to join the faculty of Asbury Theological Seminary in Wilmore, Kentucky. The distinguished administration and faculty at Northern Baptist Seminary took his departure with great grief and grace. The archivist at Northern Baptist Seminary provided a copy of a remarkable document which demonstrates the esteem in which Dr. Mason was held by his colleagues on the faculty. Here is the resolution from Northern Baptist Theological Seminary they presented to Dr. Harold C. Mason, with a copy to Dean W. D. Turkington of Asbury Seminary:
Doctor Harold C. Mason Resolution of Appreciation
WHEREAS Dr. Harold C. Mason, who had been elected to life tenure among us, chose of his own accord to resign and to become a member of the Asbury Theological Seminary of Wilmore, Kentucky;
BE IT RESOLVED that we re-affirm to him our high esteem and abiding affection; that we re-assure him of our deep appreciation of his scholarly and effective teaching and for his distinctive service in strengthening the department of Christian Education in our school; that we cherish the memories of our fellowship with him and his good wife; and that we congratulate the Asbury Theological Seminary on its good fortune in having them on its campus and staff. Voted by the faculty of Northern Baptist Theological Seminary, September 14, 1948.
Julius R. Mantey, Chairman, Resolutions Committee
Dr. Mason had accepted the invitation to come to Asbury Seminary while at the apex of his teaching career as Professor of Christian Education at Northern Baptist Theological Seminary in Chicago.
At Asbury, Dr. Mason also established the Laboratory School and Field Work program. Across those sixteen years of teaching Christian Education at two premier seminaries, more than a hundred students received the Master of Religious Education degree under Dr. Mason's supervision. Some of them went on to serve as college and seminary professors, ministers and directors of religious education and teachers in Christian schools and Bible schools, missionaries, and pastor's wives.
Asbury Theological Seminary was in a crisis involving censure for administrative and faculty procedures. It's Bachelor of Divinity, the pastoral preparation degree, suffered suspended accreditation by the American Association of Theological Schools in December 1951. That accreditation had been won on June 11, 1946. A professional degree, the Master of Religious Education, was put in place in the mid-forties, according to the Asbury catalogue. Harold Mason has been brought to the faculty to establish it as a high quality program. The M.R.E degree won accreditation by the American Association of Schools of Religious Education in early 1951, the year of the loss of AATS accreditation. Both the loss of B. D. accreditation and the winning of AASRE are reported in the same session of "faculty minutes," recorded January 22, 1951.
Dr. Mason had arrived in 1948, so found himself-as he so often did throughout his life and ministry-at the center of a great challenge. Establishing a laboratory school of Christian Education and providing significant enrichment of the M.R.E. curriculum, he had initiated application for accreditation of the M.R.E. degree by the AASRE. So as the AATS accreditation was suspended, the M.R.E. accreditation was approved, and that accreditation was never suspended. The AATS accreditation of the B.D. degree was finally restored on June 7, 1960-after a lapse of accreditation of the pastoral degree since December 1951. Mason's role as rescuer in a time of trouble seems again to be affirmed by these details.
One of Professor Mason's former students, Dr. Harold Burgess, recalls the benefit of the AASRE accreditation of the M.R.E. degree at Asbury. As a doctoral student at Notre Dame University, Burgess grieved the fact that none of his Asbury Seminary graduate hours could be transferred into his doctoral program. He had earned the B. D. at Asbury. His dilemma found an attentive and creative ear in his faculty mentor, Dr. James Michael Lee. Dr. Lee consulted public accreditation sources and found that the Asbury M. R. E. degree accreditation had never been suspended. So he urged Harold to list any courses from his Bachelor of Divinity [later to become the Master of Divinity] degree transcript, which would have counted toward earning a Master of Religious Education degree, and on that basis he appealed for transfer of those M.R.E. equivalency hours. Notre Dame promptly transferred in 18 semester hours-a full year of advanced standing for his doctoral study.
Honoring Dr. Harold Mason at his retirement, Dr. Frank Bateman Stanger read from the Spring-Summer, 1961 issue of The Asbury Seminarian which was dedicated to honoring the tenure of Dr. Mason. Stanger's words appeared in the opening salute, "Ín Appreciation: Harold Carlton Mason." Among the many accolades, here are a few:
Harold Carlton Mason 'opened the doors of the deeper world' to those whom he taught because he has, first of all, ever sought to open such doors of insight and knowledge for himself. His const ant search for perfection has colored not only his life but also the content and the mood and the method of his teaching. During his entire teaching ministry his search for the fullness of Divine truth led him continually along the avenue of respectable scholarship.
He brought to his teaching career analytical and critical qualities of mind which from the beginning marked him as a teacher of competence. His love of truth as embodied in living personalities made any expressions of insincerity and hypocrisy unbearable to him. He gave himself wholeheartedly to the discovery and relating of the truth of 'the deeper world.'
Harold Carlton Mason's combination of intellect and feeling gave a special strength and character to his teaching. One who knows him intimately speaks of him as 'a man of great passion, a dramatist, a poet,' and this has made him an effective teacher…
And so, my colleagues and I-the Officers of Administration, the Members of the Faculty, the Staff-join in tribute and appreciation to Harold Carlton Mason-a good minister of Jesus Christ, a dedicated church leader, a scholar of the highest rank, a competent author, a trusted counselor of students, an inspirational colleague, a devoted friend, a man of God!"
Professor Mason's two textbooks for Christian education came from the Asbury years. Abiding Values in Christian Education is the Mason theology and philosophy of the church's ministry through education. He quotes liberals and demonstrates repeatedly why an evangelical approach to Christian education is the only vital way to teach.
Harold and Alta Mason collaborated to write, along with other distinguished American clergy and authors, a Bible story for Charles L. Wallis' A Treasury of Story Sermons for Children. Harper and Brothers Publishers of New York suggested that the Wallis book would provide "more than two years' weekly supply of story sermon suggestions for examples of masters for their craft." Harold and Alta Mason collaborated in writing a story sermon they called "Andrew and the Boy." They observed that Andrew is mentioned four times in the Gospels, and each time he is spoken of as having led someone to Jesus. The Harper and Brothers' promotion said of the Masons' work, "The story combines the tradition of the storyteller's craft and the homiletic heritage of the pulpit."
By the time Dr. Mason's manuscript for The Teaching Task of the Local Church was finished, Dr. Mason had retired to Winona Lake, Indiana. I was then executive editor for Sunday-school curriculum for Light and Life Press and the Free Methodist Publishing House. I remember the day Dr. Mason brought the manuscript to me and asked me to read it. He was in conversations with Dr. Lloyd H. Knox, publisher, about the possibility of the book being published with us. But Dr. Mason wanted my response. When the contract was completed for a 1960 release in time for the Free Methodist centennial General Conference, I recall with pleasure, his appeal to me with the uncommon twinkle in his eye: "Don," he said, "would you try to see that the type and format of the book is arranged to make sure that it runs to more than 200 pages?" It was an easy move, and I sat with John Benson, our production manager, who calculated type size and also added the bonus of a heavier paper to enhance the appearance of the book. Whereas Abiding Values … had expressed Mason's theology and philosophy of Christian education, Teaching Task … set down every imaginable aspect of how to organize and bring the ministry of teaching to the people who look to the church. Both of his books served for many years as anchor texts in Christian education classes at the graduate and undergraduate levels.
Dr. Mason was professor of Christian education for twelve years at Asbury Theological Seminary, arriving the fall of 1948. He served with effectiveness at Asbury, retiring at the end of the academic year in the spring of 1961. He and his wife Alta McFate Mason were honored at a retirement dinner held at the Beaumont Inn, Harrodsburg, Kentucky. Dr. Frank Bateman Stanger, Executive Vice President at Asbury Seminary, hosted the event and presented a congratulatory citation. At the event, the new issue of The Asbury Seminarian was presented (Spring-Summer, 1961, 15 No. 2., pp. 5-7), "In Appreciation of Harold Carlton Mason," was devoted to honoring the high impact life and ministry of Dr. Mason through his ministry of teaching at Asbury Seminary.
Following retirement Dr. Mason continued to teach occasional courses at the Winona Lake School of Theology, at Bethel College in Mishawaka, Indiana, and at Grace College at Winona Lake, Indiana. The Masons lived at Winona Lake, and Dr. Mason was heavily involved in planning sessions which led to Light and Life Press launching its Graded Series of Sunday school lessons for nursery through senior high age groups during those years. In 1958, two of Mason's Asbury Seminary graduates would come on board with Light and Life Press, Donald Joy as executive editor of all Sunday-school curriculum, and Lyle E. Williams as editor of International Uniform Series.
Mason's Glory
Dr. Harold C. Mason, 75, who with his wife Alta lived at their home at 1906 Hamilton Boulevard, Winona Lake, Indiana, died unexpectedly of a heart attack at 4 p.m. on Tuesday, June 2, 1964. At Huntington College a memorial statement was published under title "An Absorbing Passion." It bears a line "Harold C. Mason, Bishop 1921-25." The memorial was likely composed by his son, Robert, and appears with the same artist's sketch of Bishop and President Harold Mason. The full text of the memorial statement is a fitting conclusion to the biography Robert had written before:
Elected to the highest office at age 32, Harold C. Mason, was the youngest bishop the United Brethren Church has ever had. Coming to this office from a pastorate and never having served as a presiding elder was also unusual. However, his years as a successful pastor prepared him to understand the concerns of the spiritual shepherds he was to oversee. In a brief closing address to members of the 1921 General Conference, he said: "I have a deep concern for the spirituality of our Church. If I were to say what is the absorbing passion of my life for our Church, it would be that it be a deeply spiritual Church, a deeply evangelistic Church." Editor O. G. Alwood, upon Mason's election to the bishopric, wrote of his "vigorous splendid physical and mental endowments" and that "as a platform speaker he has gifts which few possess." During his four years as bishop of the Pacific Coast conferences he made five itineraries on the district. Though his work did not attain the success he desired, it was considered well done by members on the coast. Small and widely scattered congregations and limited financial conditions were serious handicaps. He declined re-election to pursue an educational career, which he believed to be God's will for him.
Diligent in his search for Christian truth through study and prayer, he believed this to be essential to effective Christian stewardship. After further study in education the greatest challenge of his career as an administrator in this field came in 1932 when he was elected president of Huntington College, his alma mater. Its board didn't know if the school could continue. Due to the country's economic depression, finances and enrollment were extremely low. Under his leadership it came out of this slump and made advancements.
In 1939, he returned to the pastorate-this time in the Free Methodist Church-which offered opportunity for him to complete his work for a doctorate in education. The last 21 years of the life of this man of magnanimous and tender spirit were devoted primarily to theological education; most of this time he was head of Christian education departments, first at Northern Baptist Seminary and then at Asbury Seminary. These were very satisfying years for him. In his classroom, in books and articles he authored, and in frequent sermons and addresses, his absorbing spiritual passion found full expression.
Harold C. Mason, Bishop 1921-25 Born 1888 Kunkle, Ohio; died 1964.
At Winona Lake, expressing his loss at the death of his neighbor, Dr. Byron S. Lamson, editor of The Free Methodist magazine officiated and delivered the funeral sermon honoring Dr. Mason. In Lamson's editorial tribute a few weeks later he began,
My good friend, Harold C. Mason, is now in the near presence of the One he loved and served… We have been neighbors … In some ways I feel that Dr. Mason was almost too humble regarding his own spiritual life. He was of the order of "the poor in spirit." His vision of God was so clear, his understanding of the possibilities in the Kingdom so keen, he had little time or inclination for self-congratulation… He preached on great themes. A favorite text was: "And without controversy, great is the mystery of godliness: God was manifest in the flesh, justified in the spirit, seen of angels, preached unto the Gentiles, believed on in the world, received up into glory." … Dr. Mason was alert to world problems and needs, He loved life. He lived it to the full, finding it complete in Christ. There was no long period of suffering. He graduated quickly, almost easily, from the partial, the incomplete. Could it be, as someone has suggested, that God is like a teacher who knows his pupils so well, some are graduated without waiting for the final examinations?
Pastor Arden Reed officiated at the coronation celebration for Dr. Mason. The sanctuary of the Winona Lake Free Methodist Church, his "home" church in many ways, was the site of that grand service. Lois Crandall, the church organist provided music, and there was a male duet. Verlyn Snell of the headquarters Christian Education office joined me as we sang a duet. Both of us had been students of Dr. Mason at Asbury Seminary, and both of us were living at Winona Lake and serving in Free Methodist denominational executive offices. Dr. Mason was laid to rest in Burt Cemetery at Prattville, Michigan.
---
Contributions to Christian Education
Gathering the life chronicle of Harold Carlton Mason reveals a genius of interesting proportions. Today he might be characterized as a "reorganization manager." Mason's best gifts seemed to catch attention when a crisis somewhere needed a white knight "to the rescue." His ministry appointments sometimes seemed based on his gifts of "turning nothing into something." Even election as bishop placed him on the Pacific frontier, facing formidable challenges. He was called to "save" Huntington College. Then, the Winona Lake Free Methodist Church needed a miracle working minister-voila! Harold C. Mason. And the crisis in accreditation at Asbury Seminary seems to have sent administrators searching for someone to ride in on a white horse and establish a credible Master of Religious Education (M.R.E.) degree which would attract certification and set the stage for restoration of AATS accreditation. Even the brevity of Mason's tenures suggests that he seemed to know when his "rescue" job was done, and he was ready for another specialized challenge.
Aligning himself with Northern Baptist Seminary in the fall of 1943, Dr. Mason was planting himself in the rock solid "evangelical" end of the theological schools spectrum. "Liberalism" was a target, often powerfully defining it's opponents by their anxious attacks, and Mason, both in his lectures and in his books, trembles with the tension from that battleground. Mason drew a line in the sand at "truth" and "revelation," seeing Christian education as having a content to be "taught," transmitted from one generation to the next. In Teaching Task of the Local Church he tersely states his thesis:
"Jesus said: 'I am the Way, the Truth and the Life.' This is an authoritative statement to be taught to children as final truth. There is more to Christian education than self-expression and activity from the evangelical point of view. In Christian education there is a body of knowledge to be transmitted, an ancient Book to be perpetuated." (p. 25)
The anxiety of the times did not call out reflective insights from Scripture about the Creation of humans in the 'image of God,' and about intrinsic hunger for God and an appetite for worship, nor did it see the Creation as God's own work, therefore worthy of exploration, research and reflection. Harold Mason's two major books in the field of Christian Education are marker points in the middle of the attack on liberalism, the solution to which was transmissive teaching-guarding against the dangers of humanism and naturalism which were fiercely dreaded.
Be His My Special Thanks I volunteered to honor Harold Mason when the Christian Educators of the 20th Century editorial board listed him for an honored place among 20th Century Christian Educators. With my wife Robbie, we had visited Asbury Seminary late in the spring of 1949. The seminary was, indeed, in a crisis with suspended accreditation by the Association of Theological Schools, largely over some irregularities in administrative procedures. For other reasons, we delayed our seminary tour until the Fall of 1951. We had taught in the public schools of Minneola, Kansas from 1949 through 1951, arriving at Asbury in August.
Two "core courses" in Christian education brought me into Harold Mason's classes, but I found there an amazing kindred spirit, so I continued by choosing elective courses across my 90-hour "Bachelor of Divinity" degree. In the final semester, as our plans for pastoral ministry shifted from a return to my native West Kansas conference to my wife's locale, the Texas Conference of the Free Methodist Church, I appealed to Dr. Mason to consider coming to Texas to preach a revival during his Spring break at Asbury in 1955.
Dr. Mason had served pastor of the Free Methodist Headquarters church at Winona Lake, Indiana. As we arrived in Texas, our fortunes changed, as is common in "appointment" structured systems, and we landed at our own "Montpelier" experience. I wrote to Dr. Mason explaining how our present setting was not what I had thought it would be when I invited him to come for a revival. "But," I told him, "we need one, indeed." He came by train to Dallas and we met him and drove him thirty-five miles east to Rockwall. His remarkable preaching and personal ministry there was the single most validating mark on our first year in a painfully struggling congregation. I was held off as "suspect" by many in the small congregation, because I was over-educated with my newly minted seminary degree. Besides, they regarded me as a "Yankee." I had alerted Dr. Mason to the fact that the people were uneasy with anything that looked like a planned sermon or worship service, and that they rejected a printed Sunday morning bulletin. "How could the Holy Spirit work," some of the folks reasoned, "if it was all planned out ahead of time?"
Dr. Mason preached eloquently without notes, and became the magnetic pole of the Gospel for teen-agers and young adults. It was a mellow time for all of us in the presence of Jesus. When the week ended, an elder statesman in the congregation rose and turned to the congregation behind him to say, "If this is our pastor's teacher, then surely we can trust our pastor." Our credibility in ministry was established and three years later when we said goodbye, it was clear to all of us that God had visited that congregation.
We did not speak of "mentors" in my early ministry, but it is clear that Dr. Mason and I both knew that he was my mentor and I his prot ég é. So it was a gracious benefit to us when, in the summer of 1958 we moved to Winona Lake, Indiana, to accept executive responsibilities for Christian Education curriculum ministries, we discovered the Masons were living in their "summer home" there. We had the luxury of living in that summer home which they graciously provided to us during the 1955 Free Methodist General Conference. We saw the Masons regularly at church. We were worshipping in the "headquarters church," whose building was actually constructed during his pastoral years there. Dr. Mason left us so suddenly that none of us imagined our journeys would be separated so abruptly. He remains a giant among the influences I welcomed which have shaped my life and ministry.
Credits
I am indebted to Jane Mason, daughter-in-law of Harold and Alta Mason, for responding to my search by providing abundant Xeroxed copies of Dr. Mason's writings, and articles about him. Reach her at: Jemason356@aol.com. Her daughter, Barbara Mason Rohrs was also an excellent source, providing remarkable anecdotal material on her grandfather. Barbara is at: bamrs@viafamily.com. The photos provided for this project are from Jane Mason in collaboration with Randy Neuman, Archivist, United Brethren Historical Center, at Huntington College. Reach him at: rneuman@huntington.edu. Helen Mainelli, Library Director and Professor at Northern Baptist Seminary furnished copies of correspondence and other documents which documented Mason's hiring and eventually his transfer to Asbury Seminary. Reach her at Northern Baptist's Brimson Grow Library, Lombard, Illinois 60148 with FAX at 630-820-2170. At Asbury Seminary I have appreciated the frequent assistance of Grace Yoder, archivist, and the occasional significant assistance of John Seery, instructional services librarian. Mrs. Yoder is at:
Grace_Yoder@asburyseminary.edu. John Seery helpfully turned me toward a source in Howard Shipp's "A Short History of Asbury Theological Seminary," and especially it's chapter "Accreditation Lost and Recovered" as I was verifying the troubleshooter vocation of Harold Mason. The Shipp's title, nicely crafted by the seminary historian, was published in Wilmore, Kentucky, by Herald [Asbury Seminary] Press, in 1963. John is at: John_Seery@asburyseminary.edu. Cathy Fortner, Director, the Free Methodist Marston Memorial Historical Center, has provided documentation about Dr. Mason's transfer from United Brethren to Free Methodist ordination, and the history of his annual conference relationships. Reach her at CathyF@FMCNA.ORG.
---
Bibliography
Books and Monographs
Mason, H. C. (1938). Commencement meditations (June 7, 1936, and June 12, 1937). Huntington, Indiana: Huntington College.
Mason, H. C. (1945). Some aspects of the development of educational theory in Indiana from 1851 to 1920. Bloomington, Indiana University dissertation.
Mason, H. C. (1946). Reclaiming the Sunday school. An address delivered before the National Association of Evangelicals in Minneapolis, Minnesota, on April 30, 1946. Publication authorized by the National Sunday School Association, Winona Lake: Light and Life Press.
Mason, H. C. (1955). Abiding values in Christian education. New York: Fleming H. Revell Company.
Mason, H. C. and Mason, A.(1957). Helping hands. In C. L. Wallis, (Ed.), A treasury of story--sermons for children. New York: Harper and Brothers Publishers.
Mason, H. C. (1960). The teaching task of the local church. Winona Lake: Light and Life Press.
About Harold C. Mason
Burgess, H. W. (1975). An invitation to religious education . Birmingham, AL: Religious Education Press.
Burgess, H. W. (2001). Models of religious education. Nappanee, IN: Evangel Publishing House. (p 153)
Mason, R. E., Harold C. Mason, 1921-1925, An absorbing passion. In P. R. Fetters (Ed.), United Brethren bishops from 1889-1997 (pp. 139-157, Vol. 1). Huntington, Indiana: Huntington College Graduate School of Christian Ministries, 1996.
Stanger, F. B., In appreciation: Harold Carlton Mason. (On the occasion of Dr. Mason's retirement at Asbury Seminary.) The Asbury Seminarian, 15, No. 2, Spr-Sum, 1961, 5-7.
Reviews of Major Books by Harold C. Mason
Miller, H. (1970). The beginnings of our religion. [Review of the book The beginnings of our religion]. Religious Education, 65 (5), 455.
Edick, H. (1966). Learning to worship. [Review of the book Learning to worship]. Religious Education, 61 (4), 306.
Jenkins, R. (1960). Teaching the New Testament. [Review of the book Teaching the New Testament]. Journal of Bible and Religion, 28 (4), 469-470.
Rivenburg, N. (1939). How our religion began. [Review of the book How our religion Bbegan]. Journal of Bible and Religion, 7 (4), 218.
Tibbetts, N. (1939). How Our religion began. [Review of the book How our religion began]. Religious Education, 34 (4), 249.
Curtis, M. (1938). Children and the changing world. [Review of the book Children and the changing world]. Journal of Bible and Religion, 6 (4), 237.
Book Review
The following review appeared in Eternity Magazine, March, 1961, pp. 52-54, Vol. 12, No. 3.
The teaching tast of the local church. Harold C. Mason. Light and Life. 214 pp. $3.25
The reviewer is Paul D. Fairweather, professor, Christian education and counseling. California Baptist Theological Seminary, Covina California.
The task of Christian Education, according to this author, is to transmit factual, biblical information from teacher to student. Within this orientation he discusses the instructional and administrative aspects of the church's educational program. Memorization of Scripture is stressed. Achievement tests to determine how successful the lesson has been in conveying factual information are recommended. Religious education is to "explain, identify, and condition young people to know the perils that lie in wait for the willful or unwary." The learning psychology advocated is Herbartian in that the individual is taught certain facts in the classroom so that he might go out and apply them or be prepared to know how to live in the future.
Control and authority in administering the educational program and in teaching are recommended. The group process is discouraged by the author as he feels it leads to "over expressiveness" on the part of the student. Student interest is discussed in terms of the difficulty of material rather than in terms of personal involvement in a problem situation. Lessons are teacher-planned and the objectives are the teacher's. Learning through personal relationships is not emphasized. Little attention for instance is given to the educational value of nursery experiences through the establishment of personal relationships at this level.
Many contemporary Christian educators who are concerned to preserve an evangelical witness in the church but who have also followed carefully research findings in the field of group dynamics, sociology, and psychology would differ with the author. Such educators would emphasize that the educative process should begin with the spiritual, personal, and social problems of the students. They would insist that the Bible is the authoritative Word of God and can most appropriately be used as a source-book of spiritual truth to point the way solutions of student's problems. Administering this kind of an educational program in the church and teaching within this framework require the use of the group process and a more democratic approach than the learning situation than is proposed by the author.
Press Release
Harper and Brothers Publishers of New York have just released the book A Treasury of Story Sermons for Children edited by Charles L. Wallis in which Dr. Harold C. and [Mrs.] Alta Mason have contributed a story sermon. Mr. Wallis is a skilled and experienced anthologist. In addition to other works, he assisted in compiling Masterpieces of Religious Verse.
Here in A Treasury of Story Sermons for Children are more than two years' weekly supply of story sermon suggestions from examples of masters of their craft. Among the authors contributing are Daniel A. Poling, Ralph W. Sockman, and Walter Russell Bowie…
Dr. Mason, Professor of Christian Education, and his wife collaborated to write the story sermon, "Andrew and the Boy." Andrew is mentioned four times in the scriptures, and each time he is spoken of as having led someone to Jesus. The story combines the tradition of the storyteller's craft and the homiletic heritage of the pulpit.
[Dr. Harold C. Mason arrived at Asbury Seminary in 19]48 and since that time, [has served as] professor of Christian Education in Asbury Theological Seminary. He has served as secretary-treasurer of the Professors' Section of the International Council of Religious Education, and has at different times appeared on the programs of the Professors' and Research Sections of the International Council, now the Division of Christian Education of the National Council of Churches. He has likewise read papers before the professors' Research Section of the National Sunday School Association and has addressed the general body at national conventions in Minneapolis, Chicago, and Philadelphia. He was a member of the original lesson committee of the National Sunday School Association and served on the lesson committee for years.
He served as editor during the three year period of introduction of the Graded Lesson Series of the Free Methodist Church, has written for The Sunday School Times, The Sunday School World (official publication of the American Sunday School Union), The Moody Monthly, Christian Life, David C. Cook Company's The Sunday School, and various other publications, and publishing houses.
---
Excerpts from Publications
Harold Carlton Mason, Abiding values in Christian education. New York: Fleming H. Revell Company, 1955, 176 pages. Chapter VII (pp 55-60)
Evangelism and worship in Christian education: Evangelism and worship in Christian education are interdependent. This statement is based on the Biblical concept that God is a Spirit and that they that worship Him must worship Him in spirit and in truth.
The naturalistic view of man and the universe precludes the need and the possibility of supernatural regeneration as basic to true worship. In such a view religion of necessity is largely a thing of externals, for at best it is but the response of the human mechanism to physical stimuli. Religion is a matter of the five senses.
In answer to such a philosophy of worship and evangelism, Leander S. Keyser analyses the content of Christian experience, showing that in Christian experience is the assurance of the divine existence, the assurance of truth in Christ, the assurance that the Bible is God's Word, the assurance of salvation, the assurance of the future life, and the blessed experiences that follow.
Christian experience is a stream of Christian consciousness which has its beginning in the New Birth. It is well illustrated in the account of Paul and Silas in the Phillipian jail. For them dependence on external stimuli for Christian experience was not possible, for every appeal to the sense about their oriental dungeon was repugnant and depressing. Their situation was like that of a Christian soldier in a trean or a fox hole, where worship cannot be esthetic response to a pleasing environment. The light in the dungeon of the jail was the inner light, the like of which is not on land or sea.
There is a difference between Christian experience and Christian experiences. For Paul and Silas back of the experiences connected with being in the dungeon of an oriental jail was the abiding experience of being a child of God. They were able to worship God in spirit and in truth because they had come into possession of Christian experience.
A common definition of worship makes it the effort of man to find God through human devices. But worship is not an effort to find God; it is communion with God by those who have found Him. And seeking Him is not a matter of soft music, dimmed lights, and theatrical intonations. Worship is much more than a mere matter of reverence, or of esthetic or dramatic experience. The less there is of an unseen reality in the heart, the greater must be the emphasis on the externals of worship to make religion seem real. For naturalists religion is limited to the five senses, to experiences instead of experience. One honest naturalist, in recognition of this fact proposes that instead of being designated services of worship gatherings of religious people should be known as "celebrations."
There was a day when closing the eyes to shut out sights and withdrawing to a quiet room and closing the door were considered in keeping with true worship. Contrast with this the statement of a minister in our day who said that he could worship best when sitting by his radio cabinet listening to a symphony orchestra, with a vase of roses adorning the cabinet.
In our day "putting on a worship service" has in some places become standard procedure in religious education with but little essential difference in conception and approach from putting on a pageant or a play. The confusion of the esthetic and dramatic with true Christian emotion has given impetus to these naturalistic concepts and endeavors.
The love of simplicity in worship should be engendered in the minds and hearts of children and young people lest the Christian faith degenerate into a merely fanciful tradition and the Christian life be regarded as no more serious and real than that acted out on the stage. Since true worship is conditioned on supernatural relationship between God and the worshiper it follows that worship in Christian education is related to evangelism.
Norman Richardson wisely stated that Christianity is a subject to be taught and a faith to be realized. This means that transmissive teaching is fundamental in Christianity. Of course, evangelistic teaching involves much more than mere recital of doctrine; it involves communication of faith, and love, and concern. It is only with such concern on the part of the teacher that the Gospel message can be effectually transmitted.
Character education is important but it is not enough. The truths of the Gospel must be brought to the pupil in such a way as will make him desire to be a Christian. The Christian approach to the pupil is bipolar. That is, it centers both in the Bible and the person being taught. In Christian education there cannot be one without the other. Christ indoctrinated His disciple. He taught them concerning Himself, God, the Holy Spirit, man, salvation, Satan, demons, angels, the church, and the kingdom of God. He taught the necessity of repentance and faith as basic to discipleship, and nurtured in the faith those who took the way with him.
The Christian Teacher-evangelist seeks to inculcate and encourage faith. To do this he must himself be a believer, bringing and interpreting the Scripture to his pupils while exemplifying it in his daily life.
The true Christian teacher possesses an unselfish interest in people and is deeply concerned for their spiritual welfare. He seeks to make it possible for them to come to Christ by telling them of man's need of a Saviour and of God's gift of His Son. He teaches that man is a sinner by nature and can be redeemed only by the love of God in Chri8st. He will teach his pupils concerning the coming of the Holy Spirit and how the Holy Spirit indwells Christians, enlightening and empowering them. His teaching will include the Christian ethic. This the early church taught as the Ways, the Way of Life and the Way of Death, setting forth in detail the moral law and its New Testament restatement as the guide to conscience.
He will impress on the pupils the fact that it is the God of the Old Testament who gave us John 3:16. This sublime expression of God's love for man shows that the whole Bible constitutes God's authoritative written word.
Children of each generation have been taught these truths and have been able to grasp them and apply them. The intelligence of childhood should be likewise respected in our day.
Children should be taught by both example and precept how to pray. They should know the Lord's prayer, bedside prayers, prayers for family worship and for mealtime.
They should be encouraged to memorize passages of Scripture and great children's hymns and Gospel songs suitable to their understanding and experience. Opportunities for Christian service and for corporate worship as an age group must be provided.
The meaning of reverence and the place of aids to worship. These are a rightful part of training in evangelism and worship. Effective reading aloud of the Holy Scriptures, leading singing or worshiping the Lord in special singing, the selection of proper passages of Scripture for various occasions, all should be presented as related to true corporate worship.
Methods of reaching individuals in personal evangelism should be studied and the Christian teacher should keep evangelism and worship before the minds and hearts of those whom he teaches.
There are for the believer legitimate aids to worship. While it is true that worship involves more than merely physically induced moods, it is also true that man is a nervous mechanism and responsive to environment. The Paul and Silas incident does not mean that people must be dragged to dungeons to worship God; it means only that true worship is not conditioned or determined on a merely human level.
The beauties of nature, of are, of poetry and song may be elements in Christian experience so long as they are left in their rightful place as incidental to, or conducing to, a desire to commune with God and an opportunity to do so in a restful or inspiring setting. But it cannot be too strongly stressed that to mistake moods induced by aids to worship for the reality of the worship experience is to put the Christian in the same category as the Hindu, the Moslem, or the untutored savage.
It must be borne in mind that education is a basic function of the church along with worship, fellowship, and evangelism. While the entire program of the church is evangelistic, there is a proper time and place for everything. The didactic elements in education are necessary, and distinguish the church in its functioning as a school from its functions in other capacities.
Charles L. Wallis, ed., A treasury of story-sermons for children, "Helping Hands," by Harold and Alta Mason. New York: Harper and Brothers Publishers, 1957, pp. 91-93.
One of the two which heard John speak, and followed him was Andrew... He first findeth his own brother Simon . . . and he brought him to Jesus. John 1:40-42
Andrew was a fisherman who knew and loved Jesus. He was a good man who always was eager to meet and to know good men. When he learned that a prophet by the name of John the Baptist was preaching to great crowds of people, he followed after the strange new prophet. It was in that way t hat he came to know the Lord Jesus.
The first time Andrew ever saw Jesus was the day that John baptized Jesus in the Jordan River. After that Andrew introduced his brother Simon Peter to the Master. At another time some men from the land of the Greeks came to Andrew and asked that he might take them to Jesus. Andrew led them to the Master.
Andrew is mentioned in the Gospels for one thing, and that was that he led people to Jesus. Unlike other disciples, Andrew never healed a sick man and he never preached a great sermon. He just led people to Jesus.
One day a great crowd of many thousands of people had gathered to hear Jesus preach and teach. They listened for many hours to his wonderful words. But they grew hungry, for at last the sun was low in the west and they were in a country place.
Jesus asked Philip, one of the disciples who was near, "Where can we buy bread for this poor, weary crowd?" But Philip answered, "Why, Master, we have nothing for them." All of the disciples wondered how they might feed such a multitude. They were sorry for the fathers and mothers and especially for their small children. The little ones had looked and listened long to the man with the kindly eyes and loving smile. But now they were tired and hungry. Their cries rose above the hushed voices of mothers who tried in vain to quiet them. The disciples moved about restlessly, now rubbing their hands together, now shading their eyes, vainly hoping to catch sight of food vendors who might be somewhere at the edge of the great crowd. What should they do?
Almost unbelievingly, Andrew, who had sharper eyes than the rest, drew in his breath. He spotted a small boy who was carrying a lunch basket. Andrew hurried to the boy. Dodging this way and that way through the moving crowd, he at last reached the boy.
"Son," he said, "what have you there?'
The boy looked up quickly and answered, "Oh, my lunch. Mother insisted that I bring it along."
Overjoyed, the kindly big fisherman urged the boy along up the hill until they reached the Master.
"Here, Master, is food, five barley loaves and two small fish. It is not much, but it is something."
Looking down into the boy's upturned face, Jesus asked him if he would wish to share what he had with the other people. "Oh, yes, gladly," the boy responded. The boy was thrilled that he had been asked this by the man with the kind and gentle voice.
But the little boy did not lose his lunch. By giving so unselfishly of what he had, both he and the multitude had more to eat than they needed. Jesus asked his disciples to quiet the crowd by having them sit down on the thick grass which covered the hillside. Then he thanked God and blessed the boy's food. God caused it to multiply so that the disciples had enough food for all of the eager people. They ate until they were satisfied, and there was food left over.
Those people on the hillside that day were indeed thankful to Jesus, but they ought also to have thanked God for the fisherman named Andrew who had led the little boy to the Master. Andrew may not have done many spectacular things, but he did lead people to Jesus.
Harold Carlton Mason, The teaching task of the local church. Winona Lake, Indiana: Light and Life Press, 1960, 214 pages, including Index and bibliographies for each chapter.
Excerpted chapters are 1, 2, and 3, entered below with their titles:
1. What is Christian education?
Most professed Christians, it is hoped, believe in God as a Person, distinct in essence and being from His created universe. They believe that there is both a natural and a supernatural order. After God created the natural world with all its wonders and beauty He pronounced it good. But the creative fiat did not end with that observation. Taking up dust from the earth, out of it He shaped and molded the body of man, a thing in and of the natural order. Then He breathed into man a living soul. Thus man became a creature of two worlds, a natural world and a spiritual world.
There is a sense then, in which a person seems to live two lives, in spite of the unity of the self. These two elements in man, the natural and the spiritual, need to be put in harmony so that each complements the other.
There are many people who profess not to believe in the supernatural at all. And they build their philosophy of education around a naturalistic, atheistic principle in which man rather than God is the center of the universe. Against this secularistic philosophy of education may be posited the spiritual reality of man as shown by his heart hunger and great needs which cannot be satisfied only with things.
The organization of the universe down to man's own realm bespeaks two great worlds of reality-the natural world and the supernatural. In support of this view it is only necessary to look at the great institutions, the state and the church.
It is a basic principle in America that church and state be clearly distinguished as to nature and authority. The state has to do with morality on a prudential level as a matter of public safety and well-being. However, it is largely concerned with business and industry and with what may be called mundane interests such as eating, drinking, and recreation or relaxation. The state is for this life only.
There was a time when church and state commingled to the extent that to think of one meant to think of the other. Rules were crowned by bishops and whatever of formal education prevailed was under the auspices or surveillance of the church.
In these days of separation of church and state on the basis of secular and religious interests, public education carefully avoids matters of Christian doctrine such as divine revelation, and limits its curriculum and processes to a point where atheists do not strongly object to sending their children to public schools.
This doctrine of separation of church and state does not mark the origin of religious or Christian education, however, for the church has always taught, even in the dark ages when its educational program was limited to the monasteries. But the doctrine of separation of church and state denotes the sharp separation of religious and public education and points up the necessity of maintaining a significant and effectual program of education under the auspices of the church.
If the state is a human institution to make possible for gregarious human beings better corporate living on the temporal level, what is the church?
Rightly defined and understood the New Testament church in the world is a mystical though physically embodied organism. Because of this mystical embodiment the Apostle Paul terms the church "the body of Christ." By this is meant that the Holy Spirit dwelling in the hearts of believers continues in humanity the teaching ministry of Christ, which is carried on among men in His incarnation. Jesus said in a Paschal discourse that upon His leave-taking of this world to return to His Father he would send another Person of the God-head who would be with those who believe and indwell them with His holy presence, guiding them into all truth.
Just as Jesus had come to reveal God as Father, so this Presence, this Teacher, would come into the hearts of men to reveal by the Written Word and the witnessing and teaching of the saints, Jesus Christ as the Savior and hope of the world.
The Written Word is the Bible. The Holy Spirit is its author. The testimony of godly men and women through the generations confirms the reality of the revelation. The Holy Spirit as the Great Teacher of our times dwells in believers who constitute the church in the world. Their eyes to see and pity; their lips and tongues to bear witness to the truth under the impetus and guidance of the Holy Spirit; their hands to bear one another's burdens and their feet to carry them to the ends of the earth in the spread of the Gospel; these constitute for Jesus Christ the continuance in human flesh of His teaching ministry. He honors the church by terming it His body.
The salvation of men depends upon their knowledge of the written Word with its presentation of God as the Loving Father. This knowledge comes to men through proclaiming or preaching and instruction or teaching. Witnessing by word and example is vital to the propagation of this Word.
Teaching is not the total mission of the church. The church is a community and one of the church's functions is fellowship. Another function is worship and another is evangelism.
Basic to evangelism is the presentation of the Christian Gospel and the Christian ethic. The Christian ethic points out to men their sins in the light of the Decalogue and the teachings of Christ. As men come to see their condition and sense their need, they turn to Christ. In order for this to take place there must be the teaching of the Gospel.
Education in this day means formal schooling with organization and administration and a specialized teaching function. There must be the teacher, the leader or guide, the individual pupil, the group, the educational setting or environment with facilities for learning and study along with the many other elements of school maintenance. It means consideration of aims and objectives, programs, personnel, housing and finance.
Christian education represents a ladder of learning. Beginning with the home it reaches the local church, the denominational college, the theological seminary, and other types of vocational schools. Our present study is limited to Christian education in the local church.
The educational program of the local church is a costly one in time and money for it is universal in its purpose, teaching around the world and including in its classes all ages from the cradle to the grave. Public education has its ladder but beyond the public school level of twelve grades, or at most fourteen, it leaves the great body of adults without the opportunity of free schools. Also, in most communities, public education does not essay to reach below the sixth year. The church, however, knows no age limits.
So great and challenging is the task of Christian education in the local church that is requires the services of both professionally trained educators and a countless army of volunteer workers. Both ministers and laymen work side by side in the stupendous undertaking.
The scope of the aim of Christian education includes not only this present life but all eternity. Christian education is preparing people to live the life that now is to the glory of God and the blessing of the world, and for a triumphant life beyond the grave. Its workers form for the local church a corps of evangelistically and educationally concerned lay men and women.
The example of Jesus as educator and teacher dates back to a different age and culture from ours with ancient customs and folkways. It is not always easy to determine what He would do now in a given educational situation, but certain great Christian principles which governed in His teaching then are available to us now in the Bible.
Reference to the educational work of the local church as "the church school" does not mean that the church is merely a school, or that its divinely appointed ends can be realized merely through teaching. The term "church school" does distinguish the teaching function of the church, even as the term "public school" distinguishes the teaching function of the state. It is merely a convenient and clear way to differentiate the formal educational programs of the church and state.
It is unfortunate that the terminology has come to us in part at least from a climate in which everything to be done for a person is to be entirely the product of education in religion. Education can save no one. It is only one of the functions of the church, but as such includes the church's many teaching activities. (pp, 9-13)
2. Why Christian education?
A young lady in a theological seminary had undertaken as a project in Christian education the study of the educational program of a large city church. After some weeks she came to her professor in despair of the accomplishment of the project saying that although the pastor's preaching was evangelical, she came upon all sorts of conflicting theological views and educational practices in the classroom. There was in the educational work of this church no clear educational pattern, no discoverable controlling aim or purpose. What should have been a consistent educational program in accord with the theology and philosophy of the pulpit was a welter of confusion.
In the preparation of public school teachers much emphasis is put upon objectives. "Why am I doing this? How may I know that this activity is important?" are basic questions.
Of course a teacher in the field of Christian education should sense more deeply what he is trying to do.
In public education the answers to these questions are called "objectives." In Christian education the term "aims" is commonly used for such answers.
When one looks upon an intricate piece of machinery for the first time there arises in his mind the question, "What is it for?" The same question is raised with respect to the organization and administration of Christian education. Common sense demands answers to questions concerning purpose.
The mind is not satisfied that the thought and effort required to produce and maintain an educational organization or activity are being forwarded without practical reasons for their existence.
So in spite of our eagerness to find out how to do something, intelligence makes it necessary first to give consideration to what we are doing and wish to do in terms of outcomes.
It is rather surprising to an evangelical that so many aims have been projected as the basic reason for religion and religious education as, making people Christians by merely teaching them; or remaking the social order on some sort of socialistic basis far removed from the regeneration of individual souls.
Being committed to the Christian religion in its true evangelical sense our compelling and controlling aim in Christian work is more than a materialistic or socialistic one. The evangelical aim is to provide learning experiences which will lead to a Christian experience of Christ as Savior and Lord, to promote the growth of Christian character, effective Christian living, Christian culture and effectiveness in Christian service.
By way of realizing the extent of the matter of aims or objectives in education, let us look again at public education. So compelling has been the question of aims in formal education that the greatest of the philosophers have devoted some of their best thought to the problem. If years are to be taken out of the life of a child or an adult in a program of formal education, the reason for such curtailment of liberty and investment of life must be significant, indeed. Among the reasons proposed have been, "Knowledge for its own sake"; "the making of a gentleman"; "citizenship"; "vocational competence (the bread and the butter aim)"; "education for character"; "social efficiency (sophistication)."
Ultimate aims are not achieved at a single stroke, so the major or controlling objective is broken down into immediate objectives for units and lessons. This applies to both religious and public education.
What are the aims of Christian education? First, what is the ultimate aim? Our Lord came teaching. Again and again He was addressed as teacher; He referred to himself as teacher; His followers were called disciples or pupils; His words are referred to as His teachings. He said that the Comforter would come who would teach them all things and bring to their remembrance all that He had said unto them.
The Comforter, the Holy Spirit, came and took up His residence in the hearts of men, employing their eyes and lips and feet and hands in teaching the world about Jesus Christ, the Saviour. He moved them and enabled them to recall the words of Jesus in the New Testament under His authorship. Thus the teaching ministry of Christ in the flesh in the world was carried on in the flesh by the Holy Spirit so that the church, in the sense of the indwelling Christ, is designated the body of Christ. Christian workers in education in the local church, then, are enabling the Holy Spirit to carry on the teaching ministry of Christ among men. Since the church is continuing the teaching ministry of Christ, the answer to the question of what is the purpose of what is the purpose of Christian education may be found in the purposes of Jesus as teacher.
In his work on The Teaching of Christ, G. Campbell Morgan gives as the reason for Jesus teaching, the restoration of the Kingdom of God. Kingdom implies a king or ruler, a constitution, or rule, subjects and a realm.
Jesus taught that God is a loving heavenly Father. He is the King of Love come to subdue insubordination and anarchy by the conquest of love manifest on the cross in the death of His beloved Son. The King's subjects are His children, born from above, princes and princesses in the Kingdom, joint heirs with His Son Jesus Christ. In order to realize this conquest, sinful men must be reborn into godly men by a miracle of saving grace.
This great mystery of the love and grace of God our Father, the Father of our Lord and Savior Jesus Christ, is revealed in the conversation of Jesus and Nicodemus on the house-top in which John 3:16 rang out over the roofs of the world. The Master knew that the great fact of God as Father must be announced and taught so that men would be influenced to act upon the fact. Thus He demonstrated teaching as an element in evangelism.
To become subjects of the King and crown Him in their lives men must know about His holiness and righteousness. They must have knowledge concerning the constitution of the Kingdom, the rules which govern it. Men must be brought to see how in their depraved state they come so far short of the goodness of God. This means both proclamation and teaching. Line upon line and precept upon precept the Christian ethic must be taught that men may intelligently turn from their sins and become citizens of the Kingdom of God. A decent world is dependent upon the teaching of the moral law. The Holy Spirit saves men from their sins and by His word and the godly influence of the body of believers restrains evil in the world. Once men see their sinfulness and realize their need of righteousness, they become concerned about the remedy for sin.
Hence the plan of divine restoration, as it centers in and emanates from the heart of God, must become a matter of universal intelligence. Mankind is every age and everywhere must know of the divine plan of redemption. This is a compelling aim.
Then there is the question of eternal destiny for man and the world as it relates to the character of God and the nature of man. Man's need and desire to know about eternity necessitates the teaching ministry of the church, also.
An authority in Christian education has said that the ultimate aim of Christian education is to make "the person, as a living and growing human being a Christ governed person." To this end, the teacher seeks to lead his pupil to a "realization of God through Christian experience," and secondly, "to foster the relationship of fellowship with Him;" the third aim being to "cultivate an attitude of interest and sympathy for other persons," and "taking his rightful share of responsibility for the welfare of every group to whom he belongs."
In the light of the definition of the church as the body of Christ, a divine-human institution in the world for carrying on His ministry, Christian education is the activity in which the Bible is taught as the written revelation of God through Jesus Christ His Son, obedience to the Holy Spirit is encouraged, the ethical standards of the Kingdom of God are made known and emphasized, and personalities are enriched and nurtured in accordance with the mind of Christ.
Aim governs the entire educational endeavor. Of course, there are some things common to all types of education, such as teachers, textbooks, housing and equipment. But even these common elements take on characteristics peculiar to the aim which governs the activity.
Public school aims have to do with prudential aims in temporal matters. Christian education deals with eternal values and outcomes. There is much in Christian education which pertains to this present probationary life. The Decalogue is not a document remote to every day living and the bread and butter facts of life, neither does it stop at that level. It is weighted with eternal significance and eternal values.
The aims of Jesus included Christian intelligence, Christian ethics and general moral intelligence and the complete restoration of the reign of God among men. Broadly speaking, the field of religious and moral intelligence and eternal outcomes were His curriculum. The Hebrew Scriptures and His revelation of truth were the materials of His curriculum.
Now we turn to the question, "What is the bearing of the aims of Jesus Christ the Teacher upon Christian education in our own day? How is Christian education different from public education due to the control of aims? (pp. 15-19)
3. Implications of Aim
A cherished ideal for Christianity is that some glad day all of education may be permeated with Christian principles. Meanwhile Christian education in the local church is different from public education because its aim is different.
In Christian education in the local church the curriculum is Christ centered with the Revelation of Jesus Christ in the Old Testament and the New Testament Scriptures as basic curriculum material. While the time given to instruction in the local church on a formal education basis is sadly limited, the fact is somewhat ameliorated in that there is but one basic textbook for continuous study. This book is the Book of Books, and its content cannot be exhausted by centuries of teaching. It does not come to mankind as a graded book, but one which must be studied and rightly divided to meet universal needs. The revelation of God in nature comes as the environment in which the many and varied phenomena of nature are observed, analyzed and classified for educational purposes. This great enterprise of classifying nature into its many categories was undertaken by the great philosopher Aristotle in the days of Alexander the Great.
Before Aristotle's time great minds were giving themselves to the study of the Scriptures. The Bible as divine revelation with its wisdom and mystery will never cease to challenge mankind in its pursuit of knowledge and truth. It is, in fact, the Book of final truth.
The Bible is a supernatural book in a naturalistic setting. It is a book which tells of origins, of geography, of history, of ethics and of divine-human relationships. But it is not of human origin. It is a revelation to men of God in Christ through the Holy Spirit. Christian education moves in two worlds while so-called secular education moves almost entirely in one world, the temporal world.
Since the aim of Christian education is to carry on in the flesh the teaching ministry of Jesus Christ concerning the Kingdom of God the curriculum is Bible based and authoritative.
The aim of Christian education governs personnel. The Christian teacher in the local church is the mouth piece of the Holy Spirit. The Christian teacher stands in the place of Christ, as does the preacher of the Word. It is basically necessary that a Christian teacher be a genuinely converted person, for without the miracle of regeneration, no human being can be a fit instrument of the Holy Spirit in the teaching ministry of Jesus Christ. The Christian teacher's life must bear the fruits of righteousness; he must be like Jesus. This is impossible apart from the New Birth.
This important fact governs the appointment of teachers in Christian education. Brilliance and natural gifts, although highly desirable, are secondary in these appointments. When Christian education is right the curriculum and the workers alike are the product of the Holy Spirit.
The teachers in the local church are mostly volunteers who have been constrained by the love of Christ to undertake their responsibilities. No thought of remuneration or recognition determines or influences their devotion. They are not men pleasers, for their reward is of God. True, their pupils will be grateful and there will be deep and abiding satisfaction in having tried to help someone. But their motivation is not secular. Free from social, economic or professional pressures, they seek only to please Him whom they serve. Their basic motives are different from those required of workers in secular education.
There is also a difference in Christian education as regards the attendance of pupils in the church school. Although the children of Christian homes attend with their parents, yet there is no universal compulsory law. Attendance is voluntary. Enrollment and attendance depend in no small part upon the recruitment efforts and the personal appeal and winsomeness of the teachers themselves. This means much prayer with deep concern for people. The maintenance of enrollment and attendance in the public school is not primarily the concern of the proficient teacher but the Christian teacher is bound to be concerned in these basic matters.
The atmosphere of the church school must be Christian. Music, hymns, prayers, exhortations, scripture readings are included in classroom procedures. There must be reverence and unquestionable sincerity, for the teacher must validate what he teaches. He must bear witness to the truth.
Since the work of Christian education on the local church level is largely carried on by non-professional or lay workers and the success of their work depends upon person to person relationships, it has been the general policy among evangelicals to limit the size of groups for instruction particularly in the children's division. There are several reasons for this among them being, first, the matter of classroom management. Much of the time spent in the preparation of public school elementary teachers has to do with managing large groups of children. This has been referred to as "discipline" in the schools. It is not unusual for elementary public school teachers to have groups of thirty or more children in their care, for five hours a day and five days of the week. Also, this public school teacher must be prepared to teach a gamut of eight or more subjects, such as writing, spelling, reading, health, citizenship, arithmetic, social science and art, while managing the classroom. There is also playground supervision. The church school teacher, on the other hand, teaches one subject for about one hour a week. With small groups and their intimate personal relationships, and the Christian love engendered for each member of the group by prayer and Christian concern, the problem of classroom management for the volunteer Christian teacher is minimized. This reduces the disparity in training of the Sunday school teacher and the public school teacher.
Because of the volunteer nature of Christian education as to enrollment, attendance and lesson preparation, it is difficult to impose standards of achievement on pupils.
Also since the values in teaching concern personality and spirituality rather than skills and aptitudes, it is more difficult to make objective evaluation of progress by which to determine promotion in Christian education. Grouping on age levels rather than grade achievement levels is largely followed by the church school. Something may be said for both types of grouping, however. It is true that in public education retarded children tend to leave school upon reaching adolescence, because two years to a grade means that when junior high school age is reached, the retarded child is still in the fifth grade, say, while in stature and physical development he is an adolescent. Physically he is no longer a fifth grade child. He drops out of public school as soon as he can. Will he also drop out of Sunday school? If not, where will he be placed in the Sunday school? It is quite a simple matter to carry him along with his age group without undue exposure of his limitations which has made public school such a nightmare for him.
Some school systems advance the pupil each year, regardless of achievement. In such case the method of grouping is the same as that of most Sunday schools. The traditional departmental plan of organization of the Sunday school is quite different from that of the public school, especially on the elementary school level. The children's department is subdivided into smaller groups for teaching, the socializing advantages of a larger group having been provided for by departmental assemblies and activities.
In the usual departmental system of the Sunday school classrooms for smaller children are the alcoves or cloisters which frame the large departmental rooms. Because of the large number of volunteer teachers without professional training and the intimate personal and spiritual nature of their work the possibility of small groups for teaching is a most fortunate thing for the church.
The public school plan of separate classrooms for the grades is necessary, but the expense is very great, as each classroom costs thousands of dollars. These classrooms, however, are put to use most of the day in the public schools, while similar rooms in Christian education buildings are used only an hour or so each week, tying up many thousands of dollars in unused facilities. This is a disutility which the church cannot lightly face. Thus in Christian and public education, aim affects even plant construction and maintenance.
The Christian aim also affects methods of teaching. It has to do with the perpetuation and application of the Gospel. The aim of Christian education involves transmissive teaching so much frowned upon by those whose views of democracy extend to freeing the child of any doctrinaire or imposed values as absolute. The principle of authority is involved here, and the relativity of truth. Jesus said, "I am the Way, the Truth and the Life." This is an authoritative statement to be taught to children as final truth. There is more to Christian education that self-expression and activity from the evangelical point of view. In Christian education there is a body of knowledge to be transmitted, an ancient Book to be perpetuated.
The anthropology, psychology and sociology of the Christian faith distinguish and control the educational endeavor.
Living sober, righteous and godly lives presupposes knowledge of eternal principles upon which such living must be based and from which it springs.
Christianity, humanism and contemporary doctrines of democracy and totalitarianism come to grips in the arena of aims in Christian education. The church must educate in keeping with its own true character and mission while public education represents the culture. At every point where Christianity and the culture are at variance the teaching ministry of the church is necessary.
The teacher in Christian education teaches with heart as well as mind as he seeks to establish ideals, fix convictions and motivate Christian decisions.
An outstanding Christian educator has said that the aims of Jesus in teaching were: the formation of right ideals; the fixing of strong convictions; converting persons to God' developing right relations with others; meeting life's problems; growing mature character and training for service. Certainly the uniqueness of the work of the Christian educator is revealed in this list of purposes.
The Christian teacher seeks to induce repentance and faith; he appeals to the emotions, the will and the conscience; he endeavors to develop a Christian social consciousness; he provides an atmosphere of reverence and worship; he stresses practical theology and Christian ethics.
The difference between an educator and a pedagogue is largely in the realm of knowledge of theory as well as techniques. Once the Christian teacher has come to see in its larger outlines the significance of his work, once aims have been expressed in curriculum, his burden is the implementation or realization of them in the lives of people.
This burden drives him to a consideration of the best ways of accomplishing the desired ends. He is interested in methods and techniques, not for their own sake, but as means to a great end. He becomes concerned with the problem of communication and what may have been just the "machinery" of the church school becomes organization for the translation of purpose into beliefs and actions which are Christian.
What are the beliefs and actions of a Christian? How is this to be determined? By what authority? In the answer to such questions as these lie the meaning of theory, of the theology and philosophy of Christian education. It is these meanings which save Christian education from mere purposeless, routine activity.
A pump may be busily employed in producing a stream of water but if there be no purpose in the pumping of the water, if it merely soaks into the ground, the activity is futile, a waste of time and money though bearing the appearance of meaningful activity. But if the pump irrigates a garden or a vineyard, makes possible the operation of a laundry or supplies the needs of a household the activity has meaning and worth. Thus it is in Christian education. Merely to assemble children, young people and adults for a more or less enthusiastic series of activities can be indeed a wasted hour.
The Christian teacher has need not only to give a reason for the faith that is within him but to be able to explain why he does or does not do certain things merely because someone else has done them or left them undone.
It is indeed a privilege to be born of God, indwelt of the Holy Spirit and sharing in the continuing ministry of Jesus Christ in the world. To reach the mind of a child with the wondrous Gospel; to give understanding to youth in matters of personal purity and life investment and to counsel and encourage adults is the task and the reward of the worker in the church school. (pp. 21-27)
---
Recommended Readings
Books
Bays, Alice A.(1942). Worship programs https://wcms.biola.edu/page_ed...for intermediates, Nashville, TN: Cokesbury Press
Bays, Alice A.(1938). Worship programs and stories for young people, Nashville, TN: Cokesbury Press,
Blackwood, Andrew. (1939). The fine art of public worship, Nashville, TN: Abingdon-Cokesbury Press,
Breck, Flora E., Worship services and programs for beginners, W. A. Wilde, Boston, Mass.
Charles L. Wallis, ed., A treasury of story-sermons for children, "Helping Hands," by Harold and Alta Mason. New York: Harper and Brothers Publishers, 1957, pp. 91-93.
Richardson, Norman E. (1945). The teaching evangelist, Chicago, IL: McCormack Theological Seminary Extension Service
Hardman, Oscar, (1937). A history of Christian worship. Nashville, TN: Cokesbury Press.
Hunt, Lionel. (1951). Mass child evangelism, Moody Press, (pp. 55-60)
Mason, H. C. (1955). Abiding values in Christian education. New York: Fleming H. Revell Company.(See excerpts above.)
Mason, H. C. (1960). The teaching task of the local church. Winona Lake: Light and Life Press.(See excerpts above.)
---
Author Information
Donald M. Joy
Donald Joy is Emeritus Professor of Christian education, Asbury Theological Seminary, in Wilmore, Kentucky.