Freda Gardner
By Bruce Kreutzer & Carol Wehrheim
Protestant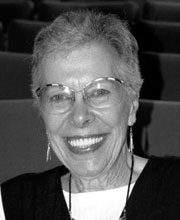 FREDA A. GARDNER (b. 1929-) A lay woman and Certified Church Educator in the Presbyterian Church (USA), Freda is known both for her service to the ministry of Christian education and for her service to the larger church in the world. After a brief time in public education, she found her life's work in Christian education, in the parish and in the seminary. Her deep concern for educators and the place of educational ministry in the center of parish life as well as her commitment to the church in the world continues in her retirement as she travels across the country to preach, teach, and lead workshops in congregations and various church-wide conferences.
Biography
Freda was born on April 7, 1929 and grew up in the Albany, New York area. She was baptized as an infant in a Presbyterian church after her father, a Baptist, yielded his views on the subject. When Freda was five years old, her family moved to Wyanantskill, New York, where her father was principal of an elementary school for 33 years. Freda's mother was a registered nurse who worked the night shift. In Wyanantskill, Freda and her siblings attended a Dutch Reformed Sunday School, the only choice available. When Freda was in junior high, her family began to attend a new Presbyterian church. Freda, along with her younger sister and brother, attended Sunday school, fellowship, and church camp. She later served as the moderator of the youth fellowship there. As a teenager, her hobbies included ice-skating, skiing, a variety of spectator sports, reading, and writing poetry. This early interest in poetry is evident still in Freda's writing, from personal letters to sermons, where her choice of words and phrases is a joy to read or hear.
At one time Freda wanted to be a nurse, until she worked as a nurse's aide on Saturdays and vacations. Then she said, "If it hadn't been for my aversion to hypodermic needles, I'd probably be a nurse today." After high school, Freda worked for a year as a clerk in the insurance department of the New York State Unemployment Office. She worked as a counselor (the only gentile) at the Jewish Community Center Day Camp during her college summers.
But careers in education were a part of her heritage, for her grandmother, Adelaide Wood Gardner, entered the teaching profession at age sixteen. Grandmother Gardner told Freda and her siblings stories of teaching and life as one of the first female principals in Michigan. Freda was graduated from the State University of New York Teacher's College at Plattsburgh with a Bachelor of Science in Elementary Education in 1951.
With degree and teaching certificate in hand, she bravely entered the world of public education. She taught sixth grade for four years (1951-1955) in Red Hook and Troy, New York. While in Troy, she also served as the advisor to the junior high fellowship. This work pointed out the limits she felt in the public school setting where she could not discuss her faith. Her minister at the time suggested that she consider going to seminary. "I realized," she said, "there was more to the Christian faith than I knew. I think I went to seminary more to find the missing ingredient than with a firm vocational commitment." This statement points out a major motif in Freda's life: the journey of faith as a search for understanding throughout one's life.
In 1957 she was graduated from the Presbyterian School of Christian Education (now UNION/PSCE) with a master of religious education degree. She was the first director of Christian education at the Crescent Avenue Presbyterian Church, Plainfield, New Jersey (1957 to 1961). She wrote: "Shortly after my arrival I received a notice of a meeting of New Jersey Christian educators and an invitation to join them… I was overcome with a beginner's sense of inadequacy and very sure that my association with these experienced, open, and articulate educators would be significant continuing education." The camaraderie she found in that group instilled in her the importance of joining with other educators for support and friendship throughout her life. One need only walk down the hallway of a national church meeting with her to discover the breath of her connections. Friends and acquaintances stop her every other step, and greet her as long-time best friends. Her dry sense of humor and her ability to laugh at herself make you want to be around her.
In 1961, Freda joined the faculty of Princeton Theological Seminary, the only woman faculty member at the time. She did graduate work at Columbia University, Syracuse University, and Union Seminary (New York). She served as the director of Princeton's School of Christian Education. Through those years she was a mentor and friend to many, but especially to women faculty and students. Notable among her students are Carol Lakey Hess, professor of Christian education at Claremont School of Theology and Gordon Mikoski, who teaches at Princeton Theological Seminary, although there are many others. Freda retired in 1992 as the Thomas W. Synnott Professor of Christian Education Emerita and now resides in Renssalear, NY.
Freda was a commissioned church worker and is now a Certified Christian Educator in the Presbyterian Church (USA). Freda was ordained a ruling elder at Nassau Presbyterian Church, Princeton, New Jersey, where she has served on the Session numerous times. She was awarded a doctor of divinity degree by Bloomfield College in 1979. In 1981 Freda was named Educator of the Year by the Association of Presbyterian Christian Educators. In 1994 she was given the Women of Faith Award by the Presbyterian Church (USA).
In 1997 Freda was presented the Alumna of the Year Award by the Presbyterian School of Christian Education. She has also served at the presbytery, synod, and denomination levels, including the General Assembly Council. Freda was elected Moderator of the 211th General Assembly of the Presbyterian Church (USA), 1999-2000. Today her hobbies include reading, traveling, staying in touch with family and friends, eating, and exercising.
---
Contributions to Christian Education
The life of Freda Gardner cannot be measured by her articles and books alone, for they do not show her influence on generations of educators, pastors, and lay people. As a professor at Princeton Seminary for 30 years, her life and example has touched the lives of countless people. Many of her former students were from other countries so her teaching has reached around the world.
Freda helped to stretch the image of Christian education from the Sunday school to the whole life of the congregation. She has long advocated that Christian educators should raise important questions about what is taught and communicated both in the church and beyond. She early on realized that many people saw Christian education as a "second class profession," but believed it was worth the effort. Freda is quoted in the Princeton Alumni News (Winter 1980): "I tell M.A. students when they come into the program, 'If status is important to you, and I don't mean this in the pejorative sense, this is not the ministry you should get into. If you can find within yourself the strength to know what you are doing has integrity, has biblical and theological credence, and if your sense of worth comes from something other than people's reactions to the Sunday school-then you should be all right." Her own life displays this. She is centered. She knows who she is as a woman, as a teacher, and as a Christian. She has showed tremendous strength, yet her manner is full of grace. At various points Freda faced the question of ordination to the ministry of word and sacrament, concluding that her call could best be fulfilled as a layperson, modeling that call particularly in a school where clergy were prepared. She made a similar decision about seeking a doctorate, again in a setting where higher degrees were valued, and while she took courses at the doctoral level did not choose to attain the degree.
Her name, Freda, means "peace" and it suits her well. She worked for peace and reconciliation in Princeton as well as globally as moderator of the Presbyterian Church (USA). Such work illustrates another avenue of Freda's teaching and life: a concern that life and faith intersect on a daily basis. This is not just the social conscience speaking, but a firm belief that the community, both Christian and non-Christian, is a place in and through which we are educated, and that as faithful people, we have a role to play in affairs of the world and community.
She cares for and about people of all ages, and her age level courses, whether about children or the aging, were filled with stories about people. But they were more than cute anecdotes; they had a point beyond the story. One of her favorites is quoted often by her students and appears in her speech upon the opening the redecorated Tennent Hall. The story begins with a little girl in bed asleep when her parents hear a thud. Hurrying to the bedroom, they find the child on the floor. Asking her what happened, she answers, "I guess I fell asleep too close to where I got in." A cute story, yes, but then comes the real punch line: "Some Christian people do that too-fall asleep soon after they reach older childhood or adolescence and try to live their whole lives on what they might have learned as a child in Sunday school" (Gardner, Tennent as center, 1983, 9). Since retirement, Freda has focused on ministries with older people, and is widely sought as a speaker and workshop leader on this topic.
Freda also served the church by advocating for the legitimacy and support of Christian educators. She wrote: "The church has studied the theology and practice of ordination, and a good foundation has been laid for serious consideration of ordination for those called to and certified for educational ministry. Such people will be needed for shaping the church's life in accordance with God's will and the realities of living into and through the next century with all of its conflicts and challenges" (Gardner 1998, 97).
Louise Goss in a Nassau Presbyterian Church newsletter (May 1971) relates how Freda bore a striking resemblance to the comedian, Carol Burnett, and that Freda's comic flare was also quite remarkable. "But the beauty of Freda's comic style is that it relieves tension and highlights a depth and intensity of purpose that are positively awesome… Freda's committee meetings may open with a hilarious story or with prayer, and everybody seems equally comfortable either way." She deliberately chose to serve and stay active in the local church and not to become cloistered in the ivory tower of academia. Even in retirement, on any given Sunday morning you are likely to find her teaching an adult class somewhere in the United States.
Freda has served in a variety of settings in the church. Her involvement in the Nassau Presbyterian Church in Princeton, New Jersey include clerk of session, moderator of the adult education committee and the reconciliation committee with the Witherspoon Street Presbyterian Church (a predominately Black congregation), and serving on the pastoral nominating committee. She has also served in an array of ways in the Presbytery of New Brunswick. These include the committee on ministry, the committee on candidates, nurturing ministry committee, task force on piety, task force on women, and as a board member for the Northeast Career Counseling Center. On the Synod level, she served on the personnel committee and the committee on camps, conferences, and retreats. On the national level, she served on the General Assembly Council from 1993 to 1998 and as moderator of the Presbyterian Church (USA) for the 1999-2000 year.
Freda moved to Renssaeler to be near her sister, but she has certainly not left behind her commitment to the church and education. In 2003 she gave a workshop on the topic "Right? Consistent? Faithful? What is a Person to Be?" at the Churchwide Gathering of Presbyterian Women. In 2006 she and two colleagues from Nassau Church, Princeton led a workshop on being a church educator today for educators with at least 15 years of experience. Among the three leaders were 110 years of experience in church education. In the summer of 2006, she joined other past moderators at a conference in Montreat Conference Center to ponder with other church leaders the future of the Presbyterian Church (USA). And one can always turn to Freda to recommend a good book to read at the beach or one to make you ponder the life of faith from a new perspective found in a recent novel.
In her statement to the General Assembly (1999), she shared her concern for the future of the church, a focus prominent throughout her entire career. She wrote: "I also know some of what the church must do if the good news of Jesus Christ is to be known by those with no church background, those who are trying to get by with what they learned as children, those who absent themselves because they haven't a clue about the Bible, how to talk about faith or speak the questions of their lives. I want to help the church shape education for those who need to know what is possible for them as God's beloved children, whatever their generation." Freda has been a powerful advocate for children, youth, adults, and families in the church. Much of her writing and speaking reflects this. Her service to the church has been a model to all of what she believes, teaches, and says.
Ernest Kimmel, the stated clerk of the Presbytery of New Brunswick in his 1999 letter endorsing her as a candidate as moderator of the General Assembly, wrote: "Freda Gardner enjoys respect from all who know her or have worked with her. As a scholar, she is knowledgeable and insightful. As a teacher, she is nurturing and supportive. As a church leader, she is organized and fair-minded. As a friend, she both listens and asks tough questions. As a Christian, she is the humble servant of her God and God's people."
Throughout her career and into her retirement, Freda Gardner broke new ground. As the first full-time woman faculty member at Princeton Theological Seminary, as a non-ordained educator in a school for training clergy, and as a teacher who chose to incorporate methodology that did not lead to volumes for publication, she has changed the teaching in the seminary, in the church, and surely elsewhere by her direct engagement with students and participants in the thousands of workshops she has led over the years.
Perhaps Carol Lakey Hess says it best:
Students who have taken her classes, educators who have been to her workshops, and colleagues who have taught with her are recognizable. By her witness to faith's journey, her deep respect for the learner, and her interactive style, Freda has served as midwife to the birthing of many a teacher (Faith of Our Foremothers: Women Changing Religious Education, "Master Teacher Whose Faith Helps Us Understand," p. 163).
And the church is all the better for the faithful witness of Freda Gardner, educator and active lay woman.
---
Bibliography
Books
Gardner, F.A. (1993). Active parenting in the faith community. (Rev. ed.). Marietta, GA: Active Parenting.
Gardner, F. A. &Anderson, H. (1997). Living alone. Louisville: Westminster John Knox Press.
Gardner, F. A. (2003). The face is familiar: Remembering unnamed women in Scripture, leader 's guide. Louisville, KY: Presbyterian Women.
Chapters in Books
Gardner, F. A. (1982). Questions the church needs to answer about youth. In D. C. Wyckoff & D. Richter (Eds.), Religious education ministry with youth (pp. 54-74). Birmingham, AL: Religious Education Press.
Gardner, F. A. (1984). Faith values in youth ministry. In Developing leaders for youth ministry (pp. 37-41). Valley Forge, PA: Judson Press.
Gardner, F.A. (1985). Issues of leadership. In J. Purdy (Ed.), Always being reformed: The future of church education. Geneva Press.
Gardner, F.A. (1987). Faith development and the school-age child. In A. Lester (Ed.), When children suffer. Westminster Press.
Gardner, F.A. (1990). Bible class, learning center, and vacation bible school. In K. B. Cully (Ed.), Encyclopedia of Religious Education. Harper and Row.
Journal Articles
Gardner, F. A. (1975). Christian charm, a commentary in Critics Corner. Theology Today, 32, 297.
Gardner, F. A. (1977). A case for the use of case studies. Living Light: An Interdisciplinary Review of Christian Education, 14, 1.
Gardner, F. A., & Kerr, H. T. (1978). Pretty baby: A film critique. Theology Today, 35 (3), 329-334.
Gardner, F. A. (1980). Diving deep and surfacing: Women writers on spiritual quest. Princeton Seminary Bulletin, 3 (1), 105-106.
Gardner, F.A. (1983). It's you I'm calling. Princeton Seminary Bulletin, 4 (2), 113-115.
Gardner, F.A. (1983). Tennent as center. Princeton Seminary Bulletin, 4 (3), 183-186.
Gardner, F.A. (1983, Spring). Teaching. Journal of Presbyterian History, 61, 179-182.
Gardner, F.A. (1985, April). Marriage, parenting, and the church. Theology Today, 42, 72-77.
Gardner, F.A. (1986). Teaching: A response to "faith in search of understanding". Princeton Seminary Bulletin, 7 (2), 130-144.
Gardner, F. A. (1987). [Review of the book The Mustard Seed Process]. Religious Education, 82 (1), 158-159.
Gardner, F. A. (1988). Partners with parents. The APCE Advocate, 13 (2)
Gardner, F. A. (1988). No part of me (sermon). Fellowship in Prayer, 38 (2).
Gardner, F.A. (1991). Preaching and the missing parent. Journal for Preachers, 15 (1), 16-19.
Gardner, F.A. (1998, Jan-Feb). The current situation in Christian education. Church and Society, 88, 74-79.
Gardner, F.A. (1999). Celebrating two millennia of Christian witness. Church and Society, 90 (1), 91-94.
Gardner, F. A. (2003). Taking the long view: an interview with Freda Gardner. Conducted by Carol Cook. http://www.perspectivesjournal...
Reviews
Campbell, C. (1998). Living alone. (a book review). Princeton Seminary Bulletin, 19, 65-66.
Wilkinson, H. ( 1997, May). Living alone. (a book review). Presbyterian Outlook, 11-12.
Works About Gardner
Hess, C. L. (1997). Freda A. Gardner, master teacher whose faith helps us understand. In B. A. Keely (Ed.), Faith of our foremothers: Women changing religious education (pp. 148-165). Louisville, KY: Westminster John Knox.
---
Excerpts from Publications
(1977) A case for the use of case studies. Living Light: An Interdisciplinary Review of Christian Education 14, 1.
We know that learning involves trust, risk, vulnerability, as well as a shift in perspective and a capacity and willingness to live with ambiguities and to tolerate more than one answer. These conditions for learning must be matched by a need to learn: recognition of one's own relationship to the subject or concern or experience which constitutes the stuff of the educational event. (page 56)
(1985) Issues of Leadership. In J. C. Purdy (Ed.), Always Being Reformed: The Future of Church Education (pp. 68-78). Louisville, KY: Geneva Press. (page 70)
If it is agreed that Christian education is an aspect of the church or a dimension of the mission of the church, then all that the church is and does to live its life in response to God is the context and primary shaper of the educational ministry. Just as the church lives by discerning what God is about in its midst, so the educational leadership seeks to participate in that process of discernment. Indeed, it is the fundamental task of education to discover appropriate means for such discernment and to help others to develop the sensitivities and skills to engage in it. That is an ongoing task. It is not something to be done once or every five years or every time a new pastor is called or every time a new denomination is formed. These may be especially appropriate times for many reasons, but they are times among many times. The task of discerning what God is about in order to participate with God's activity for the world God created and is redeeming is at least half of what the life of discipleship is all about.
(1987) Faith development and the school-age child. In A. Lester (Ed.), When children suffer (pp. 32-42), Louisville, KY: Westminster Press. (page 40)
The child's experiences of God in word and stories, both in the home and in rituals of the faith community, will become part of the mix of messages to which the culture will add. Older children will draw from this mix the meaning that makes sense to both their limitations and their capacities. A strong force will be exerted, however, from those communities in which the child wants most to participate, to be accepted and valued. The family and the church that welcome the child's efforts to know God and to be known as a child of God will make a strong case for the God who is significant to them. They will be a powerful model of what it is to live as that God's child.
---
Recommended Readings
Gardner, F.A. (1979). "It is no secret, but to know is not enough." , An address given for an opening convocation, Presbyterian School of Christian Education.
Gardner, F.A. (1985). Marriage, parenting and the church. , Theology Today, 42 (1), 72-77.
Gardner, F.A. (1998, Jan-Feb). The current situation in Christian education. , Church and Society, 88, 74-79.
---
Author Information
Bruce Kreutzer
Bruce A. Kreutzer, Ph.D. Director of Student Affairs and Assistant Professor of Christian Education, Luther Rice Seminary.
Carol Wehrheim
Dr. Carol Wehrheim (MARE, McCormick Theological Seminary) has served both in local church and higher education leadership roles. She currently does free-lance work as a consultant, author, and editor. She lives in Princeton, NJ and was involved at Princeton Theological Seminary in the years that Freda Gardner was teaching there.