Ethel Johnson
By Charles Foster
Protestant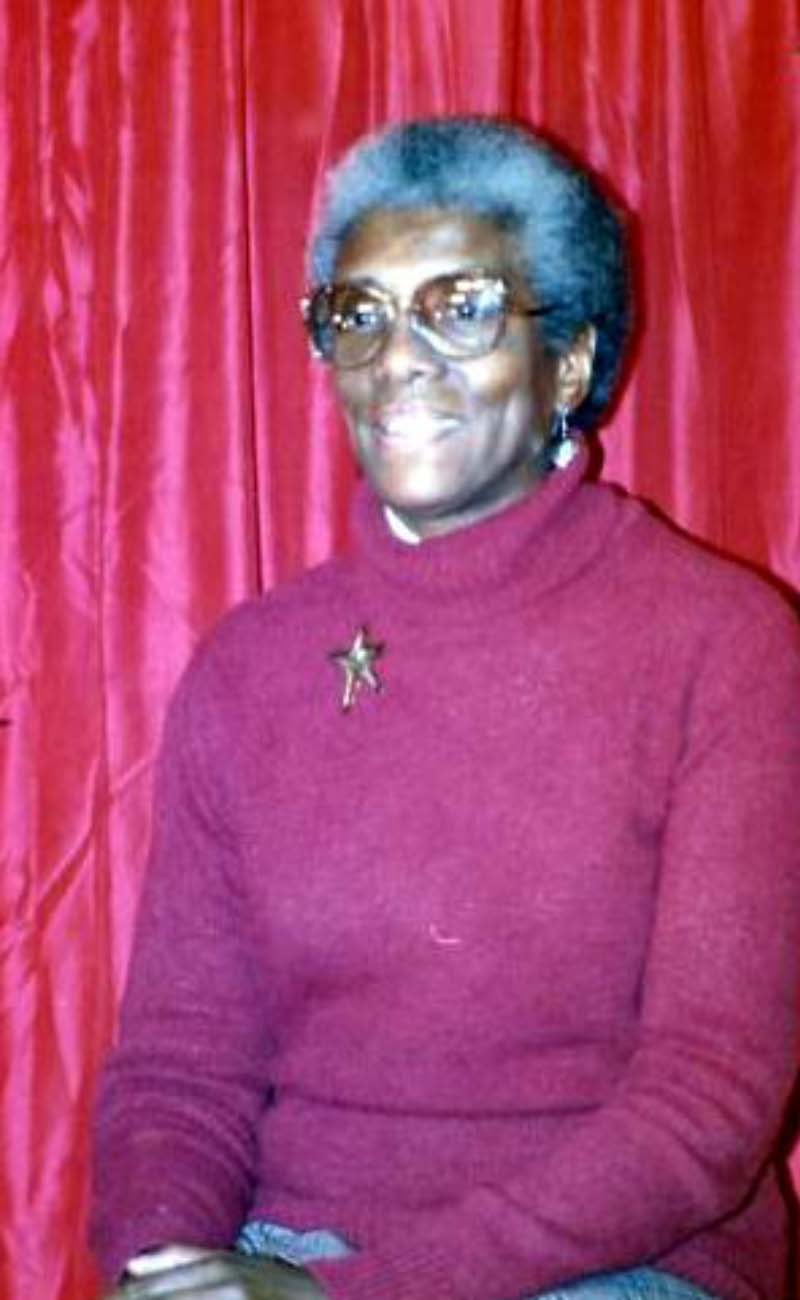 Christian Education for ETHEL R. JOHNSON (1925-) cultivates "humanizing and liberating" lives centered on Jesus Christ and gathered into communities of faith that address injustice in all its forms and alleviate human need whenever and wherever it occurs. During her long career as a local church educator, judicatory staff person, seminary professor, community activist, and elected member of numerous boards and agencies of the United Methodist Church, Johnson has been a persistent and innovative advocate of this approach to Christian education in the United States, Liberia, Nigeria, and Zimbabwe.
Biography
Ethel Johnson was born March 30, 1925 in Philadelphia, Pennsylvania and grew up in Staunton, Virginia and New York City. After high school she attended Bennett College in Greensboro, North Carolina. During a summer job in a King Ferry, New York migrant camp day care center she decided to become a social worker. This decision led her to a double major in sociology and psychology. She graduated with honors from Bennett in 1947.
After college she worked under the auspices of the Home Missions Division of the National Council of Churches in a migrant camp in Pompano Beach, Florida in 1947 and Bridgeton, New Jersey in 1948 and 1949. In both settings her work focused on helping migrant peoples make the transition to permanent residency in their communities.
In 1950 she applied for admission to the Masters Degree program of the New York School for Social Work and was granted "provisional acceptance," because she had graduated from a southern black college. The school officials did not find a field placement setting for her so she found one as a group worker in the Young Women's Hebrew Association. During that time she worked as an assistant teacher in a New York City Day Care Center and attended classes at Bank Street College of Education. She left the School of Social Work in 1952 disillusioned with the racism she continued to experience in that educational institution. She then shifted the focus of her studies by enrolling in the Hartford Theological Seminary with the intention of obtaining a Masters degree in Religious Education. She graduated with that degree in 1954.
In that same year Johnson became the first Director of Christian Education of Janes Methodist Church in Brooklyn, New York, an historic white congregation which had only recently been reconstituted to serve the growing African American population in the community. The pastor, Grant Shockley, would later become the first African American member of the Garrett, Candler and Duke theological school faculties and serve for a time as the president of the Interdenominational Theological Center in Atlanta. Under their leadership the congregation initiated many social and educational programs in the neighborhood. Johnson spent much of her time in the public schools challenging the racism African American youth and their parents encountered there and outside the schools in programs to equip young people to advocate for themselves with white teachers and school officials. According to Johnson it took "constant monitoring to prove to white staff that some black kids were very intelligent." While serving the Janes congregation, Johnson also became the first African American Christian educator to be consecrated to that ministry by the New York East Annual Conference of The Methodist Church. In the programmatic intersection of congregational life and community concerns in her ministry, Johnson began to fine tune an approach to Christian education embracing the interdependence of discipleship and justice in the practices of the Christian life.
In 1957 Johnson became the first African American member on the program staff of the New York East Annual Conference of The Methodist Church. In that office she organized district (regional) children's councils, was certified to lead laboratory school training sessions for leaders of children and youth ministries, conducted coaching conferences and workshops throughout the conference and developed a rustic small group camp site in Bristol, Connecticut called Sessions Woods that became a model for similar ventures across the country.
While on the conference staff her role continued to expand and with it, new opportunities to advocate for a Christian education attentive to issues of justice and human need as an elected delegate to the General and Jurisdictional Conferences of The Methodist Church in 1960 and with an appointment to the General Board of Education of the denomination for the 1960-64 quadrennium. She now began to conduct workshops, lead laboratory schools, and do camp leadership training across the country. She was selected to attend the World Council of Churches Conference on Christian Education in Belfast, Ireland in 1961 and began supervising Yale Divinity School students in their field placements.
She resigned her position with the annual conference in 1962 "tired of being considered an expert and frustrated with the negative comments" she continued to hear about "churches in the inner city"—comments often rooted in racial bias. In that same year she joined the staff of the Bushwick Avenue Methodist Church in Brooklyn, New York as the congregation's Director of Christian Education. She held this position until 1968. The congregation was located in a working class white neighborhood suffering from white flight and struggling to assimilate new black and Cuban immigrant residents. With guidance from the church staff—white and Cuban pastors and African American Christian educator—and the assistance of a faith based community development program called MUST (for Metropolitan Urban Services Training), the congregation developed a strong sense of mission through Biblical and theological study.
That mission emphasized the interdependence of faith and justice in a wide ranging program for all ages. Each year more than 200 young people for example, participated in Girl and Boy Scout programs and the local basketball league. More than 100 five to fourteen year olds took part in an eight week summer day camp guided in part by 20 members of the neighborhood youth corps—a government funded program for educationally and economically at-risk youth. The Spanish and English speaking worship services met together on the first Sunday of the month for communion during which participants prayed and sang in English, Spanish, French, and Dutch languages. Bushwick and a large suburban congregation in Huntingdon, Long Island developed a partnership with all joint activities—ranging from Bible study to family potlucks, to leadership training, to joint youth meetings—coordinated by a committee with equal representation from each congregation. Johnson and her colleagues assumed responsibility moreover, for supervising students from Union Theological Seminary in the challenges and possibilities of an urban ministry.
The confluence of Johnson's activism and advocacy during her ministry in the Bushwick congregation helped shape a summer program for teens staffed by college students, adult members of the church, and the denomination's Board of Global Ministries—a model emulated by congregations across the country, a day camp during which children explored such justice issues as the kinds and availability of food in neighborhood grocery stores, and through her direct participation in the Civil Rights struggle as a member of the local school board and mediator of Black and white groups in the community. During a particularly volatile time in the New York public schools, this meant riding the school bus and walking the halls of the local high school with Black and white colleagues to prevent an outbreak of violence similar to the disruptions occurring in many other schools in the city. During these years Johnson continued to do leadership training across the country and participate in national church boards and agencies as an advocate of justice and social action in the denomination's educational programs.
In 1968 Johnson joined the staff of the University Methodist Church in Syracuse, New York—an overwhelmingly white and middle-to upper class congregation increasingly responsive to the needs of its rapidly changing community. That stance, promoted by the lay leaders and senior minister of the congregation, placed the congregation at the center of many of the local debates and struggles over civil rights, poverty, and at the center of church and community responses to the needs of educationally, economically, and spiritually at-risk children and youth in the community.
In 1971 the Dean of the Methodist Theological School in Ohio offered Johnson a faculty appointment in Field Education and Church Administration. Although not the first African American on the faculty, she was the first woman and single person to take her place in that academic community. She was hired for her knowledge of and experience with church polity and governance from the local to the national and international level and her demonstrated ability to train leaders capable of reflecting theologically on the skills they were acquiring. She was attracted to the position by the possibilities it provided to strengthen the Pastor Parish Relation Committees of congregations throughout the region and to equip seminary students to work more effectively with the laity of the congregations they were serving.
Her leadership in the church continued to expand—consistently in places where she could actively advocate for a view of Christian education that would advance justice and social action in the church and the larger community. She served The Methodist (and later United Methodist) Church as chair of its General Division of Lay Ministry (later called Diaconal Ministry), the General Board of Higher Education and Ministry, the General Council on Ministries, the Commission on the Status and Role of Women, and participated in the Methodist/Lutheran dialogues. From 1976-80 she co-chaired the denomination's Study of Ministry that culminated in the creation of a lay diaconal order of ministry.
In 1975 Johnson traveled to Africa for the first time to teach a course on church administration at the Gbarnaga School of Theology in Liberia. A sabbatical year in 1984 in Liberia, Ghana, and Sierra Leone followed during which she conducted workshops in Christian education and church administration. In 1987 she retired from the faculty of the Methodist Theological School in Ohio to spend more time in Africa.
Between 1985 and 1995 Johnson made several trips to Nigeria under the auspices of The Board of Global Ministries of the United Methodist Church to train local leaders and to assist them in strengthening the organizational structure of the Muri Provisional Annual Conference as part of its preparation for being granted full annual conference status in the denomination. After that happened in 1992 she continued to help pastors and conference leaders take up their new responsibilities. She returned to Nigeria in 2005 and 20006 as an agent of the denomination's Council of Bishops to help that annual conference work through a leadership crisis. In 2000 and 2001 she taught Christian education in the faculty of theology of Africa University in Mutare, Zimbabwe.
In a moment of reflection back on her career, Johnson wrote "Early in my career I stopped worrying about "why" I was chosen for a job. I accepted a job because I felt God was calling me to do it and I gave it my best effort. Life has been good and being a Christian educator in the broader sense of the word has been a rich and fulfilling experience. Through that role I have been able to celebrate my call, my blackness, my singleness, and my lay status."
"Even though I have worked hard for the equality of Diaconal Ministers (with clergy in the United Methodist Church) I never felt the need to be one. One consecration was enough!! Title and status have never been important to me – salary either. I took a big cut in salary plus in housing to go to Methesco."
I am very intuitive and I "stuck my neck out" whenever I felt someone had been treated unjustly even when I did not particularly like the person. I've lived in a racist society and a racist church all of my life. Life is not fair. God has given me the strength to deal with its unfairness."
---
Contributions to Christian Education
The story of Ethel Johnson's life as a Christian educator draws attention to several challenges occupying the attention of pastors, local church educators, and theological educators during the last half of the twentieth century. In one form or another during her long professional career, Johnson consistently
Addressed class bias by equipping lay and clergy leaders to recognize and address problems rooted in the economic disparities of their communities.
Strategically challenged persisting patterns of racial and gender segregation and discrimination in the recruitment, training, and appointment of church and seminary leaders, in the development of resources to be used in local church education, and in the pedagogical practices in congregations and theological schools.
Encouraged church and theological education colleagues to take seriously praxis approaches to teaching and learning and training for contextual expertise in the professional preparation of persons for ministry.
Challenged the colonizing practices of church missionary programs with indigenous peoples.
Johnson co-authored Vacation Bible School and after school curriculum resources for the Brooklyn, New York Protestant Council of Churches between 1955 and 1957. Otherwise, she did little scholarly writing. The impact of her life and work instead is to be found in the transformation of the lives of the people she taught in congregations, denominational and ecumenical agencies, and theology schools in the United States and Africa and in the development of policies and programs of seminaries and church and ecumenical boards and agencies. A random summary of some of the more obvious consequences of her leadership in this broader view of the contexts of Christian education include the following activities and events:
She integrated the Christian education profession in the New York East Annual Conference of the Methodist Church.
She was part of a pastoral staff on the forefront of efforts to develop models of leadership for inter-racial and multi-cultural congregations long before those approaches to congregational life became fashionable.
She equipped youth and their parents to challenge racial bias in the teaching practices of their schools, initially in Brooklyn, New York and later, in Syracuse, New York and Columbus, Ohio where she lived, and in those communities where she conducted workshops and other training events. She also challenged racial bias in the teaching practices and administrative work of colleagues in congregations, annual conferences, national church agencies, and theological schools.
At the height of the riots sweeping through the New York City schools during the Civil Rights Movement she facilitated mediating strategies of communication and negotiation among the different racial groups in the schools of her community to diminish the potential for violence. This mediating role was one she brought to almost every agency she served as they struggled with racial, class, and gender bias.
She organized and trained community empowerment groups in every church and community in which she served in both the United States and Africa.
She was among the first in American theological schools to introduce an explicitly theologically grounded action-reflection approach into their field education supervisory processes and to engage students in a dialogue between the theologies embedded in their faith and ministry practice with the theologies they and their congregations espoused.
She developed a variety of partnership programs between black and white churches and community organizations throughout the course of her life and work.
She advocated for the recognition and empowerment of laity in ministry in the theological statements, policies and programs of national and ecumenical church agencies.
She created and supervised justice models of Christian education for children, youth and adults in congregations and several social service agencies in the communities where she lived and worked.
She trained and supervised the training of leaders for ministries of Christian education and social action in the church and in community agencies across the United States and in several African countries.
As an elected delegate to the General Conference of The Methodist (which in 1968 became the United Methodist) Church in 1960, 1964, 1968, 1972 and 1976 and as an elected member of the denomination's Board of Higher Education and Ministry and its General Council on Ministry she gave significant strategic leadership to policies and programs concerned with the empowerment of disenfranchised and marginalized peoples. She was particularly influential in shaping the recognition of and support for lay ministries in the denomination.
As a member of the University Senate of the United Methodist Church from 1980 to 1984 she participated in the formulation of policies influencing denominational colleges, universities and theology schools.
As chair of the West Ohio Conference Methodist Federation for Social Action she participated in demonstrations against the School of Americas for its training of Central Americans to use guerrilla tactics against women and children.
She guided the processes culminating in the reorganization of the Muir Provisional Conference of the United Methodist Church in Nigeria into a full annual conference and in the training of pastors and lay leaders for their new roles and responsibilities.
As the agent of the Council of Bishops of the United Methodist Church to the churches of Nigeria caught up in tribal conflicts over the control of church leadership, she developed with them ways to work more constructively together.
As the "wise person" on the staff of Candler School of Theology's Youth Theological Initiative, she mentored many youth for several years into the possibilities and skills of reflecting theologically in the midst of their personal, intellectual and vocational quests.
This is only a partial list of her achievements and a limited summary of the impact of her leadership in Christian education. Several personal observations add insight into the character of her leadership in churches, schools, and communities.
The first is grounded in my own experience of Johnson as teacher and colleague. I first encountered Ethel Johnson as teacher during my first week in seminary in 1960. I began my field work assignment in a laboratory school class for teachers and leaders of junior high youth led by Johnson. I would later discover this was no ordinary teacher training event. She did not show or tell us how to teach; she drew us into a collaborative practice of thinking together with her about the faith journeys of young adolescents, planning together several sessions for teaching a group of junior high youth, robustly critiquing together the confluence of our theological knowledge and pedagogical strengths in our teaching experience, and exploring together the impact of what we were learning on our own faith journeys. Through this collaborative practice she invited us to be agents of God's grace as teachers to each other's learning and students to each other's teaching. At the time, I did not realize I was participating in the practice of a skilled practical theologian. Nor did I realize at the time how powerful this approach to the training of teachers would be when instituted later into a program of field education supervision in a theological school. Only as we were working as colleagues in that seminary did I begin to recognize the distinctive features of what recent scholars would identify as her method of doing practical theology.
William Casto, her long time colleague in the program of field education and church administration at the Methodist Theological School, has described in other terms its general features. In the first place he noted that Johnson was consistently "team oriented"—a perspective rooted in her understanding of the church as a community of faith. This meant "she always considered students to be co-teachers/learners with her—that she was also 'a learner on the journey' and that while she knew both theory and practice well, she never claimed that what she knew was the ONLY (or even the best) way to proceed. Rather she took the lead in pulling the learnings and experiences from students, and the rest of us—while sharing herself with us." This meant that inevitably any moment of critical reflection on some incident in ministry began with a description of that event, put then into an often tense dialogue between the faith and theological commitments of the student and the congregation served by that student and insights from the social sciences about personhood, community, and social justice with the intention of opening up the meaning and significance of that event in order to make decisions faithful to Christian tradition about future action. Over and again she would lead laity and clergy in workshops and lab schools and students in seminary through this process to the point that for many, its constitutive features would become a habit of perspective and thought.
Casto emphasizes that permeating this entire pedagogical process was an "extremely high ethical centering." Johnson did not "compromise her values to allow things to go the 'easy' way." Her commitment to collaboration in other words, did not lead her to downplay signs of human frailty. Rather she identified and named acts of incivility and injustice rooted in racism, sexism, classism, demagogy, and authoritarianism in amazingly unthreatening ways. Even as she challenged unjust and sinful practices, she also maintained communication to a remarkable degree with their perpetrators because she believes that if you look hard enough, you can usually discover some divine spark in everyone. Finding that spark is enough to begin working together.
Casto concluded his own comments by noting that Johnson's "impact on the CHURCH is almost immeasurable. She was an active leader at all levels of the church. She pushed for a better community of faith wherever she was. She is a celebrated (deeply loved) leader in West Ohio and throughout the denomination".
In one more comment about the impact of her life and work, Ibada Husseini Andengs, communication director of the United Methodist Church in Nigeria in 2005 called Johnson, in an editorial commending her work, a "missionary of peace…a potent weapon for stability" during a crisis that had recently engulfed the Nigerian church. "Her job became even more difficult…because she had to satisfy the yearnings of both sides of the division" in the church. "The agile and strong-willed professor traveled the whole length and breadth of the conference area on fact-finding and reconciliation—her age not-withstanding." Her "resolve and determination," in other words, "cleared the way for the interim Bishop Nkulu Ntanda Ntambo" to build on the "relative stability she had accomplished."
Commendations:
Ethel Johnson has often been recognized for the quality, vision, and strength of her leadership in the church, in theological education, and in the larger community. For example:
She was selected to represent The Methodist Church at the World Council of Churches Conference on Christian Education in Belfast, Ireland in 1961.
In 1996 she received the Metropolitan Church Council Religious Award in Columbus, Ohio.
She received the first woman of the year given by the Methodist Theological School in Ohio.
The Christian Educators Fellowship and the Board of Higher Education and Ministry of the United Methodist Church established the Carrie Lou Goddard and Ethel R. Johnson Chair in Christian Education at Africa University in Mutare, Zimbabwe to honor these two long time faculty members in Christian Education.
---
Bibliography
Charles R. Foster, Ethel R. Johnson, Grant S. Shockley,(1985). Christian Education Journey of Black Americans, Past, Present, Future. Nashville, TN: Discipleship Resources.
Johnson, Ethel R. (1985). Black Women as Professional Religious Educators. In Fern M. Giltner (Ed.), Women's issues in religious education (pp. 115-125). Birmingham, AL: Religious Education Press.
---
Excerpts from Publications
Charles R. Foster, Ethel R. Johnson, Grant S. Shockley,(1985). Christian Education Journey of Black Americans, Past, Present, Future. Nashville, TN: Discipleship Resources. Pages 20-12
[T]he Bible [has been described] as a love story between "the Lord of the universe for all time and a 'stiff-necked' people in the middle East." That love story was set against a very large backdrop, beginning with God's creation of both the heavens and earth and concluding with a vision of a new creation. The entire story focuses upon God's creative and redemptive activity in human history, a story revealed most fully in God's self-disclosure in Jesus Christ.
Christian education intends for people to "enlarge their grasp" of this love story by helping them not only to understand it more fully but also to "possess it more and more personally." Perhaps one of the most distinctive characteristics of the black religious experience is the power of that love story in shaping that experience. It is an intensely personal story for individuals as well as for the black church community. For many blacks, through decades of slavery and segregation, the Bible was often the only book available to them. In the process of reading and re-reading its ancient stories, the Bible so enlivened the collective imagination of black people that its themes became pre-eminent in the efforts of black people to make sense out of their daily lives. In their identification with the travails of the wilderness journey of the exodus people, in their longing for a promised land in which the "balm of Gilead" would restore a sense of wholeness to their daily living, and in their sense of the pervasive presence of the risen Christ, black, people entered into the biblical experience and claimed it as their own.
…………
The black contribution to the task of enlarging our grasp of the Bible…has to do with the identification of the black religious experience with these important themes and events in the Bible. It is located in the black church's awareness of the power of the Bible to make sense out of daily living in the midst of oppression. It is enlivened by the anticipation of that "great day in the morning" when all shall be united once and for all with God. And it is grounded in the poignancy and power of an exodus faith.
Johnson, Ethel R. (1985). Black Women as Professional Religious Educators. In Fern M. Giltner (Ed.), Women's issues in religious education (pp. 115-125). Birmingham, AL: Religious Education Press. Pages 121-122.
The field of religious education has always been a source of what is done best in black churches. Unlike the educational programs in most other churches, it has never confined itself to instruction in doctrine. Its concerns have been much broader, but always grounded in a solid theological base. A few personal memories will illustrate the point.
I remember with delight abandoning the two-week vacation Bible school that had traditionally been a summer event. We had concentrated the previous year on enabling people to articulate their needs. They did. They decided that what they needed was not the typical VBS but rather a two-month, five-days-a-week, seven-hours-a-day program that would prepare the older youth for leadership. They got it.
Senior high-school youth went through a week-long training period to prepare them to be leaders for the younger people when they arrived. These youth continued to be treated as leaders through the summer, not as helpers. Moreover, they modeled this leadership to their younger brothers and sisters. That seemed to be all the motivation they needed to relish their responsibility. There was no problem with absenteeism or punctuality during that grueling program.
The biblically based program on stewardship that was offered that summer typifies the broad-based character of religious education in the black church. A group of six-year-olds went into the local store of a supermarket chain to purchase two pounds of chopmeat. They were told to observe the cleanliness of the store, the friendliness and courtesy of the employees, as well as the price of their purchase. Then they were taken across town to a store of the same chain, to make the same purchase and the same observations. When they returned they cooked both packages of meat and compared their observations. They learned that in their part of the town, the meat cost more, had more fat in it, and as they said, "smelled funny." They were beginning their education in the "struggle of justice, equality, liberation, and freedom." And it was religious education.
---
Recommended Readings
Charles R. Foster, Ethel R. Johnson, Grant S. Shockley,(1985). Christian Education Journey of Black Americans, Past, Present, Future. Nashville, TN: Discipleship Resources.
Johnson, Ethel R. (1985). Black Women as Professional Religious Educators. In Fern M. Giltner (Ed.), Women's issues in religious education (pp. 115-125). Birmingham, AL: Religious Education Press.
---
Author Information
Charles Foster
None