Get Connected
As a member of the Biola community, you have the opportunity to connect to other Biola parents. Learn below how you can meet your parent council and attend prayer connects.
Meet Your Parent Council
The Biola University Parent Council fosters communication between Biola and parents to make sure you and your student have the best Biola experience. The Parent Council meets three times each year to act as liaisons to the Administration, provide hospitality at university events and work with specific fund-raising campaigns. Yet their primary role is that of parents, feel free to contact them with any questions or concerns that you may have.
Liz Chen — Bay Area, CA
Hello, my name is Liz Chen and I'm from the San Francisco bay area. My husband, Jolly and I dropped off our oldest, Solomon, on the Men of Honor (MOH) floor in Horton back in 2015. He enjoyed his time at Biola, made lifelong friends and grew spiritually. When we said goodbye to him, we knew that Biola would come alongside him and be there for him. After graduating in 2018 with a degree in Political Science, Solomon is currently in the Washington DC area working in Congress as part of the House committee on education and labor. Now in 2022, we will be sending our youngest, Elijah to Hope Hall. He is ready for his next season of life and we couldn't be happier that he chose Biola. We are now empty-nesters and look forward to seeing how God will grow us in our next season. I'm excited to be a part of the Biola Parent Council and look forward to partnering with the other council members and Biola staff to bring God glory through his work here at Biola and beyond.
David and Carrie Cronk — La Habra, CA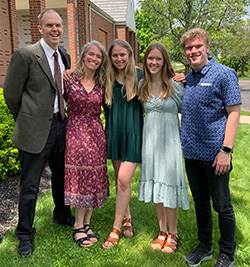 We are David and Carrie Cronk, living in La Habra, a close 15 minute drive from Biola. We met overseas in China as missionaries and were so blessed to raise our three amazing kids there (for their pre-high school years). When the Lord brought our family back to the U.S., we were thrilled to find we lived close to BU, hoping our kids would have the opportunity to attend this amazing, Christ-centered school. The Lord certainly had this special gift for us, and we are so thankful.
Our oldest, Philip, is now a senior at BU majoring in business. Highlights for him have been many excellent classes, being the Mock Rock emcee, his involvement in intramurals, as well as a summer internship (in Colorado Springs) in the Adventures in Odyssey marketing department of Focus on the Family. He has truly thrived in Biola's Christian environment, making lifelong friends, enjoying godly, caring professors, and growing in his own faith in Jesus. Our number two, Hannah, is a sophomore, majoring in the allied health/pre-occupational therapy route. Her highlights have been making meaningful and deep friendships as well, and the opportunities to be involved in missions, specifically the outreach to Latter Day Saints. She grew a lot through a recent mission trip to Utah with the Evangelical Mormon Interactions Club. Our youngest daughter, Estie, is a senior in high school, and after hearing about all the wonderful experiences her siblings have had, seeing how they have grown spiritually, hearing about their classes, and meeting their new friends, she is planning to also apply to Biola.
We are honored and blessed to be a part of the BU Parent Council and look forward to connecting with other students/parents/staff as part of the BU family to pray/support/help one another.
So thankful for the freedoms we enjoy here in the U.S., specifically at Biola. God bless America and the BU community! You can connect with us via email at davidcarrie5@gmail.com.
In Jesus, David and Carrie
Heydi Grajeda— Adelanto, CA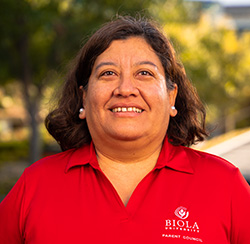 My name is Heydi Grajeda and I feel very blessed that my daughter is a Biolan. My husband and I always dreamed that Grace and her siblings would be able to go to university. When it was time for Grace to choose where she was going to go to university we prayed to our Heavenly Father that he would lead her to a place where she can grow and mature in her faith. On April 3, 2019, Grace received her acceptance letter from Biola in the mail. That day we received the best news of our life. Grace immediately committed to Biola after receiving her acceptance letter and my husband and I were overjoyed. We had the privilege of visiting Biola's campus in the summer of 2019 and from the minute I stepped foot onto campus I could feel the Holy Spirit's presence. That day God confirmed to me that Biola was the place He wanted Grace to be and that the Lord had answered our prayers. Grace is now a junior at Biola and is majoring in Journalism and Integrated Media with a minor in both art and biblical studies. We have seen God's goodness through her professors and classmates. Grace has been a part of New Student Orientation since the end of her freshman year. It was such a wonderful experience to see how much love radiated off of the New Student Orientation team and how Grace has flourished since she started working for NSO. Seeing Grace grow and mature reminds me of Proverbs 22:6 "Train up a child in the way he should go; even when he is old he will not depart from it." The Lord has taught us to let Him work in her life and that we have nothing to worry about because He has everything under control. If you ever feel the need to pray or would just like to chat you can contact me at hgrajeda24@gmail.com.
Fred and Lisa Hawley — Everett, WA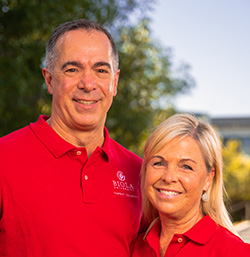 We are Fred and Lisa Hawley, from Everett, WA. Both of our kids chose to attend Biola, and have loved their time there! As parents, we don't think we could have asked for much more in a college experience for our kids.
Our son, Landon, is a Biola 2020 graduate, with a degree in communications. An internship he found through Biola led to his being hired as a writer for The Jesus Film Project, an ideal job for him. During his four years at Biola, his faith in Christ grew tremendously, and he developed outstanding friendships with godly young men whom he still keeps in close contact with today. He appreciated his caring professors, two of which became mentors to him. Some of his extra-curricular activities while at Biola included working various on-campus jobs, being heavily involved in intramural sports, being part of Biola's improv team Rich Kids, competing in Biola's Mock Rock and volunteering on a Missions Conference team. He worked hard, but also had a lot of fun!
Our daughter, Marin, is a junior nursing student (anticipated 2025 graduate), beginning her clinical rotations this year. She also has matured in her faith in Jesus during her two years at Biola, learned a great deal in her Bible classes, and experienced amazing friendships and community. Both years she has worked an on-campus job, been involved in a weekly student Bible study and played intramural sports. She's excited about her upcoming years still remaining at Biola, and is thankful for the great experiences she has had there so far!
Our family is very grateful for Biola, and for the fact that they have remained biblically faithful and continue in their mission of equipping our kids to impact the world for the Lord Jesus Christ! We'd love to talk with you anytime to answer questions, share information, offer support and encouragement or pray for you! Please feel free to reach out to us at fredandlisa@frontier.com.
Erin Krusiewicz — Orange County, CA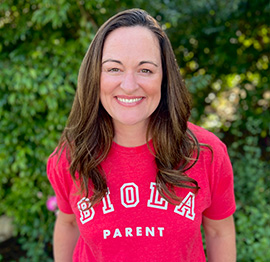 I live in Orange County, CA with my husband and four kids. As a current parent and alum (1998), I am deeply thankful for Biola. Our oldest son, Max, graduated in 2023 with a degree in communications, a rooted faith, and solid friendships. He grew academically under thoughtful and engaged professors. They offered mentorship while encouraging rigorous learning, research and independent scholarship which gave him the tools needed to present his work at an academic conference. He had amazing social opportunities through activities like Mock Rock and intramural volleyball. Most importantly, his spiritual development grew through relationships with invested on-campus mentors and professors, the study abroad New Zealand program, and missions conference. Our daughter, Avery, is an incoming freshman, and I'm excited to watch how Biola impacts her faith, relationships and academics as well. Biola has exceeded my high expectations and I'm grateful to see how the community equipped our son to grow in his authentic faith, compassion for others and understanding of what it means to think critically from a biblically grounded worldview. I would love to connect with prospective and current parents! Feel free to email me at erinkrus@gmail.com.
Ted and Penny Malley — Arroyo Grande, CA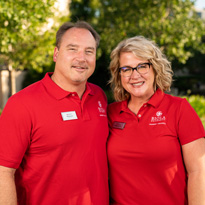 We are Ted and Penny Malley, parents of four kids, living in Arroyo Grande, CA. We have served on the Parent Council since 2019 and have enjoyed helping other families feel part of the larger Biola family. Penny graduated from Biola with her teaching credential in 1994, so we knew what a rich education and strong spiritual foundation this school provides. Ted had two sisters and a brother-in-law graduate from Biola who all went on to become teachers, so the Biola roots grow on both sides of the family tree. Our oldest, Katie graduated from Biola in Spring of 2022 (Public Relations) and now works for NBC in New York. While at Biola she participated as a chapel intern with Spiritual Development, helping run the mid-week After Dark chapel. Our son Tyler completed three years at Biola and has now transferred to USC as part of a 3+2 program where he will graduate Spring 2025 (Mechanical Engineering/Physics). He has also participated in USC's Air Force ROTC program for the past two years and expects to commission as an Air Force Officer when he graduates. TJ starts his accounting degree at Biola in Fall 2023.
Please feel free to reach out to us with any questions, we'd love to talk with you! Email us at pennyemalley@gmail.com and tedmalley@gmail.com.
David and Susan Morgan – Vancouver, WA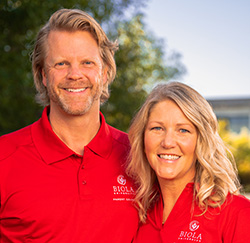 We have been grateful for Biola University since we stepped on campus in 2015. In the Fall of 2022, we had the privilege of sending our fourth child, Rebekah (2026), to begin her education at Biola. We have grown in our appreciation of Biola each year, as each of our four children have chosen to attend Biola. Andrew graduated in 2019 with a degree in Biblical and Theological Studies and is working at a church and school in Kirkland, WA. Sarah played on the tennis team, completed Torrey Honors and graduated with a degree in Human Biology in 2021. She is now attending OHSU in Portland, OR, studying to become a Nurse Practitioner. Claire is our senior, thriving in accounting, expecting to graduate in 2023, and plans to continue with a graduate degree in advanced accounting (2024). Rebekah, our youngest, is looking forward to paving her own academic experience at Biola. She is excited to invest in a variety of activities, studies, leadership and this community.
Over the past seven years, the two of us have been deeply impressed with the constant focus on Jesus, and a Christian worldview emphasized in the classroom and campus life. We welcome and value connecting with others, and should you have questions, we would love to chat, connect, pray, eat and/or grab coffee. You may reach us at david@motantivy.com or susan@motantivy.com.
Daniel and Bernice Ramirez — La Mirada, CA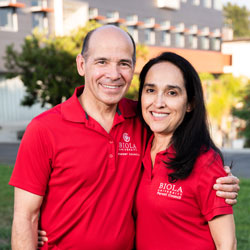 We are Dan and Bernice Ramirez and live in La Mirada about 5 minutes from Biola. Biola is a wonderful place to send your children for an education. Our son Danny is going to be a junior this coming fall. He is a Bible/Theological Studies major and is involved in the scuba diving club and Alpha Bible Study club. He has developed strong friendships with other students from Biola and just loves being on campus even when he doesn't have school. If he isn't home we know he is at Biola or out for coffee with a friend from Biola. We love these ties of his.
The professors at Biola are so caring and pour Godly wisdom and advice into the students. They have helped Danny during difficult times. We are so grateful to them. The campus is also safe and very well taken care of. My husband and I enjoy spending time on campus walking around the track, getting lunch at the caf or getting coffee at Common Grounds. We love Biola and hope to see Daniel's younger siblings attend there as well. Biola gives you a top-notch education in a safe, Godly environment.
We would be happy to assist your student in any way we can since we are local. We would love to pray with you and/or your student for direction and peace. We are here if you need us. Your student is welcome to come over anytime! And you're welcome to call us for advice.
Laura and Jon Sizelove — Bay Area, CA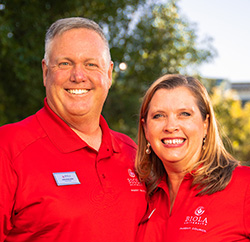 We are Jon and Laura Sizelove and are currently living in the bay area. We are so delighted that our oldest son Mark decided to attend Biola. Mark will graduate in 2025 with a double major in biblical studies and philosophy, a part of Talbot's Accelerated Master's Program hoping to be able to finish in 2026 with his M.A., and he is also part of the Torrey Honors College. In addition to his academics, Mark throws the discus and hammer for Biola's track team. Mark lives in Hart Hall on the floor they lovingly call Haven. The friendships he has made with his floor mates have truly made "Haven" a home away from home. This group of young men attend a local church, celebrate birthdays, play intramural sports, explore Southern California and pray and support each other like brothers carrying each other through both the good and difficult times. This has been everything a parent could pray for in a residence hall environment. The Torrey Honors College has also been life-changing for Mark. The relationships he's been able to develop with his cohort and mentors have been deeper than we could have ever imagined and they have been able to push Mark spiritually, academically, and personally to become a wonderful maturing Godly young man.
Mark's younger sister is in high school and has her heart set on joining Biola's cinema and media arts program, and it would not be surprising if their youngest brother, who is only in middle school, someday becomes an Eagle as well.
In our family we bleed Biola red! Biola is part of Mark's DNA, since we met as students and Mark was born while we were working at Biola. Jon graduated from Biola in 1995, and went on to graduate from Talbot in 2001 & 2005. He's currently a student again, working on a Doctorate of Ministry at Talbot. Laura graduated from Biola in 1996 and also graduated from Talbot in 2001. In addition to his parents, 4 of Mark's aunts and uncles have attended Biola as well and his grandfather even served on the Parent Council.
Biola has had an immeasurable impact on our lives and we are so honored to serve as part of Biola's Parent Council. Please feel free to reach out if you have any questions. Email us at laura.sizelove@gmail.com (Laura) or jon.sizelove@biola.edu (Jon).
Attend Prayer Connects
During the academic year, we host regular Prayer Connects via Zoom. You will have the opportunity to pray for and connect with other Biola families and their students throughout the year, and also submit requests as the need arises.