Core Curriculum
The Foundation to a Christian Liberal Arts Education
Biola's Core Curriculum is at the heart of the university's mission to equip men and women in mind and character to impact the world for the Lord Jesus Christ. Our core curriculum is a comprehensive program of foundational courses designed to ensure a robust academic experience and lay the groundwork for success in your major and beyond.
Core curriculum classes build on one another, sharing a cohesive integration of faith and learning across and through a variety of disciplines including English, math, behavioral and physical science, history, biblical studies, language, communications, physical education, and fine arts.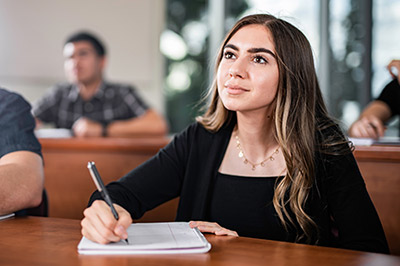 ---
Core Outcomes & Goals
Designed specifically for undergraduate students, the core curriculum is an integral part of your Christian liberal arts education. You'll receive support, guidance and instruction that will shape specific learning outcomes and character goals, including:
Critical Thinking
Students will cultivate fruitful habits of mind through the pursuit of wisdom by learning to identify and explain a problem or issue, evaluate concepts and assumptions from multiple perspectives, ask relevant questions and articulate logical, well-organized and innovative conclusions.
Quantitative Reasoning
To serve as effective citizens in a changing world, students will analyze or solve quantitative problems; understand, evaluate and create well-reasoned arguments supported by quantitative evidence; and clearly communicate quantitative arguments in appropriate formats.
Oral Communication
Students will demonstrate Christ-like communication skills as they organize content cohesively, use compelling language and delivery that is audience-appropriate, incorporate supporting materials to establish credibility, and reinforce a memorable central message with civility.
Written Communication
Students will produce well-organized and clear writing, supported by strong, diverse evidence and precise explanation, applicable to its audience and consistent with the conventions of appropriate genres.
Information Literacy
Students will ethically discover, evaluate, and use information, thoughtfully formulating and addressing research questions, explaining how information is produced and valued in a given discipline, and sharing their results with integrity.
Intercultural Competence
Students will model cultural humility as they grow in love for God and their neighbor, prepared to act as agents of reconciliation through development of an informed understanding of cultural diversity and will respectfully engage people of various backgrounds, through campus, local and global community interactions.
Civic Engagement
As unique-image bearers of God in community, students will develop an informed understanding of civic roles, rights, freedoms, and responsibilities, and will respectfully communicate and apply key concepts with grace and truth in diverse communities.
Statement of Christian Liberal Arts Philosophy
Biola University is committed to equipping students with a robust Christian liberal arts education. Read more about our educational philosophy.