For information on Biola University's coronavirus (COVID-19) response and updates, visit
biola.edu/coronavirus
.
New Student Orientation Schedule
We've carefully crafted this year's schedule to ensure we prioritize your safety alongside engaging and fun activities for you to get to meet other new students, student leaders, faculty, and staff. More information about the precautions we are taking can be found here: www.biola.edu/coronavirus. Torrey Honors, Global students, First Gen Scholars, Veterans, and Athletes, be on the lookout for information about additional orientation sessions planned just for you!
Check your Biola email for information about your assigned track.
Track 1
Track 2
Track 3
Track 4
Track 5
Track 6
Track 7
Track 8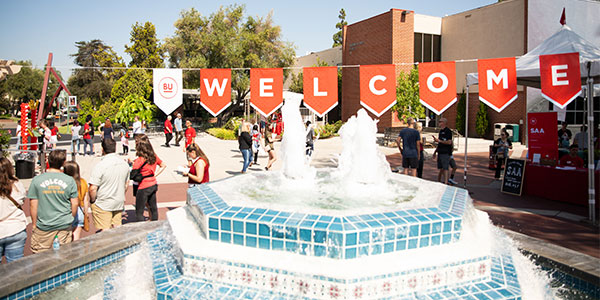 ---
Thursday, August 27
Ongoing
| Time | Event | Location |
| --- | --- | --- |
| 8 a.m–4 p.m. | Get your questions answered about the week's events. | Fluor Fountain |
| 8 a.m–4 p.m. | Have a break in your schedule? Visit Academic Advising, Bookstore, Financial Aid, the Registrar or other campus offices so you are ready to start classes on Monday. (Modified hours for Saturday are: 11 a.m-3 p.m.) | Various |
| 11 a.m–2 p.m. | Explore campus resources for your well being and ways to get involved with clubs, events, and more! | Sutherland Way |
Track 1
Time
Event
Location

8–10 a.m.

Move-In and Orientation Check-In

Head to your residence hall to check-in, get your key, and schedule for the day's events. Student leaders will also be there to help you move in!

Residence Hall Lobbies

11 a.m–1 p.m.

Mandatory Campus Welcome (Orientation Session)

Don't miss this official welcome from President Corey and other faculty and staff. You will also meet your Orientation leader and group.

Sutherland Auditorium, Calvary Chapel

11 a.m–12 p.m
12–1 p.m.

To allow for proper social distancing, families and supporters are encouraged to attend one of the two 1 hour sessions available during this time. Additional information will be available soon.

Metzger Lawn
Track 2
Time
Event
Location

11 a.m–1 p.m.

Move-In and Orientation Check-In

Head to your residence hall to check-in, get your key, and schedule for the day's events. Student leaders will also be there to help you move in!

Residence Hall Lobbies

2–4 p.m.

Mandatory Campus Welcome (Orientation Session)

Don't miss this official welcome from President Corey and other faculty and staff. You will also meet and get to know your Orientation leader and group.

Sutherland Auditorium, Calvary Chapel

2–3 p.m
3–4 p.m.

To allow for proper social distancing, families and supporters are encouraged to attend one of the two 1 hour sessions available during this time. Additional information will be available soon.

Metzger Lawn
Track 3
Time
Event
Location

9–11 a.m.

Mandatory Campus Welcome (Orientation Session)

Don't miss this official welcome from President Corey and other faculty and staff. You will also meet and get to know your Orientation leader and group.

Sutherland Auditorium, Calvary Chapel

9–10 a.m
10–11 a.m.

To allow for proper social distancing, families and supporters are encouraged to attend one of the two 1 hour sessions available during this time. Additional information will be available soon.

Metzger Lawn
---
Friday, August 28
Ongoing
| Time | Event | Location |
| --- | --- | --- |
| 8 a.m–4 p.m. | Get your questions answered about the week's events. | Fluor Fountain |
| 8 a.m–4 p.m. | Have a break in your schedule? Visit Academic Advising, Bookstore, Financial Aid, the Registrar or other campus offices so you are ready to start classes on Monday. (Modified hours for Saturday are: 11 a.m-3 p.m.) | Various |
| 11 a.m–2 p.m. | Explore campus resources for your well being and ways to get involved with clubs, events, and more! | Sutherland Way |
Track 4
Time
Event
Location

8–10 a.m.

Move-In and Orientation Check-In

Head to your residence hall to check-in, get your key, and schedule for the day's events. Student leaders will also be there to help you move in!

Residence Hall Lobbies

11 a.m–1 p.m.

Mandatory Campus Welcome (Orientation Session)

Don't miss this official welcome from President Corey and other faculty and staff. You will also meet your Orientation leader and group.

Sutherland Auditorium, Calvary Chapel

11 a.m–12 p.m
12–1 p.m.

To allow for proper social distancing, families and supporters are encouraged to attend one of the two 1 hour sessions available during this time. Additional information will be available soon.

Metzger Lawn
Track 5
Time
Event
Location

11 a.m–1 p.m.

Move-In and Orientation Check-In

Head to your residence hall to check-in, get your key and schedule for the day's events. Student leaders will also be there to help you move in!

Residence Hall Lobbies

2–4 p.m.

Mandatory Campus Welcome (Orientation Session)

Don't miss this official welcome from President Corey and other faculty and staff. You will also meet your Orientation leader and group.

Sutherland Auditorium, Calvary Chapel

2–3 p.m
3–4 p.m.

To allow for proper social distancing, families and supporters are encouraged to attend one of the two 1 hour sessions available during this time. Additional information will be available soon.

Metzger Lawn
Track 6
Time
Event
Location

8:30–9 a.m.

Check in for Orientation and get your name badge and schedule for the day's events.

Sutherland Auditorium

9–11 a.m.

Mandatory Campus Welcome (Orientation Session)

Don't miss this official welcome from President Corey and other faculty and staff. You will also meet your Orientation leader and group.

Sutherland Auditorium, Calvary Chapel

9–10 a.m.
10–11 a.m.

To allow for proper social distancing, families and supporters are encouraged to attend one of the two 1 hour sessions available during this time. Additional information will be available soon.

Metzger Lawn

11 a.m–2 p.m.

Visit Academic Advising, Bookstore, Financial Aid, the Registrar or other campus offices so you are ready to start classes on Monday.

Various Locations

2–4 p.m.

Head to your residence hall to check-in, get your key and schedule for the day's events. Student leaders will also be there to help you move in!

Residence Hall Lobbies
---
Saturday, August 29
Ongoing
| Time | Event | Location |
| --- | --- | --- |
| 8 a.m–4 p.m. | Get your questions answered about the week's events. | Fluor Fountain |
| 8 a.m–4 p.m. | Have a break in your schedule? Visit Academic Advising, Bookstore, Financial Aid, the Registrar or other campus offices so you are ready to start classes on Monday. (Modified hours for Saturday are: 11 a.m-3 p.m.) | Various |
| 11 a.m–2 p.m. | Explore campus resources for your well being and ways to get involved with clubs, events, and more! | Sutherland Way |
Track 1
Track 2
Track 3
Track 4
Track 5
Track 6
Track 7
Track 8
Time
Event
Location

12–1 p.m.
1–2 p.m.

Are you one of the first generation in your family to attend college? If you answered yes, to this first question, come out and meet other Biola FirstGen students and hear from student leaders from the department of Student Enrichment and Intercultural Development (SEID) about the exciting resources, programs, and events available to you as a #BiolaFirstGen Student! We'll have some fun community-building moments as well as some snacks and drinks. We look forward to meeting you!

Andrews Banquet Room

12:30–1:30 p.m.

Veteran Lunch

Cafe Banquet Room

8–9 a.m.

Check in for Orientation and get your name badge and schedule for the day's events.

Sutherland Auditorium, Calvary Chapel

9–11 a.m.

Mandatory Campus Welcome (Orientation Session)

Don't miss this official welcome from President Corey and other faculty and staff. You will also meet your Orientation leader and group.

Sutherland Auditorium, Calvary Chapel

9–10 a.m.
10–11 a.m.

To allow for proper social distancing, families and supporters are encouraged to attend one of the two 1 hour sessions available during this time. Additional information will be available soon.

Metzger Lawn

11 a.m–12 p.m.

Meet with your Orientation Leader to locate classrooms in time for classes to start Monday. Be sure you bring your class schedule!

Various Locations

12–1 p.m.

Collegium

12–1 p.m.
1–2 p.m.

Are you one of the first generation in your family to attend college? If you answered yes, to this first question, come out and meet other Biola FirstGen students and hear from student leaders from the department of Student Enrichment and Intercultural Development (SEID) about the exciting resources, programs, and events available to you as a #BiolaFirstGen Student! We'll have some fun community-building moments as well as some snacks and drinks. We look forward to meeting you!

Andrews Banquet Room

12:30–1:30 p.m.

Veteran Lunch

Cafe Banquet Room

12–1 p.m.
1–2 p.m.

Are you one of the first generation in your family to attend college? If you answered yes, to this first question, come out and meet other Biola FirstGen students and hear from student leaders from the department of Student Enrichment and Intercultural Development (SEID) about the exciting resources, programs, and events available to you as a #BiolaFirstGen Student! We'll have some fun community-building moments as well as some snacks and drinks. We look forward to meeting you!

Andrews Banquet Room

12:30–1:30 p.m.

Veteran Lunch

Cafe Banquet Room

1–2 p.m.

Collegium

2–4 p.m.

Mandatory Campus Welcome (Orientation Session)

Don't miss this official welcome from President Corey and other faculty and staff. You will also meet your Orientation leader and group.

Sutherland Auditorium, Calvary Chapel

2–3 p.m.
3–4 p.m.

To allow for proper social distancing, families and supporters are encouraged to attend one of the two 1 hour sessions available during this time. Additional information will be available soon.

Metzger Lawn

4–5 p.m.

Meet with your Orientation Leader to locate classrooms in time for classes to start Monday. Be sure you bring your class schedule!

Various Locations
---
Sunday, August 30
Track 1
Track 2
Track 3
Track 4
Track 5
Track 6
Track 7
Track 8
| Time | Event | Location |
| --- | --- | --- |
| 1–2 p.m. | Meet with your Orientation Leader to locate classrooms in time for classes to start Monday. Be sure you bring your class schedule! | Various Locations |
| 2–3 p.m. | Meet with your Orientation Leader to locate classrooms in time for classes to start Monday. Be sure you bring your class schedule! | Various Locations |
| 3–5 p.m. | Games, activities and more! Meet your Orientation Leader and join the fun. | Various Locations |
| 5:30–6:30 p.m. | Transfer students, enjoy dinner with other transfers as you learn more about your success and thriving at Biola. Meals provided for those without meal plans. | Metzger Lawn |