Get Involved
On This Page
Apply for a Position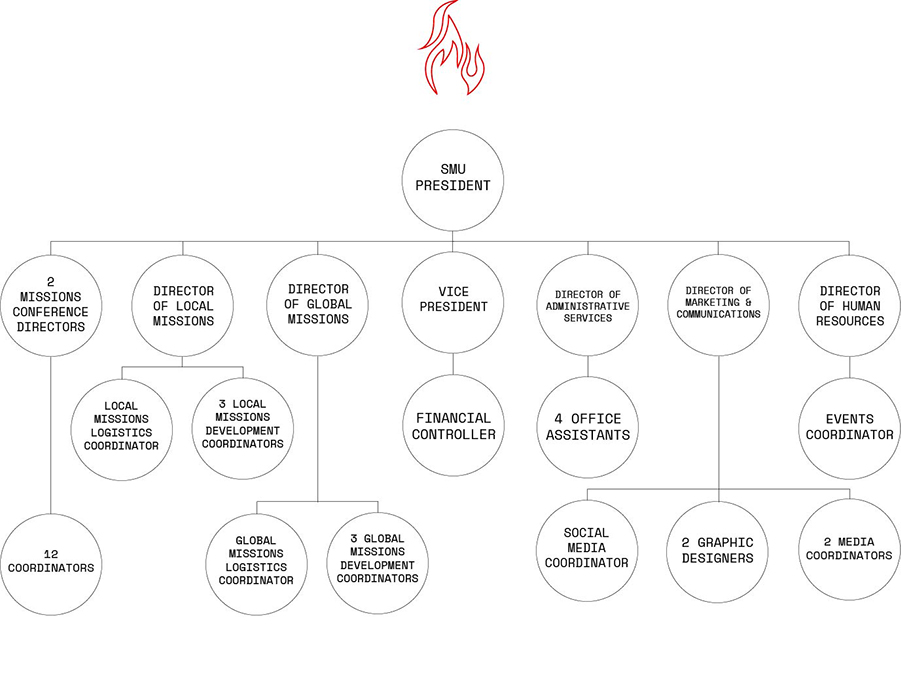 With opportunities in all five departments, SMU is excited for you to become involved. Check out our different staff positions and volunteer opportunities and find out where you would like to join in.
Follow our social media for updates on when we are hiring!
Service Opportunities
---
Local Missions
The Local Missions Department seeks to provide student-led opportunities and resources for students to be involved in what God is doing in their local context. There are two local missions opportunities provided every year to students — Jerusalem and Judea Projects — along with occasional outreaches, service opportunities and workshops help every Monday night.
Jerusalem Projects
Jerusalem Projects take place during the fall semester. They are weekly outreaches, partnered with a local church or missions organization, created with the purpose to get students involved in a consistent ministry that produces long-lasting relationships connected to the church. At the end of the spring semester, leaders are hired and given a co-leader. These leaders are required to plan their entire trip. Team members are hired during fall semester.
Past Trips:

Team Anaheim partnered with Voice of the Refugees with the goal of hosting conversation nights, teaching English, building relationships with refugees and having gospel-centered conversations.
Team Downey partnered with Kingdom Causes and Imago Dei Church by serving in a homeless breakfast ministry.
Team DTLA partnered with Union Rescue Mission and Los Angeles Mission by doing homeless outreach and serving the workers.
Team Fullerton performed weekly evangelism outings in the city of Fullerton.
Judea Projects
Judea Projects take place during spring break. They are week-long outreaches and can be located anywhere within the state of California. Leaders are hired at the end of fall semester and are required to plan a week-long trip while partnering with churches and organizations in California. Team members are hired during spring semester.
Past Trips:
Team San Diego partnered with First Christian Church of National City and InterVarsity San Diego. They did campus outreach, street evangelism and served the homeless at a food kitchen.
Team San Francisco partnered with Church Resource Ministries (CRM) InnerChange. They did homeless ministry, immigrant ministry and evangelism.
Other Opportunities
We are also connected to and are planning on providing more opportunities for those who cannot commit to a whole semester of service. Some of these opportunities include: homeless outreach, serving at food banks and evangelism outings. If you are interested in hearing more about these opportunities, please contact smu.localmissions.director@biola.edu.
Every Monday night, starting January 29, 2018, the Local Missions Department will be hosting workshops focused on topics related to living missionaries. Speakers from different backgrounds and perspectives come and are invited to share their insight and experiences regarding missions. Check out SMU's Facebook page for updates!
If you are interested in leading or being on a local missions team, please contact smu.localmissions.director@biola.edu.
Global Missions
The Global Missions Department exists to motivate and mobilize students to be Christ's witnesses in our Samaria and to the end of the earth.
Ends of the Earth Trips
Ends of the Earth trips are three to six-week-long international trips over the summer, where teams share the love of Jesus through sports, music, art and evangelism. We must acknowledge and be motivated by the need for Gospel advancement around the world. God commands us to make disciples of all nations, and we view these projects as a way to live out the Great Commission and magnify God's glory.
Missions Conference
Biola's annual Missions Conference is currently the largest annual Missions Conference in the world and has been student-led for almost 90 years. Volunteer to work in Sessions, Prayer & Worship, Interactions, Global Awareness, Marketing & Hospitality, and Logistics.