Robert Wood Lynn
By Dorothy C. Bass & Glenn Miller
Protestant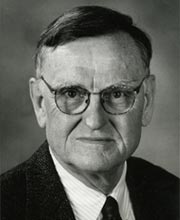 ROBERT WOOD LYNN (1925–2018) pursued a lifelong vocation as a Christian educator that included educational ministry in the congregation, teaching and administration in the academy, philanthropic leadership, and important contributions as a consultant, trustee, and valued conversation partner to numerous institutions and individuals across American religious and educational life. While a professor at Union Theological Seminary in New York City, he pioneered in the historical study of Christian education in the United States. Later, as Vice President for Religion at Lilly Endowment Inc., he developed grants programs addressed to understanding and renewing theological education, congregational life, and other areas of American religion, with steady concern for how such institutions might serve the common good.
Biography
Robert Wood Lynn was born on 3 April 1925 in Wheatland, Wyoming, the youngest of four children born to college-educated parents who had moved West to embrace the ideal of homesteading. Even while farming wheat under rugged conditions, Lynn's parents were leaders in the local United Presbyterian Church, respected participants in civic life, and avid readers; Lynn's mother favored Shakespeare and such theological liberals as Ralph Waldo Emerson and Harry Emerson Fosdick. In this environment, the young Robert Lynn developed a keen interest in the vigorous discussion of ideas and a robust sense of public life in a democracy that included a paradoxical devotion to both the claims of community and the rights of the individual-features earlier described by the great historian Frederick Jackson Turner as characteristic of the Progressive tradition in the American West.
Lynn graduated from Princeton University (B.A., 1948), Yale Divinity School (B.D., 1952), and Union Theological Seminary in New York City (Th.D., 1959). All three institutions fed his interest in both practical affairs and the life of the mind. While at Princeton, for example, he was part of a cooperative eating club that had no Jewish quota and admitted African Americans, and at Yale he served as chaplain to the Presbyterian students and as a resident counselor at Dwight Hall.
Throughout college and seminary, Lynn intended to return to the West, and upon graduation and ordination he accepted a call to serve as assistant minister for adult education at Montview Boulevard Presbyterian Church in Denver. When this experience increased his sense of the importance and possibilities of Christian education, he entered a doctoral program at Union, where he studied for two years before returning for another three years of teaching in the Denver congregation. Although his primary work would soon shift to the academy, he would retain a strong commitment to congregations, both personally and in his professional work.
The 1950s were the neo-orthodox era in American theological education, and Lynn had the good fortune to study with such outstanding scholars and teachers as Paul Ramsey, H. Richard Niebuhr, Lewis Sherrill, Reinhold Niebuhr, and Paul Tillich. In retrospect, the one who most influenced him intellectually was H. Richard Niebuhr, whose thought explored the dynamic relationship between cultural and historical experience and revelation. Niebuhr also continued the long tradition among some American theologians of searching for theological meaning in the history of American religion, culture, and public life. His work acknowledged that social factors determine religious organization while also expressing profound conviction that American Christianity was capable of transforming both itself and its environment.
In 1959, Robert Lynn was appointed to the faculty of Union Seminary, and one year later he was named Dean of Auburn Theological Seminary, a Presbyterian institution located at Union that collaborates with Union in some programs. In this new setting, Lynn began to develop and articulate his own contributions to his discipline. Throughout his career, Lynn has been intrigued by conversation and dialogue, two marks of the Union tradition in religious education that stretched from George Coe to Lewis Sherrill, and the Union of the early 1960s was ideally suited for this approach. C. Ellis Nelson, Lynn's colleague in religious education, became an influential conversation partner, as did the historian Robert T. Handy, who confirmed Lynn's fascination with American religious history and included him in his graduate seminars. Lynn also drew in his work on the rich intellectual resources of two nearby institutions, Columbia Teacher's College and Jewish Theological Seminary. Lawrence Cremin of Teacher's College, then well on his way to becoming one of the leading historians of American education, was particularly important in helping Lynn form his own picture of America's educational past and its implications for present-day practice. The rich conversation about religious education in the American context that emerged during these years would also nurture the work of Lynn's students in the field, including Charles Foster, Stephen Schmidt, and John Westerhoff.
During these same years, Lynn read and was deeply influenced by Werner Jaeger's Paideia. At first glance, the picture of the instinctively democratic Lynn mulling over the instinctively aristocratic Jaeger seems incongruous, but Lynn was reading Jaeger through the distinctive lens of the American West. What he found in the German philosopher was an awareness that education, even in its fullest development, takes place within an ecology (the term is from Lawrence Cremin); that is, that people learn through interaction with a number of key institutions that provide them with formative experiences. Just as to live in Athens was to receive an education from participation in the polis, so to live in the United States at certain points in time was to be shaped by a variety of American institutions. As Lynn began to reread the early American religious educators, especially George Coe, he saw that appreciation of American Protestant culture as an educational ecology made up of a mutually interactive configuration of institutions was at the heart of the Progressive vision. Remembering H. Richard Niebuhr, Lynn was now able both to define the social roots of this educational experience and to affirm, at the same time, its revelatory value.
At this point, Lynn formulated the larger narrative that would provide the framework for his books Protestant Strategies in Education (1964) and Big Little School: 200 Years of the Sunday School (with Elliot Wright, 1971, 1980). Fueled by the energy of the Second Great Awakening, Lynn argued, American Protestants had created a vast ecology of educational institutions: congregations, Sunday schools, colleges, seminaries, missionary organizations, revivals, camp meetings, publications, Chautauquas, and even, in a certain sense, public schools. For decades, young Protestants could hardly breathe without having their views of God and themselves shaped by one or more of these organizations, whose influence tended to be mutually reinforcing. During the twentieth century, however, this network fell apart as Protestantism became less influential. Twentieth-century religious educators had not, in his reading of their history and legacy, come to terms with change. Instead, what they had produced was "the cycle of enthusiasm and discouragement, the recurring return to the Sunday school, and the consequent failure to go much beyond the 19th Century version of the dual pattern [an alliance between the Sunday school and the home]," he wrote in 1964. "Thus one could say in summary that American Protestants continue to pursue an educational strategy that was designed for and best suited to the conditions of life in a bygone Protestant America." New efforts were needed-for example, one that would emphasize the congregation "as a basic organizing unit for church education in a metropolitan society," rather than relying on educational divisions based on "age, sex, and marital status." ["A Strand of Events in the History of Protestant Educational Strategy: The 1850s to the 1960s," Religious Education 59:4, 310-11]
By mid-century, mainline Protestant educational work had become a "ministry on the margins" of American culture, with no prospect of returning to the center of national life, Lynn told a National Council of Churches gathering in 1966. As the influence of other educational institutions grew and that of the churches diminished, he hoped that Protestant education would become "a sustaining, complementing, and correcting witness." Lynn's strong neo-orthodox background encouraged him to use the concept of marginality in a new way. Those on the margins often see things that those preoccupied with the center never see, and this vision may enable them to work effectively in their communities and the larger culture. Indeed, the location of the prophets on the margins of ancient Israel and the location of ancient Israel on the margins of the world's empires were among the historical factors that gave biblical literature its persistent power. At the same time, he resisted the high ecclesiology of some Neo-Orthodox Christian educators, insisting that new visions for education must arise from "the lived reality of a community, the reflection of a people with a sense of identity," rather than from "some formally-stated doctrine of the Church."
To live in the wake of what colleague Robert Handy was terming "the second disestablishment" was to inhabit a new social location with undisclosed possibilities. Although Lynn spoke hopefully of new possibilities in the mid-sixties, by the early 1970s the "turbulence of Morningside Heights" and "the state of American theological education" had shaken his optimism and led him to take up new questions and to consider new forms of service. As a scholar, he began to focus on the history of reform in American theological education, a history he believed would provide especially important insights as leaders sought to serve and renew the church in the current situation.
Ever since his days at Yale, Lynn had been torn between an administrative and an academic career; indeed, Union Seminary had offered him its presidency in 1963, and other institutions would later court him for this role. The move to Lilly Endowment, a private family foundation in Indianapolis that was (and still is) a very significant funder of research and support for American religious institutions, offered an opportunity to widen and implement portions of his educational vision.
Convinced that American religion's expansion far beyond the mainstream Protestant churches had implications for all religious groups and for the shape of American life as a whole, Lynn persuaded Lilly to include Catholic, Jewish, African American, and Evangelical scholars, leaders, and institutions in the Endowment's work. The importance of these interventions in shaping the development of American religious life was considerable. Among numerous influential initiatives were those that sought to help incorporate a new and more diverse generation of scholars of religion into the academy, to deepen understanding of the Black Church tradition, to study relations between church and state, and to strengthen financial stability for theological schools, African-American churches, and Catholic religious orders.
Even as a full-time foundation officer from 1975 to 1989, Robert Lynn continued to do his work in ways that made him recognizable as a religious educator. Much of his most important grant-making-which was always accompanied by substantial reading and conversation on the issues at stake-reflected his desire to understand the implications of the marginalization of mainstream Protestantism and to renew the ecology of Protestant education. Theological schools were perhaps the most important focus of concern. As the postwar religious boom waned, seminaries faced a classic economic crisis: they had expanded their facilities, faculties, and staffs to meet rising demand, only to find themselves short on funds, constituents, and students in the subsequent period. While they had retained strong enrollments throughout the 1960s (in part because of Vietnam and the availability of the 4-D draft exemption), denominational and other funding was on the decline. A new understanding of seminary financing was needed, and Lynn made significant strategic grants to encourage strong fund-raising, trusteeship, and administration, including some to seminaries willing to create or expand development offices. Seminaries moved from being the children of their denominations to being active participants in the larger pattern of American private education. It was a quiet, but nonetheless substantial, revolution.
Simultaneously, Lynn instigated a searching conversation about the aims and purposes of theological education. Beginning in the midst of the significant theological and cultural disputes of the 1970s, he led American theological educators from many traditions and regions in asking what made theological education theological. This discussion had begun while he was still at Auburn, working with a team of scholars to gather material for a history of theological schools in the United States, and it later continued through the publications of Edward Farley, Barbara Wheeler, David Kelsey, and others. This conversation had many repercussions that are difficult to document and assess, but it clearly generated insights that were to influence theological schools for decades to come. For example, the revised accreditation standards adopted in 1996 by the Association of Theological Schools in the U.S. and Canada, under the title "The Good Theological School," were heavily informed by this discussion, as was the Association's attempt to formulate appropriate goals for the Master of Divinity degree.
Lynn understood the Endowment as an educational institution in its own right-a place where conversation took place and where research was initiated, pondered, and shared with others. At the heart of Lynn's understanding of educational method was his firm belief that conversation was the most effective form of teaching and learning. Lilly's resources enabled him to create significant bodies of research and conversation on topics ranging from the decline of mainstream Protestantism to the meaning of theological school trusteeship-conversations that were not only interesting but also consequential in identifying and shaping important fields of inquiry. Lynn was a lively learner as well as a gracious host. At the same time-and here too are signs of both theological and educational savvy-he was aware of how the motives grantseekers brought to such discussions might affect this work. "American foundations are odd places to work [and are] seldom subject to public scrutiny," he remarked on an alumni panel at YDS in 2002. "So we had to develop ways of seeking out independent and rigorous criticisms of our work. For want of a better term we referred to this work with that limp word, 'evaluation.'"
Lynn retired from Lilly at 64 and moved to New England with plans to read and write, activities he did indeed continue. However, his gifts in institutional leadership were also put to other uses during the subsequent years. He served for ten years as a member of the Corporation of Yale University, where he led the search for Yale's president, Richard C. Levin, in 1993. He also served as a trustee, lecturer, or consultant at various theological schools.
In addition, Lynn was one of those instrumental in establishing the Lake Family Institute on Faith and Giving at the Center on Philanthropy at Indiana University/Purdue University Indianapolis. Lynn had long been interested in the centrality of giving in the American religious experience, a topic that became his primary research interest in his retirement. On the one hand, he was interested in philanthropy, or why and how people with ample means establish institutions, endow colleges and seminaries, and create foundations. But he also came to see that philanthropy is only part of a larger picture. American religious institutions, great and small, are sustained by millions of small gifts, given regularly to support daily operations.
Seen as a whole, Lynn's career is remarkable for its continuities. From his earliest work as an assistant minister for adult education in Colorado to his recent reflections on giving, Robert Lynn has been fascinated by the question of how the multiple facets of culture create an educational milieu that shapes and forms human life. His historical studies have sought to dig into the bedrock that created and sustained American Protestantism over time. But he has always sought this knowledge in order to serve present-day concerns. Even his most mundane historical study has been directed, in that sense, toward revelation. Niebuhr's paradigm has continued to disclose new possibilities. Throughout Robert Lynn's work, then, scholarship and practice seek the same ends. As minister, scholar, teacher, dean, foundation officer, trustee, consultant, and author, he demonstrated that one can foster an educational world that can advance participants' knowledge and ability to act. In all these settings, his work as an initiator and guide for conversations about the things that matter has reflected a lifelong and multifaceted commitment to the relationship between teaching, learning, and the common good.
Robert Wood Lynn died on October 7, 2018, at the age of 93. He was survived by Katherine Wuerth Lynn, his wife and loving companion of 66 years, and two of their children, eight grandchildren, and five great-grandchildren. A memorial service was held on October 20, 2018, at the State Street United Church of Christ in Portland, Maine.
---
Contributions to Christian Education
Robert Wood Lynn contributed to the academic field of Christian education primarily as a professor of religious education at Union Theological Seminary in New York City and as a funder of wide-ranging work in this field as an officer at Lilly Endowment. As a scholar, Lynn was committed to understanding the history of Christian education in America, its relation to conceptions of public good, and its changing role in an increasingly diverse society. He was responsible for making available to religious educators historian Lawrence Cremin's concept of educational ecologies, which encourages educators to consider their own work in relation to other formative forces in society. In a notable image that has shaped the imagination of late-twentieth-century Protestant educators, Lynn compared nineteenth-century education to a natural ecology in which various institutions-colleges, seminaries, voluntary societies, Sunday schools, public schools, publications, and the church itself-interacted to educate and form Protestant men, women, and children.
Through his books, articles, and speaking, he helped religious educators and the Protestant denominations they served come to terms with the fact that much of this ecology had deteriorated in the twentieth century. In this historical context, he also fostered scholarly attention to the history and theological grounding of seminaries and divinity schools, which he saw as focal points for religious and educational renewal in the late twentieth century and beyond.
As Vice President for Religion at Lilly Endowment, Lynn worked with his colleagues to make a series of significant and influential grants. He was among the first to seek deeper understanding of the sources and significance of the decline of the Protestant mainstream and to urge denominational officials and others to take steps to strengthen the churches, especially at the local level. Together with colleagues at Lilly, he sponsored important early work in congregational studies, which has since become a well-established field in itself as well as an important area of concern for religious educators. As noted above, he also worked to strengthen theological education, both financially and in its sense of mission and purpose.
In retirement, Lynn turned his focus to the history of Protestant giving. With D. Susan Wisely, he published Amazing Pressure: The Hidden History of Stewardship in American Protestantism, an anthology of historical texts for which Lynn wrote a substantial introduction. He also made other results of this research available online, including interpretive essays, historical texts, and questions to facilitate group discussion of these materials, especially in congregations. These documents are now gathered in the Robert Wood Lynn archive at Burke Library, Union Theological Seminary, Columbia University.
---
Bibliography
Works by Robert W. Lynn
1950 "A New Literary Hero." in Religion in Life: A Christian Quarterly 19:2, 255-263.
1952 "A Christian Views the Cultural Order." in J. Robert Nelson, (Ed.)., The Christian Student and the World Struggle, USCC Study Edition, Haddam House, 51-56.
1952 "Sunday Day School of America." Social Action 18, 45-46.
1952 "The Mass Media and the Kingdom of Evil." Religion in Life 21:2, 229-240.
1952 "The Public Schools and Protestant Faith" in Social Action, 19:3, 2-.
1953 "Public Schools and Protestant Faith." Social Action 19 2-29.
1955 "Is Life Beautiful in the Armed Services?" This Generation, 7:2, 4-7.
1956 Review of C. Wright Mills, "The Perils of Radical Dissent." Christianity and Society, 21:3, 15.
1957 Co-authored with Carl R. Smith. "Experiment in Suburbia." in John L. Casteel, (Ed.)., Spiritual Renewal through Personal Groups, Association Press.
1959 "Christ and Celebrity Gods." Religion in Life 28:1, 154.
1961 "The Church as Meeting House," three lectures delivered at the American Baptist Convention, privately printed by The Ministers and Missionaries Benefit Board.
1962 "Christmas is Coming." Christianity and Crisis 22,194-195.
1962 "Family-Sunday School Partnership: A Chapter in the History of a Protestant Educational Strategy." ThD Dissertation. New York: Union Theological Seminary.
1962 "Impasses in Protestant Educational Strategy." Christianity and Crisis 22, 88-91.
1962 "Religion in the Public Schools." Christianity and Crisis 22, 130-131.
1962 "Treasures in Earthen Vessels." Union Seminary Quarterly Review 18:1, 98-99.
1963 " New Frontiers: Partly Explored." Christianity and Crisis 22, 249-250.
1963 "Protestant Churches and Urban Education." Christianity and Crisis 23, 192-195.
1963 "School Prayer and Beyond. Christianity and Crisis 23, 113-114.
1963 "Stalemate over Aid to Education." Christianity and Crisis 23, 41-42.
1964 "A Strand of Events in the History of Protestant Educational Strategy: the 1850s to the 1960s" Religious Education 59:4, 305-312.
1964 "Education and Integration. Christianity and Crisis 24, 10-11.
1964 "Experimenting with Shared Time," Christianity and Crisis 24, 82-83.
1964 "Protestant Strategies in Education." (Monographs in Christian Education, #1. Edited by C. Ellis Nelson) Association Press. Second printing in 1967.
1965 "New Opportunity in Education," in Christianity and Crisis, 25:3, 30-31.
1966 "A New Day," in Children's Religion, 27:9, 4-5.
1966 "Education in the New America," Lectures given at the Association of Council Secretaries 25th National Conference, The Campbell Lectureship, Department of Higher Education, National Council of Churches.
1966 "Religious Educators: Their Vision of Polity and Education." Union Theological Seminary Quarterly Review, 21:2, 145-150.
1966 "The Public Schools and the Study of Religion," in Marvin J. Taylor, (Ed.), An Introduction to Christian Education, Abingdon press.
1969 "Discussion" of Merle L. Borrowman's, "The Professional Education of Teachers: A Search for the Golden Mean," Theological Education, Spring 1969. Also published in a volume entitled Theological Education as Professional Education, The Association of Theological Schools in the United States and Canada.
1969 "A Turningpoint in Protestant Theological Education," in Clarence H. Faust and Jessica Feingold (Eds.), Approaches to Education for Character: Strategies for Change in Higher Education, Columbia University Press for the Conference on Science, Philosophy and Religion.
1970 "The Eclipse of a Public: Protestant Reflections on Religion and Public Education, 1940-1968," in Theology and Church in Times of Change: Essays in honor of John Coleman Bennett, ed. Edward Le Roy Long and Robert T. Handy. Philadelphia: The Westminster Press.
1971 "A Party of Hope." Religious Education 66:5, 331-335.
1971 The Big Little School. With Elliott Wright. New York: Harper and Row.
1971 "Old Time School, New Time School." WIth Elliott Wright. in Colloquy: Education in Church and Society, 6:4, 8-22.
1972 "Does the Big Little School Have A Future?" Spectrum 48, 8-10.
1972 "Sometimes on Sunday: Reflections on Images of the Future in American Theological Education." Andover Newton Quarterly 12, 130-139.
1972 "The Uses of History: An Inquiry into the History of American Religious Education." Religious Education 67:2, 83-97.
1973 "Civil Catechetics in Mid-Victorian American: Some Notes About American Civil Religion, Past and Present." Religious Education 68:1, 5-27.
1973 "Dear John," in Colloquy: Education in Church and Society, A Future Issue, 2, 11, 21, 31, 35.

1973 with James W. Fraser, "How Moral is Moral Education," in Colloquy: Education in Church and Society, 6:5, 6-9.
1975 "The Last of the Great Religious Movements." Duke Divinity School Review 40, 151-160.
1976 "Historical Perspectives on the Future of America Religious Education." In Marvin Taylor, ed., Foundations for Christian Education in a Time of Change. Nashville: Abingdon Press, 7-19.
1977 "Images of the Small Church in American History." With James W. Fraser. In Jackson Carroll, ed, Small Churches are Beautiful. San Francisco: Harper and Company.
1978: "Keep it Religious: The Morrison Era at the Century." Christian Century 95:32, 946-950.
1981 "Notes Toward a. History: Theological Encyclopedia and the Evolution of Protestant Seminary Curriculum, 1808-1968." Theological Education 17:2, 118-144.
1981 "Tradition and Modernity: Managerial Images of Ministry in Protestant Church Education: 1900-1920." In Mary C. Boys, ed., Ministry in Conversation. Winona, Minn: Saint Mary's Press, 97-111.
1982 The Futures of Protestant Seminaries: A Conference for Seminary Trustees. Washington: Alban Institute.
1984 "Our Theological Schools and the Future of the Church," The Presbyterian Outlook, 166:31, 6-8.
1985 "The Harper Legacy, An Appreciation of Joseph M. Kitagawa," in Criterion, 24:3, 4-8.
1986 "The Future of Theological Research and Theological Libraries." American Theological Library Summary of Proceedings 40, 118-144.
1987 "Living on Two Levels: The Work of the Academic Dean in North American Theological Education." Theological Education 24:1, 75-87.
1991. Good Stewardship: A Handbook for Seminary Trustees. Washington: the Association of Governing Boards of Universities and Colleges.
1992 "The Crisis of Leadership in the Oldline Protestant Churches: The Ninth Peter Ainsley Lecture on Christian Unity." Midstream 31:2; 112-122.
1992 "The Survival of Recognizably Protestant Colleges: Reflections on Old-Line Protestantism." In The Secularization of the Academy, ed. George Marsden and Bradley J. Longfield. New York: Oxford University Press, 170-194.
1997 "Speaking Honestly about Money." Living Pulpit 6:3, 14-15.
ND with Glenn T. Miller, "The Making of a History," in Ministerial Formation 16, Programme on Theological Education, World Council of Churches, 18-21.
ND. c. 1991, "Coming over the Horizon," The Auburn News, Auburn Theological Seminary, New York, no page number.
ND with William B. Kennedy, "Letter to Church Members Who Care About Schools and the Education of the Public," published by Ministries in Public Education, Valley Forge, PA.
ND "What Can I Do About It? A Look at the Christian's Duty in World Affair." In Crossroads. Two-page clipping, 12-13, no indication of volume or publisher. Biographical ID: "Mr. Lynn has been minister to adults at the Montview Boulevard Presbyterian Church, Denver, Colorado, and is now engaged in graduate study."
2012 Amazing Pressure: The Hidden History of Stewardship in American Protestantism. With D. Susan Wisely. CreateSpace Independent Publishing.
Works about Robert W. Lynn
Elizabeth Lynn, "The Education of Robert Lynn," in Parker J. Palmer, Barbara G. Wheeler, and James W. Fowler, Caring for the Commonwealth: Education for Religious and Public Life (Macon, GA: Mercer University Press, 1990), pp. 251-260.
Kenneth L. Woodward, "The High Priest of Scholarship: Robert Wood Lynn seeds a research renaissance," Newsweek (August 7, 1989).
Tracy Schier, "Robert Wood Lynn on Christian Giving in America," a 1994 interview posted on Resources for American Christianity (http://www.resourcingchristian...)
The papers and publications of Robert Wood Lynn are archived at the Burke Library, Union Theological Seminary, Columbia University, New York.
---
Excerpts from Publications
Lynn, R. W. (1966). Religious educators: Their vision of polity and education. Union Theological Seminary Quarterly Review, 21(2), 145-159.
The final paragraphs of Lynn's inaugural lecture as Auburn Professor of Religious Education and Church and Community provide a powerful summary of several themes in his work. This passage places church education in a wide social context; insists on the importance of "the lived reality of a community" and "a healthy and vigorous society," and holds up a generous and collegial vision of theological education and its mission.
Finally, on this occasion of recalling the accomplishments of an earlier day, we should take another look at our accomplishments in recent years. During the last two decades some of the best Christian educators have urged us to accept the Church as the source of true polity. The Church, H. Shelton Smith was fond of saying, is a distinctive community of nurture. So also Lewis J. Sherrill wrote, "The new philosophy of Christian education… must draw its inspiration from the peculiar genius of the Christian community and of the Christian faith, rather than from any form of secular society or secular education."
It is still too early to say that this new orientation has failed. But perhaps it is time to be more candid about our difficulties. A vision of polity that informs and illumes the educational process can not be deduced from some formally-stated doctrine of the Church. It must come out of the lived reality of a community, the reflection of a people with a sense of destiny. The power and penetration of the religious educators was largely due to their sense of participation in a society that gave promise and hope of a new community to come. In our time the life of the churches - the lived reality - has not yet generated that kind of promise and hope.
And the observation brings me to the heart of my thesis: the work of the educator is not an autonomous, independent science, one that lives in its own universe and feeds upon its own resources. To be sure, there are certain technical matters that fall within its domain. But for the most part, the vitality of the educator's insight depends upon his involvement in a healthy and vigorous society. The present parlous state of Protestant education in the United States is only partially the responsibility of the professional church educator. It is also a sign of a flabby Church that has lost its way and forgotten its true vocation.
By the same token, a professor of religious education in this community of learning depends very much upon those in other disciplines. I am aware that this is not the usual approach of the inaugural lecturer. It is doubtless tempting to seize upon this occasion as the once-in-a-lifetime opportunity to prove the centrality of one's own discipline, and thus to rout the disbelievers and awaken all those who slumber and sleep in Zion.
That is not my cause today. Rather, I would call for the best wisdom that a community of scholars and students can provide. We need biblical scholars who will once again help us to understand the process of formation in the old and new Israel; church historians who can remind us of the ways in which the Church has educated in previous generations; and theologians and ethicists who will take seriously the fundamental issues of polity. My hope is that in our common life and work together we might once again discover a vision of true polity and good education.
It is in that hope and for our cause that I speak today.
Lynn, R. W. (1964). A strand of events in the history of Protestant educational strategy: The 1850s to the 1960s. Religious Education 59(4), 305-312.
Robert W. Lynn summarized key aspects of the argument of his first book, Protestant Strategies in Education, in a 1964 address published as:
This article also provides an excellent example of how historical perspectives informed his approach to religious education. One excerpt here gives a flavor of his thought.
What, then, will be the Protestant response to the future that is now breaking in upon us? We can plausibly assume that Protestant ventures into education will become increasingly marginal to the total enterprise of education in a technological society. Here - because of space limitations - I must compress my argument to a few sketchy generalizations.
In the 19th Century formal schooling was not absolutely essential to the future of one who was going to stay on the farm or near Main Street. According to Kimball and McClellan, "It is clear that for anyone who was going to remain stationary in his agrarian community, all that he would need to know in terms of knowledge, skills, and attitudes, he could learn without schooling. What he could not learn without formal instruction was how to move and change." The appeal of the McGuffey's Readers, they state, was due to McGuffey's art in teaching "what his readers believed to be the moral attitudes necessary for success in the city."
Today, of course, this is no longer true. Formal education has become the entrance into the future. Indeed, what is so distinctive about present-day American society is the necessity of continuing formal education throughout much of a person's productive life. In this connection we should note the recent emergence of the Armed Forces and the corporations as important educational agencies. Moreover, much of the actual on-the-job experience of a person in a technological economy closely resembles what in other times we would have called formal instruction.
I stress this obvious difference because it points so clearly to a change in the church's position as an educational agency. In the 19th Century the Sunday school - for example - compared somewhat more favorably with the slowly developing system of public schools. In 1870 only 57% of American children were enrolled in the schools. An education in the public schools of rural America during this era was often a hit-or-miss affair. The rhythm of harvest and planting determined the school year, so that the average number of days attended per year was just under forty-five in 1870. But as the schools have become increasingly central in preparing youngsters for life in a society that demands unprecedented competence and a high level of skills, the church's efforts at education are becoming more marginal.
And I suspect that in the years to come our educational enterprises will become even more marginal - when compared with those of other educational agencies. How will the Protestant churches respond to this likelihood of increasing marginality? The usual response to such a situation is apathy and resignation. In our case it might be a passive willingness to drift with the times, or perhaps anger over our cultural displacement.
I HOPE, however, that we can see the meaning of this "new creation" and the "duty" it teaches. The marginal man is often the best critic of society. So also the Protestant churches now have the opportunity of developing a creative witness on the margin of American education. The peculiar possibilities of our marginality are manifold: the freedom of perceiving areas of educational neglect; the independence needed for sponsoring experimentally oriented programs that the public schools could learn from; and the willingness to use our limited resources in continuously changing combinations and the unwillingness to become wedded to particular forms.
Such a sustaining, complementing, and correcting witness on the margin will entail a careful criticism of our present commitments in educational strategy. By way, of illustration: can the congregation serve as a basic organizing unit for church education in a metropolitan society? Is it not time to criticize the conventional assumption that the factors of age, sex, and martial status provide the most reliable criteria for the bases of organization in Christian education?
THESE ARE just a few of my questions. You will doubtless supply your own. Therefore, we will conclude by posing one last question - where are the critics of Christian education? John Stuart Mill once said that the prayer of every true partisan of liberalism should be, "Lord, enlighten thou our enemies… sharpen their wits, give acuteness to their perceptions and consecutiveness and clearness to their reasoning powers. We are in danger from their folly, not from their wisdom…" If we do not have strong critics, then we will not be forced to examine our own position for its weaknesses and complacencies. There is an ominous lack of informed criticism of Christian education today. With the possible exception of John Fry's not-so-fond farewell to the enterprise of professional church education, we have been bereft of forceful opponents for too long.
Without such critics we shall go on our unreflective way, allowing the presentness of the past to operate in us as a fate.
Lynn, R. W. (1992). The crisis of leadership in the oldline Protestant churches: The ninth Peter Ainsley lecture on Christian unity." Midstream, 31(2), 112-122.
In an address delivered a year after his retirement from The Lilly Endowment, Lynn returned to many of the themes of his work in the field of religious education, but with the widened perspective gained as the host and sponsor of national conversations on leadership, the common good, theological education, religious life, and other crucial topics. An excerpt here gives insight into his ideas on one of the critical issues he addressed in the article.
A Creative Interim
Amidst all the formidable problems on their agenda, the new generation will encounter one assignment that could be converted into an important opportunity for oldline Protestantism. An inescapable feature of life in this decade will be an avalanche of talk about the future. In anticipation of the turning of the calendar on January 1, A.D. 2000 into the third millennia, American institutions will be offering their respective versions of life in the twenty-first century. Americans enjoy this sort of activity. Consider, for instance, the enormous continuing interest in the 1939 New York World Fair even sixty years later. Therefore church leaders can expect to spend a fair amount of time on developing plans for the twenty-first century, whether they relish the task or not.
Indeed, that kind of future-gazing is already underway in some of the oldline denominations. Some of the first results of these efforts are available in preliminary form. Although it is not much too early to make any judgments about the quality of these reflections, it is not premature to wonder - at least on the basis of what I have seen thus far - if these vistas upon the future will finally turn out to be the long shadows of some currently fashionable enthusiasms extended into the future.
In any event the forthcoming round of the year 2000 celebrations offer a promising teaching occasion for discerning leaders. Every serious estimate of the future involves, directly or indirectly, sustained and critical attention to the past. I hope that the documents developed in connection with these celebrations will provide the church public with a way of seeing the recent period of Protestant dominance as a whole - its beginning in the early decades of the last century as well as its ending sometime in this century. Such a view of the historical terrain traversed by our forbears will help church folk comprehend the meaning of the recent past and present as an interim in between two eras. That sort of retrospective interpretation could also offer us a momentary transcendence over our current situation and hence the church to be more realistic in our thinking about life in the years to come.
One can enter this loop between past and future at almost any point. Perhaps one could even begin this journey of inquiry with the questions - "Where did the institutions now in such difficulty come from?" "What is the time or origins for the familiar landmarks on the contemporary Protestant landscape?" "And how did the interpreters of that time understand the purposes of those institutions?" More often than not, those queries will lead inquirers back to the first half of the nineteenth century.
By way of illustrating what might happen in this kind of reflection, I will quickly trace one strand of history that stretches over the span of the last 150 years or so - the churches' work in education. In the first third of the nineteenth century, a generation of innovators launched new institutions to serve both the churches and the young American republic. By coincidence the Sunday school, the seminary, the denominational college (a school different in crucial ways from the eighteenth century colonial college), the public school, and other educational ventures came along about the same time.
In the middle decades of the nineteenth century, a handful of church leaders began to see a larger pattern and purpose in this motley array of institutions. Where others saw only independent movements going their own respective ways, this group discerned a unifying purpose that gathered the disparate agencies into a single orbit, a Protestant circle whose total power added up to far more than the sum of its parts. Among these popular interpreters was the Presbyterian minister, Robert Baird. His best-known book - Religion in the United States of America - was intended to interpret the American experiment with the "voluntary system" to Europeans. Still considered an important text for penetrating the self-understanding of Protestants at that time, this work offers a consistent interpretation of the vocation of the churches in that society. One of Protestantism's most important tasks, Baird wrote, was the "religious instruction" of the nation. In the shorthand of the later period, he defined the work of Protestantism in America as an educational movement in the service of its country and the world.
That view of Protestantism makes sense in retrospect. In earlier times the minister was almost as much at home in the classroom as in the pulpit. Likewise the congregation and the school were considered natural partners in the settlement of territory in the West during the nineteenth century. It is striking to note, for instance, that Baird included the public school in his portrait of the circle of Protestant institutions, all of which were linked together in the task of providing "religious instruction" for the new nation. What Baird left unsaid - perhaps because there was no need to state it explicitly was equally important, i.e. the "voluntary system" as embodied in the Protestant circle of educational system would ensure the Protestant character of America even in the absence of a state-supported church.
That circle of Protestant institutions remained more or less intact until toward the end of the century. By 1900, however, the pressures of pluralism and secularization were clearly eroding the links between those institutions around the circle. Yet for the most part the Protestants among the precursors of the current oldline denominations still embraced versions of Robert Baird's expectations. Succeeding generations relied upon education as the way of ensuring their cultural dominance of America.
Finally, in 2002, Lynn put together "Notes in preparation for the panel discussion on 'Calling.'" which offer some personal reflections that give insight into some of his views and priorities. This has not been published.
When I was a student at the Divinity School I caught a glimpse of myself mirrored in the words of W.H. Auden's poem, "The Age of Anxiety."
To be young means
To be on edge, to be held waiting in
A packed lounge for a Personal Call
From Long Distance, for the low voice that
Defines one's future. The fears we know
Are of not knowing. Will nightfall bring us
Some awful order - Keep a hardware store
In a small town… Teach science for life to
Progressive girls --? It is getting late.
When the "Personal Call from Long Distance" finally came, it surprised me, for I hadn't really thought of the pastoral ministry since the early weeks of my first semester at YDS. A large Presbyterian congregation in Denver invited me to become a teacher of adults. In retrospect, that call was a gift of grace. In the following years I came to understand that a vocation was not so much a matter of individual destiny as it was an invitation to be part of a community. Even though we were there for only five years, we became part of a conversation that continues to this day.
My next call came from Union Theological Seminary (NYC) where I served for sixteen years as a Union professor and the Dean of Auburn Seminary. The turbulence of Morningside Heights during the 1960s and early 1970s shook me deeply. The inherited wisdom about "class" and "race," "gender" and "caste" seemed thin and abstract. I was also very troubled about the state of American theological education.
Out of nowhere - or so it seemed at the time - the Lilly Endowment asked me to serve as one of its consultants on theological education. That assignment grew and in 1976 I became responsible for all the work of the Endowment in the field of religion.
In the 1970s most of the national foundations, once active in making grants to religious institutions, had quietly turned to other concerns. Danforth had bowed out and so had all the foundations in the Rockefeller fleet. Only Lilly and the Pew Charitable Trusts remained at work in the religious sphere. This state of lonely splendor complicated our life. A flood-tide of grant proposals, countless opportunities and perplexities made it very important for us to develop a clear sense of priorities.
Nothing I had ever done before prepared me for that responsibility. The pressure was enormous. In this context I found the rhythms of congregational life and worship - especially the confession of sins and the assurance of pardon! - all the more significant. Our small, central city church provided a setting where I could begin to make sense out of the responsibility thrust upon me. (Once again the presence of a community proved crucial in understanding my calling.)
I can't claim that I arrived at vocational clarity at any one moment. But after some years at the Lilly Endowment I began to center upon one question. And that question has stayed with me over the last decade, well after I retired from that staff.
Are we serving the "common good"? For decades many American foundations have conventionally claimed that their raison d'etre was serving the "common good." But whose "common good?" Even more to the point, how would we know if we had served the good or not?
(An aside: our classmate, Bill May, explores the theme of "serving the common good" in his splendid new book, Beleaguered Rulers: The Public Obligation of the Professional.)
American foundations are odd places to work. Unlike most other powerful institutions in this country, they are seldom subject to public scrutiny. For various reasons the media plays little attention to them and only a handful of scholars have developed sustained critiques of their work.
One of my favorite sayings about the life of a foundation officer is borrowed from vice-president of the Ford Foundation in the mid-decades of the last century. By way of concluding an interview with a newly hired staff member, my acquaintance noted, "Young man, you have just had your last bad lunch and your last honest conversation."
The crack about the "last honest conversation" is not far-fetched. For what seminary scholar or specialist in the study of American religion was about to share their most candid thoughts about the errors of the Lilly Endowment with our Religion Division staff when they were earnestly seeking funds from the same source?
So we had to develop ways of seeking out independent and rigorous criticisms of our work. For want of a better term we referred to this work with that limp word, "evaluation."
In the last half of the thirteen years at the Endowment, the "evaluation" problem became my pressing concern. And in the thirteen years since my retirement in 1989, I have spent much of my time serving as an "evaluation" consultant to four international foundations. The record of achievement is, of course, mixed because there are sources of fierce resistance to self-criticism lodged deep within all of us. But I still believe strongly in that work.
In reflecting on the meaning of "vocation," Karl Barth declared that each of us will have between our birth and death a "unique opportunity" and only as we have seize this opportunity will we be faithful to God. I hope I have seized the "unique opportunity" that came my way as an extraordinary gift.
---
Recommended Readings
Lynn, R. W. (1992). The crisis of leadership in the oldline Protestant churches: The ninth Peter Ainsley lecture on Christian unity." Midstream, 31(2), 112-122.
Lynn, R. W. (1966). Religious educators: Their vision of polity and education. Union Theological Seminary Quarterly Review, 21(2), 145-159.
Lynn, R. W. (1964). A strand of events in the history of Protestant educational strategy: The 1850s to the 1960s" Religious Education, 59(44, 305-312.
---
Author Information
Dorothy C. Bass
Dorothy C. Bass (Ph.D., Brown University) serves as Director of The Valparaiso Project on the Education and Formation of People in Faith. She also serves as an Associated Faculty member in the Department of Theology at Valparaiso University, in Valparaiso, Indiana.
Glenn Miller
Glenn Miller (Th.D., Union Theological Seminary, NY) serves as the Waldo Professor of Ecclesiastical History at Bangor Theological Seminary in Bangor, Maine.