Robert O'Gorman
By Jack Seymour
Catholic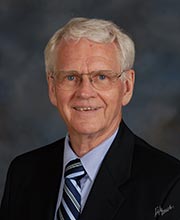 ROBERT (BOB) T. O'GORMAN, Ph.D. (1941 --) is professor emeritus of pastoral studies at the Institute for Pastoral Studies of Loyola University Chicago. Dr. O'Gorman has made significant contributions to the understanding of the history of Catholic education, to field education, and to theological education for ministry. His works have provided the public with an engaging portrait of Roman Catholic identity and vocation in the United States. Retiring in 2013, he still participates in shaping the field of religious education by chairing a task force of senior scholars for the Religious Education Association (REA).
Biography
Formation
Robert O'Gorman was born on March 7, 1941 to John E. O'Gorman and (Mary) Lucile (Carpentier) O'Gorman (first and second generation Irish immigrants). He was formed in a deeply committed Catholic family with two older siblings: a brother who was to become a Colonel in the United States Air Force and a sister who was to become a provincial in the Sisters of St. Joseph of Carondelet. In fact, his home was located next to the extensive property of St. Michael the Archangel Catholic Parish in the greater St. Louis area. The church had a commanding presence – convent, school, rectory, church and playground. O'Gorman was formed by the leaders and families of the parish. His life revolved around the parish. The first eight years of schooling occurred in this supportive, pre-Vatican II parish. The whole environment was educative – being the closest house to the church, the bells rang out organizing daily life. Furthermore, morning mass, the pastor's modeling, the study, visiting missionaries, the "sacramentals," and the mission and evangelism of the sisters formed an ecology of Catholic identity and vocation. His religious formation occurred through simply breathing in and participating in the daily life of parish activities.
For high school, O'Gorman attended Divine Heart Seminary in Donaldson, Indiana – a seminary run by the order of Priests of the Sacred Heart (SCJ). This teaching and service order helped him explore vocation, particularly their callings of working among the poor and working in education. Study, sports, spiritual direction, community, and choir were formative activities. Again, he learned the faith as he breathed in and participated in the daily life of a faithful community. The whole environment was educative – priests were teachers, daily mass organized the schedule, spiritual direction focused on vocation as did retreats, and, furthermore, seminary colleagues taking vows provided role models.
Assuming that he would one day return to seminary, in 1959 he entered St. Louis University graduating in 1963 with an A.B. majoring in philosophy and minoring in French and Latin. After university, he began teaching Latin and French at St. John Vianney High School in St. Louis. There his life vocation emerged being invited at the end of his first year of teaching to lead the freshman religion course.
In 1964 and 1965 as he began to teach religion in the high school, a new curriculum was introduced – a "kerygmatic" approach to religious education. Workshops in the diocese explained the approach and shaped the schoolteachers. Theologian and educator, Gerard Sloyan was one of these scholars who mentored the teachers in the importance of religious instruction and faith formation. The atmosphere was filled with excitement. Not only was Vatican II occurring, yet furthermore, this new curriculum focused on the originating gospel message. The kerygmatic curriculum developed from the writings of J.A. Jungmann sought to re-present the original biblical message and engage students in connecting living to the biblical and theological heritage. It was a challenging curriculum calling forth the best from teachers – calling them to become in fact theologians in action. O'Gorman was taken up in the enthusiasm of the day. Even as a layman, he was encouraged to study and take leadership. The youth loved him and his colleagues saw his depth and theological insight. His formation in religious education and theology and ministry in the context of Catholic vocation was launched.
For further education, he turned to the Institute of Pastoral Studies at Loyola University in Chicago that had developed an excellent summer program for religion teachers. One of three laity in a program of approximately 200 students, he began at Loyola in the summer of 1965 (finishing his M.Rel.Ed in 1970). He and his spouse Mary Lou (Matteuzzi) spent their first year of their married life (1965-66) studying at Lumen Vitae in Brussels (again one of two laity out of 110 international students) where he received his Diploma in Catechetics, returning to Vianney High School as chair of the religion department through 1969. Furthermore, in 1967, he co-authored one of the new kerygmatic high school curricula Man Comes of Age (Harcourt Brace, 1967). Again, note the exceptionality in this: Bob O'Gorman was a layman who showed a facility for education and theology in a period where the church was opening its doors to new knowledge and procedures. He was formed as a Catholic religious educator in a period of new life and vitality. With this enthusiasm, he set upon a career in Christian religious education.
University and Seminary Teaching
Due to the response to the new curricula and new church procedures, education in religious education expanded. Institutions of higher learning broadened their horizons becoming vital training centers for church life and renewal. Religious education became an alternative educational path for those committed to the church and its leadership – no need to attend a theology department or a seminary.
St. Louis University: In 1969 O'Gorman was invited to join the faculty of St. Louis University Divinity School to build their new program in religious education. He became Instructor in Religious Education and first director of the Master of Arts program in Religious Education. Religious education was cutting-edge where participation of laity significantly and quickly increased. In addition, the time reflected an opening of primarily Protestant organizations like the Religious Education Association (REA) to Roman Catholics. Catholics were also involved and leaders in the new Association of Professors and Researchers in Religious Education (APPRE) which became the primary academic guild for persons in Christian religious education.
At St. Louis, O'Gorman proposed a new curriculum, defined the degree, and hired faculty colleagues, such as Dr. Malcolm Warford (who later became a seminary president and scholar of theological and religious education, now serving at Lexington Theological Seminary). Consulting broadly, O'Gorman drew on some of the best local and national scholars in the field – like James Michael Lee and Gabriel Moran. The focus of the new program was on developing a solid foundation in the disciplines of education to enhance the teaching of religion. The works of scholars such as Philip Phenix of Columbia Teachers College in philosophy of education, of Benjamin Bloom in learning sciences, and Ralph Tyler in curriculum were all important as were emerging scholars in Catholic religious education. The program drew teachers in Catholic Schools, congregational directors of religious education, and diocesan directors of education. The student body was inclusive: 1/3 male seminarians, 1/3 women religious, and 1/3 laity both men and women.
After the program had a solid start, it became clear to O'Gorman that he needed further study to complete a Ph.D. in religious education. With the university's approval, he set off for Notre Dame University where a new doctoral program in religious education had been born. There he encountered scholars such as religious educator James Michael Lee, historian Vincent Lannie, as well as sociologists and psychologists of education. Critical theory, empirical analysis, and history complemented his work in teaching method and led to his dissertation "Toward the Development of an Ideal Type Analysis of Catholic Education." He graduated in 1975.
During the time in his doctoral work, the Divinity School at St. Louis University closed. No longer having a viable position in religious education, he searched for a job. He found that at St. Thomas Seminary in Denver, Colorado
St. Thomas Seminary: Dr. O'Gorman served on the faculty of St. Thomas from 1975-1981 being promoted to Associate Professor of Christian education. By the mid-1970s backlash to the momentous changes engendered by Vatican II were beginning to occur. With a growing shortage of priests and a growing concern for "authentic" teaching, options within the church seemed more limited.
Yet, St. Thomas was a place where Dr. O'Gorman developed his skills in theological field education (with the assistance of Kempton Hewitt, a United Methodist) and helped to build a viable program in religious education. He provided classes for seminarians and assisted in the development of a masters in religious education which graduated approximately 20 persons mostly women and mostly congregational DREs. He also began exploring the contours of Hispanic ministry and theology in the church.
Scarritt Graduate School: In 1981 a renewed program in Christian education was launched in Nashville, Tennessee at Scarritt College (later renamed Scarritt Graduate School). The school was emerging from a financial and leadership crisis. A new program was envisioned focusing on Christian education and church music, in cooperation with Vanderbilt Divinity School and George Peabody College of Teachers of Vanderbilt. A new faculty was recruited and energy put into the development of masters degrees and a joint doctorate with Peabody in religious education. O'Gorman was one of four new faculty added in Christian education (with Charles Foster, Jack Seymour, and Millie Goodson) to found this new program.
Excitement greeted the program. O'Gorman served as Associate Professor of Christian Education and director of field education. He developed a quality program of field education and was immersed in an ecumenical atmosphere, studying and teaching Christian religious education. Institutional emphases such as history of Christian education, community studies and educational leadership studies with Peabody, theological study with the Divinity School, and Scarritt's own heritage of producing congregational educators and community missionaries along with a commitment to multi-cultural and multi-racial emphases in education made it a rich environment for growth and experimentation. For example, he was able to continue to develop his interest in Hispanic ministry, which led to his significant study of Latin American base communities and the influence of liberation theology on the church, and its ministries. In addition, his scholarly involvement in the APPRE grew, as did his involvement in the Association of Theological Field Education (ATFE). Significant publishing and research during this period consisted of Church in the Education of the Public (with Charles Foster and Jack Seymour) and work on field education and on Catholic identity.
O'Gorman's family found a home in Nashville where three boys could be formed in Catholic Schools, St. Bernard and Father Ryan, and where his spouse Mary Lou entered her study for a Master of Divinity degree at Vanderbilt Divinity School and specialized training in pastoral counseling and hospital chaplaincy. In fact, in terms of learning and identity, it became clear in Nashville, as it had not been in previous Catholic communities of life and scholarship, that one did not only learn faith by breathing it or participating in it. Learning the faith and maintaining a faithful identity had to be an explicit and sustained effort of both instruction and spiritual development as well as faith formation. These learnings, as well as a comprehensive exploring of theological field education became important issues for Dr. O'Gorman as he experienced backlash in the church and the concomitant limiting or closing of some of the programs that had fueled the energy around Catholic religious education.
Financial issues continued to haunt Scarritt. Despite significant recruitment and growing interest in the Scarritt/ Vanderbilt Ed.D. program in religious education as well as conversations about merger with other theological institutions, Scarritt closed as a college and graduate school in 1988.
For a year, O'Gorman was without formal fulltime faculty appointment – serving as a part-time visiting professor in field education and Christian education at Vanderbilt Divinity School and serving as a consultant examining programs of theological formation for the Catholic Church Extension Society in Chicago. In fact, this consulting period allowed him time to explore even more deeply the impact of the work of Paulo Freire on education and the impact of practiced-based learning for ministry (work he had begun during a sabbatical in 1986 at the Instituto Pastoral of the General Theological Seminary in New York), e.g. theological field education. Also his consultation for a community-based parish in Nashville, led to partnerships with J. Robert Newbrough and Paul Dokecki, both community psychologists at Vanderbilt in a long standing partnership on the linking of community psychology, liberation theology, and ministry.
Institute of Pastoral Studies, Loyola University Chicago: In 1989, Robert O'Gorman joined the faculty of the Institute of Pastoral Studies as Associate Professor and founding director of their Master of Divinity Program. This setting that had first introduced him to the renewal and excitement in the church, invited him back for what was to be his longest professional setting of 24 years. The time at Loyola was rich – building a Master of Divinity program for lay professionals to serve in leadership in the Roman Catholic Church, expanding his involvement in field education to the extent that he served as chairperson in 1999-2001 and on the steering committee from 1993-2001 of the Association for Theological Field Education (ATFE), becoming a leader of the Association of Practical Theology (APT) (serving as vice chair, 1998-2001), and serving as president of the REA during the time it merged with APPRE.
An outstanding institutional citizen, he continued to live in Nashville where his wife's career in hospital chaplaincy flourished at St. Thomas Hospital. He commuted and thus was deeply connected to boards and community and church projects in both Nashville and Chicago. He served on a curriculum review team for Father Ryan high school (Nashville), the board of directors of Gordon Technical high school (Chicago), center for community studies advisory board of Peabody College, and several Clinical Pastoral Education advisory boards in Chicago – to name a few of many leadership roles.
Known by his colleagues at Loyola as a caring and tenacious colleague who is always fair, he developed linkages with other theological schools, with the archdiocese, with community agencies and healthcare systems. He was also known as a scholar and researcher contributing to thinking about the future of ministry and a broadening of theological education. He is particularly respected for his comprehensive work on the history of structures of Catholic education and his work in practical theology and theological reflection in ministry.
While expanding his scholarly contributions, he also engaged in an extensive education-of-the-public project by co-writing The Complete Idiot's Guide to Understanding Catholicism (2000, 2003 and 2006). This book provided an accessible public way to tell the Catholic story. From autograph parties in bookstores to local church presentations to scholarly lectures, O'Gorman extended the knowledge of Catholic identity and moreover focused questions about faith formation and education. He knew the "womb" of a Catholic home surrounded by a church. He knew the rich and focused environment of Catholic schooling. He also knew the struggles to define identity in a secular and often unfriendly environment.
During a time when institutional retrenchment has affected Catholic learning, when opportunities for laity and women have been questioned, and when secularization has challenged religious identity, Robert O'Gorman has worked to assist religious persons to be empowered for ministry and to claim their authority as theologians in the midst of ministry. This public, empowering role is expressed by many of his students now serving in lay ministry positions and teaching at schools and universities. They particularly note his amazing skill as a small group, ministry formation teacher, who always asked the right questions, who probed with care, and who empowered people connecting faith and living, religious identity and vocation.
Now in retirement many of the projects that were stimulated in his professional life continue. He speaks and conducts research on Catholic identity and the structures of Catholic education. For example, in 2013 writing a paper on "Upheavals in the Ministry of U.S. Catholic Education and the Effect on Catholic Identity: Models from the 19th Century Catholic Schools and 21st Century Catholic Hospitals" for a conference on Catholic education sponsored by the University of Portland and refining it for REA.[1] He continues to work to build communities of learning. He teaches in his local church. He coordinates a new task force for REA for senior scholars in the field that seeks to uncover some of the most important enduring questions for the field.
---
[1] Paper presented at conference on "The Impact of Catholic Education in America: Past Present and Future," University of Portland, June 20 – 22, 2013.
---
Contributions to Christian Education
Robert O'Gorman has made three significant contributions to the field of Christian religious education: a broad and expansive interpretation of Catholic education and ministry, grounding of education in liberation theology, and refining of theological approaches to studying and engaging ministry. Each of these contributions expands the field and grounds it in theological and historical methods of research.
Interpreting Catholic Education: In his historical work on Catholic education, for example, The Church in the Education of the Public and The Church that Was a School, and his The Complete Idiot's Guide to Understanding Catholicism, O'Gorman has defined Catholic education as a form of cultural learning and community practice. Catholic education is defined as a dynamic missional practice of people seeking to make meaning and live faithfully and sacramentally in the world. O'Gorman has helped us understand that although Catholics have participated in the founding and shaping of the ethos of the U.S., the U.S. cultural response to this contribution has been mixed. Mid-19th century public school responses to Catholic children and teachers are an important example. Fearing the immigration of Catholics from Ireland, Italy, and Eastern Europe, public schools in the U.S. took on a "protestant bias." In fact, public schools for a significant period, perhaps into the late 1950s, served in many places as "protestant" parochial schools. Therefore two central questions had to be asked by Catholics: (1) how is Catholic education both "American" and Catholic and (2) what are the structures that best teach and carry Catholic identity. Answers to these questions have been important for the role Catholic leaders and laity played in U.S. society.
In particular, Catholic schools were developed as the central element of Catholic education. They became places where the best of academic scholarship could be taught with concomitant attention to Catholic identity formation. As described above in Robert O'Gorman's own formation, Catholic schools provided a Catholic ethos to engage U.S. society. Moreover, surrounding parochial schools was an ecology of colleges, churches, hospitals and social service agencies. As O'Gorman has described, Catholic education includes intellectual life, ethical practice, liturgical celebration, spirituality and personal piety, and social justice and mission. Or to paraphrase the title of one of his important publications, "the church is a school" where persons are empowered to live a way of life grounded in sacramental realities and life-giving practices. Catholicism is thus, like the etymological meaning of the name, a broad tradition empowering persons to define identity, connect to a living heritage, and claim a vocation.
Even for persons who may struggle with decisions made by the leadership of the church, Catholic education is still a particular experience of spirituality. Catholic education provides people with a process of intellectual reflection connecting the Holy, the tradition, and the dynamic practices of daily living in cultural contexts. It shapes peoples' perspectives and assists them in making decisions grounded in the sacramental realities of living. Most recently, O'Gorman's scholarship has focused on sacramental dimensions of education, of forming laity for ministry, and the development of corporate structures for overseeing the patterns of formal Catholic education. Throughout his career, he has sought to assist us to understand the dynamism and depth of Catholic education, its missional and transformative character, and how it empowers persons faithfully to claim and engage in ministries.
Education and Liberation Theology: O'Gorman's scholarship has opened the patterns of community and ministry developed in the "base community" movement to religious education. He has explored its roots in Catholic education and theology as well as the goals of empowering persons through community formation into ministry. His reflections have shaped how persons think about community and theological method.
His work has been grounded in historical and theological study of the base communities in Latin America; in interviews with scholars and leaders that detailed the foundational conceptions of theology, ministry, and community that inspired these efforts; and in actual experience and reflection with a pastoral team and a team of scholars in a Catholic parish. His essays show the fruits of a multi-disciplinary approach to research. See "Latin American Theology and Education" (1990) and "The Faith Community" (1997). He defines the contributions to Christian religious education with a question:
How does the Latin American experience of church, as expressed in the base community, help us engage the ecclesial and educational tasks of creating, fostering, and maintaining community (a "priestly" task), articulating and interpreting the learning of the community for these times (a "teaching" task), and caring for the needs of the parish, surrounding community, and the larger society (a "ministerial" task)? ("The Faith Community," 1997, pp. 43-44).
His work is comprehensive in describing community as both goal and setting for education, for clarifying the role of the teacher and leader (animator) in education, and for defining the method of education as a method of theological reflection on experience.
How these principles operate in the concrete reality of parish life has been a long-standing, cooperative project in a parish in Nashville.With the colleagueship of community psychologists, pastoral leaders, congregational leaders, and educators, the practices of community and education have been initiated, explored, examined and defined in a dynamic practice of action-reflection-action, the pedagogical method of the base communities. The key learnings from these projects are recorded in two publications: "Toward a community-oriented action research framework for spirituality: Community psychological and theological perspectives" (2001) and "Community and leadership in the post-modern church: I. Lessons from Latin America - the basic ecclesial communities; II. The St. Robert's consultation project; III. Leadership for community" (1993). Furthermore, this reflection has inspired his later cooperative work with educators in Kenya to connect students with the dimensions of community education for justice and to think together across continents about practices of integrating education and mission.
Theological Reflection in Ministry: One of the first scholarly presentations Bob O'Gorman made at the APPRE was on the connections between theological field education and theological methods for ministry. In addition to teaching religious education and theology (sacraments and ecclesiology), much of his time has been spent in teaching and administering programs of theological field education. In particular, he has focused on understanding, teaching, and sharing theological approaches to ministerial reflection and to empowering persons for ministry. This concern developed both from his own experience in field education and, as mentioned above, his analysis of approaches to action/reflection ministry in liberation theology.
Through his work, he has taught field education supervisors and students theological methods that shape "ministers" as "reflective practitioners." His students, in particular, commend him for his supervision of their integrative projects in ministry. In these projects, they attended to actual experiences and issues in ministry, reflecting on them theologically, engaging social science and leadership resources, and shaping and refining ministry practice. His students comment on how the methods learned in his classes are indeed the methods they continue to practice in ministry.
Moreover, these learnings have inspired his own leadership with theological field educators where he has published on supervisory methods, on reflective practice, and on method in ministry. He has written:
The field educator's role is to stand with the students at each end and help them bring experience and tradition together. The field educator as teacher helps students theologically integrate learning from both sources. ("Teaching from a Community Context," (2001, p. 11)
This quotation is a fine description of what he has taught in his integrative seminars, has advocated in his leadership of the ATFE, and what he has embodied in his own scholarly work – integrating experience and tradition in the actual, concrete practice of ministry.
Most recently, this method has taken on a "spiritual dimension" as O'Gorman has explored the ways persons called to ministry develop their charisms and practices from deep, faithful reflection probing the call of God through both traditions and personal and corporate experiences. The method of action-reflection-action continues as one asks specifically what is God calling me and us to live and be in the midst of this present reality. It is not a technical process, rather it is a process of prayer and community where people seek God's guidance in the midst of study, action, and reflection.
Conclusion
Retirement provides the leisure to continue to explore, to pray, and to care about the shape of the structures we develop to carry religious education into the future. For O'Gorman, study is a mode of prayer where call is heard, community is built, and others are encouraged so that the presence of the Holy reshaping human living becomes indeed a reality. That sacramental journey continues in his work and his colleagueship.
---
Bibliography
Books and Monographs:
The Complete Idiot's Guide to Understanding Catholicism (3rd ed.). With M. Faulkner. NY: Alpha Books, 2006.
Social Work and Divinity. Ed. with D. Lee. Binghamton, NY: Haworth Press, 2005. (Simultaneously co-published as Journal of Religion and Spirituality in Social Work: Social Thought 24.1/2, 2005).
Journal of Supervision and Training in Ministry: Theories of Supervision. Edited. 28 (Spring 2005).
The Complete Idiot's Guide to Understanding Catholicism (2nd edition). With M. Faulkner. New York: Alpha Books, 2003.
The Complete Idiot's Guide to Understanding Catholicism. With M. Faulkner. New York: Alpha Books, 2000.
The Church That Was a School: Catholic Identity and Catholic Education in the United States since 1790. Washington, D.C. The Catholic Education Futures Project, 1987.
The Church in the Education of the Public: Reconstructing the Task of Religious Education. With J. Seymour & C. Foster. Nashville: Abingdon, 1984
Articles:
Community generation and transformative social change: Communiogenesis in the context of a Catholic parish. With P. Dokecki and J. R. Newbrough. In L. Diamond and D.C. Klein (Eds.), Transformative Social Change. Alexandria, VA: NTL Institute. (in press)
Reconstruction of Community - Addressing the Aids Crisis in Africa. Africa: Kiltegan, Co. Wicklow, Ireland: St. Patrick's Missionary Society. (in press)
Roman Catholicism. In Current World Religions. S. Jacobs & R. Stephens (Eds.). Lanham, MD: Rowman & Littlefield Pub. 2014.
Did the pandas mate? Religious Education, 103.2 (2008), 131-133.
Reflections of an "investigative journalist" on the four content areas of the MDiv. Theological Education, 43.1(2007), 1-6.
Contextual pedagogies: Weaving text through context, a multi-sensory immersion. Religious Education, 100. 3 (2005), 240-253.
Clinical Pastoral Education (CPE) and the professional identity of the dual degrees student (pp. 125-136). In R. O'Gorman & D. Lee (Eds.), Social Work and Divinity. Binghamton, NY: Haworth Press, 2005.
Action research on leadership for community development in West Africa and North America: A joining of liberation theology and community psychology. With J. Trout, J. Newbrough & P. Dokecki. Journal of Community Psychology, 31.2 (2003), 129–148.
Teaching from a Community Context: the Role of the Field Educator in Theological Education. With K. Talvacchia, K. and W. M. Smith. Theological Education 37.2 (2001), pp. 1-57.
Effect of theological orientation on Christian education in spiritual formation: Toward a postmodern model of spirituality. Review & Expositor, 98.3 (2001), 351-368.
Toward a community-oriented action research framework for spirituality: Community psychological and theological perspectives. With J. Newbrough and P. Dokecki. Journal of Community Psychology. 29.5 (2001), 497-518.
Theological Methodology as incarnated in small Christian communities: An introduction. In R. Pelton (Ed.), Small Christian Communities: Imagining Future Church (pp. 1-25). South Bend, IN: Univ. of Notre Dame Press, 1997.
The Faith Community. In J. Seymour & D. Miller (Eds.), Mapping Christian Education (pp. 41-57). Nashville, TN: Abingdon, 1997.
Supervising within walls: Problematic supervision in ministerial education. Journal of Supervision and Training in Ministry, (December 1996).
Theory and method in the practice of community psychology and theology: A working paper. With J. Newbrough & P. Dokecki (June 1996). Privately published
Mentoring as problem setting, not problem solving. In M. Zeldin & S. Lee (Eds.), Touching the Future: Mentoring and the Jewish Professional. Los Angeles: Rhea Hirsch School of Education, 1995.
Essay review of Small Christian Communities and the Parish: An Ecclesiological Analysis of the North American Experience, by J. P.Vandenakker. In North American Forum for Small Christian Communities. (December, 1994).
For the life of a child: The 'religious' in the education of the public." With C. Foster & J. Seymour. Religious Education, 89.4 (1994), 516-529.
Community and leadership in the post-modern church: I. Lessons from Latin America - the basic ecclesial communities; II. The St. Robert's consultation project; III. Leadership for community. With P. Dokecki & J. Newbrough. PACE: Professional Approaches for Christian Educators 23 (October 29-33; November 31-35, December 36-40, 1993).
Toward policies for enhancing community: A Catholic parish enters the postmodern era. With J. Newbrough and P. Dokecki (October 1991). Technical report; Privately published.
The Eichstatt conference. In I. Cully & K. Cully (Eds.) Harper's encyclopedia of religious education (p. 214). San Francisco, CA: Harper and Row, 1990.
Latin American theology and education. In J. Seymour & D. Miller (Eds.), Theological Approaches to Christian Education (pp. 195-215). Nashville, TN: Abingdon, 1990.
Knowing in action. Journal of Curriculum and Supervision of the Association of Supervision and Curriculum Development, 5.1 (1989), xx.
The Search for a usable knowledge in religious education: Educating reflective practitioners. Religious Education, 88.3 (1988), 323-336.
A Response to Virgil Elizondo. In C. Foster (Ed.), Ethnicity in religious education (pp. 90-93). Nashville, TN: Scarritt Press, 1987
Foundation of the U S Catholic church's educational mission and ministry. Religious Education, 80.1 (1985), 101-122.
Recovering a paradigm. Religious Education, 78.4 (1983), 496-502.
A Response to C. Ellis Nelson. In Catechesis: Realities and Visions. Washington, D.C.: United States Catholic Conference, 1971
The Nature and meaning of the affective domain. Lumen Vitae, 26.1 (1971).
---
Excerpts from Publications
The Complete Idiot's Guide to Understanding Catholicism. With M. Faulkner. New York: Alpha Books, 2000. Pp. 119-120.
When Catholics touch their rosary, they touch their God. Beyond the specific prayers associated with the beads, the beads themselves transmit a spiritual meaning through touch.
Late one evening in his bed, an 82-year-old, lifelong Catholic suffered a sudden loss of breath and was unable to speak. His son arrived just as the paramedics responded to his wife's frantic 911 call. As his son accompanied him to the ambulance, his father expressed a great frustration, wanting the son to get him something but being unable to speak. Although his words were unintelligible, the son knew that his father expected him to understand what he wanted. Both of them became more and more agitated. Finally, when they got to the hospital and the father received enough oxygen to speak, he unleashed his great frustration by blurting out: "Get me my rosary, God damn it!"
The father wanted that rosary in his hand. He was a Catholic to the bone. Throughout his life he had partaken of the sacraments, said his rosary, dipped his fingers in holy water each time he entered the church, fervently walked to the altar to receive communion. Through his faithful practices God had become present to him. When he reached a moment of crisis, he wanted to reach out for God and he turned to what he knew and trusted: the rosary. For Catholics sacramentals make God present.
"Teaching from a Community Context: the Role of the Field Educator in Theological Education." With K. Talvacchia & W. M. Smith. Theological Education 37. 2 (2001), pp. 11-13.
How is Pastoral Theological Reflection related to the rest of the theological curriculum? We can begin to answer by viewing experience and tradition as two sources of learning ministry on a continuum:
Ministry
Experience------ Tradition
The student on the site is much closer to the direct experience of ministry. The field educator's role is to stand with the students at each end and help them bring experience and tradition together. The field educator as teacher helps students theologically integrate learning from both sources.
In theological reflection it becomes apparent that tradition and experience are complementary, engage in dialogue, and neither is superior to the other. . . . The goal is integration, a synthetic approach that is the wellspring of praxis—practice consciously informed with theory. Within conventional theological education, students tend to begin with tradition and then encounter experience. In contextual education, students begin with their experience in the ministry site and then create space there and in themselves for a life-giving dialogue with tradition (itself built from experience of past generations).
These specific skills are required for pastoral theological reflection: clarifying direction, illuminating pastoral concerns, focusing the theological issues, and balancing a student's ministerial skills and personal feelings. This means having both a pastoral concern for the student and a theological concern for those to whom the student ministers. . . . The student's engagement in ministerial experience is the base from which field educators work. Because the student engages in the ministry experience as a whole person, theological reflection done well also attends to the student's emotions, personal history, spirituality, contextual observations, and relational competencies as well as her or his intellect. Learning to weave together the worlds of the academy, the ministry context, and the person of the student/ minister may be the most demanding intellectual work a theological student ever does.
"Latin American Theology and Education." In Theological Approaches to Christian Education. J. Seymour & D. Miller (Eds.). Nashville: Abingdon Press, 1990. Pp. 204-205.
The Transformation church elaborates both a new theology and a new education. Education and theology are defined differently than in the North American church. Education is at the heart of the new church- the CEB is an intentional process with a clearly discernible educational model.
Crucial to this education is its content—the Word of God. In the CEBs the Word of God exists not in the Bible as such, but in the interaction of what Latin Americans call the text, the pretext, and the context. The pretext is the experience the people bring to a meeting of the community; the text is the Scripture; and the context is the community itself, where the issues from the experience are actively engaged.
This schema marks a shift in educational method. Instead of the scholars' exegesis of rational abstractions, the poor engage the text directly with their imaginations as a sacramental encounter, an exegesis of experience. This is fitting, after all, as major sections of the Bible are written by the poor about the poor. Marxist categories of social analysis do provide tools for dealing with the reality of the concentration of power, but it is the discovery of the power of religious language in the Bible that is the source of energy for overcoming the oppression of their experience.
One goal of CEB education involves listening to and sharing the people's experiences as the present action of God. Another goal is organization of the people—that is, the building of community wherein the Word of God takes flesh. A third goal is that of clarifying or posing the problems that impede justice—discerning the will of God. A fourth goal is to research and analyze resources that will address this problem. A fifth goal is that of action on behalf of justice, to carry out the ethical demands of God's revelation. . . . It is clear that education and church are one in the CEB, that the very acts of education—seeing, judging acting—are ways of living and ways of being church.
The Church That Was a School: Catholic Identity and Catholic Education in the United States since 1790. Washington, D.C.: The Catholic Education Futures Project, 1987. P. 19.
The Catholic Church's struggle with the challenges of religious tolerance, church polity, the relationship between church and state, and the relationship of religion to education produced a modus operandi for the twentieth century which established an island community, existing complete in its own world but completely surrounded by and affected by another.
Response to these four challenges produced the school as the ideal way to form Catholic identity. The primary goal of Catholic education was the preservation of the Catholic faith. Its secondary goal, the interpretation of U.S. culture to the immigrants, took two competing directions: the creation of a pure Catholic culture, and the leavening of the nation's culture. Here were key values formed in the 19th century Catholic identity: Catholic schools reinforce the relationship of religion and education as well as the separation of church and state. The school cultivated the laity's dependence on the clergy and religious. The Catholic schools where the way to "Americanize" Catholics under the control of the Church. U.S. Catholics developed a structure of parochial schooling which reflected and reinforced a "siege" mentality in the nineteenth century immigrant Church.
In effect a compromise emerged from the two dominant nineteenth century modes of isolationism and accommodation. The structure of isolationism (the rival school system) was maintained, but Americanization (the ideal of making the Catholic schools as effective producers of U.S. Americans as the public schools) overrode the isolationist goal of creating a pure Catholic culture.
"Effect of Theological Orientation on Christian Education in Spiritual Formation: Toward a Postmodern Model of Spirituality," Review & Expositor 98.3 (Summer, 2001): 362-363.
Viewing a congregation in light of the universe-in-genesis and the church-in-genesis, the three dynamics of spirituality can be articulated as model of education composed of service, reflection and communion. . . . These three dynamics make up the postmodern spirituality model of education. An easy way to capture their essence is to see the three as the triadic balance of hands, head and heart. . . .
Service is an expression of action, making a difference. As action (hands), service connects to reflection (head) and communion (heart). The new experiences service generates lead to the opportunity for new meanings and new bonding. The community becomes renewed by experiences of service. Service is growth or movement.
The crucial service of the congregation today is to generate and develop community life in a society where fragmentation is the norm. Service is the response to the human condition of loneliness or aloneness. Integrating persons into the life of the congregation through collaborative and mutual patterns of community participation promotes authentic human development, that is, mutual development, rather than individual independent development. With its concentration on human development, the service task of community-genesis is sacramental, that is, it manifests God's presence in transforming society. This service dynamic, then, is acting creatively, producing new life — enacting transformative change. If the community does not effect change both of self (internal) and society (external), it is not sacramental (God-filled); it does not participate in the development of the cosmos.
Service is the acts we perform during the week: with others at work; at home with family; in unstructured encounters with strangers and colleagues. . . . Service then is acting out of the meaning of whom I am. It addresses the major life issues of job and work status. It evokes the Christian's vocation of caring: both social and personal welfare in ministries such as pastoral care, spiritual direction, social change and justice.
---
Recommended Readings
The Complete Idiot's Guide to Understanding Catholicism (3rd ed.). With M. Faulkner. NY: Alpha Books, 2006.
Teaching from a Community Context: the Role of the Field Educator in Theological Education. With K. Talvacchia, K. and W. M. Smith. Theological Education 37.2 (2001), pp. 1-57.
Toward a community-oriented action research framework for spirituality: Community psychological and theological perspectives. With J. Newbrough and P. Dokecki. Journal of Community Psychology. 29.5 (2001), 497-518.
The Faith Community. In J. Seymour & D. Miller (Eds.), Mapping Christian Education (pp. 41-57). Nashville, TN: Abingdon, 1997.
---
Author Information
Jack Seymour
Jack L. Seymour (Vanderbilt University, MDiv, 1973; DMin, 1974; PhD, 1982) is professor of religious education at Garrett-Evangelical Theological Seminary in Evanston, IL.