Paul Irwin
By Dean Blevins
Protestant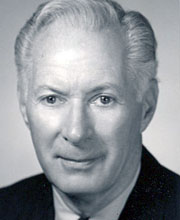 PAUL B. IRWIN (1908-2002): aesthetic guarantor of Christian religious education and youth ministry. Minister in both Baptist and United Methodist traditions, Irwin's career spanned several significant movements in the 20th century, including the establishment of the Clinical Pastoral Education movement, controversies between liberal religious education and neo-orthodoxy, and the establishment of the Claremont School of Theology's program in Religious Education. Remembered for his direct interaction with students around the world and across religious faiths, Irwin is best known for blending his artistic interests with his Christian education focus on children and youth.
Biography
Early Life and Education
Paul Bunting Irwin remains synonymous with the Claremont School of Theology, an institution that he was a part of for more than half a century: The son of George Knox Irwin and Martha Elizabeth Bunting, Paul was born on January 12, 1908, in Coatesville, Pennsylvania, where he grew up. Beginning at age 12, he spent many of his summers at a YMCA Camp on Chesapeake Bay, eventually staying on as a camp counselor, where Paul relates, "I became a story teller." It is there that his ashes were scattered.
Dr. Irwin earned six degrees, which became a source of family teasing from time to time, yet revealed his diverse love for languages, sociology, religion, and education. After completing his bachelor's degree at Dickenson College in Carlisle, Pennsylvania (1930), he went on to graduate work in education at Temple University and sociology at the University of Pennsylvania. Irwin's theological education was comprised of a bachelor's degree in divinity at Crozer Seminary in Pennsylvania (1934), a master's of theology at Crozer (1935), and both an MA (1948) and a doctorate in education at Columbia University (1955). The Crozer Divinity School later merged with Colgate Rochester University, New York, in 1970.
Inspired by his father, who seemed always to be helping people in his job as a personnel manager for a steel company, Dr. Irwin decided to serve humanity by becoming a minister. Paul began his church career in 1934 as the Associate Pastor of a Baptist church in Flint, Michigan, where he brought hope to his parishioners during the depths of the Great Depression, particularly through a special Sunday night service that often reached itinerant young people. His associate role included daily counseling of youth, which prompted a desire for more clinical training. Summer 1935, following graduation from Crozer, Paul entered an internship with the then Council for the Clinical Training of Theological Students (Irwin Personal Correspondence 1990). Paul became one of Seward Hiltner's first interns with Anton Boisen at the Elgin State Hospital, in Elgin, Illinois. His clinical training remained in dialog with his love for the aesthetic, as he also direction the hospital choir during this time. Irwin was ordained while at Flint and continued a fruitful ministry. Paul not only counseled youth who had major difficulties in their lives he also discovered how to work with youth as they negotiated the everyday problems of life. Irwin left Flint four years later to serve a church in Woodbury, New Jersey while at the same time holding down a teaching job at a girls' school in Philadelphia. At Woodbury Irwin began to advocate for accepting racial difference. He was involved in bringing in the Federal Housing Authority to provide public housing as well as fostering cross-racial religious experiences.
In 1943 he enrolled as a doctoral student at Union Theological Seminary/ Columbia University (combined program), studying under Harrison Elliot, a well-known religious educator. During this time Dr. Irwin served as a field education advisor, counseling theological students. As a doctoral candidate at Columbia University, Paul met Georgenia Fry, who was pursuing a master's degree in religious education. The two met in class in the fall of 1943 and married in June the following year. While in New York, just prior to World War II, Irwin also served as chaplain of Milbank Chapel "canteen" ministry to "zoot-suit" African Americans and Puerto Ricans. During this time Irwin became acquainted with inner-city ethnic and gang issues. Most importantly, Irwin experienced the efforts of educator Harrison Elliot to reshape Union Theological Seminary's curriculum and to defend his "life situation approach" to religious education, in the face of neo-orthodox detractors.
Educational Career
Paul and Georgenia Irwin moved to Los Angeles in 1947 when Dr. Irwin joined the religion faculty of the University of Southern California (USC). Irwin also served as primary mentor to Rabbi Edward Zerin, the first Jew to receive a doctorate (1953) from the USC School of Religion (Paul Irwin Memorial 2002). Ten years after beginning, Dr. Irwin joined an exodus with USC's religion department. The department separated from USC and traveled east in 1957 to form the Claremont School of Theology, where Irwin served as Professor of Christian Education. He transferred his ministerial relationship from the American Baptist Church to the California-Pacific Conference of The United Methodist Church in 1963. Irwin also served at Claremont United Methodist Church, where he was the primary consultant in developing the church's educational ministry during the first 15-20 years of the church's life, and where he told stories with nursery children and continued to be active until his final years when health prevented him.
Dr. Irwin actively participated and taught within a global perspective. Dr. Divina Himaya of the Claremont Center for Peace with Justice, noted Paul's hospitality to new international students as well as his broader desire to teach and model peace and justice in and beyond the classroom (Paul Irwin Memorial 2002). In 1959 Irwin spent a semester as a visiting scholar at Cambridge University in England on a Rockefeller grant (Irwin Personal Correspondence 1990). From 1966-67, Irwin spent a sabbatical year as a missionary to Singapore and Malaysia. He taught at Trinity Theological College in Singapore and founded the Pastoral Counseling Center for the Singapore Council of Churches. Over the years Dr. Irwin gave lectures and conducted numerous workshops in religious education in several Latin American countries, including the World Council of Christian Education in July 1971.
Holding a special interest in young people, Dr. Irwin often said, "Children and youth have been my major interest as both pastor and educator (Davis, 2002)." In 1975 he wrote The care and counseling of youth in the church, which he chose to call his "personal ministry." The book, written primarily for those in helping relationships with youth, was translated into Chinese. Dr. Irwin also authored essays and articles in The Church School, a journal for practitioners and other Christian educators.
Many of Dr. Irwin's students emphasize his concern for them, both in and out of the classroom. Seminary students, alums, and colleagues loved and appreciated him. Following his retirement in 1973, Dr. Irwin continued to conduct seminars and consultations throughout the United States. He spent a year ministering with a Baptist Church in Bath, England; a year teaching at Garrett-Evangelical Theological Seminary in Evanston, Illinois; and a period working with Native American students in Oklahoma. On the occasion of his retirement, the Irwin Lectureship at the Claremont School of Theology was initiated by the School of Theology (Religious Education Department). Christian educators in Southern California, many religious educators who had studied with Paul, students and faculty of the Claremont School of Theology supported the lectureship as well as congregants from Flint and Paul's church in Claremont (Davis, 2002; Little, 2002).
During his retirement, Dr. Irwin began sculpting as a creative outlet, along with playing the organ and violin. His works included likenesses of Abraham Lincoln, Martin Luther King, Jr., and Mahatma Gandhi, considered by his family to be one of his best. The sculptures were featured in a one-person show at the Claremont Forum sponsored by Andrew Irvine. In addition to the arts, Dr. Irwin was an avid gardener, particularly fond of roses.
Dr. Irwin, during his 80s and early 90s, devoted more than a dozen years to Crossroads, a helping organization for women reentering society after being released from prison. Vicky Betley, Crossroads' Program Director, said the women there would always look forward to their monthly visits from "Dr. Paul." Betley remarked, "At 92, he would still remember each woman individually. He remembered the details--what they had told him. He was a wonderful man. He is going to be greatly missed over here (Hermann, 2002). Sister Terry Dodge of Crossroads described Dr. Irwin in a similar way:
He was a very holy man. I saw him as a very holy person. What was so wonderful was that when a new woman came to the house, they were sometimes hesitant. But once they met Paul, they all loved him. I remember one who said that he was the first man she had ever met who was really non-judgmental. (Davis, 2002)
Irwin valued his work in helping these women at Crossroads to develop creativity, identity and responsibility through art therapy and dialogue. He said, "It's one of the most remarkable experiences of my professional life. … I accept them as they are and they accept me as I am. I regard them as very precious people. These women are my extended family" (Davis, 2002).
Paul celebrated his 94th birthday with family in Pomona Valley Hospital Medical Center on January 12, 2002, two days after undergoing hip surgery there. He died three days later--January 15, 2002--at the Health Services Center of Pilgrim Place. Dr. Irwin was survived by his wife of 58 years, Georgenia Irwin of Claremont (deceased 2004); by his sons, William Knox Irwin and Paul Elliott Irwin; by his godchild, Judith Ann Larson of Tulsa, Oklahoma; by several nieces, nephews, grandnieces and grandnephews; and by many surrogate children, including former students and their children (Little, 2002).
---
Contributions to Christian Education
Paul B. Irwin might best be characterized as an aesthetic Christian Religious Educator. Irwin's love for creativity and artistry found a number of expressions: story telling, music, painting, sculpting, and classroom teaching. His life afforded Irwin an opportunity to experience the "ground floor" of a number of significant movements including the inauguration of the Clinical Pastoral Education movement (with Seward Hiltner and Anton Boisen) and the controversial challenge by neo-Orthodoxy against liberal religious education (when he was a teaching assistant with Harrison Elliot). Irwin, one of the members of the School of Religion at the University of Southern California, became an important participant in the institution's transition to Claremont, California and provided strategic leadership in ecumenical and interfaith religious education at the renamed Claremont School of Theology.
Both process and empirical theologies influenced Irwin's theological orientation while at Crozer Theological Seminary. The influence of Alfred North Whitehead and Henry Nelson Wieman marked Paul's ordination statement for the American Baptist church. Later, broader frameworks of developmental and existential thought affected his empirical perspective. Educationally, Irwin was deeply influenced by Bernard Meland's description of "appreciative consciousness" (1947, 1949, 1953) as a form of existential and aesthetic cognition that integrated various facets of religious, moral and intellectual thought into moments of insight and judgment (Paul B. Irwin Oral History Project, 1984). In addition, Erik H. Erikson's developmental psychology, along with Harrison Elliot's person oriented approach to religious education and Lewis Sherrill's theological developmentalism, most influenced Irwin's thought. Irwin emerged from Columbia University deeply rooted in dialogical method though informed by Elliot's engagement with not only personal experience but also historical and biblical sources. Later, after studying Bible and Theology at Cambridge, Irwin sought to give even greater theological content to the dialogue. His early reading of Erik H. Erikson's A healthy personality for every child (1950) caused him to be an Erikson devotee; yet Lewis Sherrill's texts, The struggle of the soul (1953) and The gift of power (1961), gave Irwin a way of blending Paul Tillich's existential theology with psychoanalytic and developmental psychology. In addition to these psychological and religious sources, Paul's grounding in aesthetic practices, such as story, music, and art, and counseling values equally informed his teaching both in and beyond the classroom.
Irwin's primary writing (1975), The care and counseling of youth in the church, reveals his continued love for young people [since he did not address children in that book]. It remains significant that Irwin adopted Erik Erikson's language of "guarantor" as a primary motif for youth ministry (pp. 4-5). Irwin's emphasis on the dual role of attending to the needs of youth and advocating for their role in the life of the church and society remains crucial in contemporary settings. Irwin accepted youth's contribution to the community of faith while recognizing that their place along the life course required specialized ministry. Irwin also refused to accept that youthfulness restricted people from engaging and transforming the lives of adults. Irwin, for all of his existential and interpersonal emphasis, was also aware of the multiple communities and social contexts that shape youth lives. Paul advocated a clear understanding of the various "cultures" influencing youth: peer culture, youth fellowship, parents, adult leadership, even the "space" and processes that influence youth development (pp. 21-33).
The most vivid emphases of Irwin, however, were interpersonal relationships, both within groups and between youth and their guarantors (pp. 34-57). Indicative of psychologist Carl Rogers' and pastoral counselor Howard Clinebell's person-center therapies, Irwin adopted humanistic approaches that emphasized the existential search for meaning. Irwin, however, did not abandon other key resources, including biblical and theological sources for guiding youth and children along the faith journey (pp. 58-71; Irwin n.d. "Biblical Culture for Nursery Children).
Beyond Irwin's writings, his classroom role as teacher and mentor were probably his greatest contribution to Christian Religious Education. Irwin's early efforts as dialogical teaching and small group interaction influence the methodology of many of the religion faculty at USC and Claremont. Irwin's weaving of Biblical story, artistic method, and student awareness were always evident in his classroom, and his approach to children's ministry resembled later aesthetic approaches where experience was playfully introduced in actions, rhyme and symbol. Colleagues in Christian Education, Drs. Allen J. and Mary Elizabeth Moore (Paul Irwin Forum, 1992), remarked that Irwin brought a gracious, creative presence to the classroom. Many recognize that Irwin's early work in dialogical teaching and small group interaction still influence the methodology of many religion faculty members at USC and Claremont. For example, Paul taught colleagues like noted process theologian John Cobb to take the lives of children seriously (Davis, 2002). In addition other professional religious educators, like Iris V. Cully, noted their appreciation for Irwin's work in conversation with their own efforts (Paul Irwin Forum, 1992).
While Irwin provided a profound influence on faculty, Paul also proved to be an adult guarantor with his graduate and doctoral students. His mentoring of Rabbi Edward Zerin, for example, established a bridge to encourage future doctoral students from the Jewish tradition at Claremont School of Theology. This was a truly interfaith venture that marked Irwin's later life as well as Rabbi Zerin (1997). Virginia Fifield, former student, Christian educator in Southern California, and friend for forty years, notes that Irwin "lived what he taught" (interview, February 4, 2005). Irwin befriended Fifield and other students at crucial moments of their lives, often opening his home and guiding students through moments of personal as well as educational transformation. Irwin's legacy extends through his multiple educational encounters with local youth, international students, and future Christian Education faculty in and beyond southern California (Paul Irwin Forum, 1992).
Dr. Irwin received many honors during his lifetime, among them recognition from the Peace with Justice Center and from the Human Relations Council of Pomona Valley. He held memberships in many academic societies and was a member of Phi Kappa Sigma, serving as president of his house while in college. In addition Dr. Irwin's colleagues continued to hold him in high esteem. Dr. Philip Amerson, President of the Claremont School of Theology, said of Irwin,
Dr. Paul Irwin not only served with distinction as our Professor of Religious Education for 16 years, he also continued to be a friend and mentor to persons across the church and throughout the world. He was a leader and innovator. Following his retirement, Dr. Irwin continued his involvement as an active member in the Claremont School of Theology community and our community at large. He was a gentle man who inspired great loyalty to his students, friends and those whose life he touched. (Little, 2002)
Robert Edgar, General Secretary of the National Council of Churches and former President of Claremont School of Theology, said, "Paul is a legend, really the history of the field of Christian Education. He had a very large commitment to young people. He also achieved a balance between academic learning and practical experience. Paul bridged that gap exceedingly well" (Little, 2002).
Irwin summarized his own contribution during an oral history interview (1984) as "providing the methodology by which people can engage in existential thinking." Irwin's aesthetic nurture of an existential awareness in students, through dialog and reflection, resembled many of his other artistic endeavors. Paul left an artistic legacy crafted through the lives of Christian educators as much as through the song sheet, canvas or clay of Irwin's workbench.
Works Cited
Davis, R. (2002). Irwin Obituary. Unpublished Manuscript, Claremont School of Theology, Claremont, CA.
Hermann, D. (2002, January 23). Paul B. Irwin Obituary. Inland Valley Los Angeles Times p. A-4.
Irwin, P. (1967). Curriculum Vitae, Claremont School of Theology, Claremont, CA.
Irwin, P. (1990, October 18). Personal correspondence with Jack Elliot, Editor, Crozer Newsletter. Obtained courtesy Colgate Rochester Crozer Divinity School Alumni Offices 2005, May 24.
Little, P. (2002, January 17). Paul B. Irwin Obituary. Press Release, Claremont School of Theology, Claremont, CA.
Paul B. Irwin Oral History Project. (1984, November). [Two videotapes]. California: Claremont School of Theology.
Paul B. Irwin Forum: A forum held in honor of Paul B. Irwin - 'Sharing the art of life.' Friends and colleagues share about how Dr. Irwin has influenced their lives. Dr. Irwin shares some of his own reflections. (1992, March 31). [Videotape]. California: Claremont School of Theology.
Paul B. Irwin Memorial: A celebration of life in the presence of death. (2002, February 24). [Videotape]. California: Claremont School of Theology.
Yarborough, P. (2002, January 23). Paul B. Irwin Obituary. Claremont Courier, p. 10.
Erikson, E. (1950). A healthy personality for every child: A digest of the fact finding report to the Midcentury White House conference on children and youth, pp. 6-25, Washington D.C. Also available in Anderson, R. & Shane, G., (Eds) (1971). As the twig is bent: readings in early childhood education. Boston, Houghton Mifflin, pp. 120-137.
Little, P. (2002, January 17), Paul B. Irwin Obituary. Press Release, Claremont School of Theology, Claremont, CA.
Meland, B. (1947). Seeds of redemption. New York: The Macmillan Company.
Meland, B. (1949). The reawakening of the Christian faith. New York: Macmillan Company.
Meland, B. (1953). Higher education and the human spirit. Chicago: The University of Chicago Press.
Paul B. Irwin Oral History Project. (1984, November). [Two videotapes]. California: Claremont School of Theology.
Paul B. Irwin Forum: A forum held in honor of Paul B. Irwin - 'Sharing the art of life.' Friends and colleagues share about how Dr. Irwin has influenced their lives. Dr. Irwin shares some of his own reflections. (1992, March 31). [Videotape]. California: Claremont School of Theology.
Paul B. Irwin Memorial: A celebration of life in the presence of death. (2002, February 24). [Videotape]. California: Claremont School of Theology.
Sherrill, L. (1953). The struggle of the soul. New York: The Macmillan Company.
Sherrill, L. (1961). The gift of power. New York: The Macmillan Company.
Zerin, E. (1997). How to explain Judaism to your non-Jewish neighbor: A primer to better understanding of the world's oldest monotheistic religion. Los Angeles: Isaac Nathan Publishing Company.
---
Bibliography
Irwin, P. (1955). A study of the student personnel program of the school of religion, University of Southern California, and recommendations for its improvement. Unpublished doctoral dissertation, Teachers College, Columbia University.
Irwin, P. (1975). The care and counseling of youth in the church. Philadelphia: Fortress Press.
Irwin, P. (1990). Harper's encyclopedia of religious education. I.V. Cully and K.B. Cully (Eds.). San Francisco: Harper & Row Publishers.
Irwin, P. (1960, April). A faith to teach by. The Church School, [series 2] 13, no. 7, pp. 1-2.
Irwin, P. (1977, October). Celebrate with children. The Church School, [series 3] 10, no. 2, p. 21.
Irwin, P. (1978, September). Introducing . . . Myrtle Caliva. The Church School, [series 3] 11, no. 1, p. 19.
Irwin, P. (1978, Novermber). About Thursday: An experiential clue to church school theology. The Church School, [series 3] 11, no. 3, pp. 16-7.
Irwin, P. (1979, September). The power of a story. The Church School, [series 3] 12, no. 1, p. 2.
Irwin, P. (N.d.). A biblical culture for nursery children. [Typescript], Claremont School of Theology, Claremont, CA.
---
Excerpts from Publications
Irwin, P. (1955). A study of the student personnel program of the school of religion, University of Southern California, and recommendations for its improvement. Unpublished doctoral dissertation, Teachers College, Columbia University.(pp. 15-16).
The life of the mind and the life of faith are not two different spheres of existence but rather two phases of the conscious response of man. Mind is directed toward "definitive ends and processes of thought," toward discovery and problem solving. But in its functioning mind constantly fools the impact of feelings and emotion which well up from the deeper levels of experience. It is to this affective aspect of the human response to which faith is attentive [Meland, B. E. (1953). Higher education and the human spirit, pp. 160-171].
Faith as appreciative consciousness thus provides for education not an option to reason but a "fuller psychical orientation" whereby the educational experience is deepened by an appropriate response to feelings which form the context of the thinking situation.
When articulated as educational program and practice the humanities are reconceived to include science and religion. Full opportunity is given to engage in problem solving and discursive thought, but this is consistently oriented to the appreciative consciousness and to faith in particular. The study of religion in the curriculum is intended to nurture this sensibility and provide an orientation for the teaching-learning experience which is existential. Students are helped thus to find a basis for personal judgment and commitment in matters of vital concern to individual development and social progress. Faith and reason are also expressed in their interrelatedness as creative activity. The educational institution becomes a community dedicated to the creative spirit in man and learning is expressed through creative activity of various kinds in which students, faculty and the "artists" of the community jointly participate. The campus becomes unitary-the classroom and extra-class experience merge, students and faculty work together, administration is achieved through democratic process with singleness of purpose, which is at once both educational and religious. The educational community is ultimately integrated and motivated through the act of corporate worship. (pp. 200-202)
Irwin, P. (1975). The care and counseling of youth in the church. Philadelphia: Fortress Press.
Being a Guarantor assumes of the leader a warmth, authenticity, and healthy outlook on life, a spirit of optimism and confidence in the future, and requires of him or her a living with youth that inspires respect, trust, and communication. It is the leader as Guarantor, able to bridge the generation gap with discerning and affirming presence, who gives assurance to a youth and guarantees, as it were, that he or she can successfully cope with the business of growing up and can eventually "make it." To be technically effective, the role calls also for a working knowledge of adolescent development-what's going on in young life-and skill in the art of care and counseling.
Such leaders normally have their nurtured beginnings during the years of their own adolescence and young adulthood. The exciting summers of my early life spent on the shores of the Chesapeake Bay as camper and leader unquestionably laid the foundations of my personal ministry. There I learned to understand and to love the young. When one has engaged in extended experiences of sports and camp-fire activities, leading devotional services and discussion, telling stories, walking the homesick child, and nurturing the fellowship of a cabin group-familiar experiences to many a youth leader-the beginning pastor and lay person have ready entry into the church's youth peer culture. It was supervised clinical training and development of group facilitating skills during university and seminary years that completed my preparation for the pastoring role of minister to youth.
Mary [youth mentioned earlier in the text that Irwin counsels, ED.] had come to my study that night apparently having sensed something of the Adult Guarantor in her minister. A pedigree of formal training and past experience, however important, is not in itself inviting to the young. The opportunity to be helpful must be earned in the context of the peer culture at hand. Announcing one's availability-"I'll be glad to see anyone in my office"-is not persuasive to the troubled.
The trust that is required is learned within the fellowship. The leader as Guarantor must be a participant in the life of the group. It was the emerging sense of such community that opened the door for me to engage in personal ministry. (pp. 3-4)
Personal ministry to youth begins with trusting relationship. It becomes effective as care and counseling when the leader, as Adult Guarantor, is able to look into the inner world of a youth with understanding of what it is like to live as an adolescent, what is really involved in growing into maturity. (pp. 5-6)
Crisis in adolescence is the self's inner conflict between two developmental choices: movement away from childhood toward adult life or backward toward earlier levels of adjustment. Marilyn had chosen the journey forward and had found the satisfactions of personal affirmation and approval; Carl was ambivalent and had yet to choose his direction. [Both youth mentioned earlier in the text that Irwin counsels, ED.]
What does it take for the Marilyns and Carls---for all youth---to "make it" through the identity crisis? What need-experiences reinforce the self's will to grow and to cope positively with the task of identify formation? Within the context of the Erikson view of adolescence, four needs are considered to be crucial: (1) finding acceptance within community, (2) deepening interpersonal communication, (3) shaping an ideology or vision of life, and (4) achieving vocational direction. All four have a vital importance for identity formation. (p. 17)
Although the ministry of interpersonal communication should be continuous in the life of the church, there are particular times when planned relationships are peculiarly significant. I refer to developmental crises and periods of transition. Interpersonal ministry, as conversation and group discussion, has long been used effectively in relation to the rites of passage. During early adolescence, when youth have "come of age," pastors and associates in most churches meet with their young people to prepare them for the church's confirmation of their new status as full members of the congregation. During this time of identity crisis, however, a ministry of interpersonal relating should be equally important. (p. 43)
Beverly is a composer of religious ballads. A teen-ager, she provides her own guitar accompaniment as she sings to herself and occasionally before her church friends. One of her ballads is entitled "he's just a friend, but mine":
sometimes when things don't go right i kneel by my bed and pray to a God I know. when trouble comes and you're right in the middle pray to him, he listens. when temptation strikes like a kind with no mercy, God really cares, just ask him. when ya need a friend with love and understanding, you're talking about my lord jesus, here's freedom which only love can express. he's my jesus, he's my lord. sometimes when things are going great, i kneel by my bedside and give thanks to the God above. ladybugs, butterflies, happy things and my lord jesus.
With these words Beverly has given religious interpretation to the typical happenings and moods of growing up. It is her way of articulating a faith to live by as a young experimenting Christian.
Religion in Adolescence
Not until middle adulthood, Erikson tells us, is an ideology or mature faith (a vision of life) possible. The beginnings, however, are made in childhood and youth. The religion of childhood is simplistic, little more than ideas held as stories about Jesus and God. Faith remains implicit, as an acquired sense of basic trust. With the onset of adolescence, however, religion becomes existentially functional-"for real," as teenagers say. Characteristic of adolescence are the confrontations with parents and other authority figures, concern about personal appearance, conflict over sexual maturing, the discipline of schooling, decisions of right and wrong, a passion for social acceptance, and, for this generation, the lure of alcohol and drugs. These are the pressures which draw youth to religion as a source of solace, forgiveness, and hope. Beverly's ballad is a confession of faith, a statement of personal relationship with an ultimate source of care and counseling-"he's my Jesus, he's my lord." Identity formation as pilgrimage provokes for the adolescent not only the question, Who am I? but also the question, Whose am I? and its fulfillment involves I-Thou commitment and devotion. Not all teen-age religion is comprehended in this reflective teen-ager's verse. There are "varieties of religious experience." Response to religion is conditioned by vulnerability to emotional pressure, and by the behavior patterns and coping strengths one brings to the encounter. Generally speaking, for those whose early crises were happily resolved within the supportive nurture of family and church community, encounter with religion during adolescence is symbolic confirmation and articulation of a faith learned in the years of infancy and childhood as a sense of basic trust. As with Beverly, Jesus Christ becomes the source of one's sense of worth, meaning, and moral guidance, and of one's recovery from guilt and alienation. Such faith may represent conformity to parental belief and practice. However, it may also be an expression of one's newly acquired sense of independence, one's own creative, critical mind-set. For other youth, encounter with religion "for real" is a highly emotional experience that resolves serious conflict by way of "surrender," a conversion event that radically changes belief, attitude, and life-style. (pp. 58-59)
Theology is currently much interested in the "storytelling" approach to its task of shaping a vision of life. Youth leaders can use the approach to good effect. To engage in telling one's "little story" can be helpful in fitting it into the "big story." This enables a person to see his or her existence with an enhanced measure of coherent, historical meaning.
"On the Road to Find Out" is but one of many themes readily available in youth's ideological world in terms of which they may tell their "little story" and relate it to their religious heritage. When leaders are aware of the Bible's power to illumine contemporary human existence, the world of the Bible which is so often strange to youth need not remain so. Leadership needs on the one hand to be discerning of what in youth's experience "turns them on"-its storytelling potential-and on the other to acquire the teaching skill of biblical hermeneutics.
Hermeneutic simply means the task of interpretation, of determining what a passage meant historically and what it means presently. Biblical hermeneutics attempts to translate the word of an ancient religious culture into its contemporary equivalent. Methodologically, to do hermeneutics means to become engaged with Scripture dialogically. It means listening to the words of the text as Word, asking questions of the text, thinking both historically and existentially, and talking over with fellow searchers the emerging message until one's life is confronted and illumined. Interpretation of the Bible is not an academic exercise of learning what the text is saying in general but a personal confrontation with what is being said in particular. The address is to the one who engages the text. We have long thought - and said - that "I" interpret the text. However I inevitably approach Scripture subjectively, i.e., I always bring to it my presuppositions about the Bible and about life, and hence interpret it with a personal bias. When, one the other hand, I begin to engage the text openly and honestly and with the aid of scholarship, I find the text interpreting me. I begin to say, "Yes, that describes me." This is precisely the experience intended by the hermeneutic-dialogic method, which seeks to illumine myself understanding from a fresh theological perspective and to confront me with a decision for or against the authentic existence which the Bible offers.
The dialogic or discussion method of Bible study lends itself to hermeneutic purpose, i.e., to the appropriation of personal meaning. The role of the leader is essentially twofold: to facilitate dialogue and to make available the findings of scholarship. The following procedure guidelines are suggested for us with numbers large enough to work as small group study teams:
1. Create a climate of community; arrange persons in groups of five or six and, if need be, suggest techniques for getting acquainted.
2. Instruct members to read the passage reflectively as though in dialogue with the writer - inquiring, feeling along with, talking back to, but not fighting or trying to correct; one is free to disagree with the writer, but the first task is to try to understand what he is saying.
3. Encourage discussion at the deepest possible level, listening and learning by sharing, exchanging ideas rather than debating, expressing honest feelings; an outline of questions submitted by the leader may serve the process.
4. Introduce the data of biblical research; method may include mini-lecture, mimeographed material and group use of commentaries, dictionaries, and other helps.
5. Encourage groups to move from what the passage meant to what it means, with focus upon here-and-now experience.
6. Make oneself available on request as a resource person but not as a final "answer-man,"
7. Receive feedback on the small groups' hermeneutic efforts, add commentary, and lead the total group in continued dialogue.
8. Summarize the session.
While the discussion method may be adapted to one's personal leadership style, it does expect an affirmation of group members in the integrity of their participation as lay theologians. Youth need to be accepted at the level of their interpretative competence even as they are nurtured in the acceptance and use of scholarship. Can it ever be a communication of the "good news" of Christ's love for persons to impose a position, however exegetically correct? Youth are open to exploration and will accept confrontation when "truth" is made optional rather than arbitrary. One proceeds with maturity of patience and skill to facilitate a learning process in which participants are motivated to search for themselves and to grow. (pp. 67-69)
Irwin, P. (N.d.). A biblical culture for nursery children." [Typescript]. Claremont School of Theology.
Knowledge of God, by contrast, is by way of direct encounter. For the ancient Hebrews, from whom we continue to learn, God was perceived as the transcendental dimension of history. God disclosed or revealed himself not by offering propositions about himself, but by meeting men in the concrete affairs of their life situation. Abraham became aware of God's leading him out of the city of Ur, an experience of God in and through Abraham's own spiritual restlessness and adventuresomeness. Jacob, we are told in the Genesis stories, dramatically encountered God at Bethel and at the River Jabbok at moments of crisis in his relationship with brother Esau. Moses became aware of Yahweh on the mountain-side during agonizing moments of soul-searching and decision-making that centered on a question of his responsibility for enslaved kinsmen in Egypt. In similar fashion the subsequent leaders and prophets of ancient Israel, Jesus himself, the disciples and saints of the church -- all have come to a knowledge of God as he spoke to them through personal experience, through historical events of their day, through the central, recurring confronting and redemptive experiences of the Hebraic-Christian culture.
Such biblical-historical references appear to have little relevance for nursery education. On the contrary, it is my proposal that we shall remain consistent with our religious heritage if we approach our educational task by assuming that God is known in every age and generation in and through the concrete events of human life, that such events when interpreted from the perspective of the culture concept provide home and school with paradigmatic insight into the nurturing culture. Education for young children (all ages for that matter) in the church, then, means providing a culture, an ethos permeated way of life, structured by appropriating those paradigmatic or central, recurring experiences which characterize the culture of our biblical heritage.
It may be well to note parenthetically that the Christian educator has identified paradigmatic experiences as Biblical themes. There is risk in so doing. The tendency is to talk about themes. While this is an important aspect of Christian education in later years, it is not the centrally important aspect of Christian education at the nursery level. It would be the very opposite of what I am meaning to say, that to provide a religious culture for children we focus our attention on talking or telling about the themes. Young children must sense or feel these themes as emotion-laden experiences. To say it again, these biblical themes must be translated back into the concrete experiential encounters in which God has always spoken to his people. God speaks to children in precisely this way, in and through the experiential circumstances of their life. There will be some interpretation, some story telling, but it is in doing and being that God is known. (pp. 3-4)
Irwin, P. (1979, September). The power of a story. The Church School, [series 3] 12, no. 1, p. 2.
Little Allyson looked up at her sitter and said persuasively, "Tell it again, please!" She was referring to the story she'd just listened to.
What sitter or parent hasn't experienced that same eager request! And although television has become the major communication attraction for children today, stories remain the best way to involve them imaginatively. But it's not only children who respond to storytelling. Witness the intent listening of a congregation's adults during the children's sermon-usually a story. To tell a story skillfully is to weave a spell over our listeners, both young and old-a veritable act of magic.
What is a story? Essentially it's the relating of a life adventure: a journey taken, a need met, a problem solved. It may be no more than an intended visit through the woods, a walk to market, or a setting off toward "afar country." But no matter how routine, such journeys aren't always safe. A wolf can threaten, a bad bargain be made, a famine be faced. As in real life there are moments of delightful encounters-but times too of trials and tribulations.
Most classic stories turn out all right: Red Riding Hood is spared, Jack triumphs over the giant. Once in a while there is a Humpty Dumpty or Jack and Jill ending. But whatever the ending-joyous or disappointing, the triumph of good or evil-the lesson enters the computer bank of the human psyche and adds to the child's vision of life. How important, then, the selection of stories if the teaching is to be Christian!
All successful teachers know this art form is the one most likely to involve children emotionally and thus produce affective (emotional) learning. Whether we begin or end a session with a story, we can expect pupils to settle down promptly and give themselves completely to it. Although storytelling requires listening only, it draws students imaginatively into the story's action, even to identification with the central character or hero.
Moreover, students not only project themselves into the plot, but more importantly they appropriate- accept-the author's intended values. This is attitude learning, and it's basic to a functioning faith. A story entertains and informs, but its ultimate purpose in Christian education is to nurture the soul.
---
Recommended Readings
Irwin, P. (1975). The care and counseling of youth in the church. . Philadelphia: Fortress Press.
Other Resources
Paul B. Irwin Oral History Project (1984, November) . [Two videotapes]. Claremont School of Theology, Claremont, CA.
Paul B. Irwin Celebration (1984, March 26) . [Videotape edited version]. Claremont School of Theology, Claremont, CA.
Paul B. Irwin Forum: "A forum held in honor of Paul B. Irwin - 'Sharing the art of life.' Friends and colleagues share about how Dr. Irwin has influenced their lives. Dr. Irwin shares some of his own reflections. (1992, March 31) . [Videotape]. California: Claremont School of Theology.
Paul B. Irwin Memorial: A Celebration of Life in the Presence of Death (2002, February) .Claremont School of Theology, Claremont, CA.
Paul B. Irwin collection, Claremont School of Theology, Claremont, CA (partial list): Irwin/Fisher. (1972, February 29). Worship: Value or vestige. [Audiocassette]. Chaplains conference: Use of growth groups with kids. (1972, November 1). [Audiocassette]. Chaplains workshop: Biblical hermeneutics and educational communications. (1973?). [Audiocassette].
The church as God's avant-garde: A case study in renewal. [Typescript]. N.d., n.p.

From internal evidence it appears to have been one of a series of papers prepared by faculty members for presentation to the faculty. The paper details the responses of the Woodland Hills Methodist Church to the Watts riots. The responses of the church were ongoing at the time the paper was written, and so the date is very shortly after those riots. A biblical culture for nursery children. N.d., [Typescript].
---
Author Information
Dean Blevins
Dean G. Blevins, Ph.D., Claremont School of Theology (1999). Professor of Christian Education and Director of the Master of Christian Education, Nazarene Theological Seminary, Kansas City, MO.