Charles L. Winters
By Barbara J. Fleischer & Kathleen O'Gorman
Protestant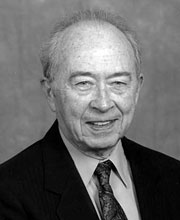 The Rev. CHARLES WINTERS, Th.D. (1924 -) was professor of systematic theology at the University of the South, Sewanee, TN, from 1954 to 1980. In 1975 he developed the Education for Ministry (EFM) program to prepare primarily Episcopal lay persons to fulfill their baptismal ministry in the world. Grounding the program in research on theological education by extension and principles of adult distance learning, he wrote the first edition of its texts between 1975 and 1980. After completing the first version of the EFM program, Charles and his wife and colleague, Flower Ross, joined the faculty of Loyola University New Orleans to lead in the development of the Loyola Institute for Ministry extension program, based upon the model he developed at University of the South. Charles and Flower later accepted teaching positions at Seabury-Western Theological Seminary, from which they retired in 1994. They now reside in Asheville, NC. His praxis-oriented vision of Christian education continues to inform educational endeavors at the congregational, seminary, and university levels.
Biography
Born in Norfolk, VA in 1924, Charles spent most of his early years through high school in Newport, Rhode Island, where his father pursued a career in the U.S. Navy. He attended Lehigh University with a Leonard Hall pre-theological scholarship from the Episcopal Diocese of Bethlehem from 1942 to 1943. The scholarship was awarded on condition that ordination to the Episcopal priesthood would occur within ten years, a commitment to which he remained faithful. Following his year at Lehigh University, Charles attended Swathmore College for one year. At Brown University, he participated in Naval ROTC and in 1945 received his Bachelor of Arts degree, magna cum laude, along with his commission as ensign in the Naval Reserve. After graduation, he was sent to Oklahoma A & M (now Oklahoma State University) by the U.S. Navy for fourteen months of training in the Japanese language. World War II came to a close while he was there.
After his naval training in Oklahoma, Charles entered Virginia Theological Seminary where he received his Bachelor of Divinity degree in 1949. He was ordained as an Episcopal priest in the same year. He went on to complete an S.T.M., magna cum laude, in 1950 at Union Theological Seminary, NY, where he studied under Paul Tillich and Reinhold Niebuhr. He completed his Doctor of Theology degree in 1956 at the General Theological Seminary, NY, where he studied with Langmead Casserly. His dissertation was entitled, The Doctrine of the Incarnation as the Ground and Presupposition for the Unity of the Church. In 1997, he was awarded an honorary Doctor of Divinity degree from Virginia Theological Seminary for his many accomplishments in theological education and life of service.
Charles Winters' service in ministry has been extensive. In 1949, Charles became the Assistant at St. George's Episcopal Church in Arlington, Virginia. He also served as Assistant at St. Paul's Episcopal Church in Englewood, NJ in 1950. He then moved back to his home state to become the Vicar at St. John the Divine Episcopal Church in Saunderstown, Rhode Island as well as Chaplain to Episcopal students at the University of Rhode Island (1950 -1952). He served as Tutor and Fellow at the General Theological Seminary of New York from 1952 to 1954 and taught, first as instructor and eventually as full professor of systematic theology, at the University of the South School of Theology from 1954 until 1980. During his academic career at the School of Theology at the University of the South, he served as priest-in-charge of missions throughout the region surrounding the School (1954 through 1975) and as Director of Extension and Continuing Education (1975-1980). The University of the South is awarding an honorary doctorate to Charles in 2007 for his lifetime service in ministry education.
Charles joined the faculty of the Loyola Institute for Ministry at Loyola University New Orleans as a full professor in 1980 and became the primary catalyst for a new graduate extension program there. After his retirement from Loyola University New Orleans, he also served as Interim Rector at Grace Episcopal Church, Gainesville, Georgia in 1987 and 1988. Following his time in Georgia, he served with his wife, Flower Ross, at Seabury-Western Theological Seminary in Evanston, IL as joint professors of Christian Ministries, retiring from there in 1994. Since then, besides enjoying retirement, he has served as an Adjunct Faculty member at the Loyola Institute for Ministry and has remained active in service to Episcopal communities that are seeking renewal and revitalization.
---
Contributions to Christian Education
While Charles Winters contributed significantly to seminary education and affirmed its value, he insisted that adult theological education be made available to the laity in recognition of their baptismal commitment. During his tenure at the University of the South, he read and was greatly influenced by a collection of papers on Theological Education by Extension published by the Presbyterian Theological Seminary of Guatemala City, subsequently published as Ministry by the People: Theological Education by Extension (Kinsler, 1983). The Theology Education by Extension movement, which Charles discovered in these writings, provided a number of distance education models in which theological educators developed curricular materials for Christian lay leaders throughout Africa and Latin America and provided continual resources and guidance from them. Charles' passion for theological education for the laity and his vision for extending the gifts of theological educators led him to grab hold of these extension education models and adapt them for use in the U.S.
Charles came to a deeper appreciation of experience as a central facet of adult education through his reading of Malcolm Knowles' work on adult education. Further reading on the value of experience in adult education led Charles to a crystallizing metaphor employed by Ted Ward, an educator from the University of Michigan (Killen, 1983). Ward's image is that of a farm fence consisting of two rails and a fencepost. The first rail is that of experience; learning that is truly transformative takes into account the learner's experience of the world. This insight was consistent with the conclusion that Charles had already drawn from his own experience and from his readings of Malcolm Knowles on adult education. The second rail is that of new content, often offered through in a course through written materials, lectures, and the like. If a person relies solely on his or her previous experience without considering new information, no new learning takes place. Similarly, if a student memorizes content without integrating it with experience, no change in behavior is likely to occur. Only when new content and viewpoints are put in dialogue with a person's experience will transformation take place as an educational outcome. The fencepost in this metaphor is a critical reflection process putting the person's experiences and assumptions in conversation with the content of theology, sociology, or other subject the person is studying. Charles' conclusion was that theological education that takes account of human experience as a locus of God's revelation in history will always involve reflection upon concrete lived experience along with the theological material presented. A corollary was that such transformative critical reflection best takes place in a community of trust, because people are often blind to the assumptions they bring to their reflections. A community that can both support and challenge participants in the midst of learning would greatly enhance their ability to see the underlying assumptions that construct their worldview.
Based on the theological extension movement and its many adaptations in Latin America and Africa and his insights from the developing field of adult education, Charles Winters then became the leader in the development of two major extension curricula: the Education for Ministry (EFM) program, a non-credit intensive education program for lay persons preparing for ministerial service primarily in the Episcopal Church, and the Loyola Institute for Ministry Extension (LIMEX) program, a graduate program primarily serving Roman Catholic dioceses in the U.S. and beyond.
The Education for Ministry Program (EFM)
The EFM program involves a four-year communal reflection process and a curriculum designed to heighten the Scriptural literacy and historical consciousness of participants in the midst of their reflection on life experience. Charles wrote the initial textbooks and ancillary course materials, published by University of the South. These have since been revised several times by other EFM staff. The EFM curriculum initially produced by Charles Winters (subsequently revised by other authors), and published between 1975 and 1980, include:
Book One: The Beginning Part One: Creation and Fall Part Two: The Patriarchs
Book Two: From Egypt to Canaan Part One: The Covenant Part Two: The Conquest
Book Three: The Kingdom Part One: Kings and Prophets Part Two: The Fall of Jerusalem
Book Four: Jew and Gentile Part One: Post-exilic Judaism Part Two: From Jerusalem to Rome
Book Five: The Messiah Part One: The Synoptic Gospels Part Two: Responses to Jesus
Book Six: Church Writings Part One: Letters from Paul Part Two: Johannine Literature
Book Seven: Impact of Hellenism Part One: The Apologists Part Two: The Christian East
Book Eight: The Imperial Church Part One: The Christological Controversies Part Two: The Christian West
Book Nine: The Medieval Church Part One: From Charlemagne to Anselm Part Two: High Scholasticism
Book Ten: The Reformation Part One: The Founders Part Two: Consolidation
Book Eleven: Dawn of Modernity Part One: Eighteenth Century Part Two: Nineteen Century
Book Twelve: The Present Part One: First Half Century Part Two: Contemporary Issues
In reflecting on his work in developing the Education for Ministry program, Charles Winters writes:
I first had the idea for a theological education program by extension from reading the composite report of the Presbyterian seminary in Guatemala City on their extension program. It was a collection of reports on various issues, one of the most formative ones for my thinking being an educational model by Ted Ward. It was a "two rail fence" model in which one rail was cognitive input, the second being experience, and the fence posts being the integration of the two. This resonated with my experience, having been newly oriented to experience-based learning through the National Training Laboratories.
In 1974 I took a sabbatical and read up on adult education, particularly Malcolm Knowles, The Modern Practice of Adult Education: Andragogy Versus Pedagogy (1970). Putting Ward and Knowles together seemed to make a good fit. The two-rail fence model provided a format for the adult-based educational theories of Knowles.
I fashioned the series of textbooks as providing the "cognitive input", taking the place of lectures, and a process of theological reflection (developed by my wife, Flower Ross) as the means by which the adult learners could correlate their experience with the input. The learners were to be formed in groups of six to eleven participants who would meet over a four-year period.
The program was launched in 1976 and rapidly spread throughout the Episcopal Church in the United States, the Anglican Church of Australia and of New Zealand, and has established groups in many other countries. (Winters, 2007)
Indeed, the program and process developed by Charles Winters and Flower Ross, have educated thousands of adults throughout the world and continues to do so. Since its inception, more than 70,000 students have participated in the program. Worldwide, approximately eighty-five dioceses of the Episcopal Church as well as other denominations have contractual arrangements with EFM. (Education for Ministry Prospectus, 2006)
The Loyola Institute for Ministry Extension Program (LIMEX)
In 1980, Charles Winters was recruited by the Loyola Institute for Ministry, Loyola University New Orleans, to help develop a distance learning program that would respond to the Louisiana Roman Catholic bishops' request for the Loyola program to "come to the dioceses." The bishops had identified as their main need a rigorous graduate program that could educate laity for church leadership positions. Most of the potential adult students could not leave their work and families to enter into a traditional university graduate program. Having heard of the growth and efficacy of the EFM program, the Loyola Institute for Ministry invited Charles to join its faculty and lead us in the development of a graduate distance education for ministry program. Charles accepted the challenge and in a real sense educated the faculty about how to integrate adult education distance education and theological education. Under his leadership and guidance the Institute developed a ten-course curriculum composed of a course text, course videos, learning process/designs, ancillary reading lists, carefully crafted course assignments. The new program offered groups of students the option of pursuing a Master of Pastoral Studies or a Master of Religious Education in their own locations. The program also included a continuing education option for students without baccalaureate degrees who showed evidence of their capacity to do graduate level work. The continuing education option was also attractive to those with advanced degrees who sought this educational experience but were not pursuing another graduate degree.
A primary principle that Charles brought to the table of the Loyola Institute for Ministry curriculum design was his insistence that the study of Christian ministry and religious education was a profoundly communal endeavor, which required ongoing reflection on current praxis in a supportive and challenging intentional learning community. In this pre-internet era, Charles quickly convinced his colleagues that independent study, or anything resembling individual "correspondence courses," would be strictly out of the question; the communal nature of Christian life required a communal educational process.
During his early years at Loyola, Charles began studying the works of Canadian theologian Bernard Lonergan, S.J. (1957, 1972, 1978) and found that Lonergan's outline of four levels of consciousness could be used to form the stages of four levels of critical reflection. This new process of critical reflection became incorporated into every course of the Loyola theological extension program as a discernment process for ministerial praxis. The curriculum of the program itself also developed largely out of Charles' readings of David Tracy practical theology model (1975) via James and Evelyn Whitehead's tri-polar adaptation of it (1981). Tracy speaks of practical theology as a "mutually critical conversation" between our interpretations of faith and culture. The Whiteheads felt it important to expand that model to include personal experience as a third pole for reflection. Charles added a fourth pole to the model-that of the institutional context of ministry and all of its organizational dynamics that can enhance or inhibit ministerial praxis. Thus, the curriculum included not only traditional Scripture and systematic theology courses but also incorporated content from psychology, anthropology, sociology, and organizational development literature.
With a newly appointed director of the Loyola Institute for Ministry, Dr. Robert Ludwig, other Institute faculty and staff, and the generous support of Loyola University, the new Loyola Institute for Ministry Extension program (LIMEX) was launched. Charles not only provided the vision for the contextual model and theological reflection methodology of the program, he also wrote two volumes for the initial 30-credit graduate and certificate program (Method in Ministry and Church, Sacraments, and Ministry), edited another volume (The Institutional Context of Ministry), and became managing editor of the entire programmatic enterprise. His wife, Flower Ross, created the three-hour learning designs that would become the heart of each weekly session. Led by a group facilitator knowledgeable in both group dynamics and theological content, members in each cohort engaged in dialogue centered on their current praxis in light of the week's reading and experiential assignments.
The faculty often commented that Charles did not have to work as hard as he did at this stage in his academic career - that most people at his age and with his accomplishments were beginning to slow down. Charles would nod his head and smile and keep on working. His dedication and patient, encouraging leadership in this project (not to mention his tutoring the faculty in computer literacy!) contributed mightily to the success of the program.
Charles' unwavering educational vision weaved together students' life experience with thought-provoking theological content through carefully honed skills in critical reflection. To date the Loyola Institute for Ministry Extension program has graduated over 2000 graduate and 1000 certificate students from over half of the U.S. states and in five other countries, the majority of whom are working in church, diocesan, and related settings. All have completed their education in intentional learning communities.
The Legacy Charles Winters Offers Christian Education
While Charles Winters may not identify primarily or exclusively with the field of religious education, he would readily recognize and affirm his claim to the title. Working alongside and in partnership with the profession rather than explicitly within its ranks, Charles, in a sense, has enriched and extended the vision and practice of the field and educated many of us who currently serve within it. Whether teaching in seminaries, universities, or local congregations, Charles represents and brings a unique and rich legacy to Christian education.
As a religious educator in a seminary setting, Charles continually searched for ways to make theological content more than catalogued information in the minds of his students. He sought educational approaches which could facilitate his students' appropriation of new theological insights in life-changing ways. He further looked for pathways to lead students into practical implications for community building and enhancing the mission capacities of students' future congregations.
While Charles Winters is not often directly identified as a pioneer in the religious education literature, his work resonates with many of the prominent scholars in the field and actualizes their theories. Charles is a master teacher who is adept at integrating the sacred and the secular in a meaningful educational experience. Thus he represents continuity with visionaries in the field such as Philip Phenix (1966) and Dwayne Huebner (1993) who challenged the field to be inclusive and synthetic. Like them, Charles reminds us that Christian Education is a distinctive expression of religious education, and that both are in service to the world, often of the world, rather than ecclesial institutions and authorities. Through his contextual model of education, Charles calls us to be as informed about anthropology, sociology, politics, history, economics, literature, and the arts (not to mention technological innovations) as we are about the Christian story and its various theological interpretations. His educational philosophy integrates and synthesizes an interplay (Moran, 1981) and interdependence of all these perspectives rather than setting them in antagonistic or alienated relationship.
Such a vision is reminiscent of Alfred North Whitehead's (1929), who asserted that education is itself intrinsically religious, that any and all teaching and learning through which humans become more responsible and reverent can be considered religious. Like Whitehead, Charles recognizes that the content of Christian education extends beyond doctrine, scripture and/or theology. Whatever we experience and study can open up the religious or sacred depending on how such subjects are approached, engaged, and interpreted. For Charles education is a vocation. He embraces and affirms its life-giving, salvific, emancipatory capacities and effects.
Charles' vision and approach to Christian education likewise bears the influence of John Dewey (1938) in its prioritization and integration of personal and communal experience in the educational process. He respects, really reverences, what adults especially bring with them when they present themselves in educational contexts and provides responsive processes through which this experience might be understood more deeply and utilized more intentionally. Charles also advocates and models a hands-on learning process, in which participants are encouraged to be engaged in relevant activities and agents of their own learning. A scholar and theoretician, Charles is equally at home in modes and interests of praxis and technical education.
So too Charles stands in the older tradition of George Albert Coe (1969) in his vision of ministry to the world in a commitment to promote the realization of the Kingdom of God; and in the tradition inspired by Coe that was affirmed by C. Ellis Nelson (1971) in his emphasis on understanding the culture in which our learners live and work and the role that Christian Education plays in making available the appropriate and needed timely and relevant wisdom from the Tradition to the wider life context. Charles likewise appropriates and extends the developmental insights of Jean Piaget (1971), James Fowler (1974, 2004), and Craig Dykstra (1986) in his integration of their perspectives in his curricula and methodology. He echoes the voices of Sara Little (1983), Mary Elizabeth Moore (1983), D. Campbell Wyckoff (1961), and Charles Foster (1994) that summon Christian educators to appreciate the dynamic, processive nature of revelation, education, and appropriation. His contributions affirm as well as embody the vision of Christian Education that is embodied in the literature that spans centuries of development and evolution.
More recently and specifically, the community-hermeneutic-testing approach to Christian Education utilized by Charles Winters reflects a correlation with the shared praxis approach developed by Thomas Groome (1980). Both approaches presume the structure of a learning community; both are dialogical (rather than "instructional"); both assign the learners' experience and story sharing a primary and central role; both insist on critical reflection, probing, and testing; both are praxis-oriented. Both Christian educators identify process and methodology as foundational pilings in any educational effort or context. Both emphasize the importance of the educator's commitment to becoming an ever more self-aware, self-conscious, critically reflective practitioner.
Charles' influence and legacy encompasses the five models of Christian Education described in Jack Seymour and Donald Miller's Contemporary Approaches to Christian Education (1980). He would affirm the value and appropriateness of each as his own educational practice bears such clear witness. Indeed he is adept and at home with each model; each has a place in his vision and methodology. Like Dewey, Charles models a "both/and" or synthesizing orientation that affirms and draws upon a spectrum of educational models and approaches.
uch of his effectiveness would seem to derive from his sensitivity and responsiveness to contextual realities and influences. He reminds us that context matters and that an effective educator honors the distinctions between and among the various settings in which we find ourselves. He can be rigorous and demanding in the academy as he is relevant and responsive to a local congregation. And his pedagogy is itself attentive to the life context of the learners.
Furthermore, Charles' vision of education is interdisciplinary, an interplay of forms, perspectives and principles that evoke and inform the search for meaning, the experience of the sacred. A man of many and varied interests, Charles brings much from outside to play in the traditional study of the sacred. He knows how to relate one understanding to another, one perspective to another. This leads him to integrate the perspectives, insights, and concerns of the market place, the political arena, the arts, geographical and bioregional dynamics, whether into his explicit curriculum of education for ministry, his sermon within a liturgical celebration, his video productions, or his remarks at a meeting or consultation. Thus he makes a rich and rare educational experience available to those he teaches and to those of us who identify ourselves as religious educators.
Charles would likely describe what his particular work in the field as "theological education" and "education for ministry." Both assume and require a deep and extensive grasp of the Christian tradition as embodied in Scripture, doctrine, liturgy, and spirituality. Charles not only is accomplished in these various dimensions of the tradition, he is an engaging and provocative communicator of the Christian story and vision.
Those who have not experienced Charles' unique and effective pedagogy first hand can learn from him through the curricula he has contributed to the field. He offers us creative and relevant models of adult Christian education that can be utilized and adapted to congregational (the Education for Ministry program or EFM) contexts as well as universities (the Loyola Institute for Ministry Extension Program or LIMEX). In this and his previous distinguished and dedicated educational accomplishments Charles has contributed significantly to the field of religious education, promoting professional and competent ministry in the church, in schools sponsored and administered by the church, and to countless lay persons who because of his influence recognize and appreciate their ministry in secular contexts.
Perhaps the greatest contribution that Charles Winters has made to the field of Christian Religious Education is the sheer number of people he has empowered to make their own contributions to the field. The efforts and accomplishments of the 70,000+ who have participated in the Education for Ministry program and the 3,000+ masters' level and continuing education graduates of the Loyola Institute for Ministry program bear sufficient testimony to his legacy.
While Charles Winters may be an unfamiliar name to many who identify as academic and professional religious educators, his work in the area of adult religious education insures him a place of honor in the field. As a creative, visionary, and adept educator of thousands of lay leaders, pastoral ministers, and religious educators, and what he terms "Kingdom ministers," Charles has plied his craft out in the field more visibly and intentionally than in the academy. His writings are directed toward the intersection of everyday life and the meaning of faith; his practice is similarly centered there. This is not to overlook or disparage the intellectual genius that anyone who knows Charles readily recognizes. Indeed he could well be described as a prodigy of the Renaissance; such is the range of his interest and wisdom that draws from a rich array of sources. His vision and pedagogy reflect the contributions of philosophy, social science, adult education, history, scripture, and theology.
Charles leaves a rich and significant legacy to our profession, to the Church, and to the world. His practice of Christian religious education will flourish and nourish people of faith for generations yet to come. So too, his vision and influence will inspire the field religious education to embrace the challenges and opportunities emerging in the 21st century.
Works Cited
Coe, G. A. (1969). A social theory of Christian Education. New York: Arno Press.
Dewey, J. (1938). Experience and education. New York: Collier Books.
Dykstra, C. (1986). What is faith? An experiment in the hypothetical mode. In C. Dykstra & S. Parks (Eds.), Faith development and Fowler. Birmingham, AL: Religious Education Press.
Education for Ministry Prospectus. (2006). Retrieved June 5, 2006. http://www.sewanee.edu/EFM/Prospfolder/History.html
Foster, C. (1994). Educating congregations: The future of Christian Education. Nashville: Abingdon Press.
Fowler, J. (1974). Toward a developmental perspective on faith. Religious Education 69(2), 207-219.
Fowler, J. (2004). Faith development at 30: Naming the challenges of faith in a new millennium. Religious Education, 99 (4), 405-421.
Groome, T. (1980). Christian religious education. San Francisco: Jossey-Bass.
Huebner, D. (1993). Education and spirituality. In V. Hillis, (Ed.), The lure of the transcendent: Collected essays by Dwayne Huebner. Mahwah, NJ: Lawrence Erlbaum.
Killen, D. (1983). Theological reflection: A necessary skill in lay ministry. In F. R. Kinsler (Ed.), Ministry by the people, pp. 225-235. Maryknoll, NY: Orbis.
Kinsler, F. R. (1983). Theological education by extension: Equipping God's people for ministry. In F. R. Kinsler (Ed.), Ministry by the people, pp. 1-29. Maryknoll, NY: Orbis.
Knowles, Malcolm. (1970). The modern practice of adult education: Andragogy versus pedagogy. New York: Association Press.
Little, S. (1983). To set one's heart: Belief and teaching in the church. Atlanta, GA: John Knox.
Lonergan, B. (1957), Insight. London: Darton, Longman, and Todd.
Lonergan, B. (1972), Method in theology. Minneapolis, MN: Seabury.
Lonergan, B. (1978). Theology in a new context. In W. Conn (Ed.), Conversion: Perspectives on personal and social transformation (pp. 3-21). New York: Abba House.
Moore, M. E. (1983). Education for continuity and change. Nashville: Abingdon Press.
Moran, G. (1981). Interplay: A theory of religion and education. Winona, MN: St. Mary's.
Nelson, C. E. (1971). Where faith begins. Richmond: John Knox.
Phenix, P. (1966). Education and the worship of God. Philadelphia: Westminster Press.
Piaget, J. (1971). Science of education and the psychology of the child. New York: Viking Press.
Seymour J. L. & Miller, D. (1980). Contemporary approaches to Christian Education. Nashville: Abingdon Press.
Tracy, D. (1975). Blessed rage for order. New York: Seabury.
Whitehead, A. F. (1929). The aims of education and other essays. New York: Free Press.
Whitehead, J. D., & Whitehead, E. (1981). Method in ministry: Theological reflection and Christian ministry. Kansas City, MO: Sheed and Ward.
Winters, Charles. (2007). Unpublished correspondence.
Wyckoff, D. C. (1961). Theory and design of the Christian Education curriculum. Philadelphia: Westminster Press.
---
Bibliography
The following is a bibliography of articles published by Charles Winters:
Winters, C. (1985, December). A DuBose reader: Selections from the writings. Saint Luke's Journal of Theology, 29, 61-62.
Winters, C. L. (1976, March). Craftsman with borrowed tools. Journal of Pastoral Care, 30, 22-26.
Winters, C. L. (1976). Theological education in the next decade. In F. C. Stough & U.T. Homes, III (Eds.), Realities and visions (pp. 125-133). New York: Seabury Press.
Winters, C. L. (1973, December). Hope and the future of man. Saint Luke's Journal of Theology, 17, 84-85.
Winters, C. L. (1973, December). Jesus - word and presence: An essay in christology. Saint Luke's Journal of Theology, 17, 71-72.
Winters, C. L. (1973, March). New hope for congregations. Saint Luke's Journal of Theology, 16, 101-103.
Winters, C. L. (1973, June). Theology of prayer. Saint Luke's Journal of Theology, 16, 3-12.
Winters, C. L. (1973, December). Time invades the cathedral: Tensions in the school of hope. Saint Luke's Journal of Theology, 17, 81-84.
Winters, C. L. (1971, May). The word "God" and the word of God. Saint Luke's Journal of Theology, 14, 10-19.
Winters, C. L. (1970, January). Power structures and the church. Saint Luke's Journal of Theology, 13, 68-69.
Winters, C. L. (1970, March). A theological reading sampler. Saint Luke's Journal of Theology, 13, 46-49.
Winters, C. L. (1969, May). Worship, message, and mission. Saint Luke's Journal of Theology, 12, 55-62.
Winters, C. L. (1968, January). Natural theology in the twentieth century. Saint Luke's Journal of Theology, 11, 4-16.
Winters, C. L. (1966, January). The freedom of life. Saint Luke's Journal of Theology, 9, 37-41.
Winters, C. L. (1966). The gifts of the spirit. Saint Luke's Journal of Theology, 9, 23-34.
Winters, C. L. (1966, October). Radical theology: Its message to orthodoxy. Saint Luke's Journal of Theology, 10, 24-36.
Winters, C. L. (1965, October). Honest to God - more aftermath. Saint Luke's Journal of Theology, 9, 33-38.
Winters, C. L. (1964). Tillich's third volume. Saint Luke's Journal of Theology, 8(1), 17-30.
Winters, C. L. (1962). The incarnation and social justice. Saint Luke's Journals of Theology, 5(3), 11-16.
Winters, C. L. (1958). Eucharist and sacrifice. Saint Luke's Journal of Theology, 2(3), 30-31.
Winters, C. L., Jr. (1960). The word incarnate: A study of the doctrine of the person of Christ. Saint Luke's Journal of Theology, 3(3), 23-25.
Winters, C. L., Jr. (1957). Doctrine of the trinity. Saint Luke's Journal of Theology, 1(3), 112-113.
Winters, C. L., Jr. (1957). The form of the personal, v 1: The self as agent. Saint Luke's Journal of Theology, 1(3), 109-110.
Winters, C. L., Jr. (1983). Ministry in contexts. New Orleans: Loyola Institute for Ministry.
Winters, C. L., Jr. (1985). Church, sacraments, and ministry. Loyola Institute for Ministry.
---
Excerpts from Publications
Winters, C. L. (1983). Ministry in contexts. New Orleans: Loyola Institute for Ministry.
Perhaps one of the best glimpses of Charles Winters' vision of Christian religious education can be found in his first book written for the Loyola Institute for Ministry Extension program:
Two principles have shaped this program, the first in defining its purpose and the second in determining its underlying process:
The learner is central. Participants will study many things-the Bible, the Christian heritage, the theory and practice of ministry. But these things are not central; they are not there to be learned for their own sake. The program is intended to help participants assume responsibility for their own learning, and thereby become more intentional in their practice of ministry. Other matters enter in only as they contribute to that goal.
Ministry always takes place within a context. Ministers live somewhere-in a particular city or rural area, with a particular history and culture that give it its flavor and distinctive characteristics. They do their ministry somewhere - in a clearly defined church institution or in some other, non-ecclesiastical setting. As Christian ministers, they all stand within the context of the Judaeo-Christian tradition. And as unique individual persons, they bring the sum total of their experiences and inherited characteristics. (Winters, 1983)
Winters' expresses his views on the importance of the Christian tradition for those preparing for ministerial roles as follows:
There is no way to be an effective Christian minister - in any of the forms that ministry takes-without placing oneself securely and knowingly within the centuries-long tradition of the Christian Church.
We cannot invent Christianity. We cannot make up the values and commitments that under gird a ministry that is truly Christian. Christianity and its inherent principles are handed on to us from the past. The life Jesus lived - the things he said and did and the influences he had on his disciples - is absolutely central to Christianity.
And the only way we know anything about Jesus is through the witness of those who knew him. They heard a message and witnessed a life. Apart from their message and witness, there is no Christianity and no Christian ministry.
The story of the Church's life is also part of our tradition. The message and witness of the first Christians passed on has shaped the Church's mission and ministry in many different settings and eras throughout history. The Church has learned much, sometimes in her moments of true fidelity and other times through her failures. No one can lay claim to competence in Christian ministry while remaining uninitiated to the context of its long tradition. (Winters, 1983)
Winters, C. L. (1976). Theological education in the next decade. In F. C. Stough & U.T. Homes, III (Eds.), Realities and visions: The church's mission today (pp. 125-133). New York: Seabury Press.
This I believe is the crux of the matter. Lay ministry requires theological education just as much as ordained ministry does. When a priest preaches the Gospel from the pulpit, he does so out of the background of the best theological education the Church can provide. Why does a lay person need less to do the more difficult job of interpreting the significance of Jesus Christ in the concrete settings of life? Simple faith, even in simplistic form can indeed reach into the hearts of some people. But simplistic slogans are an affront to many more. Episcopalians, for better or for worse, do not like to be a cause of affront. Somewhere in the total picture of theological education, then, serious, systematic, and sustained education for the ministry of the laity must find a place. (Winters, 1976)
Winters, C. L. (1973, June). Theology of prayer. St. Luke's Journal of Theology, 16, 3-12.
One of the striking features of the Bible as compared with most religious books is the centrality of historical narrative. God is spoken of in terms of his relations with a particular group of people throughout their life history, rather than in terms of speculative abstractions. God and his relations to man are seen as completely immersed in history. God may be utterly holy, but he is not remote. There is no contrast between the sacred and the secular. As Amos points out, what happens in the temple is not enough if what people are doing to another in their common life is not congruent with it. God is met, his Word is heard, and communication with him takes place within the context of human, corporate, historical life. (Winters, 1973)
---
Recommended Readings
Charles Winters writings and videos developed for the curricula of EFM and LIMEX are proprietary to the academic institutions which offer the programs. His original works have been revised and updated by subsequent authors as new ministerial needs and developments in their subject matter evolved. The foundation of his curricula and educational methodologies are lasting testimonies to his breadth of vision for adult theological education as his model and method have remained relevant, even though revisions have been made to specific content of the original courses he created. For those interested in reading a major statement of his educational vision for ministry, we recommend:
Winters, C. L. (1976) Theological Education in the next decade. . In F. C. Stough and U.T. Homes, III (Eds.), Realities and visions: The church's mission today (pp. 125-133). New York: Seabury Press.
Other recommended readings are:
Winters, C. L. (1973, June). Theology of prayer. . St. Luke's Journal of Theology, 16, 3-12.
Winters, C. L. (1970, January). Power structures and the church. . Saint Luke's Journal of Theology, 13, 68-69.
---
Author Information
Barbara J. Fleischer
Barbara J. Fleischer, Ph.D. is Associate Professor of Pastoral Studies and Psychology at Loyola University New Orleans. She earned her Ph.D. in psychology at St. Louis University (1978). She has published articles in the fields of religious education and psychology and has authored Facilitating for Growth and Ministers of the Future, a research study on incoming and graduating students in graduate ministry programs across the U.S.
Kathleen O'Gorman
Kathleen O'Gorman, Ed.D. is Associate Professor of Religion and Education at Loyola University New Orleans. She earned her Ed.D. at Teachers College Columbia University (1986). She has practiced religious education in ecclesial and academic contexts for some 35 years. Her current research commitments lie in the integration of religious education and the natural world.