Carol Frances Jegen
By Stephen A. Schmidt & Robert T. O'Gorman
Catholic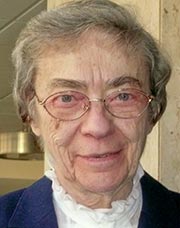 Carol spent most of her professional life as a BVM (Sisters of Charity of the Blessed Virgin Mary). At the order's Mundelein College Chicago she founded the Religious Studies Department and Hispanic Institute and spent her life in educational ministry there. Carol Frances devoted her entire vocation to educating Roman Catholics in theology and religious education. She published widely, author of five books and over twenty articles. She has helped transform the theological education of Religious Sisters and lay religious educators in the Catholic community.
Biography
---
Contributions to Christian Education
Membership in professional organizations
When one traces the professional organizations that Carol Frances has influenced, one can begin to see the importance and extent of her presence in the Roman Catholic Church. And when one traces those memberships from the early 1970's to the present one can be equally sure that her presence was almost always stretching the boundaries. Carol is a woman who lived her faith and acted on it with courage, gentle persuasion, and solid intellect.
In 1971 Carol was a United States Catholic Conference delegate to the International Catechetical Congress in Rome. She returned and assisted in organizing the Catechetical Forum, a national Catholic group formed to study the current situation of religious education in the United States. That passion remained her driving goal throughout her life, to educate the laity and especially Catholic women in theological concerns. As stated earlier, Carol's yearning at this time was to bring women, particularly Catholic Sisters on board with theological content and methodology. This was because of the Church's Vatican II shift into catechesis and the theological education of laypersons.
As mentioned above, Carol was active in the Farm Worker ministry and made extended trips in l973, l975, and 1977. She was a personal friend to Cesar Chavez and that friendship continued through out his life.
Carol participated in an "invitation only" conference on Evangelization in the American Context at Notre Dame University in 1976. Her presence and her reputation marked her as one of the important voices from the large number of American nuns.
Carol was also a member of the Permanent Seminar on "The Church as Missio" Sponsored by the Canon Law Society. 1977 - 1979.
Carol was an evaluator for the Lilly Foundation, which funded the Hispanic Mobile Catechetical Project, 1977.
Carol received a special invitation to attend the Catholic University of America Convocation for Pope John Paul II, Oct. 7, 1979.
Carol also was a participant by invitation only to the National Conference on the Laity, University of Notre Dame, 1979.
Carol was both a participant and Facilitator at the First International Conference on the Meaning of Human Suffering at the University of Notre Dame, 1979.
Carol attended the Pax Christi International 40th Anniversary Council Meeting in Bruges, Belgium, 1985.
Carol attended the Latin American Section Meeting of the Christian Peace Conference, Havana Cuba, 1987 as a North American Observer.
Carol was Chairperson of the Scripture Section of the International Ecumenical Seminar, "Toward a Theology of Peace," in Budapest, Hungary, 1987.
If one just surveys that list of activity one can begin to understand the remarkable knowledge that Carol Frances brought to the task of religious education. But her vision was not only about religious education, it was about the transformation of society and the world. Her faith was boundless, her knowledge formidable, and her passion for loving God's creation and all the creatures that dwell there with the good news of God's love for all of human kind, undying. Carol broke barriers, she walked with the lonely, the sick, the poor, the disenfranchised, the oppressed, human kind of all walks of life, and she loved them and taught them, as well as learned from them.
Academic and institutional contributions
Elected to the Board of Directors, The Society of Catholic College Teachers of Sacred Doctrine. (Currently know as The College Theology Society) 1961-1963.
Elected to the Executive Board of the Chicago Chapter of The Religious Education Association. 1962 -1964.
Appointed to the Chicago Liturgical Commission1964-1968 by the late Albert Cardinal Meyer.
Appointed by Archbishop Hallinan to the National Bishops' Subcommittee on Liturgical Adaptation, 1967, and elected Chairperson of that committee in 1968.
Appointed to the National Advisory Council of the United States Catholic Bishops, 1969-1974.
Appointed to the Advisory Council for Ministerial Training Program of Notre Dame University, 1971.
Served on the Advisory Board of SPRED (Special Religious Education Program) Chicago 1973.
Served on the Clergy and Laity Concerned (CALC) Advisory Board, Chicago Chapter, 1975-1976.
Appointed to the Board of Directors of the Chicago Institute of Theology and Culture, 1980-1982.
Appointed to the Board of Trustees of Catholic Theological Union, 1972 - 1982. She was reappointed for four terms and elected to the Executive Committee in 1978.
Carol Frances never talked about being overworked or over-extended. Carol loved people, she loved teaching, she was a natural leader and organizer, and she had a faith life that nurtured those energies. One would not refer to Carol Frances as pious, nor even devout. Rather Carol was the embodiment of God's love. She was one who daily received "the body of Christ" in Eucharist, and that body became one with Carol's. Her energy, enthusiasm, vitality, knowledge and compassion were and remain remarkable.
Religious life and retreat work
Religious life can only be lived in a community of prayer and meditation. Carol Frances has over the years given numerous retreats to Religious women of many traditions. She has worked with the BVMs, the Benedictines, The School Sisters of St. Francis, School Sisters of Notre Dame, Adrian Dominicans, Racine Dominicans, Sinsinawa Dominicans, Tacoma Dominicans, Clinton Franciscans, Sisters of the Precious Blood, and Sisters of Mary of the Presentation. She has given lectures on Justice, Peace and Spirituality for Inter-Congregational Novitiate Programs in Chicago as well as Dubuque.
Carol remains a Sister of Charity, BVM. She lives and loves her Religious Community. She served as BVM representative to the Chicago Archdiocesan Sisters' Advisory Council, 1968. She was the BVM delegate to the Chapter of Renewal, 1967-1968, and Chairperson of the Committee on the Nature of Religious Life. She served as BVM Senator, 1969 - 1974, and on the BVM Constitutions Committee, 1974 -1988. Carol loves Religious life and it shows.
Major lectures
These lectures listed below are but a sample of Sr. Carol Frances' work. During all these years Carol was teaching full time at Mundelein College and for many of those years serving as Director of the Graduate Religious Studies Program. To hear Carol talk is to experience something rarely heard in the church today. Her lectures are not sermons; they are not laden with educational jargon. Here is a woman who speaks what she is and is what she speaks. Each time one is with her one learns something new about her, about her faith, and about one's own. She is a loyal and steadfast friend and colleague. And when she speaks you are somehow hearing words not spoken, you are hearing inflections, pauses, moments of silence and always a word about the goodness of God and God's love for human kind. To be in Carol's presence is to be in God's presence. So the list of major lectures is but a small part of her voice. She lectures with her daily life, her intent interest in your life as well as her own. To hear Carol talk is in my own tradition (Lutheran) a lecture in "law and gospel". Carol's words are sometimes honest and hard; they point out hypocrisy and unfaith. They are words to be heard when one is not listening careful to one's own heart. And there are always words of care and compassion. When Carol passes the peace one feels at peace. The following are a list of some of Carol's lectures.
Planner and Coordinator of Panels at the Institute for Local Superiors, University of Notre Dame, 1962 and 1963.
Major address to the Ministers' Conference, McCormick Theology Seminary, Chicago, 1964.
Address to the Professors and Research Section of the National Meeting of the National Council of Churches, Dallas, 1967.
Respondent at the Jesuit Institute of Ignatian Spirituality, University of San Francisco, 1973.
Major address at Convergence Meeting of Leadership Conference of Women Religious and conference of Major Superiors of Men, Cleveland, 1976.
Keynote address at Chicago Call to Action Conference, Chicago, 1980.
Keynote address, Joliet Diocese Ministry Day, 1982.
Mary Festival Lecture, Mundelein, Chicago, 1983.
Soloman Goldman Lecture, Spertus College of Judaica, Chicago, IL. 1986.
Major address at Jesus Day, Chicago Archdiocesan Conference, 1986.
Keynote address at Lutheran/Catholic Celebration, Des Moines, Iowa, 1986.
Newman Center Lecture, University of Minnesota, 1987.
Keynote address at the Lutheran Deaconess Annual Convention, 1987.
Lecture at Marian Year Symposium, Saint Mary's College, Notre Dame, 1988.
Awards and honors
Mundelein College scholarship for full tuition, four years 1943 -1947.
Marquette University Scholarship for all doctoral work.
Annual award from the Association of Chicago Priests for work in Hispanic Ministry, 1980.
Loyola University Civic Award, 1981.
Resident Fellowship at the Institute for Ecumenical and Cultural Research, St John's University, Collegeville, Minnesota, 1984 - 85.
Mary Frances Clark Award of the Immaculate Alumnae Association, 1986.
Finalist for the Sears Teaching Award, 1989
Selected by Today's Chicago Woman for "100 Women to Watch" 1989.
Personal stories of Sr Carol Frances Influence Ministry and Being
Most of the early students in the Religious Education program founded by Sr. Carol were women. Later, brothers and much later priests came to study at Mundelein. The majority of the group of students who were greatly influenced by Sr. Carol Frances' teaching and lectures were mostly Women Religious. Some of them turned out to become the Major Superiors of their Community.
Sr. Jane Haslwanter, BVM.
"Carol Frances Jegen, B.V.M. has influenced my life more than any other living person today. She is a deeply spiritual woman, a gifted teacher, and a person of vision. It was through her vision as an educator that Religious Education became central in the development of Mundelein College. Carol established the Mundelein Center for Religious Education in the Archdiocese of Chicago. MCRE was unique. No other Catholic college or University offered such a service to Chicago or the Archdiocese.
The 1970's were the 'dawning of a new light' in Religious Education. Colleges and Universities were offering a Master of Religious Education to students desiring to work as Directors of Religious Education in parishes. Parishes began offering Religious Education classes for students both in parish schools and in CCD classes.
The 'dawning of a new light' in Religious Education brought new textbooks for Religious Education in place of the 'Baltimore Catechism.' Numerous publishers were publishing new textbooks. Religious Education was the new frontier of catechetical instruction in parishes across the land.
In January 1975 Carol offered me the position as Director of the MCRE as well as to teach courses in the undergraduate Religious Studies Department at Mundelein College. Carol encouraged and supported my creative development in Religious Education. I volunteered to teach a Kindergarten RE class on Sundays at St. Francis Parish in Wilmette. Some of my students later journeyed to Mundelein to continue their own education. The students observed me teach these young students and then took their turns practicing. This was a new way of education in Catholic parishes.
Through the generosity of the Jegen family and a budget from Mundelein College, MCRE developed to become a vital center for teachers of Religious Education, Directors of Religious Education as well as clergy in the Archdiocese. Through these funds audiovisual equipment and media for all ages were purchased. Audiovisual and textbooks were available for preview and evaluation at the MCRE. This collection continued to grow for decades to follow. The center grew and its influence in Chicago Catholic parishes was both dramatic and important.
Gradually the center became more important to Religious Educators throughout the Chicago area. Workshops led by publishers were offered at the center, and Mundelein became the most important Religious Education center in the Chicago area.
Mundelein also became a center of interfaith dialogue. A wonderful relationship developed with Jewish neighbors at Emanuel Congregation under the leadership of Rabbi Herman Schaalman. Several Seder Services were celebrated together, usually at Mundelein. As a member of Chicago's Catholic-Jewish Scholars Dialog, Carol Frances continued to develop close relationships with the Jewish community.
Those years at Mundelein College continue to be the fondest memories of my ministry. It is through my relationship with Carol that I am the person I am today. And so are so many others whose lives have been touched by Carol Frances Jegen."
Sr. Teresita Weind, SNDdeN.
A second story of Carol's influence is equally moving. It is about Sr. Teresita Weind, SNDdeN. Sr. Teresita is an African-American sister and speaks eloquently about the influence that Sr. Carol Frances had upon her life and work.
"The assassination of Dr. Martin Luther King Jr. changed the consciousness in America. His life and death deeply influenced Carol Frances Jegen. Two years after King's death Carol expanded the curriculum in theology and religious education to include a Black Theology course for students at Mundelein College. The majority of those who enrolled in the course were Black Women from the South side of Chicago. Carol's trust was deep and strong during the initial stages of the Black Studies Program. She offered me a "Teach-Study" opportunity, which launched a major transformation in my life. I knew less about Black Studies than the young women from the South side of Chicago who were searching for themselves as much as I was. It was Carol's belief in all of us that thrust us together in a 'learn as you go' process of finding God and liberation in the midst of our struggle for our true identity as Black Women.
The first semester was difficult. Carol Frances remained supportive. She encouraged me to listen to and learn from the Black students. I virtually left the world in l960 when I entered the convent. Carol put me in a setting where I re-entered the world of the 70's marked by anti-war protests, Black Liberation Theology, and the broad studies awakening us to the Jesus of history and the Christ of Faith.
Carol Frances Jegen was instructor, mentor, guide and leader for me. She challenged me; inspired me and stretched me. Carol's approach was personal and particular in the education of women for leadership in the world. She was attuned to the crisis in the Black community and she nurtured me for leadership in the midst of my Black sisters and brother.
Carol supported my ministry in the Cabrini-Green Housing Projects. She could see God's anawim in the plight of the poor and oppressed in Cabrini-Green. My education at Mundelein College opened my mind and heart to the presence of God in the poor. With Carol's insight and wisdom the interdisciplinary approach to theology shaped us as women present to and ready for active ministry in the world. While I was studying with Carol, my world was Mundelein and Cabrini-Green. Carol kept expanding my awareness to recognize the integration of the two. Theological studies became a way of life integral to the life and death of the struggling poor in the Inner City.
Carol Frances Jegen continues to be an inspiration and mentor for me. As often as I 'do theology' I know that I am still growing from the roots Carol Frances Jegen planted and nurtured in me. I pray that my life will be a testimony of gratitude to this Woman of God!"
Dominga Zapata, SH
"When I arrived at Mundelein College in 1966, I was not certain that I wanted to pursue a college degree and still less certain that I would be capable of doing so. My high school preparation was inadequate and my English proficiency was very poor. So I was afraid to fail. It was also a time when not many believed that Hispanics were capable of much. While I knew that God had called me to spread the Good News and that God was going to give me the necessary preparation to do so, I was not so ready to do my part.
It was in this context that I met Sister Carol Frances. From the very beginning, her actions were those of a true religious educator. She did not see in me any stereotyped Hispanic that needed some kind of pity but rather she seemed to perceive the potential of God's image in me. I heard within my heart the unspoken words of her message that transformed my lack of confidence and self-doubts, "you have been chosen to bring Good News to your people." Through her, one of her Sisters in community became my English tutor and soon I was on my way to complete my bachelor's degree. Throughout the years, Carol Frances was available, as she was to many of her students, to explain, clarify, guide and encourage me at difficult times as well as to rejoice in good times.
I know that because Carol Frances believed in me, I completed my bachelor degree with a higher sense of my own talents and gifts and purpose in life. A new me had come forward. It was precisely the confidence that the relationship with her had created in me that led me to take the next step in my life as a minister to God's people. Perhaps I had forgotten the purpose of this academic formation. But again, Carol Frances thought beyond my "self" and into my mission. Immediately after graduation, she dared to recommend me for an Archdiocesan position at the Office for Religious Education in order to begin what would expand into the future archdiocesan ministry to Hispanics in all pastoral areas, especially Hispanic adult faith development.
At this point, Carol Frances was no longer my professor but she radically became my mentor, my spiritual teacher. One of the conditions of her recommendation for the position was that I would continue my academic preparation. Therefore, I registered for the MA degree in Religious Studies at Mundelein College. I started my ministry at the Chicago Archdiocesan Office of Religious Education as I had started my studies, under the confidence that Carol Frances had in my call to serve the poor and marginalized. After three years into the position, I had to admit to my mentor that I really did not know how to respond to the diversity of the Hispanic community in Chicago from my limited experience in Puerto Rico and USA. We both agreed that Mundelein College did not have the resources necessary to guide me. Again a prophetic stance came to my rescue. I had decided to go to Latin America to study and become familiar with the reality of the immigrants that were arriving in Chicago daily. Carol Frances not only supported the decision but opened means to receive academic credits towards my MA degree. It seemed clear to her that Mundelein College was the means of the BVM's to serve the poor. She did not hesitate to go beyond the established norms and structures to serve this new pastoral need. When perhaps, no one throughout the USA was thinking of the academic pastoral formation of Hispanics, here was a prophetic woman pushing the walls of confinement and requirements to the limits in order to enter a new future.
As I completed my MA, Carol Frances had already created a greater vision. "What you have freely received, you must freely give to others," were another echoing words that her silent message brought to my heart. The need for adequate preparation of leaders (Hispanic and non-Hispanic) to minister to the vast Catholic Hispanic population throughout USA became a fire in her heart. As first step, she dared to include me as co-teacher with her in a course on "The National Catechetical Directory and the Puebla Documents." Here was a world-known scholar taking the risk with a "doubting Thomas." From a workshop and a course here and there, we founded the Instituto Hispano, which has served the development of Hispanic pastoral leadership for more than 30 years. It may had been impossible to think that studies in Latin America would have much to offer any USA academic institution; that a formation Instituto could be established in a recognized Catholic academic institution while holding the people's language, native professors and cultural traditions; that a young Puerto Rican woman could come from the streets of El Barrio to share some wisdom at an academic level with a known scholar! Yes indeed, the courage of a prophet is not his or her own but transcends them as it did in the life of Archbishop Romero.
Her confidence in me was not limited to the local involvement. When the Bishops organized the National Pastoral Council, Carol Frances was one of the first women members. Her participation was not enough. There must be native voices representing the many faces of the Church in USA, she thought and acted. Soon I was flying with her to Washington, DC as member of such Council and joining other "minority" representatives. These experiences allowed me to have a closer relationship with this woman religious who in the midst of the chaos facing religious life after the II Vatican Council, believed in her commitment and was in deep love with the Church. Not to say anything about the opportunity I had to meet so many other great disciples of Christ serving others and opening closed doors where frightened disciples seemed to be paralyzed. These were great graced years!
Carol Frances was that prophetic religious educator who believed what she proclaimed and taught; who emptied herself so that Christ may be born again in new members; and who made the option for a gentle and peaceful but firm position in defense of the needs of the poor before institutions. She never assumed the position of Hispanic leadership but like St John the Baptist recalled at every step, "(Christ) must increase, but I must decrease (Jn 3:30)." Carol Frances was faithful to her call as a religious educator whose primary task I consider to be, to "make disciples of all nations." This is the legacy that she transmitted to me. Her influence in my life is a hidden one, non-assuming, because she did it and continues to do it, not merely by action but by the living example of a true disciple. I consider her influence in my life and ministry rooted in her qualities as a religious educator - to see Christ in those with whom the Good News are shared - to believe in the surpassing gifts of the Spirit present in the others - to rejoice in the marvels that God is able to do in others without attributes to self! Indeed I believe that Carol Frances not only shared the message of Christ but also has herself become the message. Not unlike St Paul, 'it is no longer I who live, but it is Christ who lives in me (Gal 2:20).'
For so many years, I have been able to touch and bring the Good News of Christ to so many Hispanics and non-Hispanics because there was a prophetic woman who saw and believed in God's ways in me and in the people I was called to serve and minister. And now I am called to go and do the same for others.
Carol Frances, will always be my mentor, my model and my "guru" in my discipleship of Christ. I believe that Christ has chosen her to bring the Good News to the poor as a religious educator because she learned from the Master how to teach with her life. Gracias."
Dr. Stephen Schmidt
It was the spring of l976. I had negotiated a semester sabbatical from Concordia Teachers College in River Forest. My professional career seemed in jeopardy and I was in an on-going struggle with the newly appointed President of Concordia. I agreed not to publish any more critical essays about the conservative re-envisioning of Concordia and specifically about the President. Concordia was but a small part of the larger conflict within the Lutheran Church Missouri Synod. The president agreed to grant me a sabbatical on the condition that I would discontinue my criticism in exchange. I felt relief and anxiety.
I had also agreed that spring to teach a course for Fr. Jerry O'Leary, O.P. the director of Loyola's Institute of Pastoral Studies. Jerry and I had met in the previous year while in our graduate work at Columbia and Union Seminary in New York.
I left River Forest that early spring afternoon feeling some apprehension and considerable relief as well as anticipation. I was early that evening and as I neared Loyola's lakeshore campus I saw Piper Hall and Mundelein College right adjacent to Loyola. I knew the reputation of Mundelein College and its excellent Religious Education Library. So as I neared the campus I parked in Mundelein's convenient parking lot and ventured into Piper Hall where I knew Mundelein kept its Religious Education Library. I saw no one in the building so I went immediately to the Religious Education collection. I sat comfortably on the floor browsing the film collection and the religious education archives.
Not aware of any other person, I was completely engrossed in this splendid collection. Then I became slowly aware that some one was gently tapping me on the shoulder and as I turned this gentle woman softly ask me to introduce myself and why I was there. (I had obviously passed the reception office as I entered the building.) I told her my name and why I was there. She said yes that may be my name, or perhaps not, did I have any identification. I shared several cards of identification including my Concordia Faculty ID. When she recognized that I was a Lutheran from Concordia she responded. "Oh I know very much about the present struggles at your school. Please come into my office and we can talk about your college and your work there."
I entered her office and poured out my story of grief and sadness about my own church body and my College. She listened for a long while. Then she told me her mother had been a Lutheran and how she had kept current with the struggles of the Missouri Synod. After almost an hour of conversation I told her I needed to leave to teach my course at Loyola IPS. She asked me to stay just a few more minutes.
She carefully took her glasses off, laid them gently on her desk, looked me directly in the eye and said. "Dr Schmidt, I think God sent you here." I was speechless and asked smiling what she could possibly mean. She then told me that Mundelein was searching for a Professor in Religious Education and she thought I was perhaps the very one God had sent. Would I be willing to mail her a copy of my CV? I was stunned. I said, yes of course. My heart beat rapidly as I told her good by and hastened to my class. I could hardly wait to tell my wife what had happened.
After class I drove home filled with questions and anxious to share my afternoon with Gick, my wife. She met me at the door, even before I could say anything. "Steve some BVM sister by the name of Carol Frances Jegen called and asked me to tell you not to mail your CV to them but to bring it to Mundelein tomorrow. The religious studies department wanted to meet with me to consider the possibility of offering me a position to teach at Mundelein. I hardly knew what to say.
We talked long into the evening about the amazing events of the day. And the next afternoon I took my CV to Mundelein and was interviewed for the position for Associate Professor of Pastoral Studies. They asked me to wait while they had their meeting. Then I was invited back to the meeting and was told officially that I was being offered the position of Associate Professor of Pastoral Studies. They would mail me the formal documents.
In a few days I received my official contract, which I signed with gratitude and delight. The rest of my story is common knowledge among religious educators. I spent the rest of my professional career teaching at Mundelein until Mundelein merged into Loyola and there I finished my professional career in the Institute of Pastoral Studies. Carol Frances became my mentor, my long-term friend, and my intimate colleague until I retired. As I write these words, even now I am filled with gratitude and joy. Carol brought hope and healing into my life and I am honored to share her remarkable life with other religious educators throughout the country. Thirty years later I know the healing truth of those words addressed to me in that spring evening of l976…"Dr Schmidt I think God sent you here." And I think God did!
---
Excerpts from Publications
Mary According to Women. Carol Frances Jegen, BVM (Ed.) Kansas City: Leven Press, 1985
Introduction
In the post-Vatican II years devotion to Mary has received a decidedly different emphasis from that of the years immediately preceding the council. Some people consider this period one of de-emphasis on Mary, almost to the point of silence. Others see our time as one of necessary quiet to offset a somewhat triumphalistic over-emphasis on Mary in popular piety in the pre-Vatican II years. Regardless of one's opinion on this question of recent Marian emphasis, the fact remains that very little has been done to draw out the implications of the particular emphasis Vatican II gave in its statement on Mary in the midst of the church. Furthermore, the worldwide awakening of the equal dignity and role of women in human history gives a certain urgency to a vitalized faith-understanding of Mary for contemporary times. These reasons and others seem to indicate the time has come to probe anew the meaning of our Marian heritage as Catholics who live in the United States of America, a country whose patroness is Mary Immaculate. (Page 1)
Mary Immaculate: Woman of Freedom, Patroness of the United States
In the light of these church teachings from the past, well might we question the meaning of the symbolism so frequently associated with artistic portrayals of Mary Immaculate-the woman crushing the head of the serpent. The ultimate triumph over the power of evil represented in such artwork was usually related to salvation in very personal terms. Without losing the validity of such symbolic interpretation, can we now relate the redemptive power of this symbolism to the societal order? Can the Immaculate Conception truly become an eschatological symbol for us, calling us forth in confident hope in our societal struggle for the freedom necessary for justice and peace? Can the Immaculate Conception be our symbol of human freedom from the power of evil wherever it exists? Can the Immaculate Conception become a vital symbol of the power of God's love, freely accepted and operative in our lives?
If Mary Immaculate, Patroness of the United States, is to become a viable symbol for us in our ongoing struggle for freedom from oppression, and above all, in our current global struggle for freedom from the demonic evil of war, then our pastoral ministers and religious educators must rise to an urgent and inspiring educational challenge. New meanings for this symbol must be interiorized and made operative in the minds and hearts of our people of faith, young and old.
As we truly face our time in history as a new moment for peace and for justice, we must also face in a realistic manner the human suffering that continues to be a part of the struggle for the freedom essential for authentic justice and genuine peace. Here, too, the woman/serpent symbolism has much to say to us. For some time, scripture scholars have reminded us about sound exegesis of the Genesis text, "I will put enmity between you and the woman, and between your offspring and hers; He will strike at your head, while you strike at his heel." (Genesis 3:15) This text includes the notion of constant hostility and threat of harm on the part of both adversaries. Clearly in the life of Mary and her son, Jesus, together with countless persons who have been interiorly free enough to enter into the struggle for justice and for peace, untold suffering was and often is a part of their lives. How readily we can refer to Mary, woman of freedom, strengthening us to enter freely into such struggle and suffering with undaunted faith in the ongoing presence of her risen son, with vibrant hope in the eventual triumph of good over evil, with forgiving and even joyful love able to transform our enemies into friends. (Pages 156-157)
Toward a Peacemaking Christ¬ology. Carol Frances Jegen, BVM. Kansas City: Sheed & Ward. 1986
The 1983 pastoral letter of the Catholic bishops of the Unite States focused on peace as a challenge. This historic document, The Challenge of Peace: God's Promise and Our Response, includes another challenge in its request to theologians to develop a theology of peace. In the introductory section of the letter after commenting on "the religious vision of peace among peoples and nations"… which has "an objective basis and is capable of progressive realization," the bishops spoke of "the Church's responsibility to join with others in the work of peace" (#23). This responsibility of cooperation with all others in peacemaking efforts was named "a major force behind the call today to develop a theology of peace" (#23). This call to develop a theology of peace appears again in the final section of the document entitled, "The Pastoral Challenge and Response." In the section on Educators, we find an urgency in the message addressed to theologians. The bishops wrote, "We address theologians in a particular way, because we know that we have only begun the journey toward a theology of peace; without your specific contributions this desperately needed dimension of our faith will not be realized. Through your help we may provide a new vision and wisdom for church and state." (#304)
This challenge to develop a theology of peace recurs with greater specificity when the bishops refer to the Second Vatican Council's challenge "to undertake a completely fresh reappraisal of war" (#23). Significantly, two kinds of sources are mentioned as needed contributions for a developed theology of peace: various branches of theology, including biblical studies, systematic and moral theology, and ecclesiology; and the experience and insights of peacemaking Christians (#24). One would expect that theological sources would be considered necessary material for new theological development. What is surprising and very welcome in this request is the seriousness with which the experience of Christians is considered a primary source for a theology of peace.
Not only in scripture studies do we find renewed emphasis on the experience of the primitive Christian community as a key to understanding the Gospels, but in the other areas of theological studies as well, we are becoming more aware of the indispensable grounding of all theological reflection in the faith experience of Christians. This emphasis on experience resonates clearly with theological awareness on the part of more and more scholars, influenced by theological giants such as Lonergan and Schillebeeckx. Liberation theologians consider a praxis/experience foundation basic to all their theology. This experience aspect of contemporary theological method implies peacemaking involvement as a necessary background for theological understanding of the Christian imperative to make peace. Consequently, in this present development of a peacemaking Christology, the experience of peacemaking will serve as a touchstone of genuine theological insight. (Pages 5-6)
Restoring Our Friendship with God: The Mystery of Redemption from Suffering and Sin. Carol Frances Jegen BVM. Michael Glazier: Wilmington, Delaware, 1989
Introduction
Redemption from suffering and sin is a central tenet of Christian faith. Today's eucharistic proclamation of the mystery of faith has resounded throughout the centuries: "Lord, by your cross and resurrection you have set us free. You are the Savior of the world." The recognized symbol for Christian faith is the cross, recalling the redeeming suffering and death of Jesus.
Theological probings into the mystery of redemption have been both helpful and misleading. Far too often, exaggerated notions of human sinfulness have crippled the vitality of Christian faith life. Sometimes, even in liturgical celebrations of God's overwhelmingly redeeming love in Jesus, one might wonder if the people of God were really redeemed, because of the ways some homilies and prayer texts continually emphasize the sinfulness of the worshippers.
Far more problematic is the distorted image of God which predominates whenever misunderstandings prevail regarding redemption from sin and suffering. Then God is seen sometimes as a demanding deity who sends all kinds of sufferings into human life in order to punish sinful people or to test their virtue. Often it is difficult to recognize such a god as the God of Jesus. This problem regarding God's image becomes acute if the impression is given that God demanded the crucifixion of Jesus in order to make amends for all the sins of the human family.
However, regardless of theological clarifications about the meaning of redemption from sin, the fact of human suffering persists with its many heartaches and questions. In the face of so much suffering, particularly on the part of good people and even little children, one must raise the question of God's goodness.
This present approach to the mystery of redemption from suffering and sin focuses on the even greater mystery of God's call to friendship, to an intimate sharing of life in time and in eternity. (Pages11-12)
Chapter 4
In the Mystery of Christ and the Church
The history of the Church's social teaching portrays a remark¬able development of awareness regarding Christian involvement in the ongoing struggle to bring about situations of justice and peace in this world. True to the witness of Jesus in his constant, active concern for those who were suffering in any way, the early Christian community not only continued the ministry of Jesus in freeing people from ignorance and in healing the sick, but also began to find ways to take care of the material needs of the poor (cf. Ac 2:47; 4:32-35). Centuries of Christian life witness to more and more organized efforts to take care of the sick, the orphan, the ignorant, the elderly, etc. through the Church's hospitals, orphanages, schools and social services of all kinds. It is important to see all of these efforts as part of the ongoing redemptive mission of Jesus. It is also important to realize that all of the daily efforts of women and men in the workplace and in the home contribute to the ongoing work of redemption whenever and wherever compassionate love and care for others is manifest. However, in the twentieth century, in response to the enormity of human suffering, the Church in official teachings has emphasized ministries more directly involved with eradicating the causes of so much human misery. These are the ministries of justice and peace, ministries focused on bringing about systemic change. While such new ministries of justice and peace are developing, the Church also continues the centuries-old efforts at alleviating and healing human hurts of all kinds. (Page 92)
---
Recommended Readings
Mary according to women.
Jesus the peacemaker.
Restoring our friendship with God.
---
Author Information
Stephen A. Schmidt
Dr. Stephen A. Schmidt (Ed.D., Columbia University-Union Theological Seminary) is Professor Emeritus in the Institute of Pastoral Studies at Loyola University, Chicago, IL. He taught for many years at Zion Lutheran School, in Lyons, IL; Concordia Teachers College, in River Forest, IL; Mudelein College in Chicago, and at Loyola University in Chicago.
Robert T. O'Gorman
Dr. Robert T. O'Gorman (Ph.D., University of Notre Dame) is Professor in the Institute of Pastoral Studies at Loyola University, Chicago, IL. He taught for many years at Vianney High School, in Kirkwood, MO; Lt. Louis University Divinity School, St. Thomas Seminary, Denver, CO; Scarritt Graduate School, Nashville, TN; and at Loyola University in Chicago.