Using Biola's Laundry Facilities
Payment Methods:
PayRange App: Download the free PayRange app for iPhone or Android, create an account, and add your credit card info to your account. With the app you can find available machines, select the machine you want, and pay for your washer and dryer use.
Coins: If you do not have a smart phone or do not wish to use the PayRange app, you can pay for your laundry with quarters. Plan ahead to get quarters from the Cashier (Lower Level Metzger), your bank, or home.
---
Using the PayRange App
Adding Funds to Your PayRange Account
Selecting Your Laundry Machine within PayRange
---
Reporting Maintenance Problems:
If you experience problems with any of the laundry machines, write down the 6 digit machine id found on the washer or dryer, and contact WASH Laundry Systems:
Report the repair at fixlaundry.com.
Phone in the repair to 800-342-5932; select option 1 from the menu.
Report the repair from your smartphone using the free FixLaundry mobile app for iPhone or Android available for download from fixlaundry.com.
Sample machine id: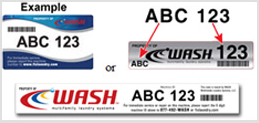 ---
Refunds from Old Laundry Cards:
If you lived at Biola before, you may have a WASH Laundry Card with value still on it. To request a refund of the value on your Card, mail your Laundry Card to the address below with your first and last name, your mailing address, and the account # CA0054901.
WASH-Refund
18410 South Broadwick St.
Rancho Dominguez CA 90220