Thank you for your generous support of our Full Fall Scholarship! Because of your partnership, we welcomed nearly 1,000 freshman and transfer students to Biola and approximately 2,350 undergraduate students are continuing as Biolans in their academic journey.
Luke is just one of the students starting this fall.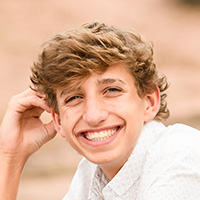 Luke P. (B.A. '26 & M. Div. '27) is a freshman Biblical Studies major. Having joined us this fall, he is taking advantage of Biola's accelerated master's degree program with plans to graduate in 5 years with his Master of Divinity.
Luke grew up as a missionary kid in Indonesia and when it came to college, it was his hope to go to a Christian university. When Coach Henning, Biola's Track & Field and Cross Country Coach, asked Luke to run for Biola and after a conversation with Dr. David Talley in Biola's Biblical and Theological Studies program, Luke knew Biola was the school for him. But the cost was prohibitive. Thanks to the support of donors like you to our Full Fall Scholarship Fund, Luke's dreams of a Biola degree and running for the school are becoming reality.
"Education is worth so much, its benefits can't be counted in dollars," he said. "Thank you for giving me an opportunity to experience it."
Thank you for helping Luke and students like him achieve their dreams at Biola.
You joined with 139 other supporters who collectively gave nearly $100,000 to help support students like Luke this fall. In addition, Biola allotted an additional $2.9 million in scholarship support. Together, we are making a more accessible Biola!
Thank you for your extraordinary generosity and for helping make the dream of a Biola education a reality for so many new and continuing students.