B.S. in Biochemistry
School of Science, Technology and Health

Overview
Biochemistry, the study of the chemistry of living systems, is an essential field for those interested in medicine and health-related careers. In Biola's biochemistry program, you'll gain the strong foundation you need for entrance into medical school or graduate programs in biology and chemistry.
Yes! Tell Me More!
Why Choose Biochemistry at Biola?
In addition to its strong curriculum, expert faculty members and vigorous biblical integration of faith and science, Biola's biochemistry program offers several key advantages:
Small class sizes provide maximum interaction and faculty mentoring.
Students get hands-on experience with modern scientific equipment in well-equipped chemistry and biology labs. Instruments include a high performance liquid chromatograph, an electron microscope, an X-ray diffractometer and a high-speed centrifuge.
A pre-med committee and a health professions advisor who is an M.D. provide resources for taking qualifying exams like the MCA, mock interviews, tag-alongs with health professionals and general advice for applying to post graduate medical programs.
Student groups like the Pre-med Club offer numerous opportunities for support and interaction.
Biola's location in Southern California offers numerous opportunities for internships and research in hospital, clinical, industrial, government and other academic laboratories.
What Will I Study?
If you desire to make an impact on people by applying biblical knowledge and Christian faith to science professions in our world, then you are well-suited for this major. The interdisciplinary biochemistry program promotes the value and understanding of living systems at the molecular level, and coursework that integrates scientific theory and application with biblical principles and practice in the health science community. Career-relevant learning topics and highlights include:
Principles of cellular and molecular biology, genetics and development
Discussion of chromosome and membrane structure and gene expression
Examination of stoichiometry, atomic theory, chemical reactions and nomenclature
Organic chemistry with emphasis on reaction mechanisms
Laboratory techniques for the synthesis, isolation and purification of organic compounds
Classical chemical methods of analysis such as titrimetry and gravimetry
Mathematical treatment of bioenergetics with emphasis on problem solving
4 years
Standard Duration
This indicates the standard duration of this program. Completion time may vary depending on transferred coursework and preferred courseload.
124–126
Total Program Credits
Total program credits include a combination of major/concentration, Bible/theology and general education credits.
WSCUC
Accreditation
Biola University is accredited by the WASC Senior College and University Commission. Additional accreditations may apply to specific programs.
Career Paths
With a strong biochemistry foundation and extensive laboratory experience, you will be prepared to pursue graduate studies in a variety of bioscience programs. Your studies will prepare you to impact the world for Jesus Christ in public- or private-sector research institutes, biotechnology companies, universities, government agencies, forensic science services and medical facilities, working in such careers as:
Microbiologist
Consumer products research scientist
Medical geneticist
Pharmaceutical sales representative
Environmental scientist
Medical and clinical laboratory technologist
Biochemist or biophysicist
FDA inspector
Research and development scientist
Crime lab analyst
Toxicologist
For more information on careers in the health care field, please visit our Health Science Careers website.
What are Graduates Doing Now?
Many graduates of Biola's biochemistry program pursue graduate studies, while others move into research internships or other scientific career-building opportunities. Professional highlights include:

M.D./Ph.D. program at Loma Linda University
University of Chicago's physical chemistry Ph.D. program
Clinical scientist with focus on scientific methodologies
Scientific researcher at MIT's Summer Research Program
Intern at AEMTEK working in the food microbiology lab
UC Davis Medical Center, Sacramento, pre-medical pre-surgical internship
Graduate studies at highly acclaimed univeristies such as: University of California, Los Angeles; University of California, San Diego; University of Southern California; Michigan State University; Tulane University; Loma Linda University; University of Chicago; University of Washington; University of Arizona; Washington State University; and University of Texas
Department of Chemistry, Physics and Engineering (CPE)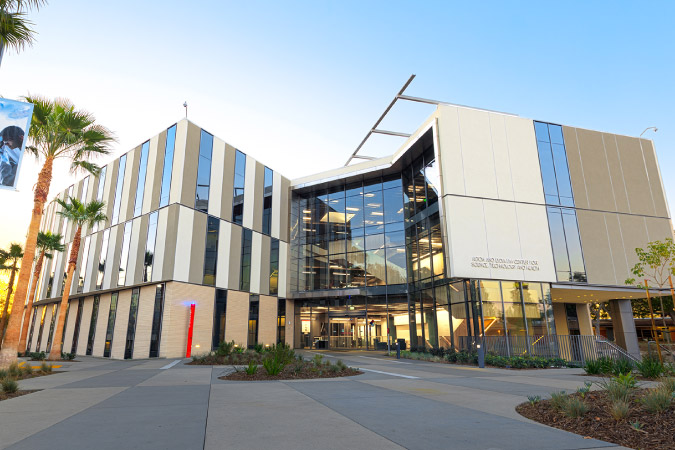 New State-of-the-Art Center for Students
The Alton and Lydia Lim Center for Science, Technology and Health offers students innovative laboratories, cutting edge equipment and research opportunities.


You may also be interested in