B.S. in Engineering
School of Science, Technology and Health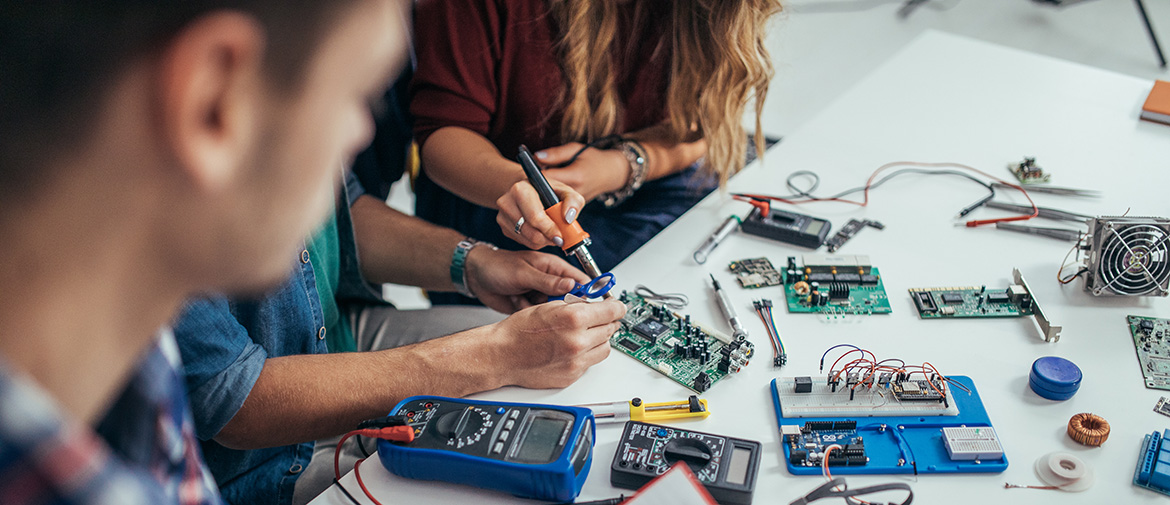 What is an Engineering Major?
The B.S. in Engineering program equips students to apply fundamental engineering concepts towards innovative, practical and sustainable solutions to real-world problems. Students will learn foundational engineering coursework and build portfolio-ready projects. During the latter half of the program, students will customize their learning path as they complete a variety of advanced engineering, computer science and other STEM courses that fit their interests and career goals.
This program will begin accepting students for fall 2023.
Yes! Tell Me More!
Why Choose Engineering at Biola?
Biola University's B.S. in Engineering program provides an interdisciplinary, hands-on approach to engineering design that will impact greater society. As you acquire engineering knowledge and apply it, you will:
Choose the path to your future. Learn fundamental mechanical and electrical engineering concepts and customize your degree path through elective and capstone courses. Take elective courses in robotics, electrical engineering, mechanical engineering, and environmental engineering.
Be prepared to begin a fulfilling career in engineering. This program is designed to set you up for professional success as you study industry-reviewed curriculum and create portfolio-ready projects with guidance from Biola's exceptional faculty.
Explore God-centered design for sustainability and human flourishing through a biblically integrated curriculum. A unique set of Bible courses woven into the program explores the ways our Creator values design and brings even greater meaning to your studies and the work you accomplish beyond the classroom.
Become equipped in mind and character as you are holistically trained in highly valuable skills in leadership and collaboration. In the current job market, engineering employers increasingly make hiring decisions based on skills related to project management, communication, teamwork, and character, in addition to engineering knowledge.
What Will I Study?
Through engaging and intentional hands-on learning, students will gain knowledge of hardware and software integration, project management, programming, engineering design principles, technical communication, and advanced mathematics. Our rich curriculum includes courses such as:
Engineering Mechanics (Statics, Mechanics of Materials, Dynamics)
Circuits and Instrumentation I & II
Mechatronics
Computer Aided Engineering Design (including SolidWorks and PCB Design)
Engineering Economics
Two semesters of Design/Engineering Capstone experience to engage fourth-year students in applying their knowledge and skills to solve culminating, open-ended and complex problems in their area of interest.
4 years
Standard Duration
This indicates the standard duration of this program. Completion time may vary depending on transferred coursework and preferred courseload.
126-130
Total Program Credits
Total program credits include a combination of major/concentration, Bible/theology and general education credits.
Pending WSCUC accreditation (seeking ABET accreditation)
Accreditation
Biola University is accredited by the WASC Senior College and University Commission. Additional accreditations may apply to specific programs.
Career Paths
Biola's B.S. in Engineering can take you as far as your imagination will lead you. Listed below is a sample of the career paths available to individuals with a degree in this discipline:
Mechanical Engineer
Electrical and Electronics Engineer
Industrial and Systems Engineer
Automation and Robotics Engineer
Project Manager
Research and Development Engineer
Testing Engineer
Application Engineer
Manufacturing Engineer
Process Engineer
Quality Control Engineer
Product Engineer
Energy Engineer
High Tech Entrepreneur
Researcher
Professor
You may also be interested in