B.S. in Robotics
School of Science, Technology and Health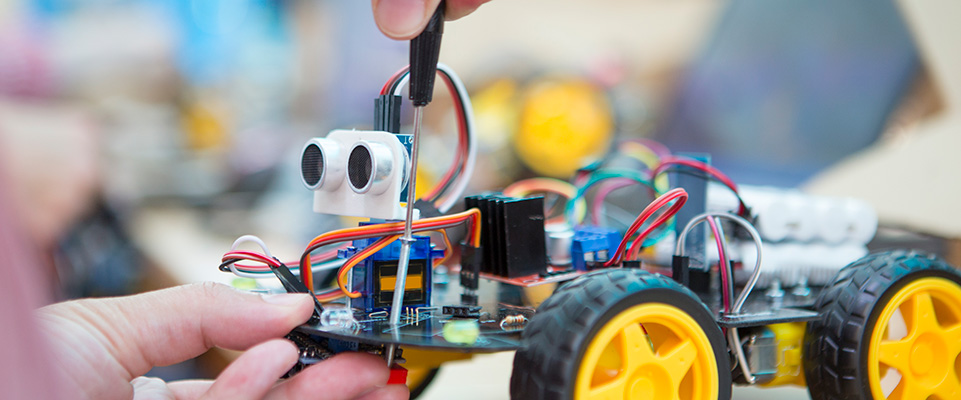 B.S. in Robotics Overview
Biola's B.S. in Robotics program is a robotics engineering major designed to equip students for work and advanced study in robotics and robotic technology. Students will learn modeling, design, programming and control of robotic platforms, and gain a solid understanding of real-world applications of computation, sensing and actuation. The program will also provide students with a foundational knowledge of computer science, mathematics, physics and engineering, including mechanical engineering.
Skilled and ethical robotics engineers with knowledge of electrical engineering, automation systems, computer engineering and general robotics engineering technology are in increasing demand as robotics systems become integrated deeper into business processes. As with most engineering majors, robotics engineers are positioned to earn strong salaries while furthering health and opportunity at both micro and macro community levels. Biola's B.S. in Robotics will position students to enter and succeed within the expanding opportunities in the field of robotics and engineering.
Yes! Tell Me More!
Why Choose Robotics at Biola?
While many universities offer select classes or degrees with a robotics emphasis, Biola's B.S. in Robotics will develop your skills specifically in this field. In addition to deepening your knowledge of engineering, algorithms, mathematics and computer science, you will:
Learn how to think innovatively about robotics and control as you apply your knowledge of robotic systems, artificial intelligence and algorithms to design and program smart, ethical robots.
Gain focused, specialized training with robots. As part of your studies, you will work with faculty to pitch concepts and create the robots using industry standard engineering methods that you want to build rather than being tasked to build a predetermined design.
Customize your future career. A wide range of elective courses and capstone projects will allow you to shape the path for your future in the field of robotics.
Expand your view of yourself, the world and the field of robotics through biblically integrated curriculum. Develop your character as you find ways to serve society through the creation of useful, ethical robots and exemplify Christ in the classroom and in the field.
What Will I Study?
Biola's robotic degree program offers small class sizes, engaging instruction from our exceptional faculty, and hands-on learning will create the perfect environment for you to learn and refine your skills in mathematics, computer programming, physics, algorithmic thinking and technical problem-solving. Your education in robotics will be well-rounded as you will study courses like:
Embedded Systems
Mechatronics
Programming of Mobile Robots
Artificial Intelligence
Control Systems
Computer Aided Engineering Design (including SolidWorks and PCB Design)
Two semesters of Design/Robotics Capstone experience to engage fourth-year students in applying their knowledge and skills to solve culminating, open-ended and complex problems in their area of interest.
4 years
Standard Duration
This indicates the standard duration of this program. Completion time may vary depending on transferred coursework and preferred courseload.
131
Total Program Credits
Total program credits include a combination of major/concentration, Bible/theology and general education credits.
WSCUC (seeking ABET accreditation)
Accreditation
Biola University is accredited by the WASC Senior College and University Commission. Additional accreditations may apply to specific programs.
Career Paths
A degree in robotics will open the door to an array of job opportunities with top employers like Northrop Grumman, Honeywell, Johnson & Johnson and the U.S. government. The training you receive will equip you to step into a variety of roles such as:
Robotics Engineer
Control Engineer
Automation Engineer
Mechanical Design Engineer
Systems Engineer
Validation Engineer
Design Engineer
Applications Engineer
Graduate studies in robotics, control engineering or applied mathematics
You may also be interested in