Biola Backstage
On This Page
Overview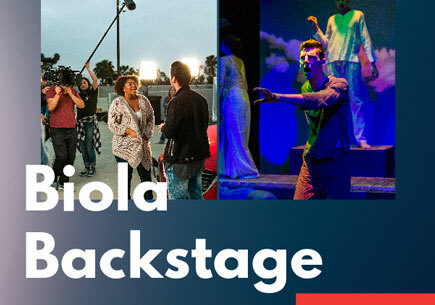 The Biola Theatre Program and the School of Cinema and Media Arts are proud to welcome students back to "Biola Backstage." This audition event serves to cast the entire theatre season, as well as to foster relationships between student directors and actors for films in the year ahead.
Time & Place
Biola Backstage will take place on Tuesday, September 7th, from 6–10 p.m. in Theatre 21.
Sign-Up
Please visit the following link: Biola Backstage Auditions and put your name in one five-minute audition slot. Please do not remove or alter the names of other students. Be sure to print, complete, and bring with you the audition form. Be sure to be logged into your Biola net ID account in order to access the links.
What to Prepare
You will also need to bring four copies of an 8 x 10 headshot (photo of yourself) and an acting resume. Do not worry if your experience is not extensive - tell us what performance experience you have had in the past, be it in church, class, community or professional theatre. For the audition, prepare two contrasting monologues, one comedic and one dramatic. Each one should be no longer than a minute. Be sure to "slate" before you start, which is simply a brief introduction that includes your name and the title of the pieces you will be performing.
What to Expect
There will be a stage manager checking actors in and collecting your materials. They will announce you to the directors when it is your turn and direct you to where you need to be. When you are ready, introduce yourself and perform your pieces. Once you are done, a director may give you some quick feedback and ask you to make an adjustment to one of your pieces in order to see how you take direction in the moment. Simply do your best to make the adjustment and have fun!
What Happens After
Callbacks for the individual productions will then follow each day at Theatre 21, most from 6–9 p.m. Be sure to check your email after auditions, as this is how we will notify everyone of the callback list. After callbacks are completed, cast lists will be emailed out. Your audition materials will also be kept on file for CMA student directors to reference throughout the year as they work on casting their films.
Keep in Mind
Auditions are open to everyone! You do not have to be a theatre major or cinema major in order to audition. Remember though, if you do not get a callback, it does not mean your audition went poorly. You might already be cast, or maybe there is not a role that is a good fit for you. Each year, more people audition than there are available roles, so unfortunately there will always be talented individuals who are not cast.