Symphonic Winds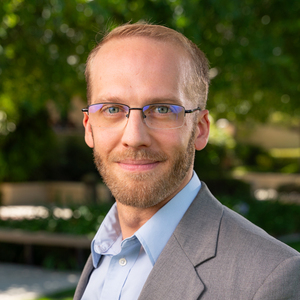 Conductor
The purpose of this 50-member wind ensemble is to bring honor to God, working together as a community of believers. The concert schedule includes Prism (departmental), Fall, Christmas, Spring, and Pops (which allows for the more 'creative side' of winds members to shine) concerts and two graduation ceremonies. Each concert features a program of the best sacred, standard, and new concert band literature, resulting in challenging and rewarding concerts. Prayer times before each concert inspire fellowship and give students the proper focus. These vital experiences help prepare music majors for the real world of music, and for non-majors, help provide a well-rounded university experience.
Throughout the year, several activities keep Symphonic Winds members connected. Each fall, a weekend retreat in the mountains lays the groundwork for the entire school year; through rehearsal time, games, prayer partners, meals and several hours of free time lifelong relationships take root. For those who wish to develop further, leadership opportunities abound in the Symphonic Winds council, including a student conductor who takes on conducting responsibilities under the guidance of Dr. Meyers. Fundraisers provide opportunities for students to see each other outside of the normal music environment. Many times, special clinics with area junior high or high school ensembles give Symphonic Winds students a chance to inspire other musicians. Each year the Symphonic Winds hosts the Biola Instrumental Music Festival for Christian junior high/middle school and high school bands, full orchestras, string orchestras, and jazz ensembles, bringing many music students onto Biola's campus. Lastly, an end of the year formal banquet provides a fun event in which to recap the entire school year.
Sample Repertoire
Pines of Rome by Respighi/Duker
Sanctuary by Tichelli
Slalom! by Pann
Internal Combustion by Gillingham
Rolling Thunder by Fillmore
How to Audition
Every student interested in performing with this ensemble must audition. Auditions will take place either the week before, or the first week of classes. Sign up for auditions through the Biola Symphonic Winds Sign-Up form. If the requested time is not available, you will be contacted by one of our department members.
Please be ready to perform two pieces of contrasting styles, one lyrical and one technical, demonstrating both ends of your abilities. Scales may be asked for as well.