For information on Biola University's coronavirus (COVID-19) response and updates, visit
biola.edu/coronavirus
.
Tuition and Financial Aid

Become a Conservatory Student
An Investment in Your Artistic Passion
Biola University is here to help you plan and afford your education. As you explore our tuition costs and different scholarship and financial aid opportunities, know that we're here to support you and guide every step of the way. If you have any questions, be sure to contact our admissions team.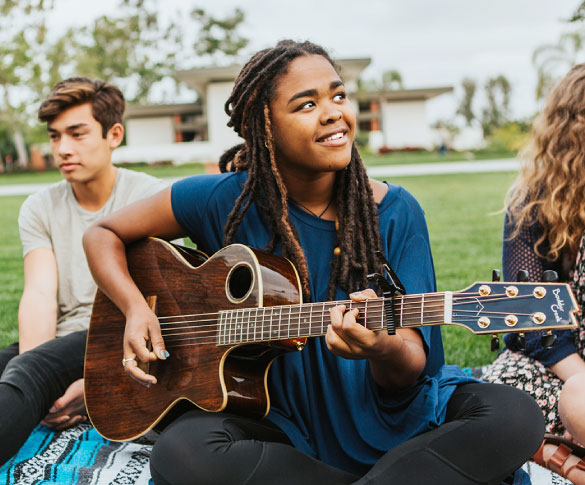 Financial Aid Process
As you explore tuition costs, be sure to get started on the financial aid process. Our Office of Financial Aid is here to guide you through the steps you need to take, including submitting your FAFSA application and more.
Student Scholarship Opportunities
Biola Undergraduate Scholarships
Students in any of our undergraduate programs may be eligible for the various undergraduate scholarships offered by Biola University. Review scholarship requirements and deadlines on the financial aid website.
Conservatory Departmental Scholarships
The Conservatory offers scholarships to music majors based on talent, potential and how the student can contribute to ensembles. Scholarships are awarded after music major auditions have taken place.
Ensemble Scholarships
The availability of ensemble scholarships varies depending on the ensemble. Acceptance into an ensemble is based on an audition at the beginning of semester, and this audition determines the scholarship as well.
Music Minor Scholarships
The availability of music minor scholarships is determined after the music minor audition. Please note that these scholarships are not available for worship, piano or voice minors.
Tuition and Additional Costs
In addition to general university tuition, students should be aware of additional costs associated with a Conservatory education, including:
Applied Lesson Fees: $356/credit
Accompanist Fees: $64–$160 (depending on number of hours required)
Course Fees (Voice Class, Keyboard, Music History): $97–$135
Ensemble Fees (Men's/Women's Choruses, Chorale, Symphonic Winds): $40–$130