Tuition and Financial Aid

Become a Conservatory Student
An Investment in Your Artistic Passion
Biola University is here to help you plan and afford your education. As you explore our tuition costs and different scholarship and financial aid opportunities, know that we're here to support you and guide every step of the way. If you have any questions, be sure to contact our admissions team.
At the Conservatory of Music, we take great pride in our unwavering commitment to our students' success. Through extensive scholarship opportunities, financial aid packages and dedicated support systems, we ensure that our students receive unparalleled assistance, surpassing most any other area of the university.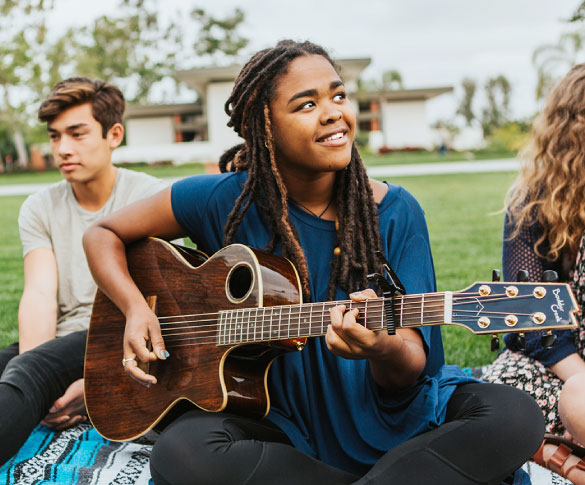 Financial Aid Process
As you explore tuition costs, be sure to get started on the financial aid process. Our Office of Financial Aid is here to guide you through the steps you need to take, including submitting your FAFSA application and more.
Student Scholarship Opportunities
Biola Undergraduate Scholarships
Students in any of our undergraduate programs may be eligible for the various undergraduate scholarships offered by Biola University. Review scholarship requirements and deadlines on the financial aid website.
Conservatory Departmental Scholarships
We believe in recognizing and supporting the exceptional talents and potential of our music majors. Through our scholarship program, we provide opportunities for students to be awarded scholarships based on their outstanding abilities and their potential to contribute to our vibrant ensemble community. These scholarships are awarded following comprehensive auditions specific to each major, ensuring that your dedication and passion are duly recognized and rewarded.
Ensemble Scholarships
We are not only dedicated to providing exceptional aid and assistance to our students, but we also offer exciting opportunities to explore and showcase your talents. With a range of ensemble scholarships available, the chance to join an ensemble is within your reach. Through auditions held at the beginning of each semester, not only will your acceptance into an ensemble be determined, but you may even earn a scholarship, making your musical journey even more rewarding.
Tuition and Additional Costs
In addition to general university tuition, it is important for students to be aware of additional costs associated with a Conservatory education. These may include expenses such as private lessons, instrument maintenance and repairs, sheet music and scores, performance attire, and participation fees for certain ensembles or music events.
While these costs can vary depending on individual needs and program requirements, we are committed to providing resources and guidance to help students navigate and plan for these expenses throughout their Conservatory journey. Some of these expenses have been pooled together and are coordinated by the department on your behalf. They are as follows:

Applied Lesson Fees: $400/unit
Applied Lesson Fees (non-Conservatory student): $500/unit
Accompanist Fees: $70–$170 (depending on number of hours required)
Conservatory Resource Fee: $75
Ensemble Fees (University Chorus, Chorale, Symphonic Winds): $40–$130