For information on Biola University's coronavirus (COVID-19) response and updates, visit
biola.edu/coronavirus
.
Gospel Choir
On This Page
Join Us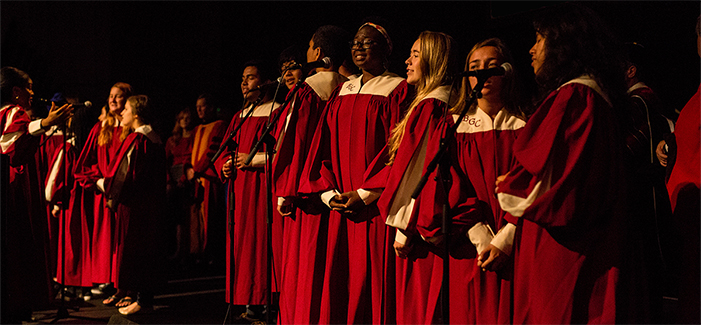 The Biola Gospel Choir meets every Wednesday at 6 p.m. in Mayers Auditorium. Students do not need any choir or singing experience to join — all are welcome to come!

Contact Information
(562) 944-0351 ext. 5595
gospelchoir@biola.edu
About Us
Our Purpose
The purpose of the choir is to minister all styles of Gospel Music in an atmosphere that celebrates diversity. This multi-ethnic group spiritually influences Biola's campus as well as the local community.

Our History
Established in the Fall of 1985, the Biola Gospel Choir (BGC) started as a energetic group of African American students who wanted to praise and worship God through Gospel Music. Now, over twenty-five years later, BGC continues to enjoy and share a rich legacy of music, worship, and community.
The choir first began under the leadership of Symone Starr Parker who at the time was just an undergraduate student. The students gathered under club status and eventually had an opportunity to sing in chapel as well as hold their own concert in Crowell Hall. Subsequently, Lenora Myles and later, Jimmy Fisher, also undergraduate students, continued the leadership of the choir.
Since then the BGC has expanded their ministry to the surrounding communities in Southern California and beyond, as far as Las Vegas and New York.
Beginning in 1998, Marvina "Cooky" Levy faithfully directed BGC for eight years, continuing the Choir's rich tradition of focusing on various styles of Gospel Music in an atmosphere that celebrates diversity. During this time, Levy also directed the Riverside Community College Gospel Choir. Under Levy's leadership, BGC released one album and was featured on two additional albums, produced by the Gospel Choir Fellowship, a mass choir combining other college and university Gospel choirs.
After Ms. Levy retired from choir directing, she welcomed Dansby Sturdivant as the Choir's new director in 2005. Mr. Sturdivant served as Gospel Choir director until 2011, when Biola alum Terry Coon of Citylights Church in Long Beach returned to Biola and accepted leadership. In 2016, singer/musician/voice-teacher Nena Wallace was chosen to lead the Gospel Choir.
BGC has had the opportunity to minister to both the Biola community and surrounding communities through various performances including:
Sa Rang Community Church Complex grand opening
The City of La Mirada
La Mirada Performing Arts Center
Universal Studio's Annual City Walk Christmas Celebration
The Los Angeles Salvation Army
Mother's Day Concert at the Irvine Spectrum's Crazy Horse Restaurant
Biola's Missions Conference
Cal State Long Beach Black Student Union Concert
The Choir has also been featured at the Heritage Music Foundation's Annual Conference, under the direction of Dr. Margaret Pleasant Douroux, an internationally known gospel composer and evangelist. In addition, the Choir was blessed to tour in Las Vegas, culminating the trip with a performance at the Gospel Music Workshop of America's Board Meeting. The international workshop is host to some of the greatest gospel music artists from around the world.
Our Director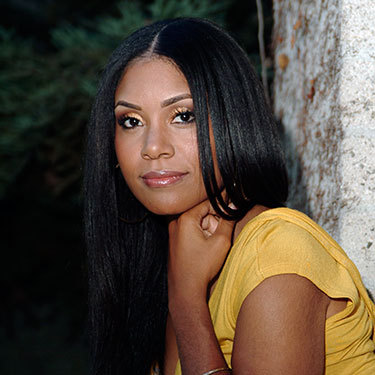 Nena Wallace
I had the privilege of growing up in a musical family heavily influenced by Jazz and Classical music. Victory Bible Church in Pasadena, CA cultivated my love of Gospel music and I eventually became the Youth Choir Director. Soon after I became assistant director of the Mass Choir of a neighboring church, joined a professional Gospel ensemble, and began teaching others, composing, and recording songs. Through these experiences I learned the intricacies of Gospel music and fell in love with its rich, historical, and timeless traditions.
Over the past 17 years I've built a strong résumé of singing, songwriting, and production credits. This includes studio background vocals for legendary Gospel recording artist Andrae Crouch, live and studio background vocals for gospel recording artist Kevin LeVar, and live vocals for gospel recording artist Lisa McClendon to name a few.
I am a singer/musician with an equal passion for teaching. After earning a Bachelor's in Music from California State University Los Angeles where I was classically trained as an opera singer, I realized a rivaling passion to cultivate the vocal abilities of others. My love for teaching has translated into an 12 year career of training and developing singers in vocal technique, stylization, and performance. In recent years I began working with Hear and Play Music to develop a vocal mastery system that has enabled me to teach aspiring vocalists proper vocal technique on an international scale.
This journey has blessed me and enriched my life beyond anything I could have expected. It is my honor to have the opportunity to draw upon these experiences as I direct Biola's Gospel Choir. My prayer is that this choir may be a vessel of blessing and enrichment for the members and the Biola community.

- Nena Wallace