Thomas Stewart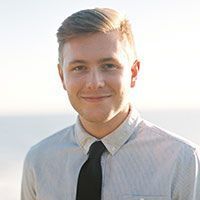 Junior Software Consultant
Computer Science, B.S. '16
How did your program at Biola prepare you for your career?
I learned the fundamentals of programming very well, which enabled me to learn a brand new programming language coming in to a new job.
I was very motivated to learn on my own, and assets Lynda.com that Biola provides for students helped me tremendously.
What did you appreciate most about your time at Biola?
The Bible-centeredness of every aspect of the college experience.
How did Biola equip you to be a more faithful follower of Jesus Christ?
Providing access to professors who were able to explain deep theological truths and field questions from students.
My college experience was vastly different than those of my friends who went to state school, which I am eternally grateful for.
What advice would you give to students considering your degree program?
This is a field where you have be self-motivated and a life-long learner. The professors alone are insufficient for learning enough to get a job. You have to use class as a platform for jumping into the computer world.