Tanner Pubins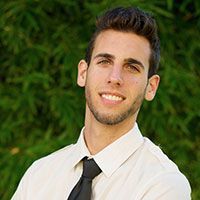 Project Engineer
Engineering Physics, B.S. '16
... Biola taught me to approach every field of study by integrating the full authority of God's Word.
How did your program at Biola prepare you for your career?
The Engineering Physics program at Biola is both rigorous and competitive. After the three year program, I transferred into the School for Engineering of Matter, Transport and Energy at Arizona State University. It quickly became apparent that I was better prepared for upper division coursework than many of my colleagues. I found myself excelling in many of the applied engineering courses at ASU because I firmly grasped fundamental engineering principles, which were well covered in Biola's curriculum. Ultimately, my success at ASU is in large part because of the exemplary Engineering Physics program at Biola. Furthermore, I will soon begin a career at United Technologies Aerospace Systems as a Project Engineer after having successfully obtained my B.S.E. in Aerospace Engineering at ASU.
What did you appreciate most about your time at Biola?
Biola offers such a unique experience with regards to both the intimate Christian community and the dedicated, Godly faculty. Dorm life, sporting events, and campus-wide traditions always provided opportunities to connect with my many Christian peers. The student body was large enough where I met new people on the regular through intramurals or an Eagles basketball game yet was small enough where I would pass several friends and acquaintances on my daily stroll to the dining hall. Also, Biola's faculty is one-of-a-kind. I can recount many instances where my engineering professors would graciously stay on campus until the late evening to personally conduct review sessions for me and my colleagues; a typical university assigns a less knowledgeable, graduate-level teaching assistant to such tasks. Professors of all subject matter would also begin every lecture in prayer, a rare phenomena even amongst Christian colleges.
How did Biola equip you to be a more faithful follower of Jesus Christ?
Biola equipped me to think biblically about everything. Specifically, Biola taught me to approach every field of study by integrating the full authority of God's Word. "I understand more than the aged, for I keep your precepts" (Ps. 119:100). The Word of God certainly grants those who obey it wisdom in the world; without it, the world's mysteries cause many to stumble. For instance, the Physics and Engineering Department at Biola not only emphasizes intelligent design throughout the medley of STEM courses offered but provides students opportunities to integrate their faith and learning in new and applicable ways. In addition, philosophy courses investigate the "problem of evil" through a biblical lens, and psychology courses consider the spiritual forces mentioned throughout the Bible as possible sources for mental illness or disorder. Biola's unrelenting dedication to providing biblically-centered education certainly has equipped me to be a more faithful follower of Jesus Christ.
What advice would you give to students considering your degree program?
I would advise anyone considering the 3+2 program to strive for a balanced student lifestyle. For some, excelling in the world of academia comes all too naturally. For others, self-discipline has become a distinguished trait, which allows them to compete in the classroom. The first too often never develops a proper work ethic and never truly learns the material, while the second frequently sacrifices opportunities to grow in community through social events and gatherings. I am speaking to prospective students as one who has experienced both roles in different seasons of my undergraduate career. Students, specifically those committed to the 3+2 program, that can implement well-roundedness in their studies and social life are those that make the most of their time at Biola. Through mastering the material in their field of study and creating meaningful and lasting bonds within the Christian community, one can leave the university well equipped to impact the world for Jesus Christ.
Work Sample
The attached images are renders of my Senior Aircraft Design Capstone project at ASU. The aircraft was designed and rendered by me in SolidWorks.
Photos