Philip Whiteman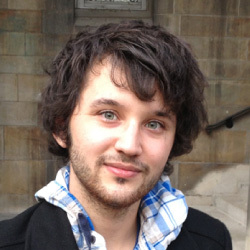 Ph.D. Program, Physical Chemistry, University of Chicago
Biochemistry, B.S. '12
Q: What have you been doing after graduation and how did that come about?
I am a graduate student in the University of Chicago's Physical Chemistry Ph.D. program. When I first came to Biola, I wanted to go the Pre-med route, but discovered an interest in Chemistry through my coursework. I ditched the medical school idea and started the graduate school application process.
Q: When you started to work outside of Biola, what did you find surprising or different?
One thing that really surprised me about studying/working at U Chicago was how closely all of my fellow students work together. When I started at Biola, I tended to study on my own. I gradually started working together with other people when I realized how much more you learn in a group setting. The Christian setting at Biola definitely facilitated that transition. When I arrived at U Chicago, I expected to, kind of, have to revert to my former way of doing things (flying solo). However, despite the fact that my Christian worldview isn't shared across campus, the student life is very inclusive here. Things are certainly different, but I've discovered the same camaraderie that I loved at Biola.
Q: What was your most significant experience studying the sciences at Biola?
My most significant experience would have to be being a chemistry tutor. This was where I learned that I really loved the field. I also learned that I loved teaching, which is what I hope to do after I finish grad school. In addition to tutoring, I was always really impressed with the science faculty, not only in the classroom but outside also. Burgerquest with Cruzen, the Biola Organic Garden with Tresser, and random soda time with Ridley. I loved these things. My main motivation for studying chemistry now is that I can one day impact students in the same way I was impacted.
Q:What was your favorite thing about your time at Biola?
My favorite thing about my four years at Biola was the broad range of people that I got to meet and spend time with, especially in Bardwell. I would be walking to class and run into a half-dozen people along the way that I wanted to talk to. Needless to say, I was late to class often. It just seemed like everyone was on the same wavelength. The fact that you could just grab a kid at random (usually not totally random) and go get coffee or a sandwich really says a lot about the community of students.
Q: What was the worst or hardest thing about your time at Biola?
I think the hardest thing I dealt with during my time at Biola was having to leave. I know that sounds very scripted, but it's true. When the final semester rolled around, I knew that I probably wouldn't see a lot of my friends again. It was difficult knowing that I was leaving so many awesome people.
Q: What additional support or experience do you wish you had at Biola to better prepare you for where you are now or where you plan to go?
I may have just totally missed support that was provided time and time again due to me not looking for it, but I wish Biola did a better job of explaining the grad school application process. I didn't really know anything about graduate school and its nuances until I sought out the information. If I was exposed to that sooner, I could have started preparing sooner.
Q: What do you wish you knew as an undergraduate?
I wish I knew how important calculus was for chemistry! I should have taken a few math classes before I started my chemistry Ph.D. program! I'm pretty sure Dr. Bloom told me to, but at the time I didn't think it was important. Seriously though, I wish I had focused more on learning the material at Biola, rather than learning what I needed to get a good grade in a class. I really think I could have spent the same time studying, but with a more wholesome view. There have already been a few times in graduate school that I wanted to kick myself for not taking the extra hour to really master a concept.