Miguel Abascal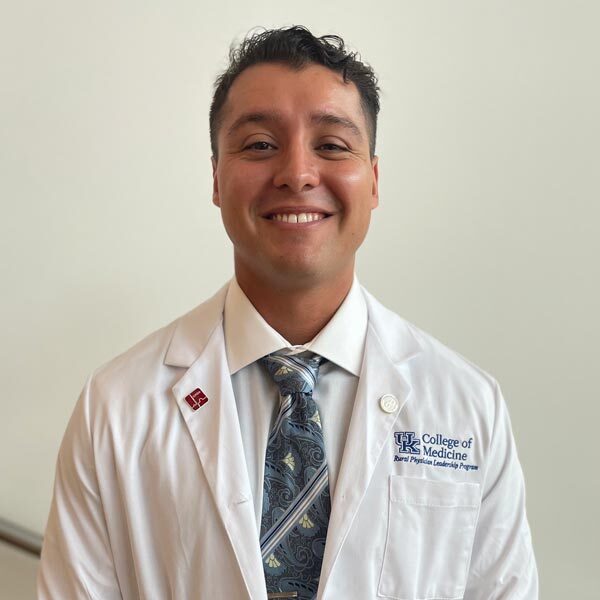 Medical Student at University of Kentucky
Master of Public Health (MPH) '23
The combination of competitive education and Christian development is unique to Biola and couldn't have imagined a better place to be trained before entering medical school!
How did your program at Biola prepare you for your career?

The MPH program at Biola prepared me for the rigors of graduate coursework. Graduate course work is largely self motivated with little to no "hand-holding" throughout your research and assignments. This is the expectation with graduate work, and especially in medical school, and the MPH program prepared me for this change in higher education. My professors at Biola were always more than happy to help in any way possible while also preparing me to complete rigorous coursework on my own. This is a skill I am grateful for as I have now started medical school. Receiving an education in public health has also prepared me to better tackle the medical field in the United States and abroad. Public health and medicine are meant to be interconnected, working side by side, so the programs (MPH and medical school) complement each other. I feel so much more prepared to practice as a physician having a background in public health and I'm so grateful for this MPH program and my professors!
What did you appreciate most about your time at Biola?
I truly cherished being in a Christ-centered atmosphere, surrounded by God-fearing and motivated individuals. There is no other place I have found or heard of that is so committed to raising Christian workers for the Kingdom through higher education. This is especially hard to find in the world of STEM. Now that I am in a secular school and have participated in the larger workforce, I miss being around so many Christian people in the same field I am pursuing. The combination of competitive education and Christian development is unique to Biola and couldn't have imagined a better place to be trained before entering medical school!
How did Biola equip you to be a more faithful follower of Jesus Christ?
Biola helped form me into a God-fearing healthcare professional, unafraid and unashamed to proclaim my faith. It's easier to retract and hide my identity in Christ in the healthcare field as its not an identity largely accepted in our nation. This is not what Christ calls us to do, and I credit a lot of my boldness in the faith to me training in education at Biola. I had great professors that showed me through practice and example what it means to be unashamed and outspoken in the faith. I seek to follow in step as I traverse the world of healthcare as a physician. I grew a lot in my faith as well through the Biblical education Biola provides, and I'm eternally grateful for that as its critical knowledge and a foundation I need as I pursue my calling in this world.
What advice would you give to students considering your degree program?
Public Health is a field I would recommend to anyone! It's such a broad field that affords the opportunity to work with almost any community. The calling of public health, to provide health equity and improved quality of life from the community to global scale, is a beautiful and powerful mission. A life committed to service in public health is such an honorable and fulfilling calling. Anyone seeking to pursue justice and equity will find an avenue within the field of public health. Public health affords the Christian the opportunity to display God's love and salvation through practical service.

For people seeking a profession in the medical field, I would strongly encourage the MPH program at Biola. The motto for the Alpha Omega Alpha Honor Medical Society is: "Be Worthy to Serve the Suffering." The MPH program and the professors at Biola will educate you to fulfill this mission, which is what all physicians, especially those of the faith, should strive for.