Dami Kim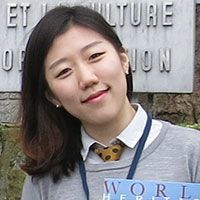 Anthropology, B.A. '14
The anthropology department in Biola is truly a vibrant community.
How did your program at Biola prepare you for your career?
With its unique mixture of anthropology and theology, the anthropology program at Biola enables you to see diverse dimensions of culture. I have learned traditional to contemporary academic perspectives as well as Christ's perspective of cultures. Such education not only led me to appreciate cultures more, but also to believe that there are no immovable cultural barriers to the Gospel.
What did you appreciate most about your time at Biola?
At Biola, your learning experiences are truly personal. First, low student-to-faculty ratio allows you to have interactive and lively classes each time. Second, professors at Biola are always willing to help and incorporate your academic needs into the learning process. Lastly, the true sense of community at Biola makes studying with your classmates something more than it usually is. Helping each other grow more was always enjoyable and inspiring.
How did Biola equip you to be a more faithful follower of Jesus Christ?
Outside the "Biola bubble" I faced a lot of threats to my faith. I am grateful that I got to learn how to defend my faith systematically, and also to have met people who continuously motivate me to work on my Christ-likeness.
What advice would you give to students considering your degree program?
The anthropology department in Biola is truly a vibrant community. Closely following the classic academic approach to the subject while at the same time incorporating Christ's passion for people of all cultures, the program offers you a unique education. Also, a wide range of research interests of the faculty members and diverse backgrounds of students create a dynamic learning experience.