Bailey Captain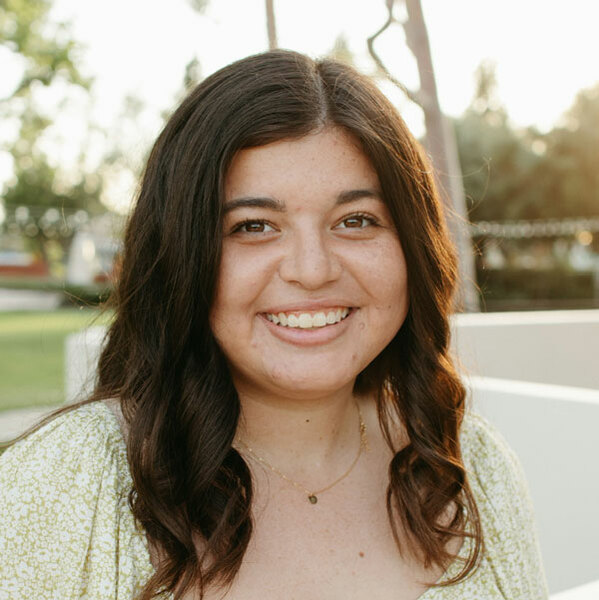 Video Editor, JUV Consulting
Cinema and Media Arts, B.A. '22
Biola CMA allowed me to focus on what I was passionate about, personalized my education, and just allowed me to turn into the young professional woman I am today.
How did your program at Biola prepare you for your career?
Now being in my first post grad position, I can clearly see how well Biola's School of Cinema and Media Arts prepared me for my career. Specifically I can confidently pitch ideas, organize multiple productions, communicate clearly, and just play a vital role to my team. I have caught myself several times thinking, "Hey I learned this in class" or "Hey I did this as a homework assignment." I am so thankful that Biola, and Biola CMA specifically encouraged internships. The #1 thing I encourage new/young students to do is to get internships! Even if it is not your dream internship, it will be beneficial in some way. Biola CMA allowed me to focus on what I was passionate about, personalized my education, and just allowed me to turn into the young professional woman I am today.
What did you appreciate most about your time at Biola?
I know everyone says this about Biola but it is true, I appreciated people the most during my time at Biola. I can recall so many key conversations with peers, professors and faculty that have truly shaped my life. I also think the opportunities provided go hand and hand with that. Through the people you meet and the classes you take, you are presented with opportunities you truly can not find anywhere else. The people at Biola make Biola what it is. I appreciate the countless times my bosses/professors and faculty would pray for me. I remember being so worried about my future and it felt like I didn't know if I would make it, but those people are who helped me get to where I am today.
How did Biola equip you to be a more faithful follower of Jesus Christ?
Being a CMA major at a christian university is a unique experience that a lot of students do not get to have. I was able to learn from faith based professionals who are actively in the industry and provide tangible examples on how to live this out. I think the #1 think I took away from Biola was from my Theology 1 class where we learned the importance and significance of loving others. Even in positions where we can not openly discuss our faith, it is SO important to know we can show Jesus simply by loving others through our words and actions.
What advice would you give to students considering your degree program?
Think about what makes you excited and know everyone is on a different path. My closest friends from my major are spread out all throughout the industry, I was focused on marketing and management, while my friends are pursuing comedy and talent relations. My point is, there is something for everyone and film provides an opportunity for it all to come together. I think do not worry about the confines of the major, but rather think about what you like to do and what makes you happy. For example, I have always been obsessed with storytelling (through all platforms). I love to consume and tell stories and for me video marketing was my way to do that. Although there are so many different avenues you can go through, I had to trust my gut, the people around me, and honestly pray that God would make it clear to me what I should study.